Tragedy and Courage: Marie Antoinette's Daughter, the Duchess of Angoulême
The Duchess of Angoulême was, said Napoleon, "the only man in her family." She is not nearly as well-known as she deserves to be, but the exhibition on her, which you can see at the
Chapelle Expiatoire
in the
8th arrondissement
until September 17th, does much to put that right. The Napoleonic label, prominently displayed on the exhibition's publicity material, underlines what a redoubtable woman she was, despite a childhood made tragic by family loss and the turbulence of the French Revolution. Knowing the key facts – the death of her siblings and both her parents, her solitary imprisonment as a young teenager and her two long periods of exile from France – makes her fighting spirit all the more admirable. Marie-Thérèse Charlotte de France was the first-born child of Louis XVI and Marie-Antoinette, much welcomed eight long years into their marriage, yet also a disappointment to some because she was a girl. Her mother recognized this immediately, saying "Poor little one, you are not desired, but you will be none the less dear to me!" Marie-Antoinette did not know then that although this baby would eventually have three siblings, she would be the only one to survive into adulthood. When Marie-Thérèse was eight, her baby sister Sophie died and two years later tuberculosis killed her seven-year-old brother Louis-Joseph, the heir to his father's throne. Her second brother, Louis Charles, did not survive the family's imprisonment during the French Revolution. Portrait of Marie-Thérèse as a child. Anonymous Marie-Thérèse's childhood was blighted by the terrifying events leading up to the Revolution. She was at Versailles when it was mobbed and the family was obliged to return to Paris and live under guard at the
Tuileries Palace
. She was taken on the escape attempt which ended with the royal family's recapture at Varennes and then, in August 1792, she was imprisoned with her parents and brother in the
Temple
. The following January, she had to say goodbye to her father on the eve of his execution, then when her mother was transferred for trial at the Conciergerie, she was separated from her brother and left under guard and entirely alone – aged only 15 – for over a year. Marie-Thérèse was not told when her mother and brother died. The terror and loneliness of her solitary confinement is captured in these heart-rending words, found scratched on the wall of her room in the Temple: "Marie-Thérèse Charlotte is the most unhappy person in the world. She can obtain no news of her mother; nor be reunited with her, though she has asked it a thousand times. Live, my good mother! whom I love well, but of whom I can hear no tidings. O my father! Watch over me from Heaven above." Portrait of Marie-Thérèse by Christian de Michel
SUBSCRIBE
ALREADY SUBSCRIBED?
BECOME A BONJOUR PARIS MEMBER

Gain full access to our collection of over 5,000 articles and bring the City of Light into your life. Just 60 USD per year.

Find out why you should become a member here.

Sign in

Fill in your credentials below.
The Duchess of Angoulême was, said Napoleon, "the only man in her family." She is not nearly as well-known as she deserves to be, but the exhibition on her, which you can see at the Chapelle Expiatoire in the 8th arrondissement until September 17th, does much to put that right.
The Napoleonic label, prominently displayed on the exhibition's publicity material, underlines what a redoubtable woman she was, despite a childhood made tragic by family loss and the turbulence of the French Revolution. Knowing the key facts – the death of her siblings and both her parents, her solitary imprisonment as a young teenager and her two long periods of exile from France – makes her fighting spirit all the more admirable.
Marie-Thérèse Charlotte de France was the first-born child of Louis XVI and Marie-Antoinette, much welcomed eight long years into their marriage, yet also a disappointment to some because she was a girl. Her mother recognized this immediately, saying "Poor little one, you are not desired, but you will be none the less dear to me!" Marie-Antoinette did not know then that although this baby would eventually have three siblings, she would be the only one to survive into adulthood. When Marie-Thérèse was eight, her baby sister Sophie died and two years later tuberculosis killed her seven-year-old brother Louis-Joseph, the heir to his father's throne. Her second brother, Louis Charles, did not survive the family's imprisonment during the French Revolution.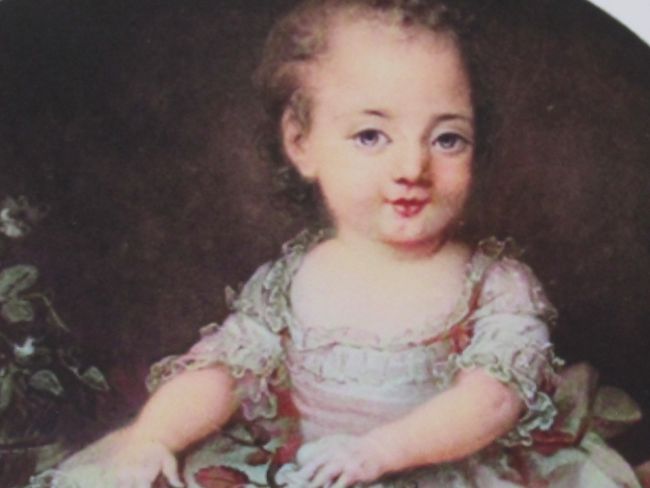 Marie-Thérèse's childhood was blighted by the terrifying events leading up to the Revolution. She was at Versailles when it was mobbed and the family was obliged to return to Paris and live under guard at the Tuileries Palace. She was taken on the escape attempt which ended with the royal family's recapture at Varennes and then, in August 1792, she was imprisoned with her parents and brother in the Temple. The following January, she had to say goodbye to her father on the eve of his execution, then when her mother was transferred for trial at the Conciergerie, she was separated from her brother and left under guard and entirely alone – aged only 15 – for over a year.
Marie-Thérèse was not told when her mother and brother died. The terror and loneliness of her solitary confinement is captured in these heart-rending words, found scratched on the wall of her room in the Temple: "Marie-Thérèse Charlotte is the most unhappy person in the world. She can obtain no news of her mother; nor be reunited with her, though she has asked it a thousand times. Live, my good mother! whom I love well, but of whom I can hear no tidings. O my father! Watch over me from Heaven above."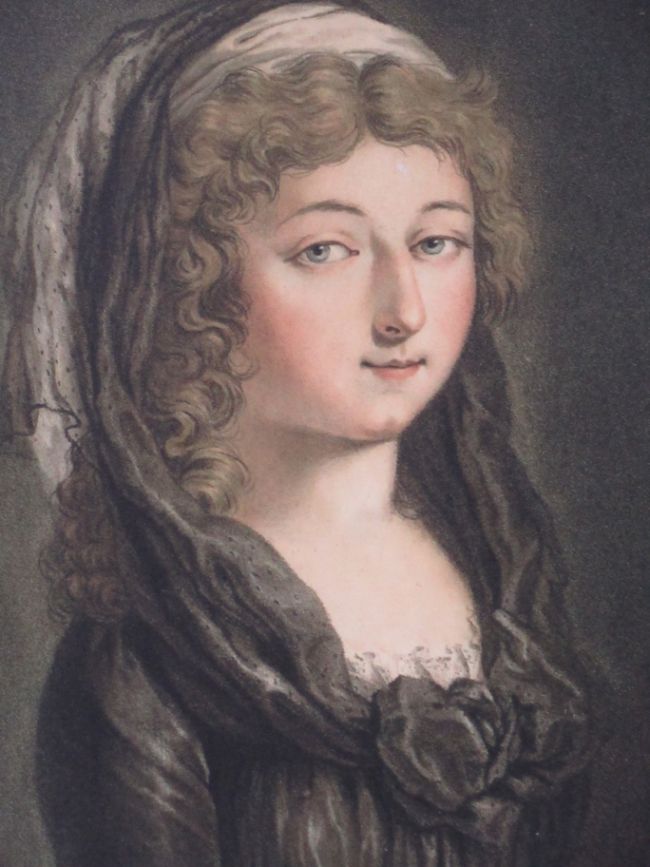 Eventually, it was agreed that she would be exchanged for prominent French prisoners from Austria and, on the eve of her 17th birthday in December 1776, she was driven to the Franco-German border and handed over. She was taken to Vienna, her mother's birthplace, to live under the supervision of the Emperor and his family and so began her first period of exile. It would be 18 years until she returned to France.
Her marriage three years later was described as "highly political" and seemed at first to make her a victim of circumstance yet again. It was arranged by her uncle – the future Louis XVIII – who thought marrying his niece to her cousin Louis-Antoine would unite two branches of the family. Louis-Antoine, the Duc d'Angoulême, who had not seen his cousin for 10 years, agreed to the marriage for the unromantic reason that it would "reinforce the future legitimacy of the Bourbons." And yet, although they began married life in exile and had no children, they seem to have been happy. Letters survive in which Louis-Antoine calls her "Ma joie" (My joy).
Everything changed in 1814 when Louis XVIII became king after Napoleon's exile and the couple were able to return to France. Louis was childless, so his immediate heir was his younger brother Charles, followed by Charles' son, Marie-Thérèse's husband, Louis-Antoine. The revolution seemed distant, the Bourbon star was rising and the couple were keen to support the new king. Throughout his 10-year reign, Marie-Thérèse was to play the role of première dame, but it was right at the beginning of this period that she was most called on to show her mettle.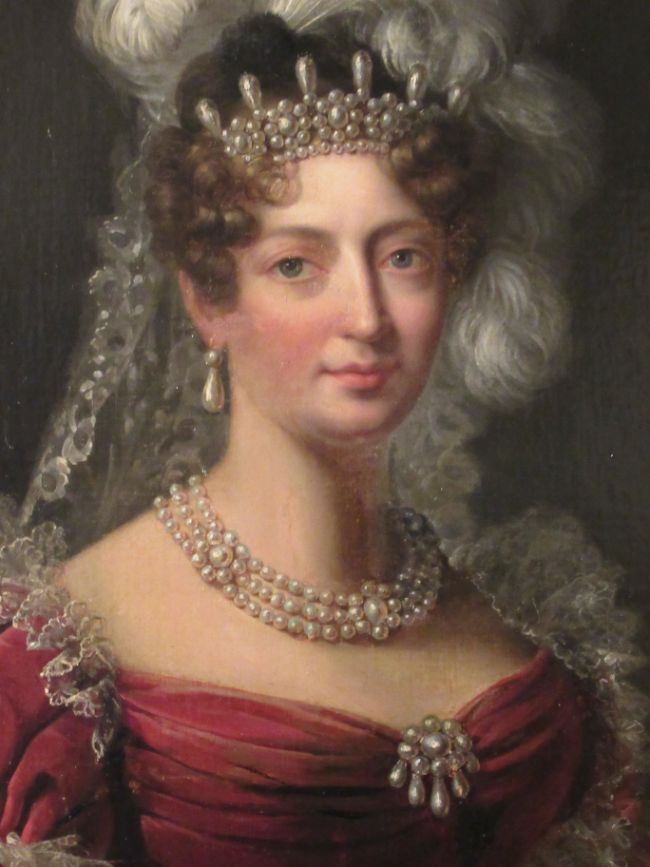 In 1815, during the first year of Louis' reign, Marie-Thérèse was visiting Bordeaux when Napoleon escaped from Elba and arrived back in France. She resolved to support the monarchy and was much seen around the city, making speeches, visiting barracks and publishing a proclamation, addressed to the citizens of Bordeaux, urging them to rally around the crown and see off "this crisis which faces France." In the end, she was unable to win enough support in Bordeaux and, unwilling to see widespread bloodshed in the city, agreed to leave. But her high-profile efforts prompted Napoleon's remark about her being the "only man in her family." King Louis had fled the country.
A painting which features prominently in the exhibition highlights the high esteem in which not only Marie-Thérèse, but also her husband were held at this moment. People were talking admiringly of her "Amazonian" courage and the duke had been enjoying military success in Spain, helping to restore the Spanish king to his throne. The painting, by Barthélémy Garnier, shows their reunion at Chartres as they were both returning to Paris after their heroic deeds. In the end, Napoleon's attempt at a come-back lasted only 100 days until he was exiled for good after Waterloo. Louis XVIII was restored to the throne, France was a monarchy again and the Duke and Duchess of Angoulême were the all-important next generation of royalty.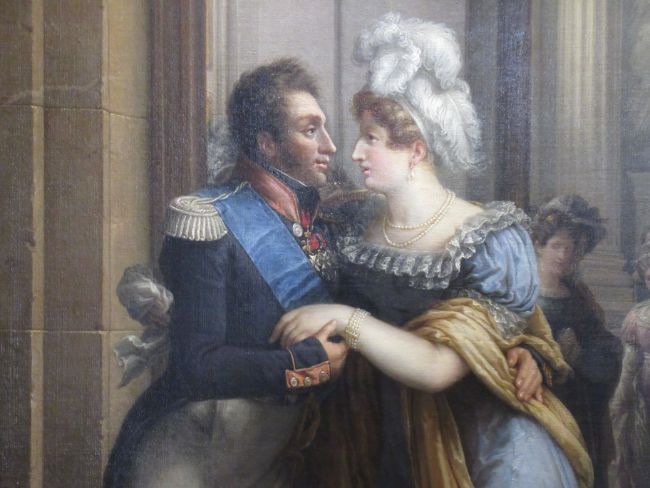 But more change was to come when Louis XVIII died in 1824. At the coronation of his brother Charles X, all seemed well. Louis-Antoine stood next to his father as the new heir and Marie-Thérese watched from the gallery, "sparkling with diamonds and beaming," as one report put it. But Charles, an ultra-royalist, was unpopular and soon rumors were circulating that the Duke and Duchess were influencing him heavily. A vicious propaganda campaign was begun, targeting Marie-Thérèse particularly. Cartoons showing her as dominating the weak men around her were used to discredit the king and the rest of the Bourbon family. If they couldn't stand up to her, was the implication, why should they be allowed to rule?
When, in 1830, Charles gave into pressure and abdicated, the Bourbons were rejected in favor of Louis-Philippe from the rival Orléans family. At this moment, came a real quirk of history for, unlikely as it sounds, Marie-Thérèse became queen for 20 minutes. Charles abdicated in favor of his son, Louis-Antoine, who "reigned" very briefly as Louis XIX, alongside his queen, until the paperwork was ready for him to sign his own abdication. This scene, at the Château de Rambouillet in July 1830, has been described as the meeting of "three kings and a queen," but crucially they all understood that their family's reign was over.
And so began the second long exile of Marie-Thérèse's life. This time, there would be no return to her homeland. The couple moved first to Edinburgh and later to Prague, then Gorizia on the Italian-Slovenian border. Marie-Thérèse led a quiet life, overseeing the education of her nephew, doing charity work and nursing her uncle, who died of cholera in 1836 and then her husband, who died in 1844. Monarchists continued to refer to the exiled couple as Louis XIX and Queen Marie-Thérèse, but by the time she died in 1851, France was a Republic again and the Angoulêmes had been largely forgotten.
The exhibition at La Chapelle Expiatoire tells her story, illustrated with portraits, busts and key documents. Even at this distance, the tragic elements of her life seem overwhelming: childhood terror and loss, the isolation of her imprisonment, the knowledge that when she returned to France in 1814, she immediately visited the site of her brother's death, then oversaw the re-burial of her parents' remains at the Basilique Saint-Denis. But it would do her a disservice not to recall too the dignified years of her two exiles and, above all, from the period of Napoleon's return to France, her immense courage.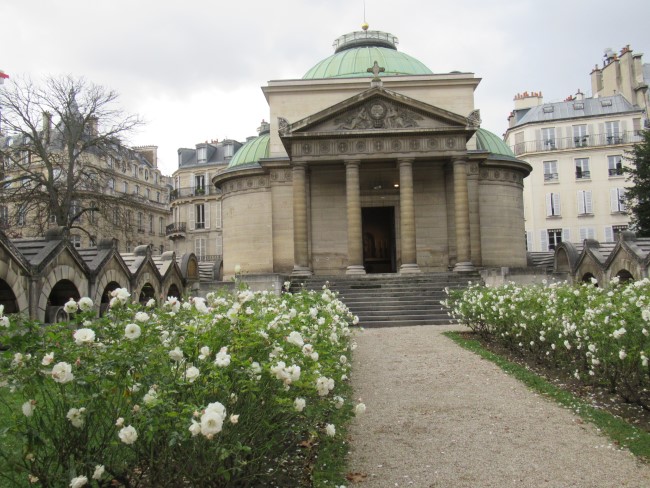 Lead photo credit : Portrait of Marie-Thérèse by Alexandre Francois Caminade
More in Louis XVI, marie antoinette, Marie-Thérèse
---
---
Comments