Golden Poppy and More: Paris Restaurant Buzz
"The people who give you their food give you their heart".  —Cesar Chavez  
In the culinary food capital of Paris, there's always buzzy restaurant news. From chef Dominique Crenn's first restaurant in France to a hot spot in Saint-Germain-des-Prés, here's a roundup of some addresses we're booking now.
"I want to show you who I am via my cooking," says Dominique Crenn. With three Michelin stars in California at Atelier Crenn, the chef believes that "three stars are a platform from which you can evolve." With that in mind, Brittany-born Crenn decided to return to France. "I'm French; I make killer sauces," she says. 
The catalyst that sparked the return were memories of living in Paris during her childhood. In the 80s, Crenn left for the USA explaining, "if I wanted to become a proper chef, I needed to leave France." In San Francisco, having worked at various restaurants notably Jeremiah Tower's Stars (now closed). With no formal training but lots of innovative culinary ideas, she set up Atelier Crenn in 2011, then Petit Crenn (2015) and the Michelin-starred Bar Crenn. 2018 marked the year she became the first, and to this day, the only three Michelin-starred female chef in the US of A. Bravo!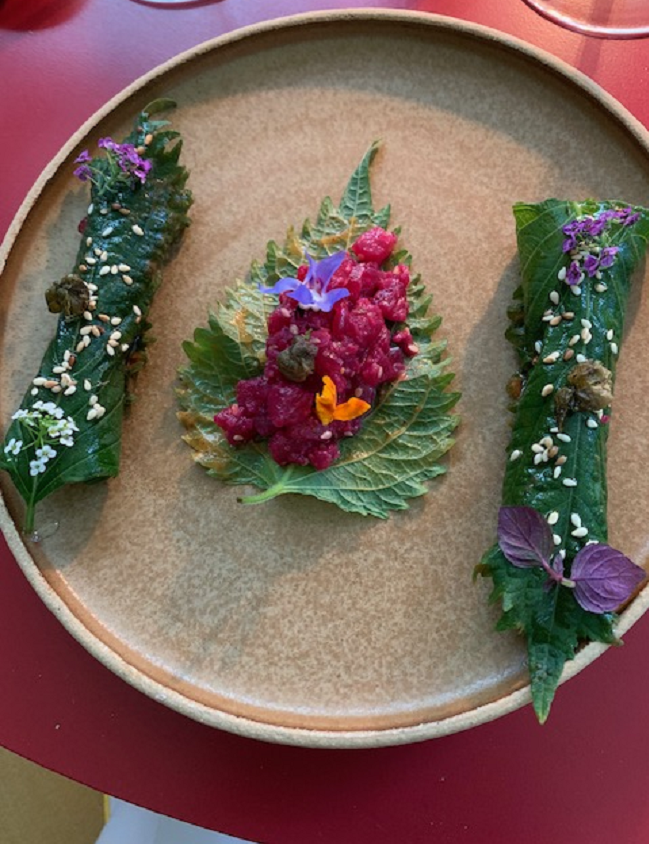 With a tempting offer to set her tables at the hip n' happening Hotel La Fantaisie, the 73-room hotel that opened in July, Crenn debuted Golden Poppy, Poppy Café and The Rooftop in Paris. Bucolic design by Martin Brudnizki flaunts a flamboyant flower garden theme, the perfect match for Crenn's gastronomic concept – using only fresh local produce. The wines are Californian and French labels. "California is a melting pot of global cuisine, so that's what Golden Poppy will represent," she says. 
On the menu: line-caught sea bass ceviche, pea milk and spicy, citrus-based leche de tigre (€24); Poutargue flan (€18); broccoli grilled with garum (fermented fish sauce) and black sesame pesto (€22); grilled rack or collar of "Ikejime" (pollock fish); chickpea chili miso (€45). And don't ignore the banana pancakes with smoked caviar!  (€32).    
DETAILS
Golden Poppy
Hotel La Fantasie
24 rue Cadel, 9th
Metro: Cadet
Tel: +33 01 55 07 85 10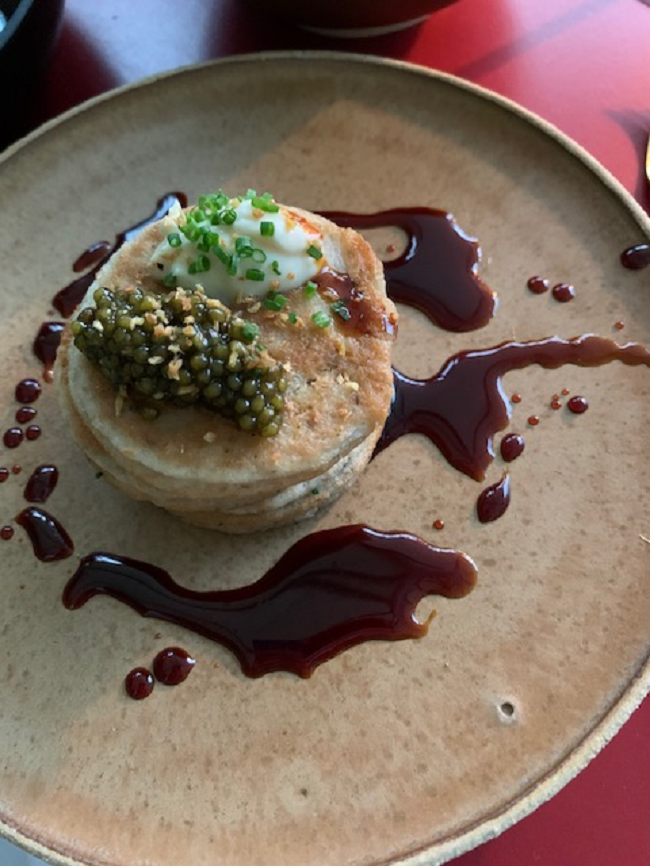 I always take the metro* (see below) to Palais Royal. The bling (love it or loathe it) on the colorful metro exit at the Place Colette was designed in 2000, for the 100th anniversary of the Paris Metro trains, by uber talented French contemporary artist Jean-Michel Othoniel. The colorful structure is called Kiosque des Noctambules" (Kiosk of the Nightwalkers). The twin cupolas of the installation (one representing day, the other night) consist of multi-colored glass beads threaded on aluminum. They create an exciting and original work within the beautiful traditional environment of Place Colette, flanked by the Comédie Francaise and, across the road, on rue de Rivoli, Le Louvre! 
Victor Hugo (1802-1885) would still recognize his favorite restaurant. Founded in 1784, just in time for the French Revolution, Le Vefour has welcomed famous guests such as Napoleon and Josephine (tradition says that he proposed to her here), Colette, Sacha Guitry, Simone de Beauvoir, Jean Cocteau, and Margaret Kemp. Discreet brass plaques commemorate the celebs who've dined here. It's history with a capital H – made modern by superchef owner Guy Martin and his team.
You'll still marvel at the dazzling decor and Guy Martin's classic dishes including perfect foie gras raviolis with truffle cream sauce followed by Pigeon Prince Rainier III. Deboned, the plump bird is stuffed with foie gras, black truffles and veal. Parmentier de queue de boeuf aux truffes is a mouthwatering take on shepherd's pie with oxtail meat and truffle-laced potato purée. Sommeliers Romain and Alzy work in tandem to tickle your palate.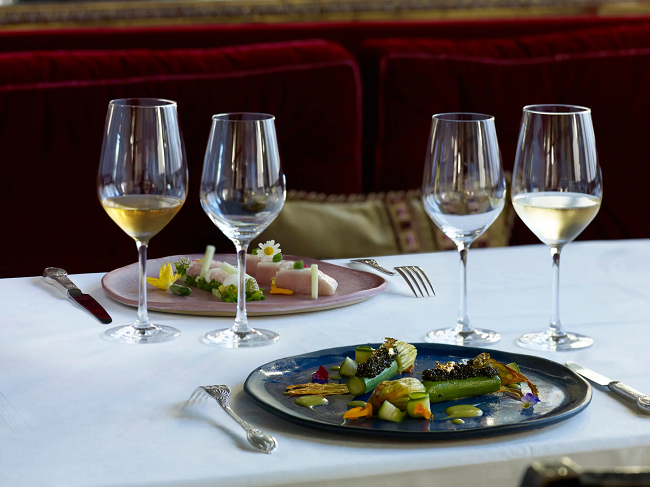 Sumptuous seasonal desserts may include sweet artichoke tart, artichoke ice cream. Cheeses are from La Savoie, Guy Martin's beloved home region in the French Alps. 
Post lunch I stroll the bucolic gardens of the Palais Royal, admiring the black and white Colonnes de Buren, created by French conceptual artist Daniel Buren (1985–1986). Discover (rediscover) them in the inner courtyard of the Palais Royal. Epic!  And follow Guy Martin to: A Noste, Bistro Augustin, & Pasco.
*Metro. Have you read Andrew Martin's Metropolitain: An Ode to The Paris Metro (Corsair Books)? "Nowhere in Paris should be more than 500m from a station," decided the Metro planners in 1900. The 14 lines with 304 stations cover 250+ miles! The magnificent Art Nouveau entrances were designed, with love, by architect Hector Guimard (1867-1942). And a "Ticket de Metro?" A bikini wax, according to Version Femina magazine! Who knew?
DETAILS
Le Grand Véfour
17, rue de Beaujolais, 1st
Metro: Palais Royal
Tel: +33 01 42 96 56 27
Terrace
Lunch & Dinner from Tuesday-Saturday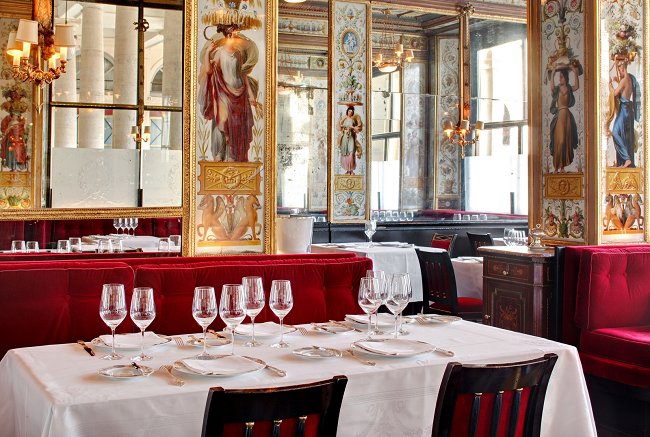 The buzzing brasserie created by chef Akrame Benallal takes inspiration from the bounty of day-to-day seasonal and local produce. Akrame's philosophy is expressed like this: "Cooking is like life; we evolve; we don't reinvent the wheel. My menus change daily, according to my mood and inspiration. I'm not following current trends. Intuition and love guides my taste."
The exciting, French-born chef grew up in Oran, Algeria and inherits his culinary passion from his maman. Formative years were in Algeria and, returning to France, post apprenticeship, he joined Pierre Gagnaire. Then he continued at L'Elysée restaurant, rue Vernet, Paris (now Le V), followed with a mind-blowing season at the legendary (now shuttered) El Bulli with Ferran Adria, Spain.  
2005 sees him as head chef for the first time, at Château des 7 Tours, Touraine, before taking over the Trendy Lounge, Tours, renaming it Atelier d'Akrame. Then back in Paris his first Michelin star was awarded in 2013, chez Akrame, rue Lauriston, in the 16th arrondissement, near the Arc de Triomphe, now transferred to rue Tronchet, Madeleine, 8th.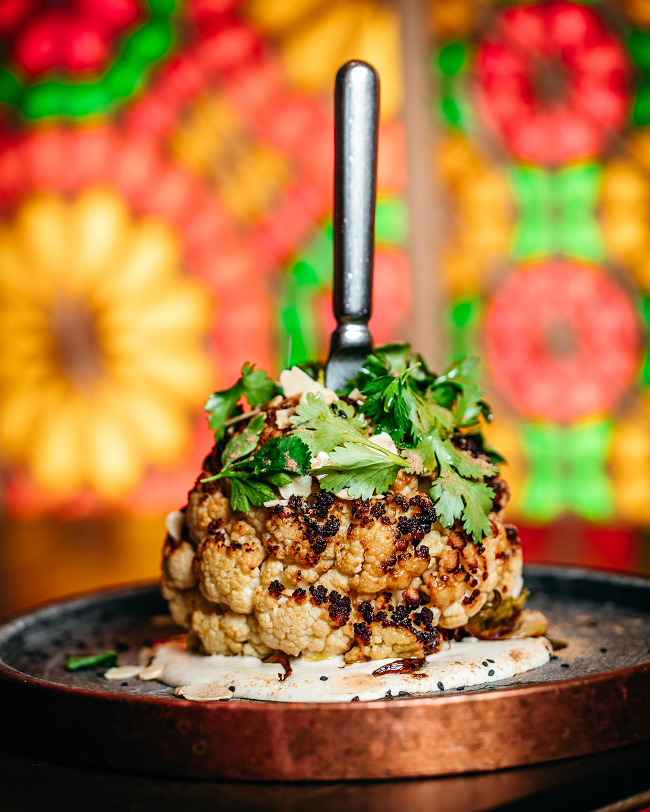 With serious serial entrepreneurship, Akrame launched Atelier Vivanda steak bistrots in Paris, Hong Kong, Manila, and most recently Shirvan on Place de l'Alma.   
"Akrame has always dreamed big, believes that nothing is impossible and continually reinvents himself," notes Alain Neyman, Editor in Chief at www.lesrestos.com. "He's famous for his contemporary and ultra-creative style of cooking imbued with love and emotion. Following an inspiring encounter with Anna, an olive grower in the Northern Italian province of Liguria, he created olive oil Caractère with taggiasche olives and wild black pepper from Madagascar, best experienced with a slice of home-made Naan or piece of warm sourdough bread." 
Neyman admires the delicious service and dishes chez Shirvan, beautifully located near the Seine, with a "people watching" terrace. Dishes inclue whole roast cauliflower, pistachio tahini (€22); lobster linguine (€55); the signature, slow-braised. milk-crusted shoulder of lamb (for 2 – €120); white truffle naan (for dipping) (€25); Sweet Dreams with orange blossom millefeuille (€15).
DETAILS
Shirvan
5, place de l'Alma, 8th
Metro: Alma-Marceau
Tel: +33 01 47 23 09 48
Open 7/7 from 12:30 pm – 1 am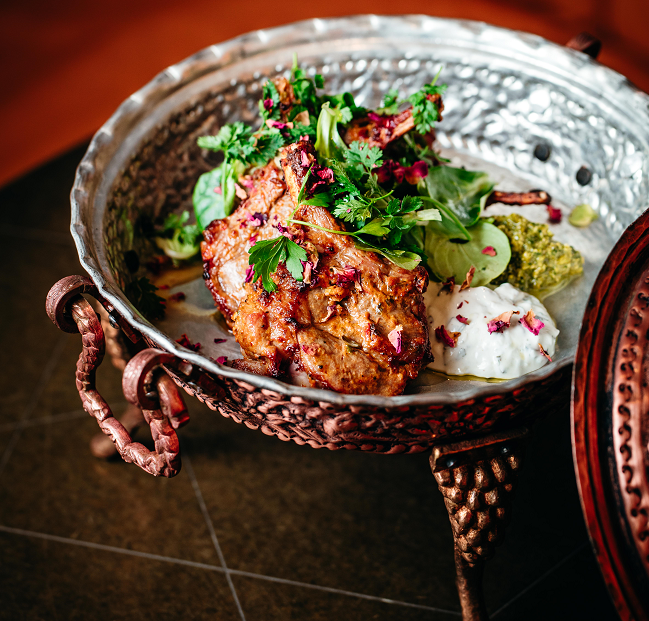 Remember Bianco, Café Montorgueil and Capri, Saint Honoré? Now Arnaud Ancora launches Dandino, on the left bank, in Saint-Germain-des-Prés, for a Tuscany détente without leaving our favorite city!
Designed by Bureau Lacroix, the décor's a delightful study of elegance and Italian charm, perfect for meals a la famiglia, romantica dinners, or drinks with friends.  
Kevin lovingly explains the menu: "a selection of dishes with authentic Italian flavors showcasing traditional recipes made with market-fresh products." As a starter he may suggest generous burrata with bottarga or octopus carpaccio. Mains could be Neapolitan pizza cooked over a wood fire by Gannia, the pizza master, or the signature eggplant pasta. Chianti Classico is priced from €17- €42. Save room for dessert? Don't ignore pastry chef Agnese's Tarte Tatin, lemon meringue tart, citrus pavlova. Match with wine or cocktails (from €12) based on spicy rum, tonka & pandan bean syrup, coconut water, exotic juice and lemon or mocktails (Miss Monroe €11).
From Monday to Sunday, there's live music and/or DJ sets and Happy Hour from 4 pm – 7 pm daily. And, to end your week in style, what could be better than Sunday brunch (€35) to a background of jazz music?
DETAILS
Dandino
8, rue de Buci, 6th
Metro: Saint-Germain-des-Pres
Tel: +33 01 42 03 23 64
Open 7/7 from 7 am – 2 am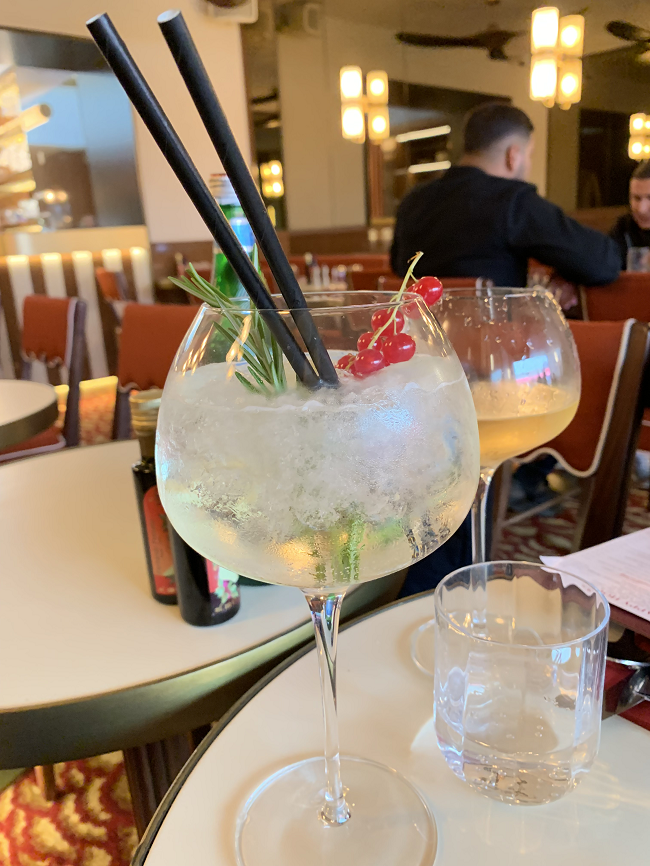 Lead photo credit : Palais Royal metro station. Photo: OTHONIEL
More in food, Paris food, Paris restaurant news, restaurant
---
---