The Drawings of Victor Hugo: The Intimacy of Genius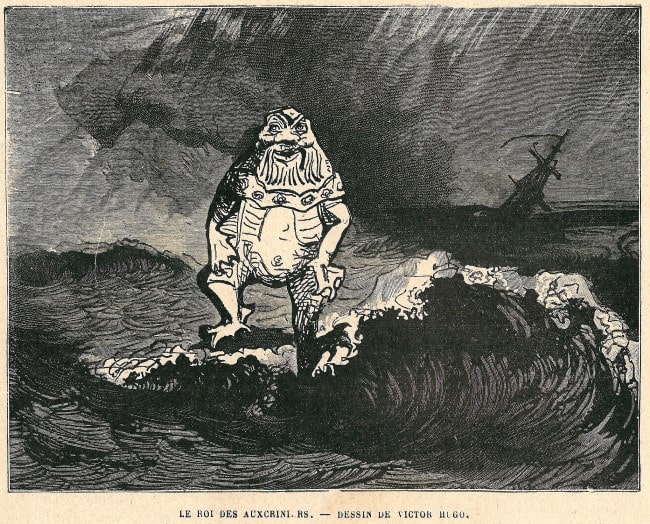 Victor Hugo, the 19th-century French Romantic, was an influential writer and political activist, famous for his novels Les Misérables and The Hunchback of Notre-Dame. Nevertheless, Victor Hugo isn't widely known for the 4,000 drawings he made during his lifetime, 3,000 of which still exist today. Hugo believed in the representing the "Grotesque:" a theme fashionable with the Romantic school of thought prevalent in the 1830s. The rebellious abandon of Romanticism was a marked transformation from the rationality stemming from the
French Revolution
. Yearning for simpler times, the Romantics looked back for primitive ideologies and forgotten origins, and reveled in the grotesque. Victor Hugo, Bridge (C) Wikimedia, Public Domain Victor Hugo's drawings were haunted by the idea of tumbledown castles and ruins. As witnessed in his description of
Notre-Dame de Paris
, Hugo took delight in crumbling ceilings, dank stone, and broken windows. A later drawing trip along the Rhine would attest to this. From Aachen to Frankfurt, Hugo sketched the history of the river through the ruins of its banks. Victor Hugo, Castle on a Hill, 1847. (C) Wikimedia, Public Domain However, Victor Hugo produced most of his drawings while in exile from France, bolting first to the Channel island of Jersey and then to Guernsey, where he and his family would live from 1855 to 1870. Though once a member of the French Legislative Assembly, Hugo became more left leaning as Napoleon III became more authoritarian; Hugo, the dissident, fled France in 1851. Victor Hugo painting (C) Flashback.com/ Public Domain
SUBSCRIBE
ALREADY SUBSCRIBED?
BECOME A BONJOUR PARIS MEMBER

Gain full access to our collection of over 5,000 articles and bring the City of Light into your life. Just 60 USD per year.

Find out why you should become a member here.

Sign in

Fill in your credentials below.
Victor Hugo, the 19th-century French Romantic, was an influential writer and political activist, famous for his novels Les Misérables and The Hunchback of Notre-Dame. Nevertheless, Victor Hugo isn't widely known for the 4,000 drawings he made during his lifetime, 3,000 of which still exist today.
Hugo believed in the representing the "Grotesque:" a theme fashionable with the Romantic school of thought prevalent in the 1830s. The rebellious abandon of Romanticism was a marked transformation from the rationality stemming from the French Revolution. Yearning for simpler times, the Romantics looked back for primitive ideologies and forgotten origins, and reveled in the grotesque.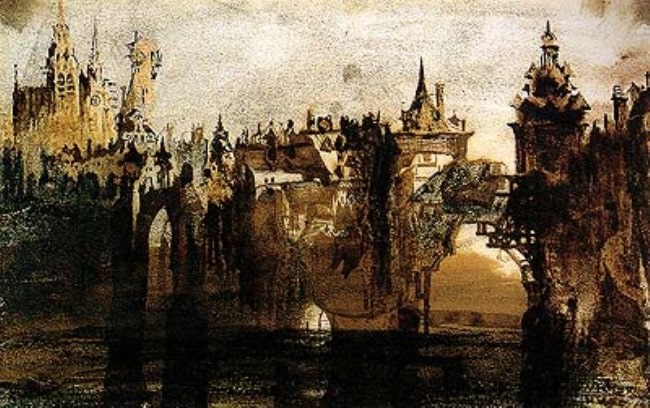 Victor Hugo's drawings were haunted by the idea of tumbledown castles and ruins. As witnessed in his description of Notre-Dame de Paris, Hugo took delight in crumbling ceilings, dank stone, and broken windows. A later drawing trip along the Rhine would attest to this. From Aachen to Frankfurt, Hugo sketched the history of the river through the ruins of its banks.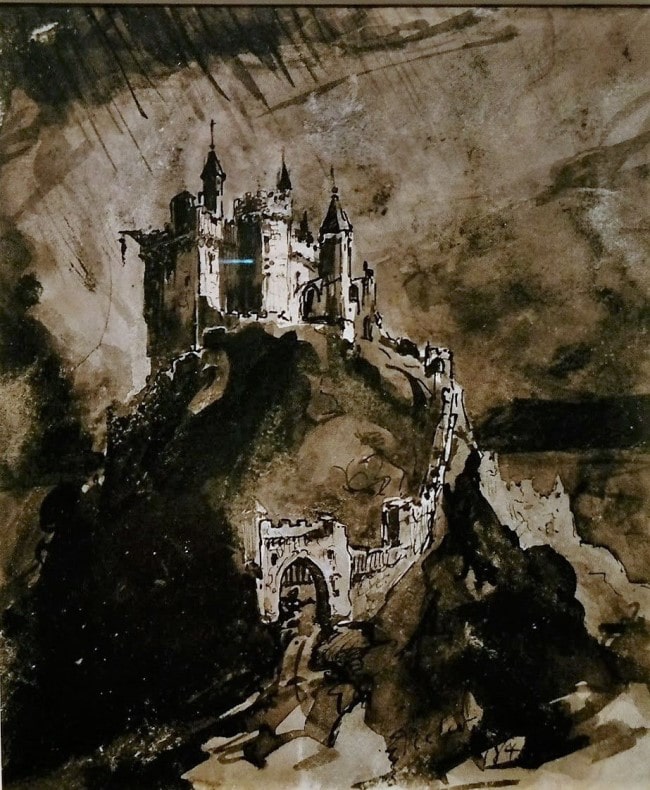 However, Victor Hugo produced most of his drawings while in exile from France, bolting first to the Channel island of Jersey and then to Guernsey, where he and his family would live from 1855 to 1870. Though once a member of the French Legislative Assembly, Hugo became more left leaning as Napoleon III became more authoritarian; Hugo, the dissident, fled France in 1851.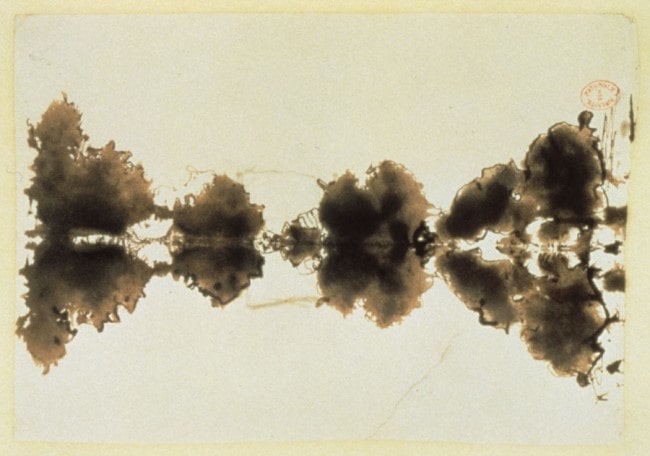 In exile, Hugo's writing was devoted only to political essays; therefore, his main creative outlet was drawing. Drawing was a private endeavour for Hugo while he lived at Hauteville House in Guernsey – his hobby known only to family and close friends. Hugo didn't want discussion of his artistic pursuits to distract from his written word. The exile was Hugo's most prolific period for visual art and his isolation understandably influenced his style. His symbolically revealing art featured harsh contrasts between dark and light, and unsettling imagery like a shadowy figure hanging from a noose. His art was very dark melancholy. In an 1867, a piece with storming, crashing waves was titled "Ma destinée" – My Destiny. In 1868, he sent one recipient a depiction of a burnt-down village with an empty cradle at its center. A very grim and surreal piece of social commentary called Justita was displayed on the wall of his Guernsey home.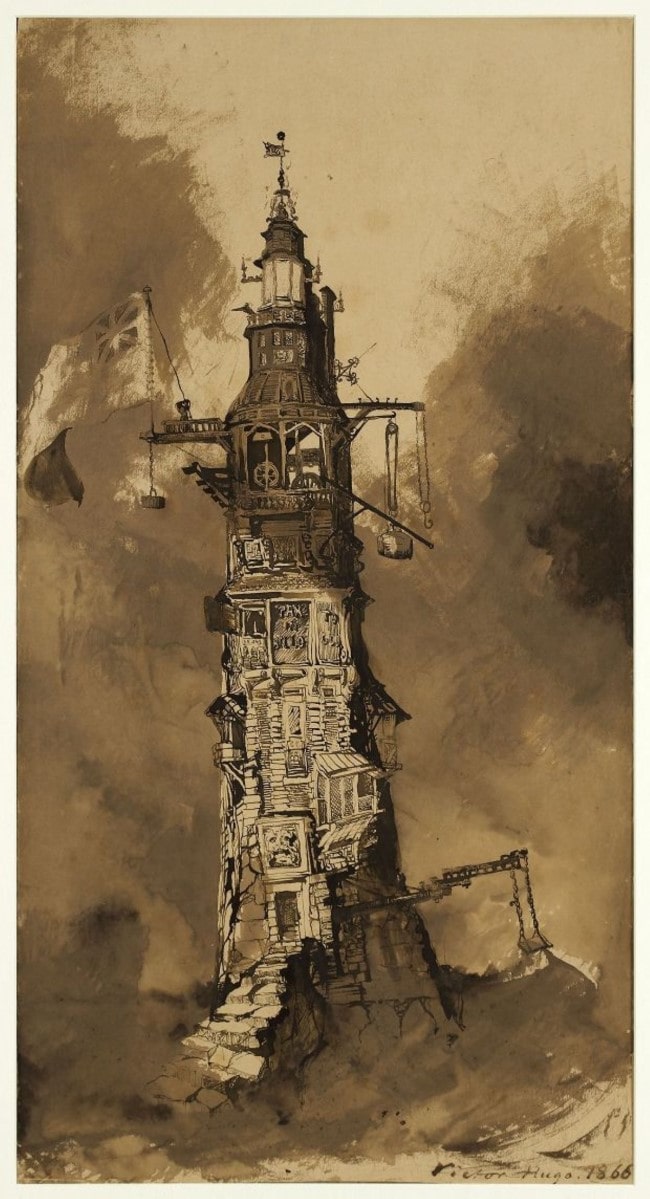 Working on small sheets of paper, Victor Hugo started his drawings not just with a wash of ink, but whatever was at hand: dust, soot, even coffee grounds. The soaked papers on which he drew created spontaneous stains and shapes and his results are often hazy or dreamlike. He used leaves, lace and even his fingertips to create an impression. "My drawings are somewhat wild," Hugo said to an engraver. "If this one is too hard for you to engrave, select another. In my undisciplined way I use the feather of my pen as much as its point."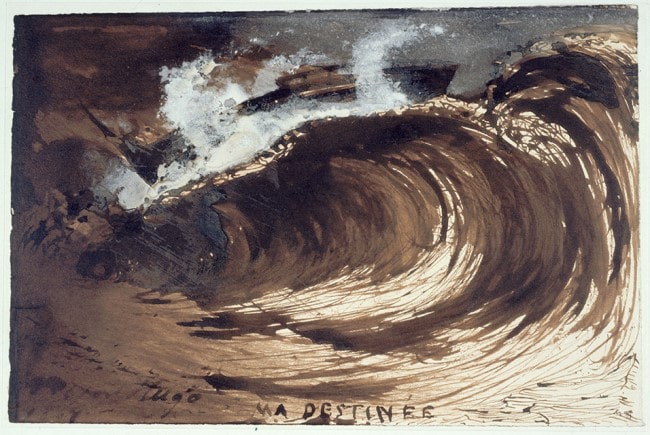 His drawings are a dramatic break from other painterly works the period, in some ways foreshadowing abstract art. Some of Victor Hugo's work was appreciated by contemporary artists like Delacroix, who expressed the opinion that if Hugo had decided to become a painter instead of a writer, he would have outshone his 19th century contemporaries.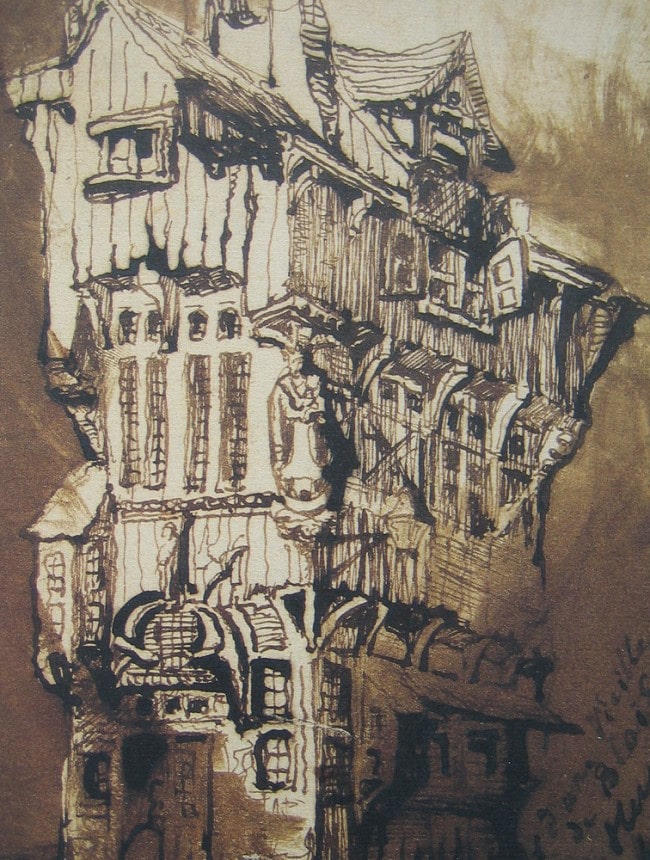 Many of Hugo's drawings were collected into an album by the publishing house Castel in 1863. The publisher wanted to reproduce drawings found in the margins of Hugo's writing. Hugo believed they wouldn't be understood. However, with the proceeds from the sale of the album earmarked to go to Hugo's work with underprivileged children, he left his destiny in the hands of the publisher.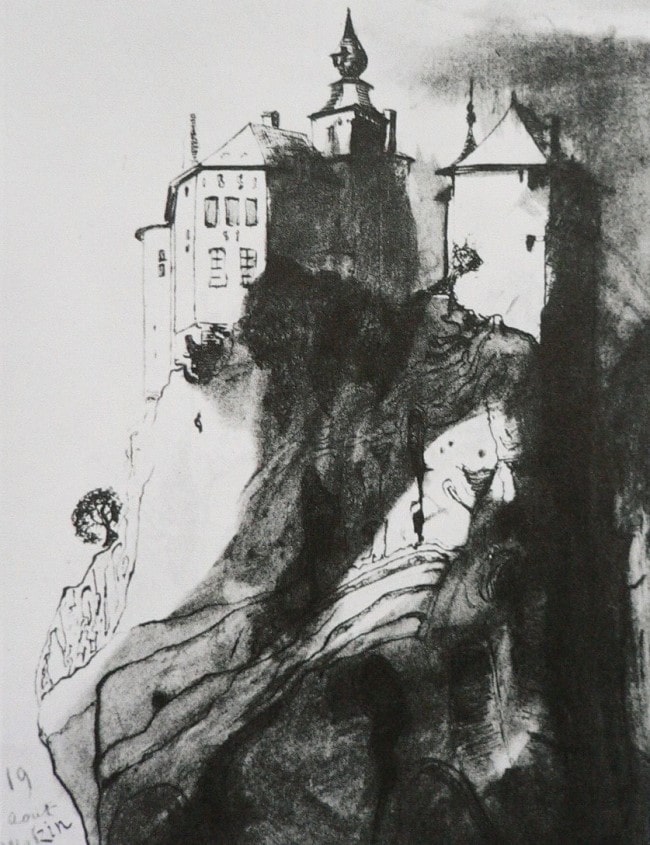 Seven hundred fragile drawings by the author are on display at the newly renovated Maison de Victor Hugo, until November 21st, 2021. "Victor Hugo drawings: In the intimacy of genius" is an exhibition at the writer's Paris home in the Place de Vosges.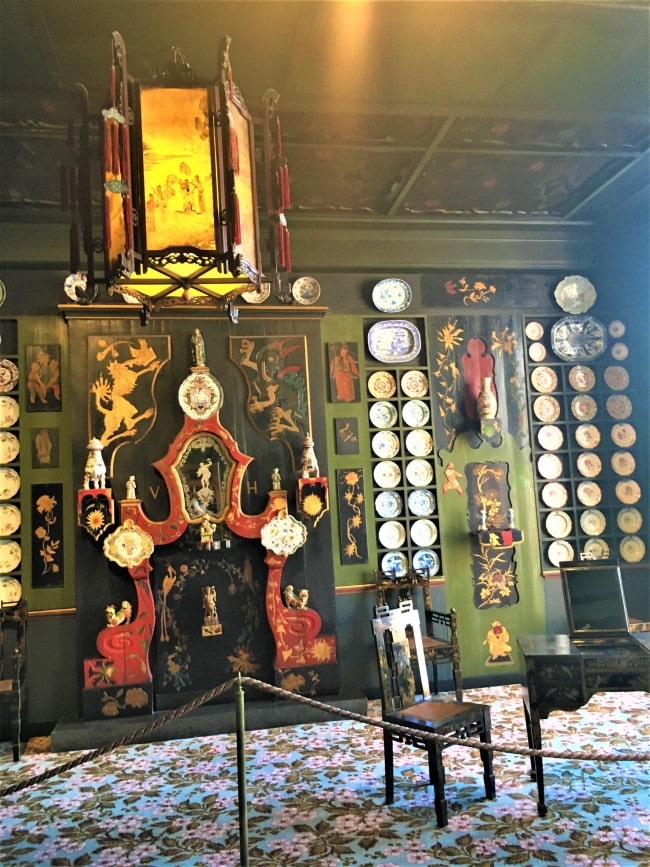 Originally slated to open in 2020, the unveiling of the renovations was pushed ahead by five months as the French government extended pandemic restrictions on museums and other cultural venues. The Maison de Victor Hugo reopened in May of 2021, with expanded spaces, improved flow, and restored collections.
The Maison de Victor Hugo is housed in the 17th-century Hôtel de Rohan-Guéménée, shared until recently with an elementary school. The building itself dates from 1605 and took the current name Hôtel de Rohan-Guéménée after it was substantially improved upon by the de Rohan family. Hugo was 30 years old when he moved into the house in October 1832 with his wife Adèle. They rented an impressive 280m2 apartment on the second floor. The mansion was converted into a museum in 1903, when Hugo's close friend, the novelist and playwright Paul Meurice, made a large donation to the city of Paris, to buy the house.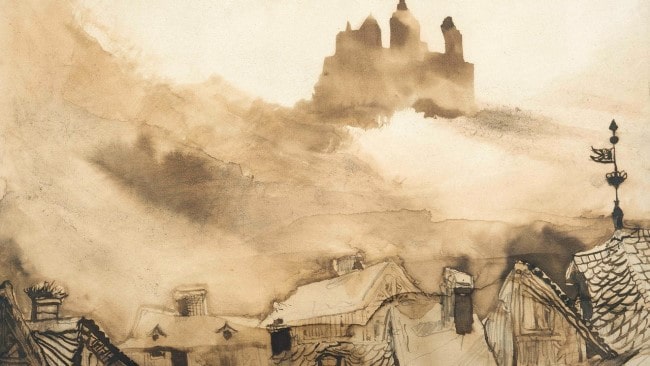 A fully refurbished entrance contains much-needed touch screens which recount the life of Victor Hugo – one of which makes the connection between Hugo's two homes, taking visitors on a virtual a tour of the Guernsey house as well. There are updated audio guides which follow an improved-upon floor plan. The Maison de Victor Hugo fulfills all four categories of France's national Tourism and Disability accreditation scheme, and is fully accessible to people with  physical or mental disabilities, or have impaired sight or hearing.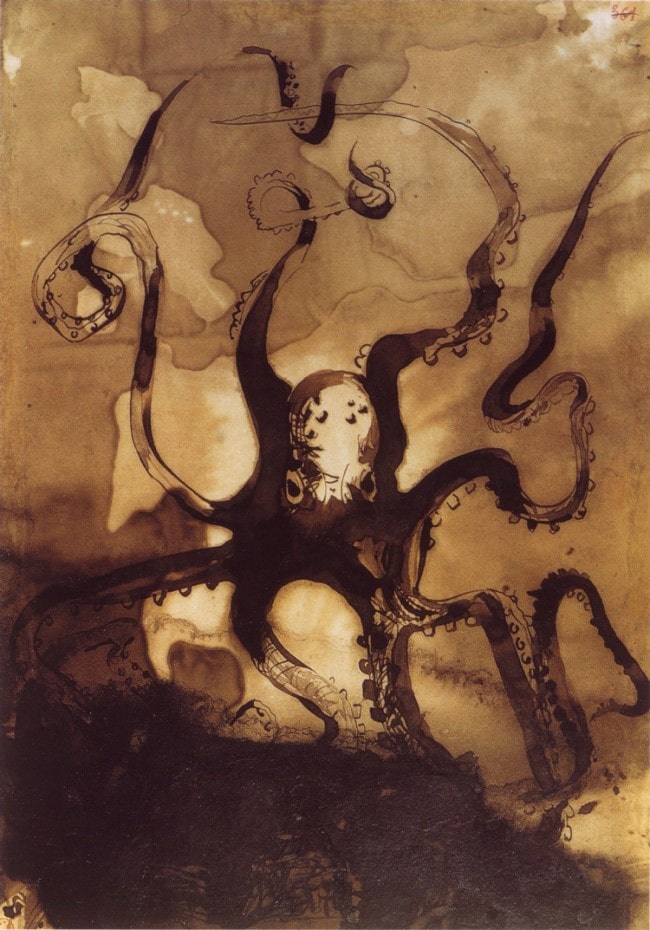 A new staircase leads from the end of the museum's temporary and permanent displays down to ground level, where at the bottom is François Pompon's 1887 sculpture Cosette, the heroine of Hugo's Les Miserables. One of the biggest changes to the maison is the refurbishment of the inner courtyard. The former school playground has been turned back into a garden terrace. This relaxing area contains a replica of a snake-adorned fountain that Hugo purchased before his exile from France. Surrounding the patio is the new ground-floor Café Mulot under the auspices of chef Fabien Rouillard.
Maison de Victor Hugo
6 Place des Vosges, 4th arrondissement
Tel: +33 (0)1 42 72 10 16
Open from 10 am- 6 pm. Closed Mondays.
The full-price ticket to the exhibit is 9 euros.
Lead photo credit : Victor Hugo, Le roi des auxcriniers. (C) Wikipedia, Public Domain
More in Art, drawing, exhibition, painting, victor hugo
---
---