Film Review: Yannick, The Sleeper Comedy Hit of the French Summer
In a summer of three-hour-plus megahits which shall go unnamed (they hardly need the publicity anyway), Yannick, a comedy directed by Quentin Dupieux that's become a surprise hit in France, clocks in at one hour and seven minutes. It takes place entirely inside a
Parisian
theater, with just three main characters. In fact, it's nearly a one-man show since the film is dominated by the eponymous Yannick (brilliantly played by Raphaël Quenard). Yannick has a delicious premise that's both melodramatic and blackly comic. A trio of actors, Paul (Pio Marmaï), Sophie (Blanche Gardin), and William (Sébastien Chassagne), is starring in a cheesy play about adultery. It sounds like an old-fashioned Boulevard farce, but played for acidly cynical comedy. Yannick, a lone spectator, stands up and berates the actors for putting on a depressing show. (He'd not only paid the price of admission, but commuted from a distant suburb and had to fix things at his job working security at a parking garage). The actors are flummoxed at first, as is the rest of the audience. What starts as a rancorous debate about what the theater owes the public takes a nasty turn when Yannick brandishes a gun and holds both cast and audience hostage. His aim? He's going to write a play on the spot and show 'em how it's done. 'Yannick' is a film with only 3 main characters Photo Credit: Chi-Fou-Mi Production/Atelier de Production The movie calls to mind hostage dramas like Dog Day Afternoon, as well as crackpots-in- show-biz movies like Martin Scorsese's King of Comedy. The first starred Al Pacino, the second Robert de Niro, and Quenard's performance can reasonably be compared to theirs. He convincingly expresses the usual Everyloon's outrage, but also an autodidact's intelligence, and the menace of de Niro in another famous role, that of Travis Bickle in Taxi Driver. But the characterization stays on one overwrought frequency-it would have gotten tiresome if the film had been longer. We actually would have liked it to last a bit longer, if the director had been interested in exploring the character more. As it is, we wonder why Yannick was so irritated at the play. Maybe the subject, about a betrayed husband, cut close to the bone? (We learn that he had a wife or partner at one time.) And why did a working-class guy from the 'burbs want to come to a Paris theater in the first place, rather than a Marvel extravaganza at the multiplex or a series on Netflix? What the director is able to do, very deftly, in the film's short duration is to veer off in some unexpected directions. Paul, exuberantly played by the very talented Pio Malmai (En corps, La Fracture), comes to the fore in the middle of the film, after the cast is forced into performing Yannick's play. He will challenge Yannick's position as prime zany of the movie, though in his case it seems like the riffing of a veteran actor rather than Quenard's from-the- gut craziness. (He also appeared in Novembre and
Je verrais toujours vos visages
). Blanche Gardin as Sophie looks like she could give both of the men a run for their madhouse money (she offers to have sex with Paul if he gets them out of this mess), but the director doesn't give her enough space to develop. Maybe a question of time again, or perhaps the Dupieux's lack of interest. It's too bad, as Ms.Gardin is the one who actually made me laugh rather than give out with a wry grin. (Her background is in stand-up, and she became known through comedy shows on French television, though she's appeared in nearly two dozen films.) 'Yannick' veers off in some unexpected directions. Chi-Fou-Mi Production/Atelier de Production
SUBSCRIBE
ALREADY SUBSCRIBED?
BECOME A BONJOUR PARIS MEMBER

Gain full access to our collection of over 5,000 articles and bring the City of Light into your life. Just 60 USD per year.

Find out why you should become a member here.

Sign in

Fill in your credentials below.
In a summer of three-hour-plus megahits which shall go unnamed (they hardly need the publicity anyway), Yannick, a comedy directed by Quentin Dupieux that's become a surprise hit in France, clocks in at one hour and seven minutes. It takes place entirely inside a Parisian theater, with just three main characters. In fact, it's nearly a one-man show since the film is dominated by the eponymous Yannick (brilliantly played by Raphaël Quenard).
Yannick has a delicious premise that's both melodramatic and blackly comic. A trio of actors, Paul (Pio Marmaï), Sophie (Blanche Gardin), and William (Sébastien Chassagne), is starring in a cheesy play about adultery. It sounds like an old-fashioned Boulevard farce, but played for acidly cynical comedy. Yannick, a lone spectator, stands up and berates the actors for putting on a depressing show. (He'd not only paid the price of admission, but commuted from a distant suburb and had to fix things at his job working security at a parking garage). The actors are flummoxed at first, as is the rest of the audience. What starts as a rancorous debate about what the theater owes the public takes a nasty turn when Yannick brandishes a gun and holds both cast and audience hostage. His aim? He's going to write a play on the spot and show 'em how it's done.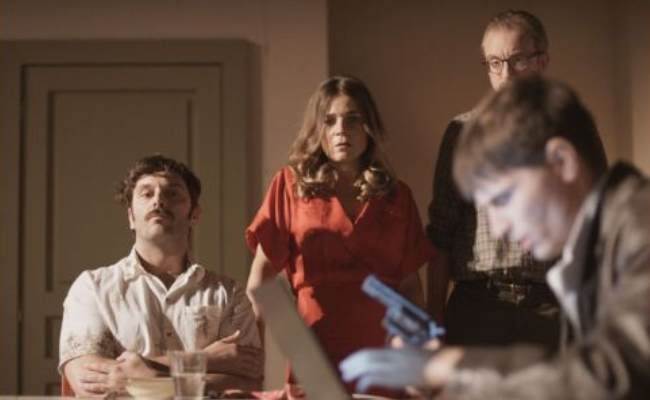 The movie calls to mind hostage dramas like Dog Day Afternoon, as well as crackpots-in- show-biz movies like Martin Scorsese's King of Comedy. The first starred Al Pacino, the second Robert de Niro, and Quenard's performance can reasonably be compared to theirs. He convincingly expresses the usual Everyloon's outrage, but also an autodidact's intelligence, and the menace of de Niro in another famous role, that of Travis Bickle in Taxi Driver. But the characterization stays on one overwrought frequency-it would have gotten tiresome if the film had been longer. We actually would have liked it to last a bit longer, if the director had been interested in exploring the character more. As it is, we wonder why Yannick was so irritated at the play. Maybe the subject, about a betrayed husband, cut close to the bone? (We learn that he had a wife or partner at one time.) And why did a working-class guy from the 'burbs want to come to a Paris theater in the first place, rather than a Marvel extravaganza at the multiplex or a series on Netflix?
What the director is able to do, very deftly, in the film's short duration is to veer off in some unexpected directions. Paul, exuberantly played by the very talented Pio Malmai (En corps, La Fracture), comes to the fore in the middle of the film, after the cast is forced into performing Yannick's play. He will challenge Yannick's position as prime zany of the movie, though in his case it seems like the riffing of a veteran actor rather than Quenard's from-the- gut craziness. (He also appeared in Novembre and Je verrais toujours vos visages). Blanche Gardin as Sophie looks like she could give both of the men a run for their madhouse money (she offers to have sex with Paul if he gets them out of this mess), but the director doesn't give her enough space to develop. Maybe a question of time again, or perhaps the Dupieux's lack of interest. It's too bad, as Ms.Gardin is the one who actually made me laugh rather than give out with a wry grin. (Her background is in stand-up, and she became known through comedy shows on French television, though she's appeared in nearly two dozen films.)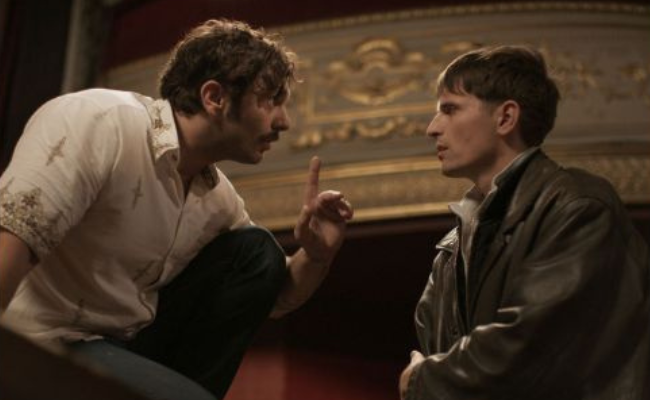 Sidney Lumet, who directed the aforementioned Dog Day Afternoon, stuffed a lot of thematic fiber in his hostage drama: urban decay, sexuality, media corruption, law enforcement brutality. Dupieux is much more modest, for the most part. He brings out the poignant, lonely existence of Yannick, and also the professional frustrations of Paul. Even when Yannick seems to terrorize some members of the audience, we sense he's straining for some kind human connection. By the end, we come to see the true pathos in the film's situation.
Dupieux, whose career began in electronic music and video clips, reminds me of another off- beat French director, Jean-Pierre Mocky, who made many quirky comic films (Une Nuit à L'Assembée Nationale), rapidly filmed without concession, in his own way. Dupieux's previous films (Le Daim, Mandibules), were also on the marginal side. Aside from his unconventional handling of Yannick's story, such as it is, and his empathetic direction of the actors, he films the interiors of the theater in a loving, but also evocative way. We feel how if all the world's a stage, a stage can also be its own world.
Let's hope Quentin Dupieux gets the means to make more regular features, or even a two-hour epic (no aging explorers, ageless secret agents, or tortured destroyers-of-worlds, please). In the meantime, Yannick is eminently worth an hour and seven minutes of your time.
Production: Chi-Fou-Mi Production/Atelier de Production
Distribution: Diaphana Distribution
Lead photo credit : 'Yannick'. Chi-Fou-Mi Production/Atelier de Production
More in cinema, film review, movie
---
---