La Chapelle Expiatoire: Dedicated to Louis XVI and Marie-Antoinette
The tranquil garden surrounding the Chapelle Expiatoire, just a few minutes' walk from La Madeleine or the
Galeries Lafayette
, is a little haven. Its large beds of white rose bushes, its classical monument, and many benches for those who wish to sit and reflect, create a fitting mood of remembrance and regret. This site was set up by Louis XVIII soon after the restoration of the monarchy in 1815 in remembrance of those whose bodies had been hurriedly buried here after their execution in the Place de la Révolution (now Place de la Concorde) during the French Revolution. Most particularly, Louis sought to honor his own brother and sister-in-law, Louis XVI and
Queen Marie-Antoinette
. Lancelot Théodore Turpin de Crissé, Mass in the Chapelle expiatoire (1835). Public domain This site, quite rural in the 18th century, was used as a cemetery for the Madeleine Church, and was the obvious choice for the grisly task of disposing of so many bodies during the
French Revolution
. Most of the victims were thrown into mass graves, but the king and queen were buried individually in two coffins. A lawyer who lived nearby, Pierre-Louis-Olivier Descloseaux, tried to record what was happening and he planted weeping willow trees to mark the royal graves. In 1802, when most bodies had already been transferred to the
catacombs
, he bought up the land and in 1814, when the monarchy was restored, he sold it to the new king, Louis XVIII. Louis had his brother and sister-in-law's bodies transferred to the
Basilique Saint Denis
where the rest of France's kings and queens were buried and he had a memorial built here to mark the spot where they had lain for 22 years. At the front is a little garden, leading through a vestibule to the memorial garden with its central pathway, flanked on either side by large beds full of white rose bushes, leading to the monument proper. This is a neo-classical building, with steps leading up to a pillared portico and then on into a domed, windowless chapel, as simply designed as it could possibly be. Inside there is minimal décor, just a marble floor, an altar at the far end and two semi-circular side chapels, containing statues of Louis and Marie-Antoinette. The colours are subdued, mainly cream, white and a little black, punctuated at the far end by the gold of the candlesticks. The whole building has been designed with a single focus: commemoration. The garden of the Chapelle Expiatoire. Photo credit: Marian Jones The white marble statue of Louis shows him looking up at an angel who is supporting him with one hand and pointing up to heaven with the other. He is mounted on a plinth and depicted as pious and dignified. The full text of his will is engraved in gold letters on a black panel on the plinth and it makes for poignant reading. It was written on Christmas Day in 1792, a month before his execution and begins "I, Louis XVI King of France, being for more than four months imprisoned with my family in the tower of the Temple at Paris, by those who were my subjects, and deprived of all communication whatsoever, even with my family…"
SUBSCRIBE
ALREADY SUBSCRIBED?
BECOME A BONJOUR PARIS MEMBER

Gain full access to our collection of over 5,000 articles and bring the City of Light into your life. Just 60 USD per year.

Find out why you should become a member here.

Sign in

Fill in your credentials below.
The tranquil garden surrounding the Chapelle Expiatoire, just a few minutes' walk from La Madeleine or the Galeries Lafayette, is a little haven. Its large beds of white rose bushes, its classical monument, and many benches for those who wish to sit and reflect, create a fitting mood of remembrance and regret. This site was set up by Louis XVIII soon after the restoration of the monarchy in 1815 in remembrance of those whose bodies had been hurriedly buried here after their execution in the Place de la Révolution (now Place de la Concorde) during the French Revolution. Most particularly, Louis sought to honor his own brother and sister-in-law, Louis XVI and Queen Marie-Antoinette.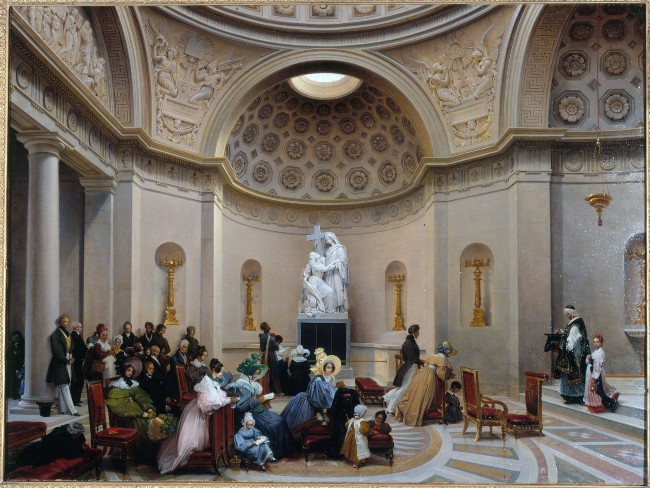 This site, quite rural in the 18th century, was used as a cemetery for the Madeleine Church, and was the obvious choice for the grisly task of disposing of so many bodies during the French Revolution. Most of the victims were thrown into mass graves, but the king and queen were buried individually in two coffins. A lawyer who lived nearby, Pierre-Louis-Olivier Descloseaux, tried to record what was happening and he planted weeping willow trees to mark the royal graves. In 1802, when most bodies had already been transferred to the catacombs, he bought up the land and in 1814, when the monarchy was restored, he sold it to the new king, Louis XVIII. Louis had his brother and sister-in-law's bodies transferred to the Basilique Saint Denis where the rest of France's kings and queens were buried and he had a memorial built here to mark the spot where they had lain for 22 years.
At the front is a little garden, leading through a vestibule to the memorial garden with its central pathway, flanked on either side by large beds full of white rose bushes, leading to the monument proper. This is a neo-classical building, with steps leading up to a pillared portico and then on into a domed, windowless chapel, as simply designed as it could possibly be. Inside there is minimal décor, just a marble floor, an altar at the far end and two semi-circular side chapels, containing statues of Louis and Marie-Antoinette. The colours are subdued, mainly cream, white and a little black, punctuated at the far end by the gold of the candlesticks. The whole building has been designed with a single focus: commemoration.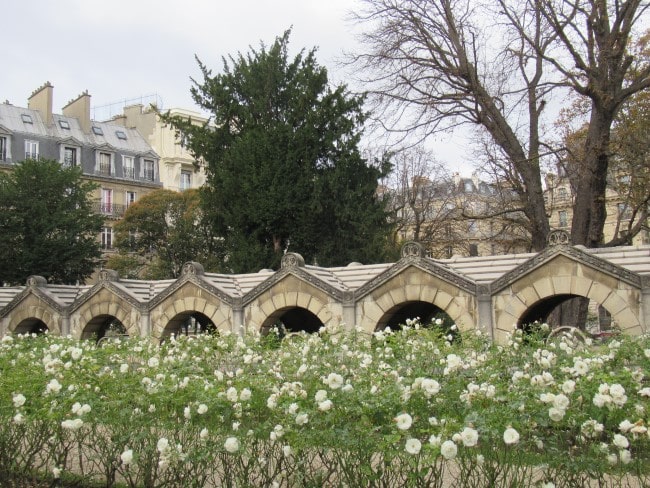 The white marble statue of Louis shows him looking up at an angel who is supporting him with one hand and pointing up to heaven with the other. He is mounted on a plinth and depicted as pious and dignified. The full text of his will is engraved in gold letters on a black panel on the plinth and it makes for poignant reading. It was written on Christmas Day in 1792, a month before his execution and begins "I, Louis XVI King of France, being for more than four months imprisoned with my family in the tower of the Temple at Paris, by those who were my subjects, and deprived of all communication whatsoever, even with my family…"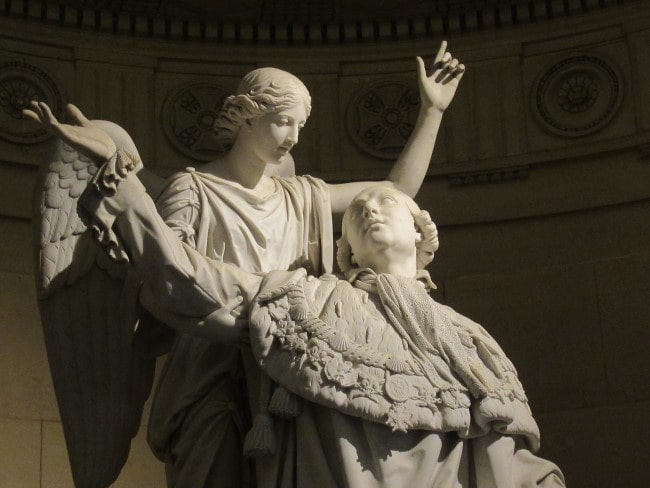 Louis begged forgiveness for his sins and pardon too for his enemies, including those "who, through false or misunderstood zeal, did me much harm." He writes tenderly of his wife and children – "I pray to God particularly to cast eyes of compassion upon my wife, my children, and my sister, who suffered with me for so long a time" – and of his deep gratitude to those few companions who remained with him until the end. He mentions his personal valet, Jean-Baptiste Cléry, by name, grateful for his "attentiveness" and requesting that "the gentlemen of the commune hand over to him my clothes, my books, my watch, my purse, and all other small effects which have been deposited with the council of the commune." It is a dignified last message, ending with the words "Tower of the Temple, the 25th of December 1792" and signed simply "Louis."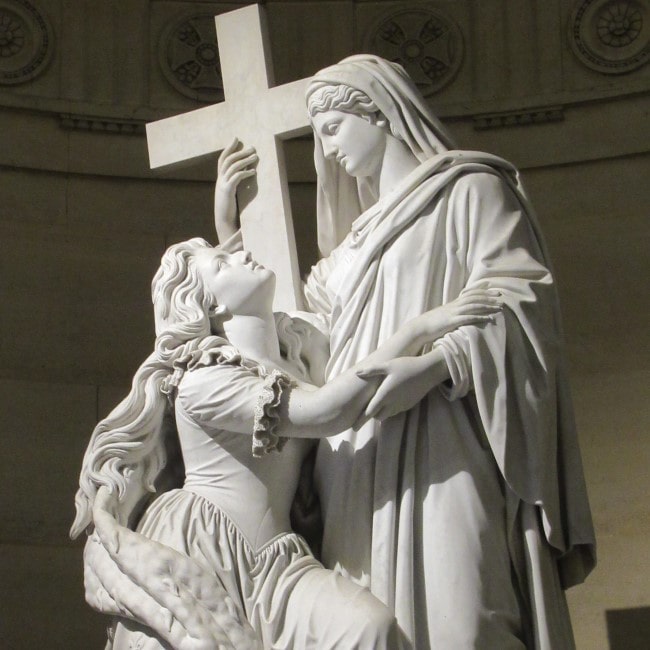 In the opposite alcove the statue of Marie-Antoinette shows her kneeling in front of a figure representing "religion," a plainly dressed female figure holding a large cross. Carved in white marble, it is simple and beautiful and, mirroring the statue of Louis, it too is mounted on a plinth with the text of the queen's last letter engraved in full onto a black marble panel. The letter is dated October 16th, 1793, the day of her execution. Marie-Antoinette wrote it at 4 a.m., a few hours before she was taken on a cart from the Conciergerie, where she had been imprisoned during her trial, to the Place de la Révolution where the guillotine awaited. The letter is addressed to her sister-in-law, Madame Elisabeth, who had remained with the royal family until the very last and who would herself be executed the following May.
The letter opens: "It is to you, sister that I write for the last time; I have just been condemned, not to an ignominious death — it is such to the guilty alone — but to rejoin your brother. Innocent like him, I hope to show the same firmness in my last moments. I experience the tranquillity of mind ever attending a guiltless conscience." Marie-Antoinette then asked for pardon for her sins, forgave those who had done her injury, and ended with a heart-rending farewell to those dearest to her: "Adieu, my kind and tender sister; may this letter reach you. Always think of me; I embrace you with my whole heart, as well as those poor and dear children: O my God! how heart-rending it is to leave them for ever! Adieu! Adieu!"
Louis XVIII intended the Chapelle Expiatoire to be a memorial for Louis and Marie-Antoinette, but over the centuries there has been some criticism that it does not pay sufficient attention to the thousands of others who suffered the same fate. There are cenotaphs in the grounds in memory of some named people, such as Olympe de Gouges and Charlotte Corday, both thought to have been buried here after their executions. The sides of the garden are lined with upright tombstones in memory of the 800 Swiss Guards killed by revolutionary forces and they form a solemn guard of honor which recalls the duty they did in guarding the royal family. But yes, most of those flung so ignominiously into mass graves will forever be nameless.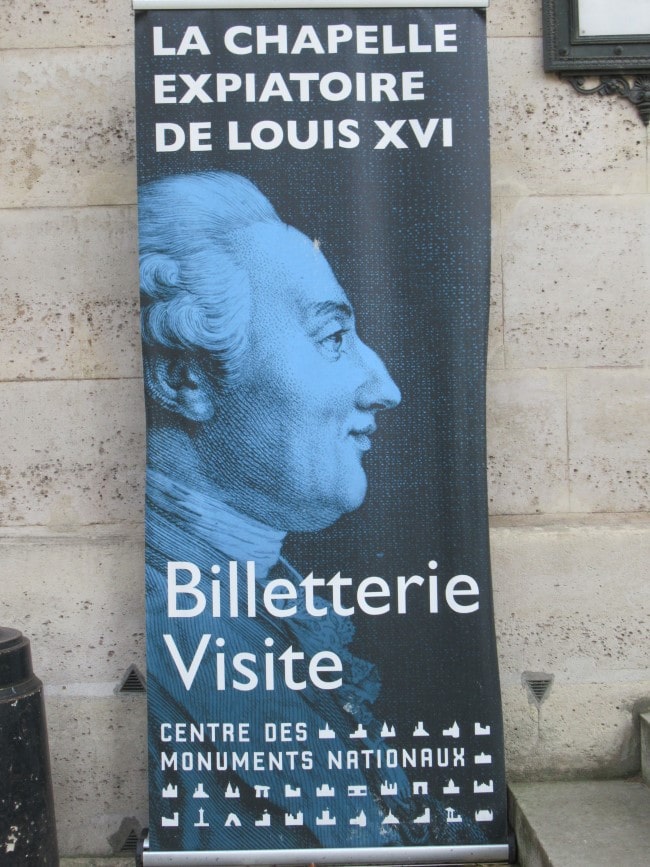 The idea of royalty ruling in France is long buried, and many prefer it that way, but a visit to the Chapelle Expiatoire is worthwhile whatever your views. It is a place to remember the city's turbulent past, perhaps to pay a tribute to a long-ago king and queen and the dreadful fate they suffered. It is a tranquil haven, set back from the commercial bustle of the eighth arrondissement, somewhere to admire the rose garden and the building which the writer Chateaubriand called 'the most remarkable edifice in Paris.'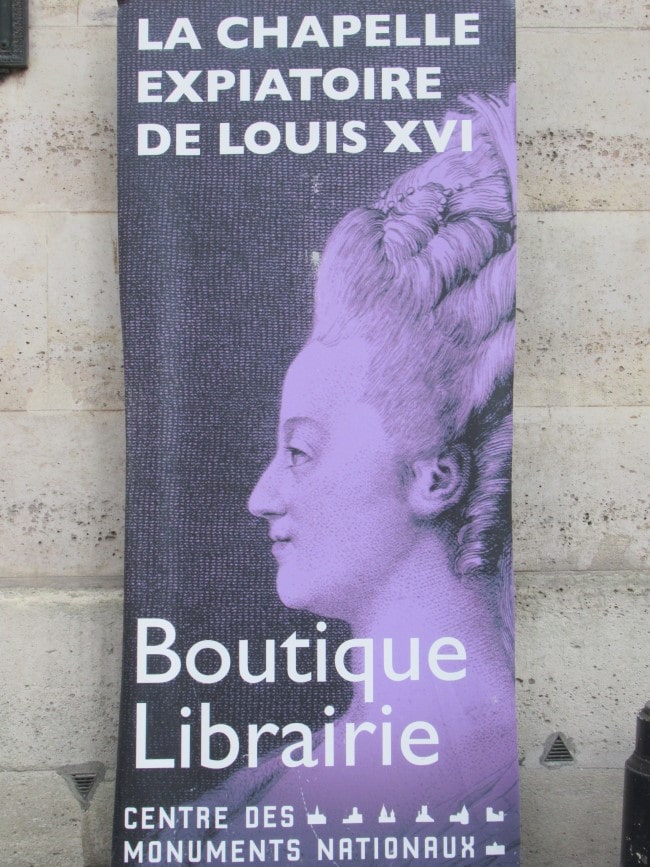 DETAILS
Chapelle Expiatoire
29, Rue Pasquier, 75008, Paris
Metro: Augustin
Guided tours available, sometimes in English.
Full price €6, concessions €5, children free
Open:
April – September: Tuesday – Saturday 10 am -12:30 pm and 1:30 pm-6:30 pm
October – March: Wednesday-Saturday 10 am-12:30 pm and 1:30 pm-5 pm
Last entry 30 minutes before closing.
Lead photo credit : The Chapelle Expiatoire. Photo credit: Marian Jones
More in 8th arrondissement, chapel, history
---
---
Comments