Mersea, Tiger Tiger, Picnics by Ledoyen: Food News in Paris
"To be forever 20 in Paris in the springtime… What could be more divine?" – Henry "Chips" Channon (1897-1958)
Currently under lockdown, France is anticipating a gradual reopening of the country that will start sometime in May. When the long-awaited restaurant reopening finally comes, it'll probably be in three phases of four weeks each. (The hope is that sidewalk terrasses will be able to open mid-May.)
The first phase concerns hotel restaurants. The second stage reopens terraces, while also allowing cafés and restaurants to welcome clients inside with a limited capacity to respect social distancing (50 percent of the usual seating).
The third phase is "we are open!" in compliance with the hygiene protocol – similar to last summer – supplemented by a track & trace app via a QR code flashed at the entrance. In the meantime, here's some Paris food and restaurant news to tide you over. (If you're tired of cooking, delivery is a great option, which also supports restaurants affected by the health crisis.)
Think "sustainable street food of the sea" delivered to your door (or via takeaway). The concept was developed by four young entrepreneurs with the input of Olivier Bellin, the 2-star chef/owner at the Relais&Chateaux property Auberge des Glazicks.
Go for the best seller "Fish & Chips" – the fish coated with crunchy corn flake and panko breadcrumb batter. Or try the epic big Black Burger for €15.95 (fish, charcoal bun = heaven). Wow!
Following their first venture on Grands Boulevards (6 rue du Faubourg Montmartre), then La Défense and Beau Passage (7th), the founders Keyvan Badri and Olivier Bellin joined forces with the Arvis family of Madeho Group to net a fourth Mersea addy at 216 rue du Faubourg Saint-Honoré in the 8th. Two more Merseas launching soon in a 'hood near you ….  Watch this plaice/space !
Download the menu here.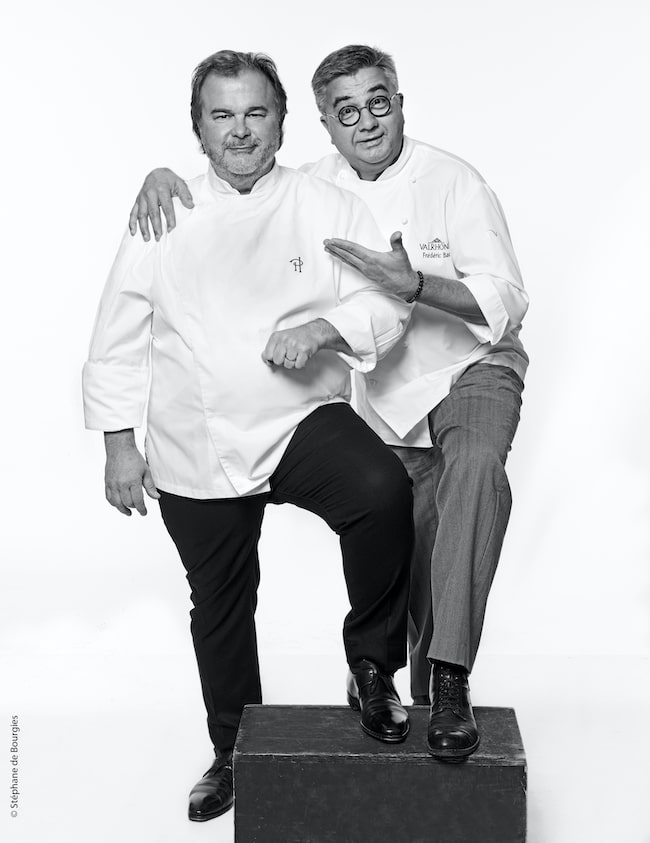 Counting calories! Help's at hand. Announcing Gourmandise Raisonnée® desserts, created with Frédéric Bau, Maison Valrhona's in-house "Pastry Explorer."
It was with Frédéric Bau that Pierre Hermé decided to reinterpret two favorite recipes, while more or less halving the calories: the Tarte Infiniment Citron and Tarte Infiniment Vanille. They've also created new products for Maison Pierre Hermé Paris: Chou Orphéo (Black chocolate – marriage of Grands crus Caraibe 66% Piedmont hazelnuts) and Constellation (strawberry, orange, green cardamom).
Frédéric Bau came up with the catch-phrase "Gourmandise Raisonnée®".
À consommer (presque) sans modération! Priced from about €10.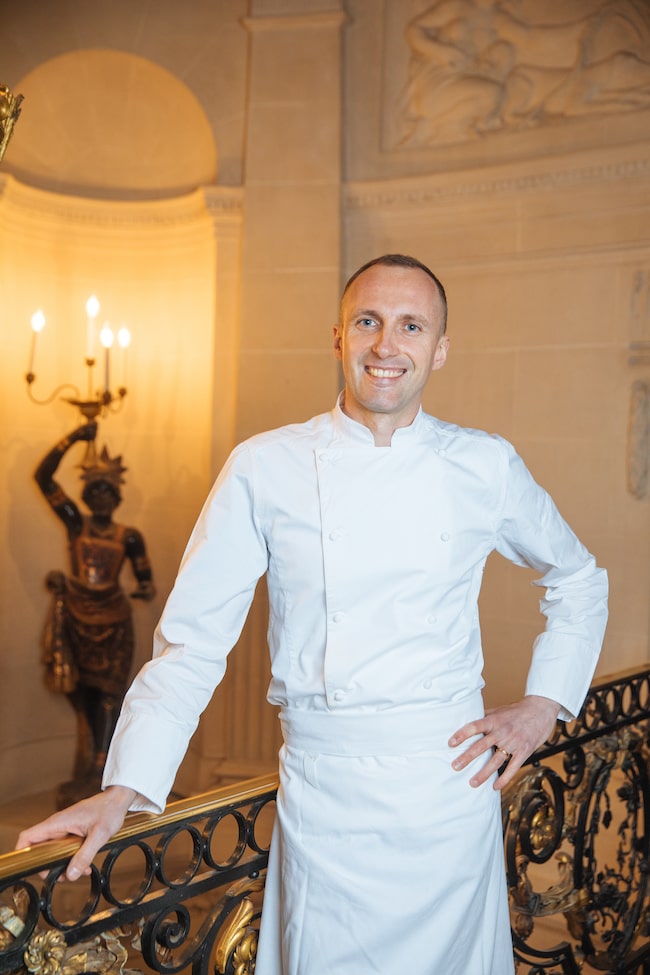 Following the departure of Executive chef Jocelyn Herland, Gardinier Group flag the arrival of the free-spirited, modernist Italian chef Giuliano Sperandio, until recently in the cucina of Le Clarence (8th) with Christophe Pelé. His appointment is in synch with Gardinier Group's evolution of the house, "sending out great French cuisine with a modern spin."
Sperandio's brief is to innovate, without ignoring the traditional dishes of the iconic rue Lamennais hôtel particulier, such as the famous seafood cervelas by Claude Deligne, which he'll revise in his own style. "I will pay tribute to the great chefs who have made the history of Taillevent such as Alain Solivérès, Philippe Legendre and Michel del Burgo," he says.
15 rue Lamennais, 8th
Tel: 01 44 95 15 00
Metro: Charles de Gaulle, Etoile.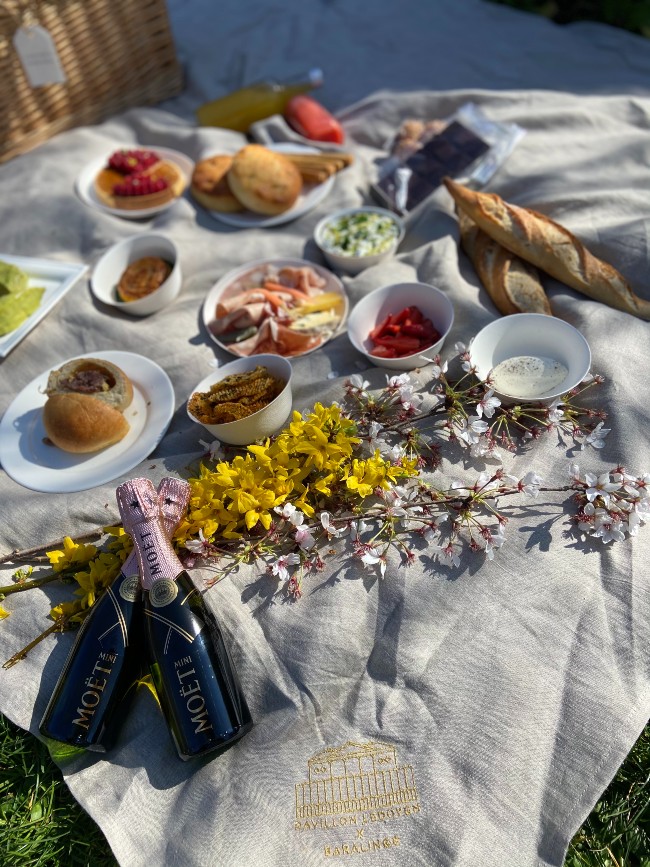 For the first time Chef Yannick Alléno creates your ideal romantic picnic.
On the menu: delicious cold roast chicken and fresh herb mayo, cheeses, foccacia and accompaniments. Desserts include raspberry pie, seasonal tarts and garnished chocolate bar by Aurélien Rivoire, Ledoyen's Pastry Chef. Pavillon Ledoyen takes care of everything: picnic baskets for hire, filled with the essentials (cutlery, glasses, napkins, etc.) In collaboration with Baralinge, the 100% linen tablecloths "Made in France: will be gifted with the first 100 orders. It's official – picnic season's open!
Menu for 2 people: 100 €
Pavillon Ledoyen – 8 Avenue Dutuit, 8th
Tel: 01 53 05 10 00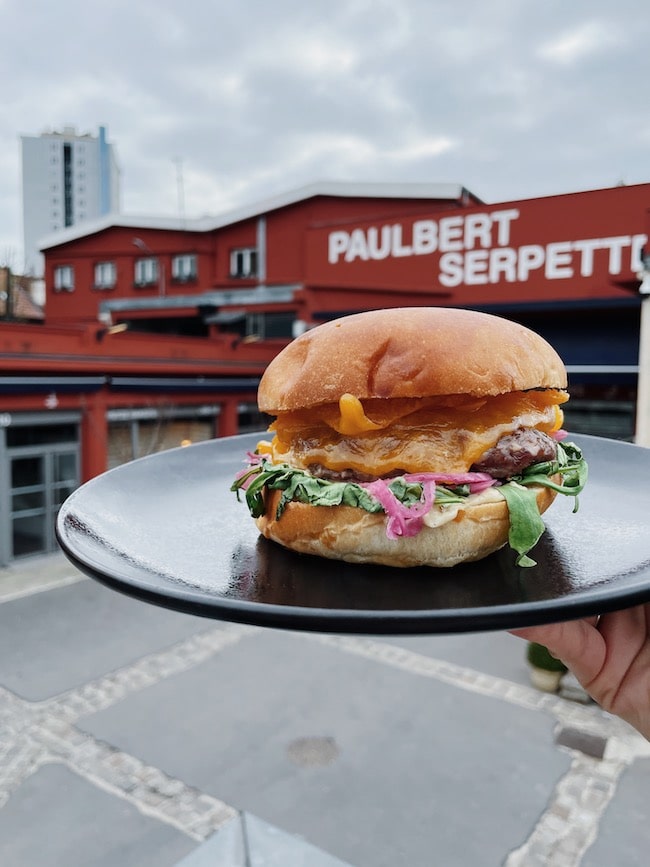 Chef Juan Arbelaez and Benjamin Patou (CEO of Eleni Group x Moma Group) unite, giving new life to the hip and happening eatery on the edge of the winding streets of our much loved Puces de Saint-Ouen flea market. Inspired by its historic setting, Philippe Starck's décor plays on the world of vintage antiques and sleek modernity with a buzzing, stainless steel, open kitchen and the warmth of old photos, books and eccentric one-off showpieces.
The 1,000-square meter restaurant seats 250 divides between an industrial loft and two sunny terraces upstairs and downstairs.
At present you can order takeaway or Click & Collect via Deliveroo
106 Rue des Rosiers, 93400 Saint-Ouen
Tel: 01 49 51 70 00
Metro: Porte de Clignancourt
Open 7/7
And, while you're in the area, why not visit Remix Gallery? It was founded in 2005 by Valérie Bouvier and Antoine Nouvet, pioneers in the promotion of French design of the 80s. From May to August 2021, don't miss the fascinating exhibition of objects and ceramics by plasticien/ artist Claude Dumas. Called "Claude Dumas, Abécedaire 80s," the expo is an opportunity to discover/rediscover the first creations of this exceptional multimedia talent.
Stands 91 and 234 at Paul Bert Serpette market.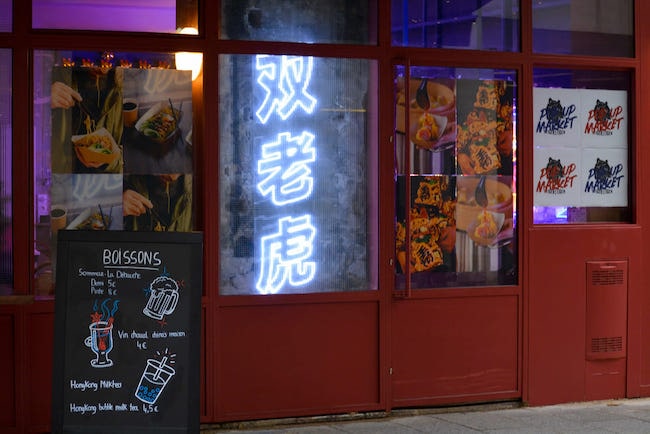 Enjoy Hong Kong-style street food near Place de la Republique, created by two friends, André Tan and Lucas Sauquet, founders of group MAMAHUHU. You love Panda Panda, the Asian pop canteen in the beating heart of Belleville where baos and wok dishes are the sharing signatures. And did you check out Dumpling Queen, launched in November 2020? This collect/delivery kitchen is adapted to the city's new eating patterns, giving pride of place to Sheng Jian Bao and Taiwanese Bian Dang. And now there's Tiger Tiger, designed as a neon Cha Chaan Teng – a typical Hong Kong bistro – with traditional specialties.
During the closure of restaurants, the team serves from the restaurant terrace – setting up an ephemeral pop-up market, for take-out, so that you can "enjoy the specialties of Hong Kong street food in the streets of Paris!" Consider dim sum and soft baozi with roast pork in BBQ sauce or poached wontons with ultra juicy shrimp, traditional ravioli as in Southern China. And, Char Siu Mian, an original Cantonese dish, made from slices of caramelized pork breast with a mix of honey, 5 spices, soy sauce, Chinese barbecue sauce and noodles. Or beef stewed with Taiwanese spices, cloves, star anise, cinnamon, 5 spices – found in all night markets in Taiwan.
Open Tuesday – Saturday from 12 noon to 2:30 and 7:30 to 9:30pm
Click & Collect and Deliveries via UberEats, Deliveroo and Resto.Paris
15, rue René Boulanger, 10th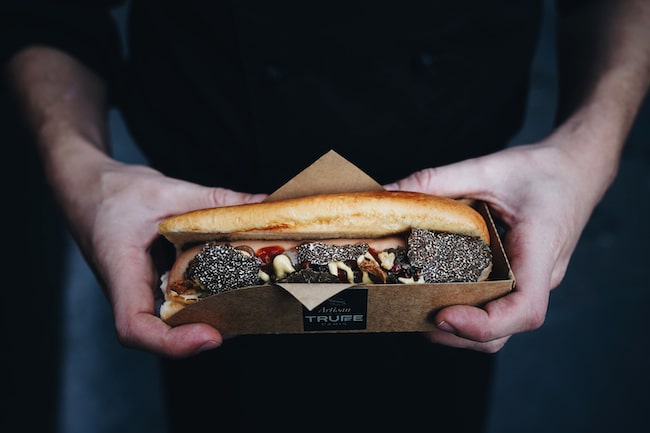 … presents le Hot-Truffe hotdog, the dog of all dogs. Ready to rock n'roll from 19 rue de Martyrs in the 9th. Priced at €9.
Tel: 01 42 08 20 55
Also: 19, rue Rambuteau 1st
Tel: 09 74 19 76 09 or via Deliveroo. #yummy
Want to be inspired by more French foodie experiences and enjoy classic French food, wine and recipes? Head to our sister website, Taste of France, here.
Lead photo credit : Mersea. @ Mersea Olivier
More in cusine, Drink, Fod, gastronomy, Reviews, Takeaway
---
---