Paris Restaurants: What's Open in August 2020
"August rain: the best of the summer gone, and the new fall not yet born. The odd uneven time."  –The Unabridged Journals of Sylvia Plath There's a rocky road ahead for the hospitality industry and we need to celebrate these restaurants. You'll have a hard time selecting just one fabulous address – why not try them all? EDO POP-UP at the
Palais de Tokyo
Facing the Seine and the Eiffel Tower, we're surprised the Ville de Paris agreed to stage this. Maybe because a wing of the Palais de Tokyo houses the Museum of Modern Art. So, until October 15th, EDO is the place to be! This multicultural summer ephemeral street food project is located on the fabulous Palais de Tokyo forecourt. Helmed by badass chef Mory Sacko who trained with Thierry Marx at The Mandarin Oriental, Paris and was an M6 TV ex-top chef contender, EDO features street food with African and Japanese influences. In September
Mory will launch his own place
in the 14th arrondissement. La Fontaine Gaillon
La Fontaine Gaillon
Superchef Marc Veyrat composes a menu with accents on lake fish, accompanied by light sauces and wines which are a nod and wink to former owner Gérard Depardieu. Expect langoustine or crayfish carpaccio – spicy lobster and Roquefort casserole or lake and sea fish bouillabaisse. For carnivores, there's beef tenderloin Rossini or lamb with thyme. At lunch – Starter – Main – Dessert €45. Dinner: average spend €80+wine – try the crisp, fruity, white "La Derive" Roussette de Savoie 2018 (€35) in homage to the quirky chef in the black hat. The terrasse at Jòia
Jòia by Helene Darroze
"Welcome to the new Jòia after four months of le confinement," says Helene Darroze. The lovely new terrace is planted with aromatic plants and herbs. The menu, inspired by the Pays Basque, features cocktails and tapas to share, signature mains such as line caught Merlu (hake) from Saint-Jean de Luz, Aubrac beef a la plancha with honey drizzled carrots and rosemary and sheep's cheese crispy potatoes. Dessert? Baba XXL soaked in Darroze Armagnac. Brunch Saturday and Sunday from 11h30-15h (€45). Take out available via click & collect or delivered to your door. Yummy. Take me there! Le Grand Café d'Athènes
La Grand Café d'Athènes
Open 7/7 from 8.30am-11pm. Cheffe Chloe Monchalin has decorated her bistro/taverna with sun dried ceramics handmade by the Lembesis family on Sifnos Island, along with Athens flea market finds. The menu's inspired by recipes from Chloé's Greek mother-in-law. And Chloe's husband is the
chef Philip Chronopoulos
so expect sharing dishes using fresh, seasonal ingredients, mezzedes etc. "It's simple, tasty Greek cuisine with my own twist", says cheffe Chloe. Interesting wine card, includes Greek style cocktails/mocktails. Ever tasted AOP Amyndeon Rosé Pétillant, Domaine Kir Yianni, Akakiès? – aphrodisiac, darlings!
SUBSCRIBE
ALREADY SUBSCRIBED?
BECOME A BONJOUR PARIS MEMBER

Gain full access to our collection of over 5,000 articles and bring the City of Light into your life. Just 60 USD per year.

Find out why you should become a member here.

Sign in

Fill in your credentials below.
"August rain: the best of the summer gone, and the new fall not yet born. The odd uneven time."  –The Unabridged Journals of Sylvia Plath
There's a rocky road ahead for the hospitality industry and we need to celebrate these restaurants. You'll have a hard time selecting just one fabulous address – why not try them all?
Facing the Seine and the Eiffel Tower, we're surprised the Ville de Paris agreed to stage this. Maybe because a wing of the Palais de Tokyo houses the Museum of Modern Art. So, until October 15th, EDO is the place to be! This multicultural summer ephemeral street food project is located on the fabulous Palais de Tokyo forecourt. Helmed by badass chef Mory Sacko who trained with Thierry Marx at The Mandarin Oriental, Paris and was an M6 TV ex-top chef contender, EDO features street food with African and Japanese influences. In September Mory will launch his own place in the 14th arrondissement.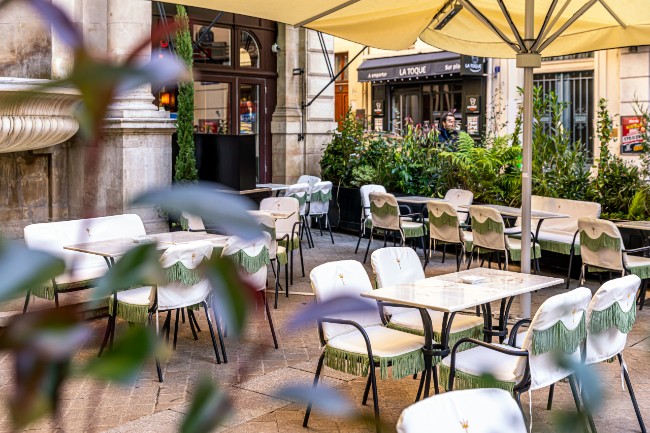 Superchef Marc Veyrat composes a menu with accents on lake fish, accompanied by light sauces and wines which are a nod and wink to former owner Gérard Depardieu. Expect langoustine or crayfish carpaccio – spicy lobster and Roquefort casserole or lake and sea fish bouillabaisse. For carnivores, there's beef tenderloin Rossini or lamb with thyme. At lunch – Starter – Main – Dessert €45. Dinner: average spend €80+wine – try the crisp, fruity, white "La Derive" Roussette de Savoie 2018 (€35) in homage to the quirky chef in the black hat.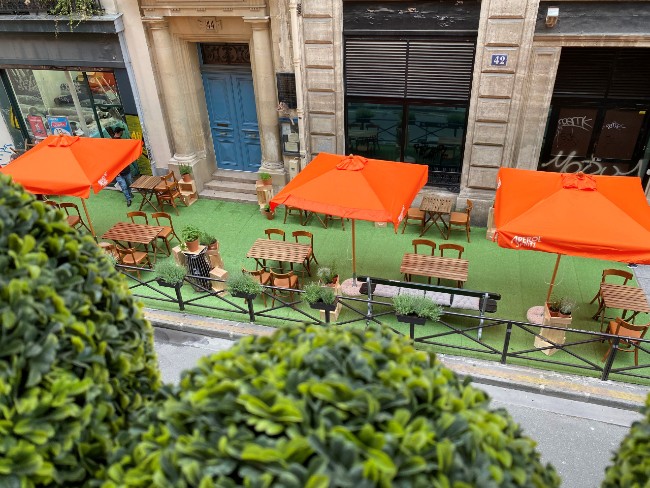 "Welcome to the new Jòia after four months of le confinement," says Helene Darroze. The lovely new terrace is planted with aromatic plants and herbs. The menu, inspired by the Pays Basque, features cocktails and tapas to share, signature mains such as line caught Merlu (hake) from Saint-Jean de Luz, Aubrac beef a la plancha with honey drizzled carrots and rosemary and sheep's cheese crispy potatoes. Dessert? Baba XXL soaked in Darroze Armagnac. Brunch Saturday and Sunday from 11h30-15h (€45). Take out available via click & collect or delivered to your door. Yummy. Take me there!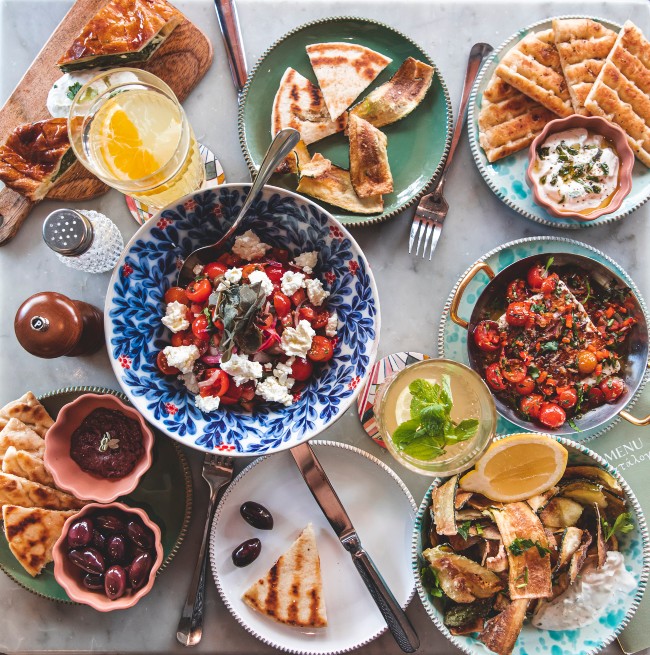 Open 7/7 from 8.30am-11pm. Cheffe Chloe Monchalin has decorated her bistro/taverna with sun dried ceramics handmade by the Lembesis family on Sifnos Island, along with Athens flea market finds. The menu's inspired by recipes from Chloé's Greek mother-in-law. And Chloe's husband is the chef Philip Chronopoulos so expect sharing dishes using fresh, seasonal ingredients, mezzedes etc. "It's simple, tasty Greek cuisine with my own twist", says cheffe Chloe. Interesting wine card, includes Greek style cocktails/mocktails. Ever tasted AOP Amyndeon Rosé Pétillant, Domaine Kir Yianni, Akakiès? – aphrodisiac, darlings!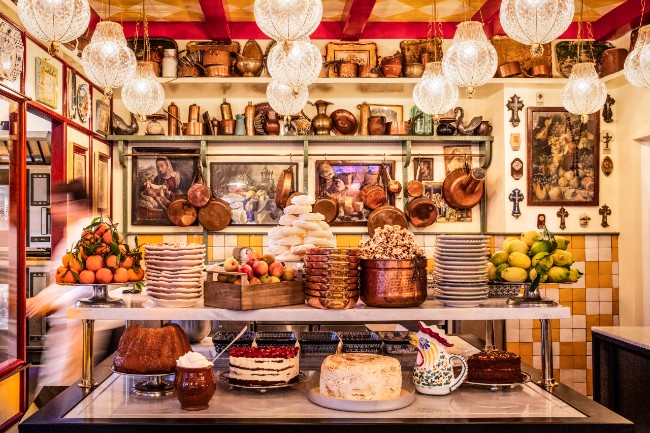 In the former 19th century Pinet shoe workshop, order a cocktail like "Dancing with the Tsars" while you study Chef Filippo di Guiseppe de Condividere's extensive menu which includes Truffle pasta – "Moment of Truffe" pizza and "Mieux que Weightwatchers" super smooth cheesecake. Lovely wines, like Aglianico, La Marchesa Puglia 2018.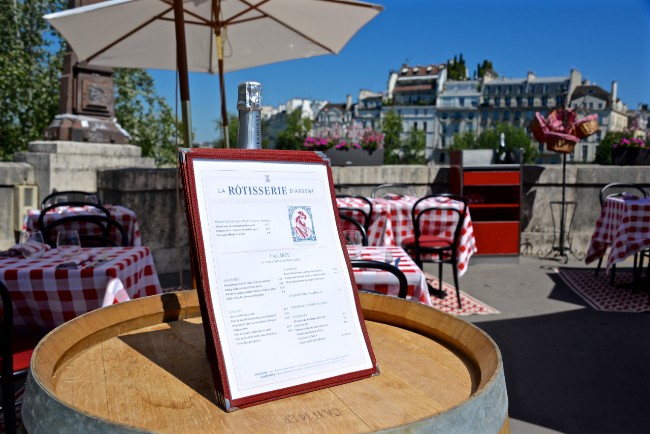 Serving delicious dishes, under shady parasols on red check tablecloths, outside on the Quai until 30th September. And then inevitably, the irresistible "Une Glace à Paris" ice cream truck will appear tableside, serving scoops of Tanzania chocolate, Caramel Crunchy Parisien, and also Mango Alphonso, Citron Jaune Tonka, or Mara des Bois strawberry Hibiscus with Champagne Tour d'Argent, the latest creation by Chef Yannick Franques for summer 2020. The Glacier de la Tour and La Rôtisserie are certainly worth the detour! Bread and pastry are from the Boulanger de la Tour. And, don't hesitate to ask for your "ducky bag" if you can't finish everything.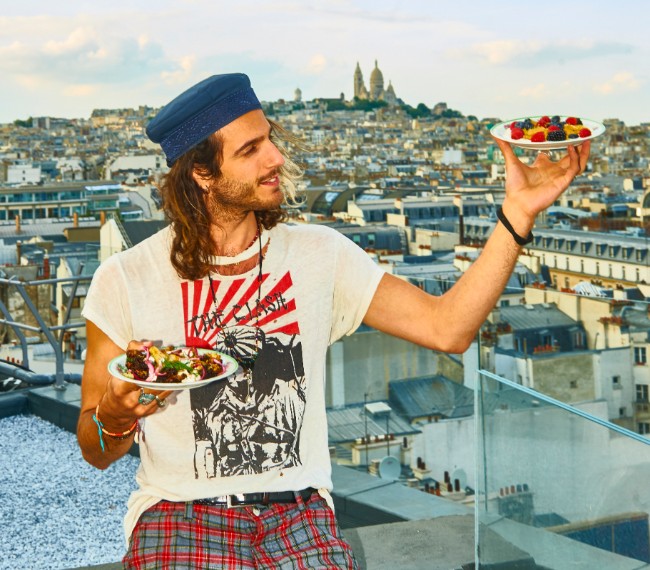 So happy that it's back this year for "Saison 2", a great excuse to shop 'til you drop in Galeries Lafayette, then head up to the rooftopwhere self-taught chef Julien Sebbag, age 28– who heads 2 restaurants in Paris and plans two new openings– serves lunch only. Hip, talented, edgy and passionate, this young chef amazes as much as he intrigues. A rising star of the young generation of the capital's top chefs, Sebbag sends out his own spins on contemporary cuisine, eco-responsibly, using seasonal, local products. Sebbag's food is a fusion of Middle East meets Paris via Strawberry Fields Forever and Destruction Globalisée d'un crumble! Say cheers with "We Missed Ya" cocktails.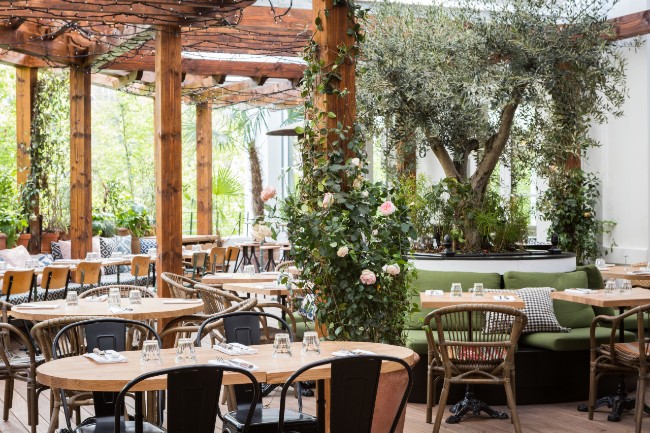 The circa 1854 railway station, in the La Muette quartier (16th), was acquired by Moma Group in 2017. Every day's a party in the huge space (with huge terrace). The flamboyant design is by Laura Gonzalez and matches Gaston Acurio's fabulous world cuisine. There's something for every taste – street to traditional family food – accents are on Asian, Peruvian and Mediterranean flavors. Sushi, dim-sum, tapas, crispy tacos, dishes faithful to their origins and revisited. Unique flavors to share (or not) include ceviche, tartars, Peruvian sashimi. From the charcoal grill, chicken, lamb, salmon or big Burgers, beef as you like it and Brittany Lobster. There are also salads. Average spend €56 – Open 7/7 Sunday Brunch.
Les Adresses de Stéphane Manigold
As reported by Reuters, the French court stated that AXA must pay Stéphane Manigold, who owns four Paris restaurants including Michelin-starred Maison Rostang, two months' worth of revenue losses incurred as a result of Covid-19 enforced restaurant closures. So obvs they're OIA (open in August). Substance, Contraste, and Bistro Flaubert where, in charge of the kitchen, Korean chef Sukwon Yong creates French cuisine with subtle Korean notes. Tuna tataki, Asian-style beef tartare, prawns ravioli and seafood emulsion: the flavors are explosive, balanced and perfectly mastered.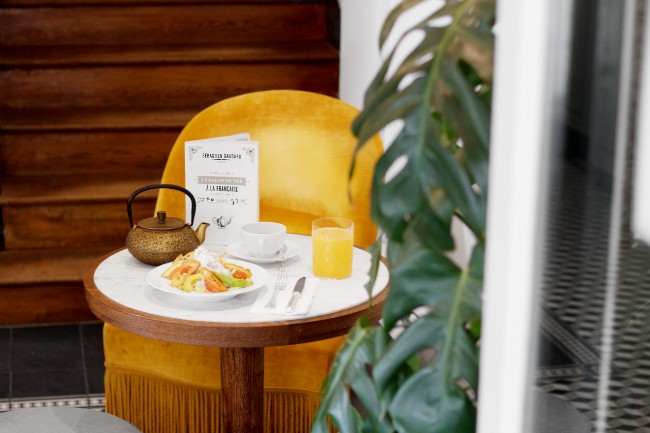 Opposite the Tuileries Gardens, near the Louvre – Open 7/7 from 10am-7pm for breakfast, lunch, brunch, afternoon tea. The house signature is the Croque Monsieur, made with smoked salmon – voted the best in town. And, Gaudard's patisserie? Sublime.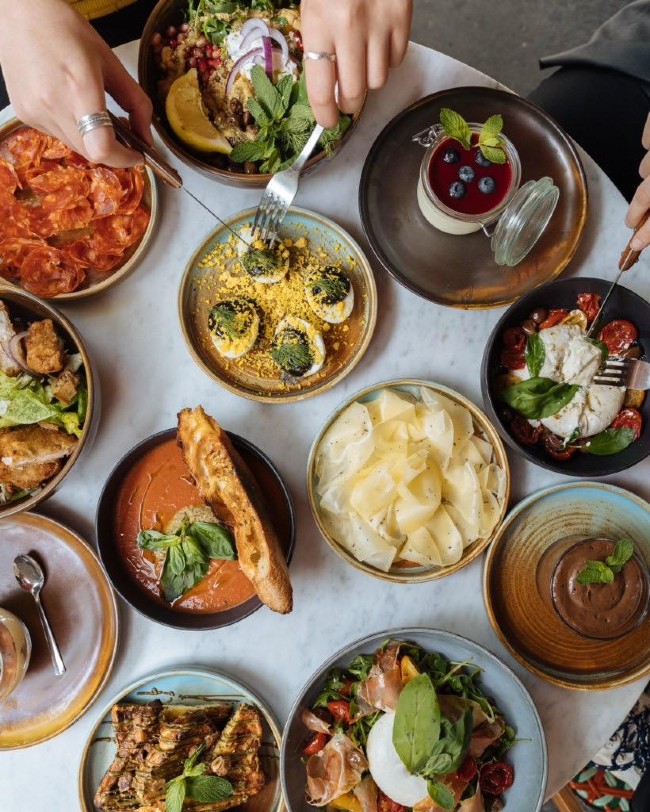 It takes guts to launch a restaurant at the moment, so check out the team at Saveriu Cacciari's new hip and happening addy in the heart of the 5th arrondissement at 88, Boulevard Saint Germain. Warm and welcoming with Mediterranean cuisine for sharing and neat Neapolitan pizzas. Well sourced excellent quality products showcase organic and natural ingredients. Enjoy on the beautiful terrace or the cheerful, rustic interior salle, perfect on rainy days.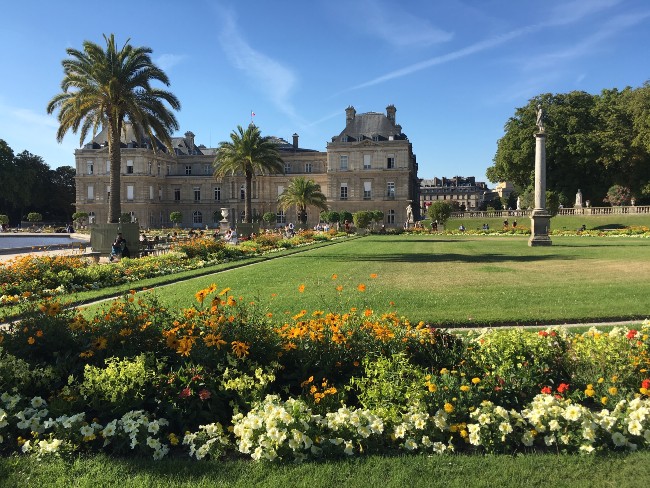 Bucolic table located in the Luxembourg Gardens (6th arrondissement). Created in 1612 by Marie de Médicis, the garden was restored by architect Jean-François-Thérèse Chalgrin during the First Empire. Covering an area of 25 hectares, the garden is divided into one French-style – the other English. Between the two there's a forest and a large basin, orchard, beehives, greenhouses and the rose garden. Not a lot of people know the garden has 106 statues, the Medici fountain, the Orangery and the listed Davioud pavilion! This restaurant is a favorite meeting place for Parisians, who are loving chef Philippe Renard's €21.50 "Dejeuner Futé" (chic lunch). You could also stop by for coffee and pastry, or book Sunday Brunch (€59)– because you're worth it.
Want to be inspired by more French foodie experiences and enjoy classic French food, wine and recipes? Head to our sister website on Taste of France here.
Lead photo credit : Chef Mory Sacko at EDO
---
---
Comments