Hotel du Sentier: A Hot New Address in the 2nd
It's impossible to miss Hôtel du Sentier when strolling through Paris's garment district, now often referred to as "Silicon Sentier" due to the rise of start-ups and co-working spaces. Just look up to find three Eqyptian statues erected to the goddess Hathor as well as a series of hieroglyphics. Designed to celebrate Napoleon's victorious campaign in Egypt, this stately building is now classified as a historic monument.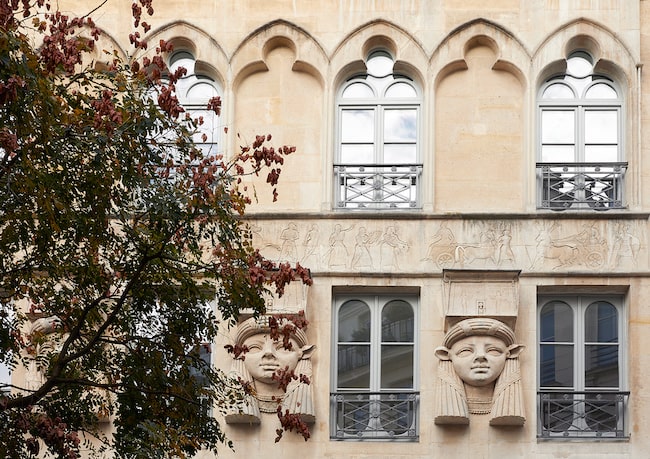 What else makes this boutique hotel a unique address is its entrance into Le Passage du Caire. Paris's oldest (and longest and most narrow) covered passageway was built in 1798 and it too pays homage to Egypt. While a seat at the inviting place du Caire offers a glimpse into history, the real journey begins upon entering the sleek doors of Hôtel du Sentier.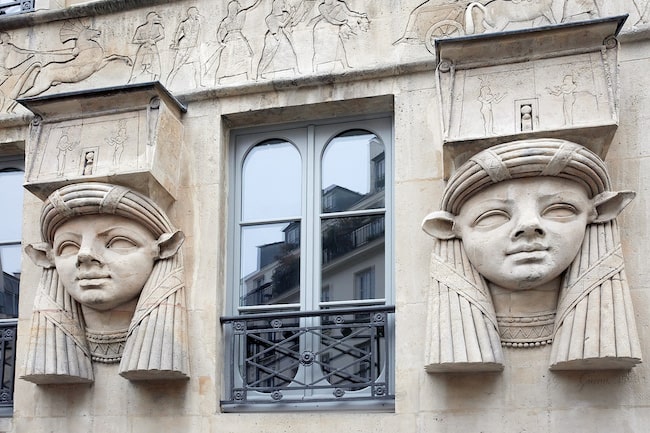 With the help of trusted architect Vincent Bastie, owners Charlotte and Samuel Castro created a convivial ambiance resembling a vrai Parisian home. A total of 30 rooms spread out over six floors allows for a generous guest list.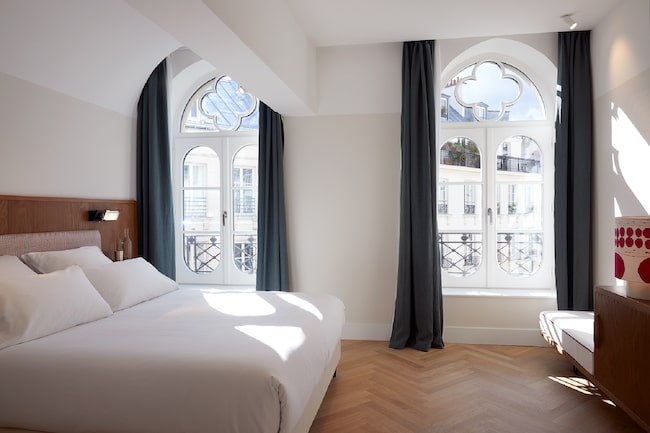 While each room is outfitted in comfort, promising a good night's rest, Charlotte believes in materials over decoration. This led to a minimalist aesthetic composed of solid oak furnishings custom-designed by Atelier La Serre, marble bathrooms with tile floors in a mosaic of vibrant colors, all chosen by the owners themselves, and light wooden floors. Even the bespoke bath products are crafted with the hotel in mind.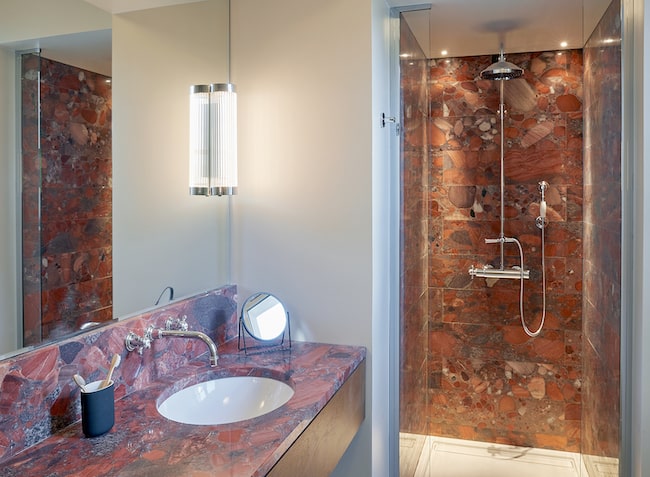 Included in these sun-streaked rooms are two duplexes opening onto a roof terrace where views of the French capital set the scene. Consider this your own private Parisian oasis.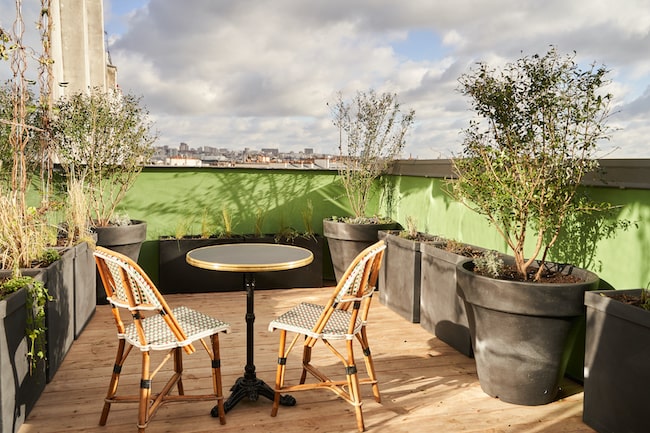 There's no doubt you'll feel at home when being greeted by the owners in person. Charlotte shared, "I feel so strongly about this project, that the first year, I think that I will personally walk each guest to their room."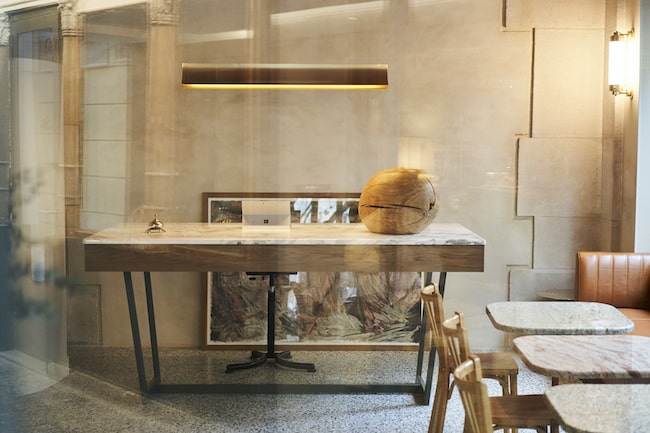 Dinner at the hotel restaurant includes blanquette de veau (veal stew) and other vintage recipes favored by Charlotte and Samuel. The food is so authentic that you may even think there's a French grandmother at the helm. Breakfast is a casual à la carte affair combining sweet with savory and served any time of the day. In case hunger strikes, snacks including croque-monsieur and cheese plates are on offer around the clock. It is home, after all.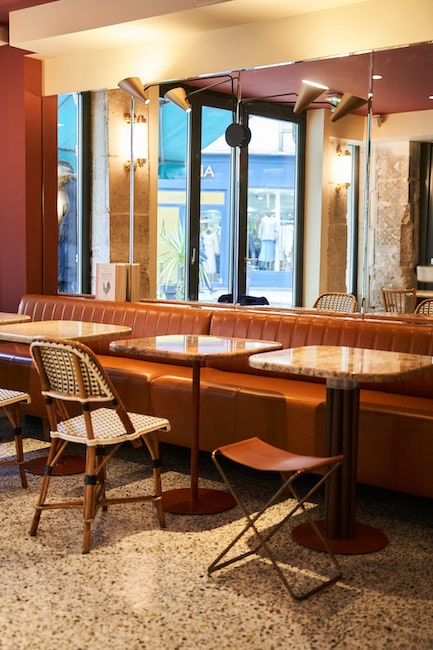 When you do decide to venture out, don't miss these American-style eateries just steps away from Hôtel du Sentier. The first of their kind to open in Paris, Jean Hwang Carrant bakes gourmet cookies including matcha and mochi flavors, while Boneshaker Doughnuts concocts an array of heavenly doughnuts and coffee to go. Meanwhile, California-inspired restaurant Echo Paris serves burgers, salads and smoothies through lunch. You can also opt for takeaway and dine in your homey hotel haven.
Hôtel du Sentier
2 Place du Caire, 75002
+33 (0)1 86 54 12 12
Rooms start at €185
Breakfast €20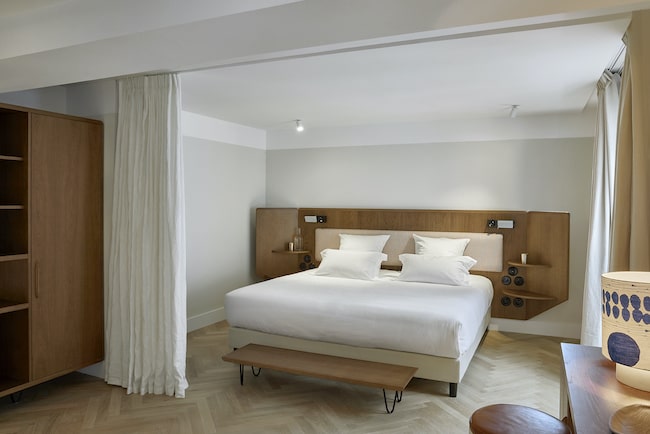 Lead photo credit : Hotel du Sentier @ Hotel du Sentier
---
---