Chef Yannick Alléno Hosts a Truffle and Wine Festival at Pavillon Ledoyen, Paris
Come celebrate the new year with a marriage of wine and haute-gastronomy… "
Le Salon des vins de la Vallée du Rhône et de la Truffe
" is Paris' first Truffle and Wine Festival. Superchef Yannick Alleno explains the concept, "It's about putting the wine back in the heart of the meal, offering gastronomy that lives up to the complexity of our French wines. The event – showcasing top wine makers and truffle growers – takes place at Pavillon Ledoyen, originally founded in 1792 and today an iconic ***Michelin star address. It's in a bucolic setting, behind the Champs Elysées where Yannick Alléno is a wholehearted aficionado of the Rhône Valley and its unique terroir. "Truffles and wine: two exclusive luxury products stemming from a gastronomic region with a rich and complex historic terroir," Alléno reflects. Open to the public on Sunday, January 14th, reserved for professionals on Monday, January 15th. Visitors will discover 40 winemakers' stands, some familiar alongside smaller domains, so look for: Le Sang des Cailloux; Mont Redon; Domaine Chapoutier; Close des Papes; Paul Avril etc. "Organizing the Rhone Valley Wine and Truffle Show is a great way to bring together winemakers and truffle growers, in the exceptional setting of Ledoyen, sharing our passions ", says Vincent Javaux, Pavillon Ledoyen's chef sommelier. Conferences: Sunday January 14th at 1:30pm, "How to Set Up Your Cellar" with Gérard Baudry of
Les Caves Legrand
and, at 4pm Yannick Alléno and Truffle Farmer Dominique Faye host "How to choose and cook your truffles." According to visitors' tastes and needs, the truffle growers will guide them towards the perfect truffle and suggest the best wine pairings. In a dedicated learning space, meet the Trufficulteurs: Karine & Franck Boissieux from
The Black Diamond
– Drôme des Collines; Serge Desazars aka the "Truffle Baron";
Dominique Faye
& In the Name of the Truffle; and 
Serge Ghoukassian
. Dine during the Salon: Yannick Alléno's brigade has devised two simple and gourmet menus reflecting the event's theme. For those in a hurry, complete menus (sandwich + drink) from €12. Truffle hounds can enjoy a decadent dish of black truffles (from €24). And, of course accompanied by a glass or two of Rhône wine (from €7 a glass). Need to Know: Yannick Alléno was born on December 16th, 1968 in Puteaux, Hauts-de-Seine, to a family of bistro owners. In 1986 he passed a BEP pastry diploma in Saint-Cloud before joining the brigade of the Lutétia, a left bank hotel (reopening Spring 2018 following a big renovation). After working for several top Parisian addresses, such as Le Scribe, in 2003 he was appointed executive chef at Le Meurice, Paris where, in 2008, he was awarded *** Michelin. On the entrepreneurial side he set up his
restaurant group
. He took the helm of the Pavillon Ledoyen on 1st of July 2014, since when he's accumulated awards and 3 additional stars for "1947" his Courchevel mountaintop restaurant. With 18 addresses worldwide, Alléno dedicates his life to his passion — producing modern French cuisine sourced with seasonal local products — each dish a surprise of awesome technicity, art, and completely different to anything elsewhere. Download the app for his
glossy magazine.
Pavillon Ledoyen
, Carré des Champs Elysées, 8 rue Dutuit, 8th, Metro: Champs Elysées Clemenceau, Tel: +33 (0)1 53 05 10 01. Closed Saturday lunch & Sunday. From 128€ + wine. The event ticket costs €35 – book here: 
https://www.salonvintruffeparis.com/billeterie
SUBSCRIBE
ALREADY SUBSCRIBED?
BECOME A BONJOUR PARIS MEMBER

Gain full access to our collection of over 5,000 articles and bring the City of Light into your life. Just 60 USD per year.

Find out why you should become a member here.

Sign in

Fill in your credentials below.
Come celebrate the new year with a marriage of wine and haute-gastronomy…
"Le Salon des vins de la Vallée du Rhône et de la Truffe" is Paris' first Truffle and Wine Festival. Superchef Yannick Alleno explains the concept, "It's about putting the wine back in the heart of the meal, offering gastronomy that lives up to the complexity of our French wines.
The event – showcasing top wine makers and truffle growers – takes place at Pavillon Ledoyen, originally founded in 1792 and today an iconic ***Michelin star address. It's in a bucolic setting, behind the Champs Elysées where Yannick Alléno is a wholehearted aficionado of the Rhône Valley and its unique terroir.
"Truffles and wine: two exclusive luxury products stemming from a gastronomic region with a rich and complex historic terroir," Alléno reflects.
Open to the public on Sunday, January 14th, reserved for professionals on Monday, January 15th. Visitors will discover 40 winemakers' stands, some familiar alongside smaller domains, so look for: Le Sang des Cailloux; Mont Redon; Domaine Chapoutier; Close des Papes; Paul Avril etc.
"Organizing the Rhone Valley Wine and Truffle Show is a great way to bring together winemakers and truffle growers, in the exceptional setting of Ledoyen, sharing our passions ", says Vincent Javaux, Pavillon Ledoyen's chef sommelier.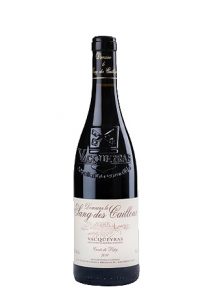 Conferences: Sunday January 14th at 1:30pm, "How to Set Up Your Cellar" with Gérard Baudry of Les Caves Legrand and, at 4pm Yannick Alléno and Truffle Farmer Dominique Faye host "How to choose and cook your truffles."
According to visitors' tastes and needs, the truffle growers will guide them towards the perfect truffle and suggest the best wine pairings.
In a dedicated learning space, meet the Trufficulteurs:
Karine & Franck Boissieux from The Black Diamond – Drôme des Collines; Serge Desazars aka the "Truffle Baron"; Dominique Faye & In the Name of the Truffle; and Serge Ghoukassian.
Dine during the Salon:
Yannick Alléno's brigade has devised two simple and gourmet menus reflecting the event's theme. For those in a hurry, complete menus (sandwich + drink) from €12. Truffle hounds can enjoy a decadent dish of black truffles (from €24). And, of course accompanied by a glass or two of Rhône wine (from €7 a glass).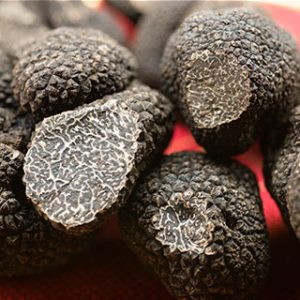 Need to Know:
Yannick Alléno was born on December 16th, 1968 in Puteaux, Hauts-de-Seine, to a family of bistro owners. In 1986 he passed a BEP pastry diploma in Saint-Cloud before joining the brigade of the Lutétia, a left bank hotel (reopening Spring 2018 following a big renovation). After working for several top Parisian addresses, such as Le Scribe, in 2003 he was appointed executive chef at Le Meurice, Paris where, in 2008, he was awarded *** Michelin. On the entrepreneurial side he set up his restaurant group. He took the helm of the Pavillon Ledoyen on 1st of July 2014, since when he's accumulated awards and 3 additional stars for "1947" his Courchevel mountaintop restaurant.
With 18 addresses worldwide, Alléno dedicates his life to his passion — producing modern French cuisine sourced with seasonal local products — each dish a surprise of awesome technicity, art, and completely different to anything elsewhere. Download the app for his glossy magazine.
Pavillon Ledoyen, Carré des Champs Elysées, 8 rue Dutuit, 8th, Metro: Champs Elysées Clemenceau, Tel: +33 (0)1 53 05 10 01. Closed Saturday lunch & Sunday. From 128€ + wine.
The event ticket costs €35 – book here: https://www.salonvintruffeparis.com/billeterie
Lead photo credit : Image: Philippe Vaurès and Olivier Roux
---
---