Paris Food News: Château Voltaire, Le Borscht et La Vie
"Paris makes you want to pull your guitar out and just play on the sidewalk." –Kiefer Sutherland
In our latest round-up of food news, we're mourning the loss of a talented chef while also celebrating the vibrant Paris restaurant scene. Where to eat right now in the City of Light? Here are some recommendations of tables we've tried and tested recently.
Château Voltaire – Brasserie L'Emil
Thierry Gillier, aka Monsieur Zadig & Voltaire, is very particular about where he stays when he's in Paris. So, he decided to create his own château hotel complete with a spa, bar and brasserie in the building that formerly housed his clothing brand's headquarters and showroom. Gillier's achingly cool concept reflects the zeitgeist of the rock n' roll brand as worn by Lily Collins (star of Emily in Paris), Bella Hadid, Jared Leto & Co.
Located on the edge of Place du Marché Saint-Honoré, the three former post buildings date from the 17th and 18th centuries and now give off old charm and new energy vibes. The interiors of the 33-room "château" were designed by art director Franck Durand and architects Charlotte de Tonnac and Hugo Sauzay of Festen.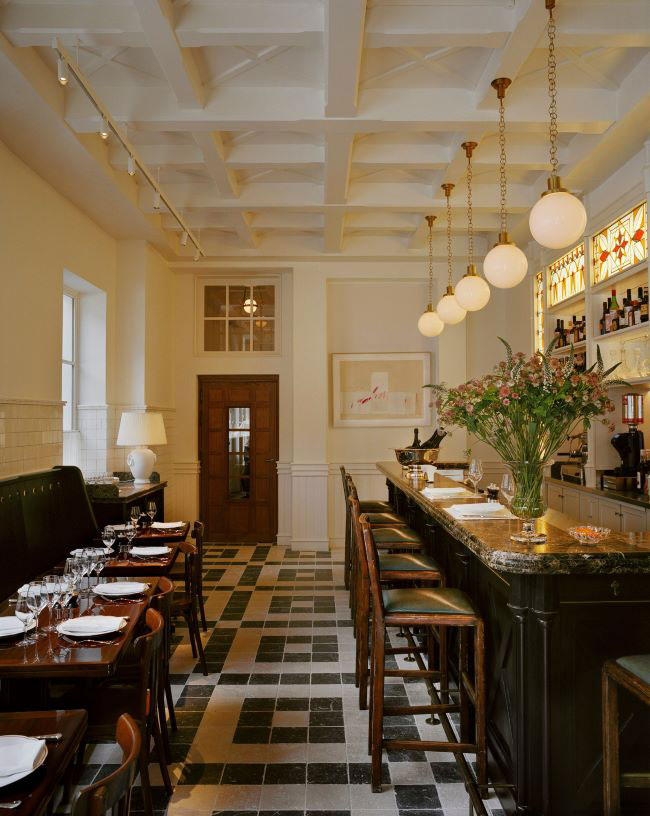 Brasserie L'Emil, named after Gillier's son, is helmed by the young and talented Valentin Lambert, who "was lucky to train with Christophe Moret at the Shangri La". Chef Valentin, who often nips in and out of his kitchen, is an expert in seasonal dishes:
Green Asparagus, sauce Hollandaise (€26)
Carpaccio of Yellow Tail snapper, sauce Ponzu & Kombawa (€24)
Beef Carpaccio & Mayo Château Voltaire (€24).
Dish of the Day, say, Boeuf Strogonoff (€29).
Mains of Daurade Royal, sauce Vierge Mediteranée (€37).
Linguine au Caviar, Lobster sauce (€80).
Escalope Milanese, Oregano and Pomodoro (€37).
Share Red Fruit Pavlova (€38).
Perfectly matched with the white fruit and flower notes of Clos Canarelli "Figari" 2020 (€75).
The cherry on the gâteau – the top floor of the château – is room number 32.
The 40-square-meter apartment has a dining room, winter garden and romantic terrace by landscaper Louis Benech. Don't forget to check out the spa, bien sûr.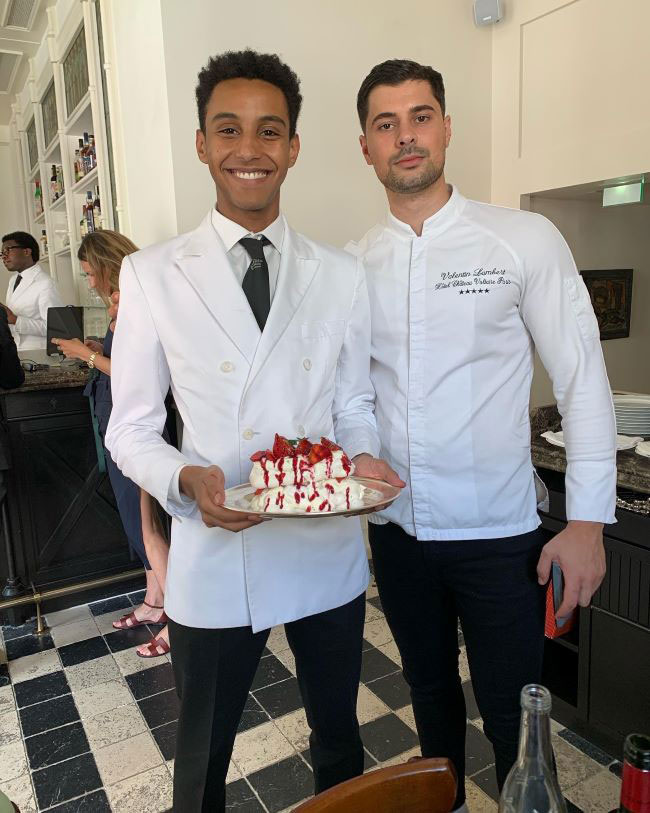 55 rue Saint Roch, 1st
Metro: Tuileries
Tel: +33 (0)1 53 45 91 00
Tea time at Le Royal Monceau Raffles Paris
"For me, baking is a simple game of logic," says Quentin Lechat, the self-taught pastry chef at Le Royal Monceau.
Lechat was bored with law studies when he discovered his love of baking, and decided to teach himself the art of pâtisserie. He subsequently honed his craft in several establishments (Chalet des Îles, Bois de Boulogne; The Royal, Evian; Novotel Les Halles) before arriving at the Royal Monceau in February 2021. Lechat draws his inspiration from "amateur" pastry chefs, especially on Instagram.
Showcasing his creations during his recently launched "Tea Time," Lechat explains that guests don't need to worry about the calories, as he uses "lots of seasonal fresh fruit" and states that "sugar is just a seasoning, not an ingredient."
The mini pastries, vanilla pearl cake, hot and cold grand cru chocolate, marble cake, lemon heart brioche, and the signature royal flan are matched with Damman teas, mocktails, and/or champagne.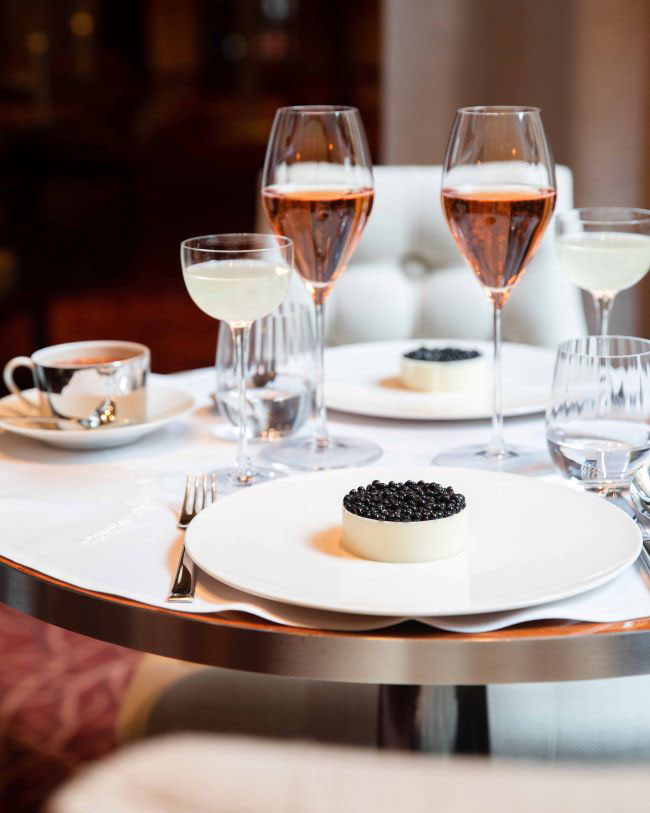 "Pop in for a gourmet mid-afternoon escape," suggests Lechat.
Friday, Saturday, Sunday 3pm-5pm
Le Bar Long
Price €65-€85 with champagne flute/signature mocktail
37, Avenue Hoche, 8th
Metro: Etoile
Tel: +33 (0)1 42 99 88 00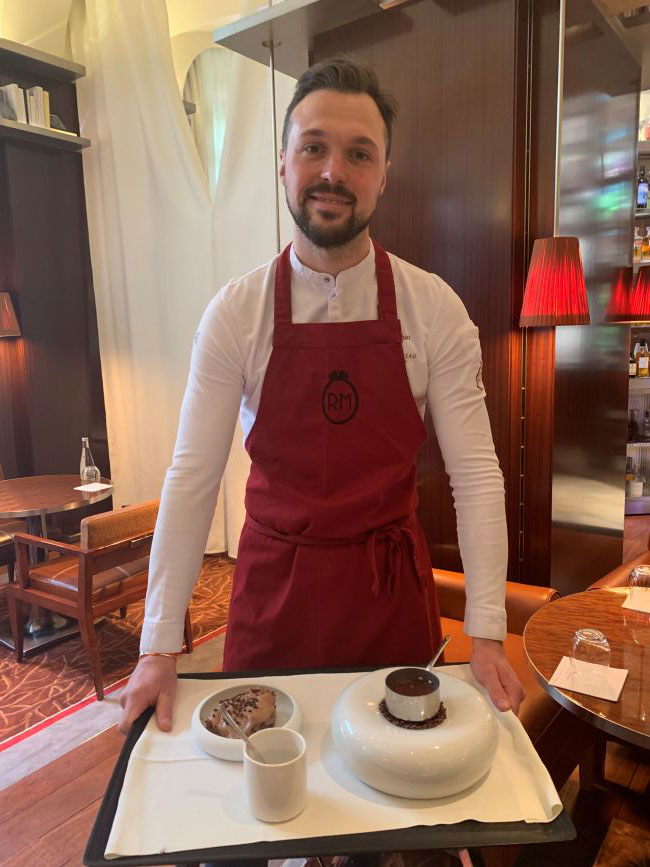 Bouillon Chartier- Gare de L'Est
"The quality/price is incredible and they always highlight an interesting wine of the moment," comments lifestyle guru and bon viveur Rob Bellinger. "I can't wait to try the new address at Gare de L'Est." Rob won't be disappointed if our visit last week was anything to go by.
The Art Deco brasserie is punctuated with antique pieces reminiscent of Bouillon Chartier which began in 1896 on rue du Faubourg Montmartre. Think posters, flea market finds, old gramophones and cash registers from another era in the airy, 200-seat space.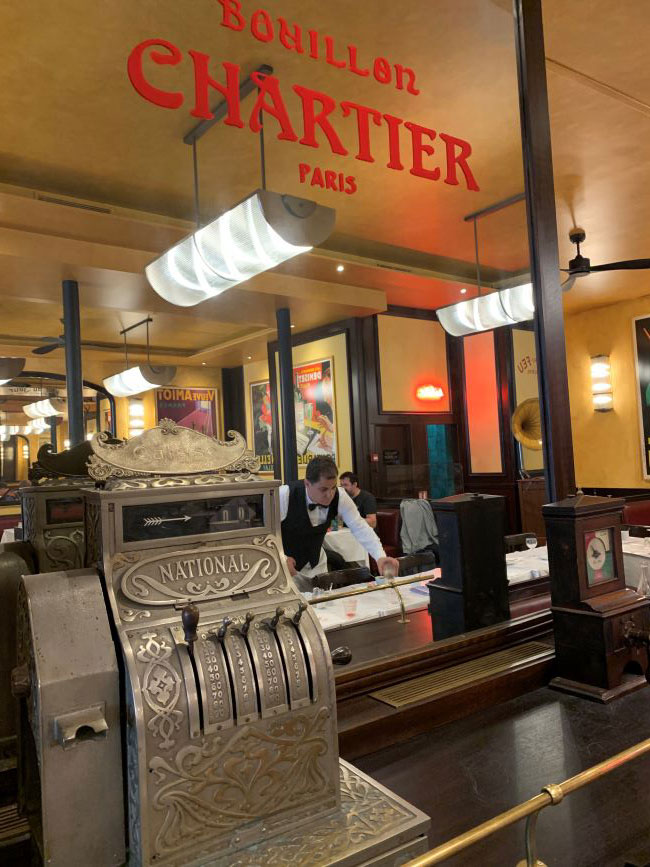 Yacine the waiter wears the traditional rondin, a tight-fitting black waistcoat with multiple pockets and long white apron. He explains that the original concept of the founders, Camille and Frederic Chartier, was to offer affordable, all-day, excellent quality food. "The present owners [Gerard and Christophe Joulie since 2019] are keeping the Chartier flag flying high," says Yacine with pride.
The menu at €15.04 includes the Terrine Maison/ Bœuf Bourguignon with coquillettes and Apple Compote desert.
A La Carte :
Egg Mayo (€2) baskets of warm baguette to mop the mayo.
Avocado, sauce crevettes (€3.90)
Traditional Filet of Herring and Potatoes in oil (€3.80).
Spaghetti Bolognaise (€8.70)
Aux legumes (€8.20).
My favorite:
Quenelle de Brochet, sauce Nantua (€9.50)
Roast chicken and chips (€9.90)
Choucroute Alsacienne (€10.80)
Grilled Pig's Feet, "Felicie" (€11.50)
Seasonal Cheeses (€2.60)
Baba au Rhum Chantilly (€4.70)
Coupe Mont Blanc (€3.90)
Pear Melba Chantilly (€4.10)
La Profiterole Chartier (€4.30)
"A marvelous way to begin or end a journey," say the Danish couple at the next table, their suitcases parked in the aisle.
And, by the way, Rob, the wine of the moment is a fruity Touraine Gamay AOP Henry Marionne at €18. And you'll know you're in a genuine Paris brasserie when Yacine scribbles your order on the paper tablecloth!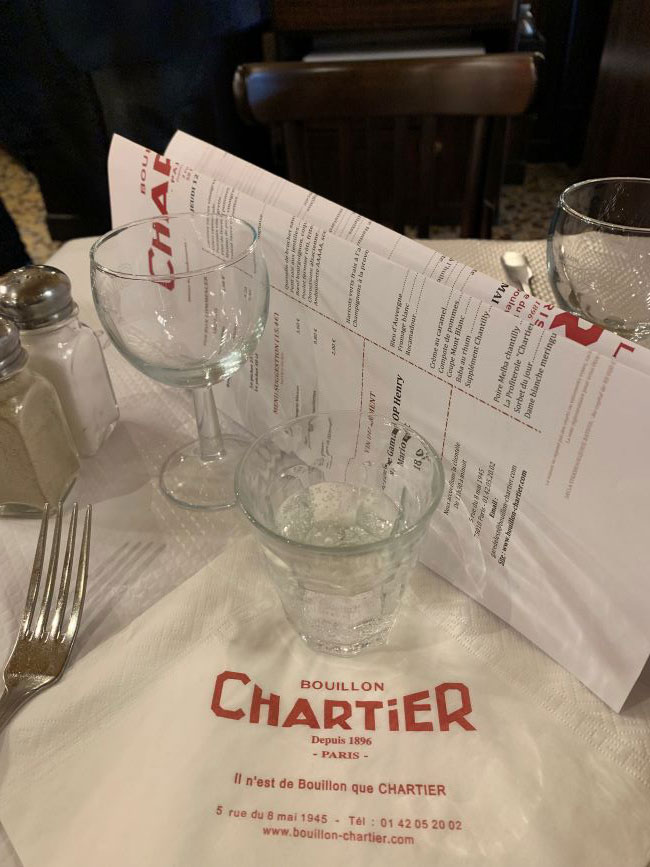 5, rue du 8 mai 1945, 10th
Metro: Gare de L'Est
Tel: + 33 (0)1 42 05 20 02
Open 7/7 until midnight
Recently the bistro La Bourse et la Vie has dedicated its kitchens to Ukraine, as chef/owner Daniel Rose has dubbed it "La Borscht et La Vie." Five percent of the bills are being donated to an association supporting victims of the war.
Daniel Rose explains: "As of today, millions of Ukrainians have fled their homes and country to take shelter. Three special people, who have come to Paris, are now at La Bourse et la Vie, excited and eager to share traditions from their homeland with our guests."
"For two months, Alina, Yulia and Ivan are taking over our kitchen, sending out traditional Ukrainian cuisine, confirming the inextricable bond between people across the entire European continent. And we guarantee: it's absolutely delicious!"
A Very Ukrainian Dinner: €39 per person + drinks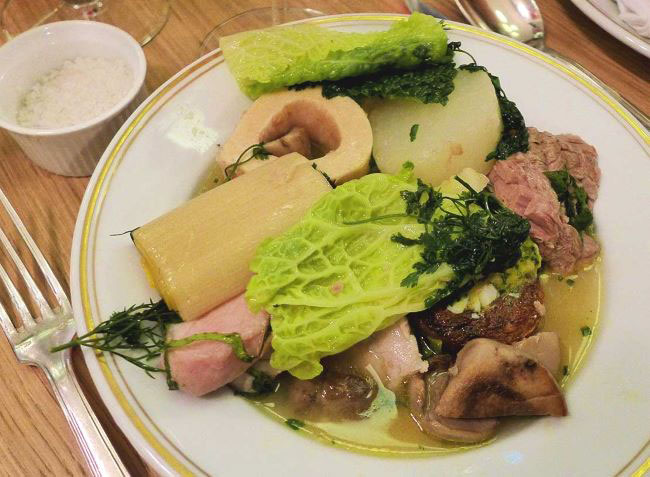 12 rue Vivienne, 2nd
Metro: Bourse
Tel: +33 (0)1 42 60 08 83
Closed Saturday and Sunday
To celebrate the opening of his latest outpost in the 16th arrondissement, chef Moïse Sfez presents his latest creation: Salmon Pastrami!
Having democratized the lobster roll in France, and snagged the title of "Best Lobster Roll in the World, 2018," Moïse Sfez now tackles pastrami with a twist, using salmon.
The chef admits to a lifelong passion for the USA and especially the East Coast. His new creation is inspired by "Bagel & Lox", whose smoked salmon and cream cheese bagel is the New York staple – a staple which is recreated, Homer Lobster style!
"The salmon pastrami  (€14) is made from a whole salmon marinated for 30 hours to obtain a gravelax. It is then smoked, coated with spices and thinly sliced," explains Moise. The salmon pastrami is served in Homer Lobster's iconic signature brioche accompanied by his secret sauce, an ultra-smooth homemade cream cheese with just the right amount of lemon!
Also try:
Sandwich Bikini au Saumon (€19) or with caviar (€46)
Tuna Melt (€13)
Caviar & Chips (€26)
Grilled cheese & Caviar ((€32)
Lobster & Caviar (€46).
Still have some room for dessert? Then try the PB& J Sandwich by the French Bastards (€5). Wild!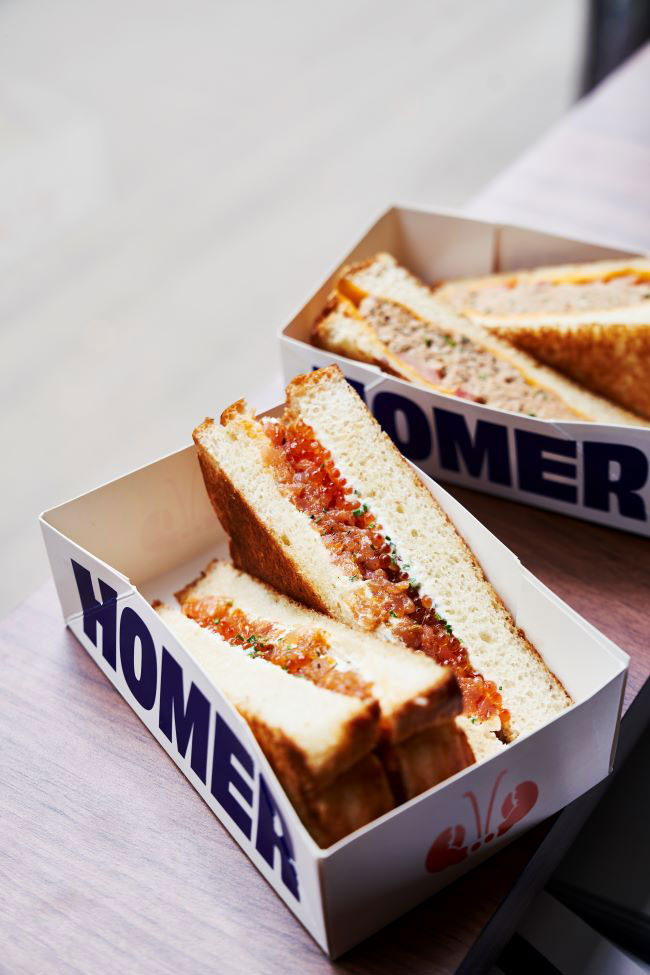 106 avenue Victor Hugo, 16th
Metro: Victor Hugo
Tel: +33 (0)6 25 06 16 88
Terrace
Eat in, take away, or order for delivery via deliveroo.fr
Antoine Alléno
Our deepest and sincere condolences to Yannick Alléno. His son Antoine, a 24-year-old chef at Burger Père & Fils Par Alléno, situated on the rue de Grenelle in the 7th, was killed instantly by a drunken, drugged, car thief as Antoine drove home, after service, on his scooter.
Francky D., the offender, was captured and is in prison awaiting trial. The funeral took place outside Paris at Notre Dame de Poissy, Yvelines. Alongside the distraught family, Brigitte Macron, Bernard Arnault joined Marc Veyrat, Alain Ducasse, Guillaume Gomez, Guy Savoy, Christophe Michalak etc. paid their respects and offered support with extreme dignity.
So sad, what a waste of a brilliant life.
"Say not in grief 'he is no more' but in thankfulness that he was."
RIP Antoine.
View this post on Instagram
Lead photo credit : Tea time 2022 Quentin Lechat @The Travel Buds
More in Antoine Alleno, Bouillon Chartier Gare de L'Est, Brasserie L'Emil, Château Voltaire, Homer Lobster, Hôtel Le Royal Monceau, Le Borscht et La Vie
---
---
Comments