Pastry in Paris: The Best Saint Honoré Pâtisserie in the City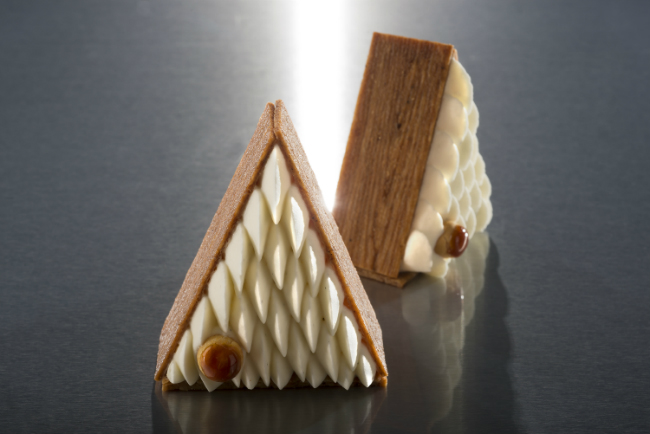 How do we love the Saint Honoré pastry? Let us count the ways. The pile of whipped cream, the caramelized cream puffs, the pâte à choux… This classic French patisserie, also known as St. Honoratus cake, was first created in 1847 at the Chiboust bakery on rue Saint-Honoré in Paris.
Fittingly, the Mandarin Oriental hotel, situated at 251 Rue Saint Honoré, makes a delicious Saint Honoré—which is, in fact, its signature dessert. Overseen by star chef Thierry Marx, the kitchens create some of the best food in Paris. This includes pastry, of course, which is on beautiful display at the Cake Shop at the entrance to the Camélia restaurant.
In recent news, the hotel's pastry chef Adrien Bozzolo has launched an innovative new version of the Saint Honoré. While safeguarding the original recipe's ingredients, Bozzolo has invented a modernist masterpiece. Crafted as a pyramid with a caramel and vanilla arlette (composed of a crispy tuile), the pastry is garnished with mascarpone and vanilla chantilly cream and a molten caramel heart. How elegant!
As we reported last year, the Mandarin Oriental throws a party on May 16, the fête de la Saint Honoré, the patron saint of bakers. For last year's bash, the kitchen created a gigantic, meters-long pastry just for the celebration, topped with flaming candles and carried by four bakers.
Bozzolo's tasty treat is available at the Cake Shop at the Mandarin Oriental, Paris, open from 11 am to 7 pm. Priced at 8 Euros (pastry to go) or 15 euros if you enjoy seated at Camélia restaurant.
Lead photo credit : The Mandarin Oriental's St Honoré pastry. Crédit: Mathilde de l'Ecotais
More in Paris pastry
---
---