Flâneries in Paris: Explore the Jardin des Plantes and Environs
This is the sixth in a series of walking tours highlighting the sites and stories of diverse districts of Paris. A spot of lunch at the Brasserie d'Austerlitz, just near exit 2 of the Gare d'Austerlitz metro station, was a colorful start to my explorations.  The bright greens, yellows and reds of the salad, offset by glistening little black olives, sliced egg and tuna, brought – of course! – with a bread basket and jug of water, was so pretty I felt I had to photograph it. And from the sunny pavement terrace, I could already see the entrance gates to my first destination on a walk I'd planned to include two delightful gardens and some 1st-century ruins.  The Place Valhubert entrance to the Jardin des Plantes was a mere minute walk away. Jardin des plantes à Paris. Credit: besopha at Flickr The main gardens are free to enter, thus easy to include on any walking route in this area. This time I made my way down the first avenue on the left from the entrance, enjoying the magnificence of the formal layout in front of me, beds and paths with hothouses and imposing museum buildings along the edges. Another day, I will explore the Galerie de Botanique or the Galérie de Paléontologie, but this time I just wanted to wander and enjoy. I was there just as the two enormous
cherry trees were blossoming
, their frothy cascades of pink and white flowers stopping visitors in their tracks. Each season brings new delights: in June, for instance, 170 different types of roses will be in full bloom in the rose garden. Second floor of Galerie de paléontologie, MOSSOT at Wikimedia Commons Along the path I chose were separate beds for "useful" plants, aromatic and those used in cooking or for the production of dyes, everything carefully explained on nearby information boards. It's a reminder that the
Jardin des Plantes
was originally created in 1640 by Louis XIII, whose doctors wanted to research the medicinal qualities of plants. The scientific element has been there ever since, and after the French Revolution, this Jardin royal became instead a Jardin national, and the museums and a zoo were gradually added. Galerie de Minéralogie et de Géologie, Besopha at Flickr
SUBSCRIBE
ALREADY SUBSCRIBED?
BECOME A BONJOUR PARIS MEMBER

Gain full access to our collection of over 5,000 articles and bring the City of Light into your life. Just 60 USD per year.

Find out why you should become a member here.

Sign in

Fill in your credentials below.
This is the sixth in a series of walking tours highlighting the sites and stories of diverse districts of Paris.
A spot of lunch at the Brasserie d'Austerlitz, just near exit 2 of the Gare d'Austerlitz metro station, was a colorful start to my explorations.  The bright greens, yellows and reds of the salad, offset by glistening little black olives, sliced egg and tuna, brought – of course! – with a bread basket and jug of water, was so pretty I felt I had to photograph it. And from the sunny pavement terrace, I could already see the entrance gates to my first destination on a walk I'd planned to include two delightful gardens and some 1st-century ruins.  The Place Valhubert entrance to the Jardin des Plantes was a mere minute walk away.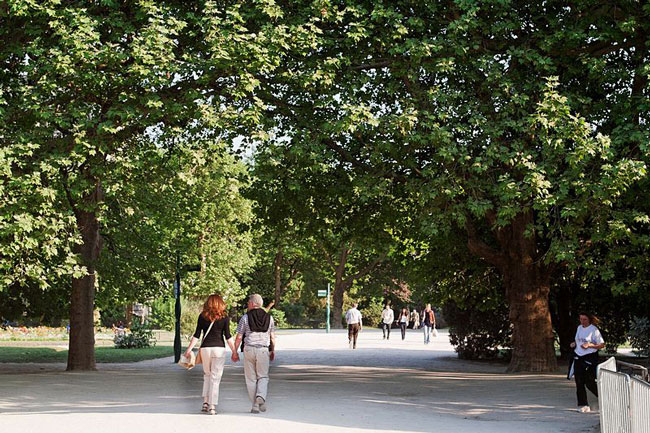 The main gardens are free to enter, thus easy to include on any walking route in this area. This time I made my way down the first avenue on the left from the entrance, enjoying the magnificence of the formal layout in front of me, beds and paths with hothouses and imposing museum buildings along the edges. Another day, I will explore the Galerie de Botanique or the Galérie de Paléontologie, but this time I just wanted to wander and enjoy. I was there just as the two enormous cherry trees were blossoming, their frothy cascades of pink and white flowers stopping visitors in their tracks. Each season brings new delights: in June, for instance, 170 different types of roses will be in full bloom in the rose garden.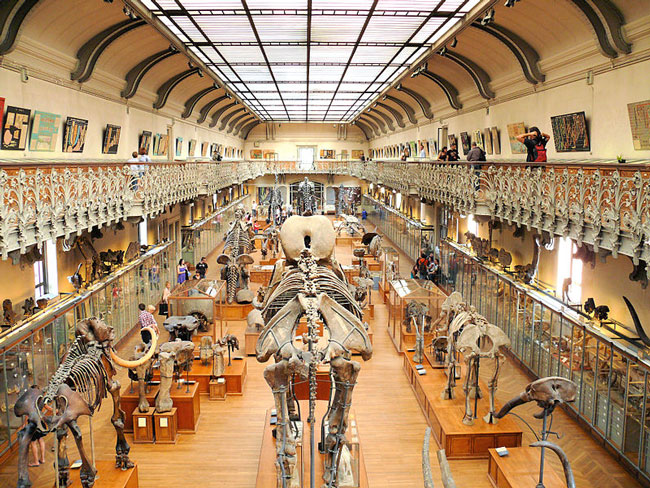 Along the path I chose were separate beds for "useful" plants, aromatic and those used in cooking or for the production of dyes, everything carefully explained on nearby information boards. It's a reminder that the Jardin des Plantes was originally created in 1640 by Louis XIII, whose doctors wanted to research the medicinal qualities of plants. The scientific element has been there ever since, and after the French Revolution, this Jardin royal became instead a Jardin national, and the museums and a zoo were gradually added.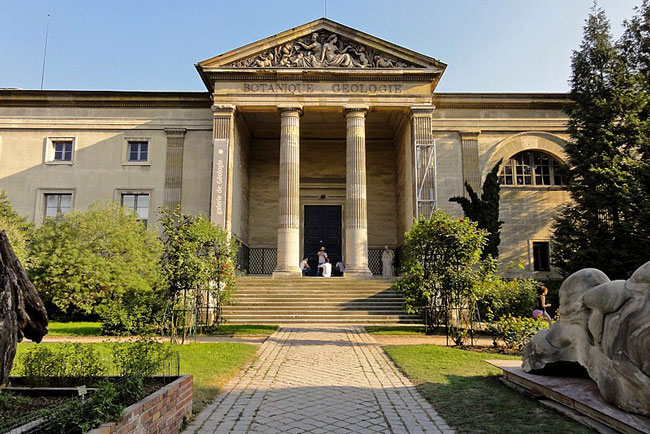 At the other end of the path was an exit leading out onto Rue Geoffroy St-Hilaire, with the back entrance to the Grande Mosquée de Paris just opposite. Visitors were sitting in the pretty tiled courtyard, enjoying glasses of mint tea and slices of baklava. I carried on round to the front of the building on Rue Georges Desplas, intrigued to see what opened up inside. And I'm so glad I did, as for a small entrance fee I could explore the peaceful interior of the first mosque in Paris, opened in 1926 on land given by the city in recognition of the Muslim soldiers who died fighting for France in the First World War.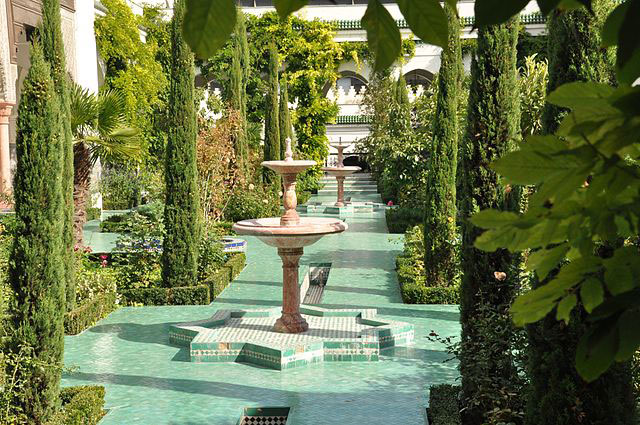 The central courtyard is a little haven of peace, with its trees, plants, pink marble pillars and fountains, surrounded by a walkway running between the courtyard and the four white walls. The tranquil atmosphere is enhanced by the interplay of stone pillars, archways and decorative tiling in geometric patterns of blues, greens and browns. In every direction is a different vista, yet they all combine to promote feelings of calm and reflection. Steps lead up to a raised platform at one end where a plaque in French and in Arabic is dedicated to "la mémoire des Musulmans morts pour la France" and lists the regiments in which they served. Facing back from the far end, the minaret rises up, a square white tower with panels of decorative tiling, topped by a balcony from which the call to prayer can be made.
Turning right out of the mosque's main entrance and left at the end of the road took me to Rue des Arènes and my next goal: the Arènes de Lutèce. These remains of a Roman amphitheatre were built at the end of the first century, a site where up to 10,000 spectators gathered to watch chariot races, games and perhaps also executions, until the stadium was destroyed by "les barbares" in the 3rd century. A spiral path leads up to the top, from where you can look down on the vast central space, occupied at that moment by teenagers playing football. In places, there are remains of the original stone benches used by spectators, so you can gaze down, imagining you are waiting to see lion-tamers or gladiators in action. After its destruction, the arena lay undiscovered until the 19th century, when some of Baron Haussmann's builders uncovered it while digging a new road.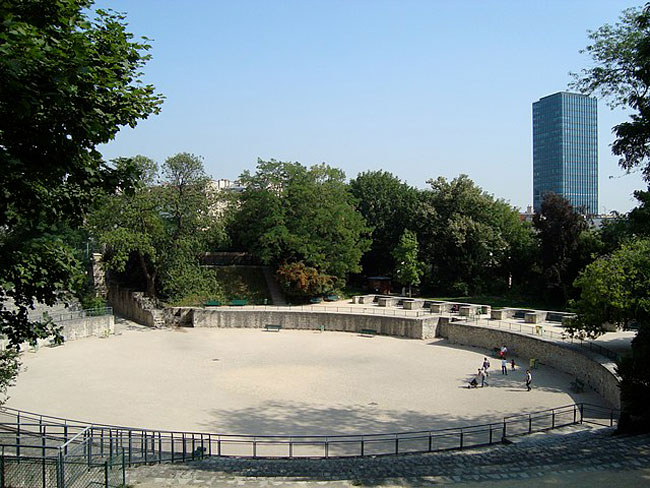 Winding my way back down the pathway, I came across one of those very Parisian vistas whose familiarity makes them easily overlooked, namely a beautiful seven-storey building, its many matching windows and wrought-iron balconies creating a harmonious whole. Probably also part of Haussmann's grand plan. I retraced my steps to the western end of the Jardin des Plantes, entering this time on the corner of Rue Cuvier and Rue Lacépède, where you can take an immediate right up a hilly pathway to another of the park's sights, the Gloriette de Buffon.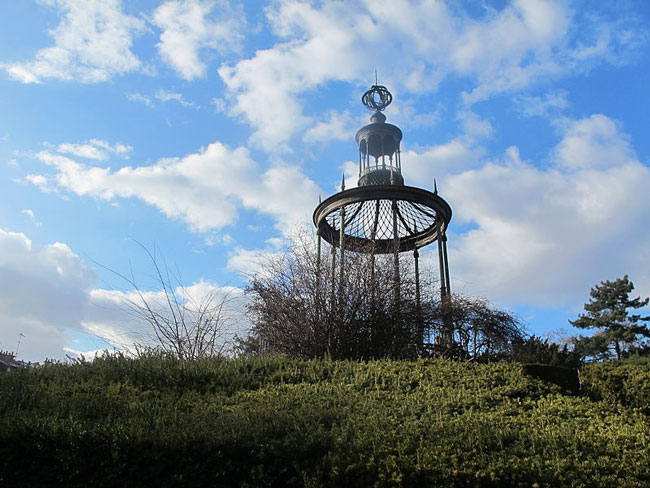 This pretty gazebo, the oldest metal monument in Paris, was erected for Louis XVI by his royal architect and royal locksmith. It's a beautiful structure of bronze, copper, lead and gold, incorporating a clever little mechanism for telling the time. The "solar gong" used to ring every day at noon, triggered because a horse-hair connected to it was under a magnifying glass and burned through every day at noon. Ingenious! But sadly, it no longer operates. A panel explains that the original inscription on the gazebo praised the wisdom of the king which was said to "illuminate the kingdom." I noted that this was written in 1787, just two years before the revolution. The view from the gloriette is spectacular, a good place to contemplate both the beauty of the city and the wonders of 18th-century science.
At the base of hill, I paused to see the arbre historique, a giant plane tree planted in 1785, along with – this being a botanical garden – a diagram explaining how its roots will be the same size as its foliage. Walking back along that side of the garden, I spotted a plaque noting that it was here that Henri Becquerel discovered radioactivity in 1896 and, perhaps more fun for most visitors, I also passed the menagerie, or zoo. An entrance fee is payable and I decided to leave it for another day, but I did spy some kangaroos and joeys in one area near the fence. I read later that this is one of Europe's very oldest zoos, first opened in 1796 and housing some 170 species, a third of which are endangered species and part of the conservation program.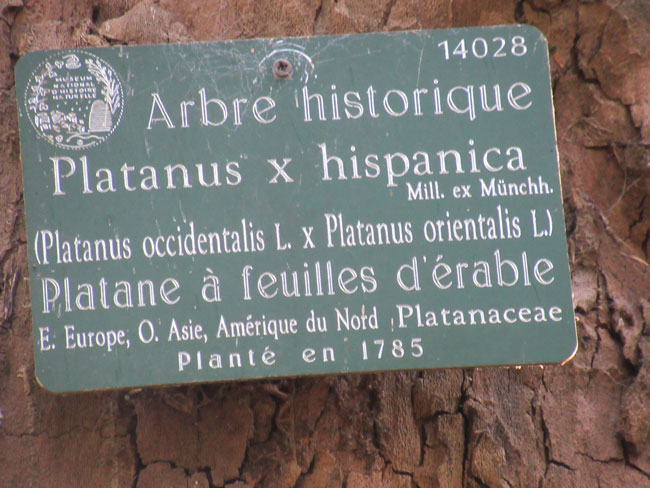 I had seen so many things I wanted to revisit: the inside of the mosque, more of the Jardin des Plantes, the natural history museums and the zoo. But today's aim was a pleasant stroll and I had certainly achieved that. So, I wandered back to the entrance near the Gare d'Austerlitz, waving a cheerful goodbye to the giant mammoth which keeps guard in front of the last building you pass on the way out, the Galérie de Paléontologie. Sighting a mammoth is an unexpected, but pleasurable way to end a walk, I find.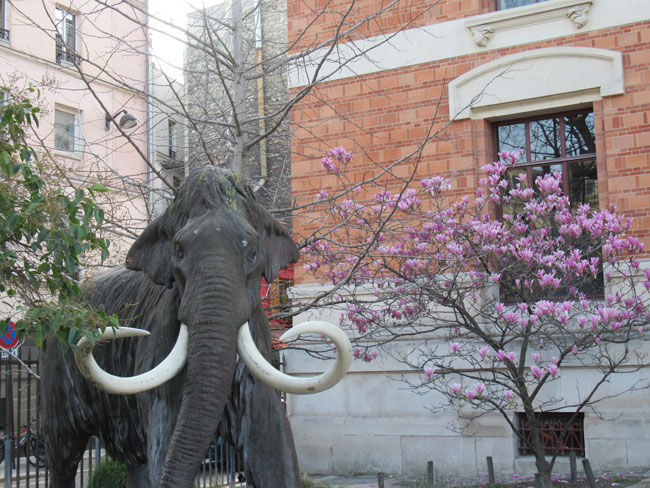 Jardin des Plantes
57 Rue Cuvier, 75005, Paris
https://www.jardindesplantesdeparis.fr
Open daily in summer from 7.30am – 8.00pm
Entry free for the main gardens.
Grande Mosquée de Paris
2 bis Place du Puits de l'Ermite, 75005, Paris
https://www.grandemosqueedeparis.fr/
Open daily except Fridays and Muslim festival days 9.00 – 6.00
Entry €3 (children and students €2)
Guided visits available: [email protected]
Arènes de Lutèce
4, Rue des Arènes, 75005 Paris
Open daily from 8.00am (9.00am on Saturday, Sunday and public holidays)
Entry free
Enjoying our "Flâneries in Paris" series? Read Marian's previous article, Flâneries around La Madeleine, a prominent church with royal connections, here.
Lead photo credit : Jardin des Plantes, Celine Harrand at Wikimedia Commons
More in Arènes de Lutèce., Flânerie, Flâneries in Paris, Galerie de Botanique, Galérie de Paléontologie, Grande Mosquée de Paris, jardin des plantes
---
---