L'Absinthe : Bistrot Vivienne : Smiths Bakery & Les Tablettes De Jean Louis Nomicos
L'Absinthe,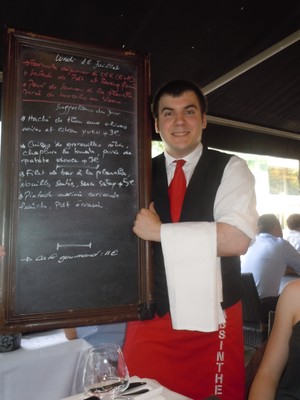 At L' Absinthe, "The Green Hour" (17h-19hrs) is all about green A ; the drink, traditionally served mixed with water and a sugar lump, has a poetic charm, very representative of French culture. It has inspired poets and artists such as Oscar Wilde, Charles Baudelaire and Edouard Manet (Le Buveur d'Absinthe) Hemingway, Strindberg etc. and, banned in much of Europe, was only allowed back recently.
The latest attempt by the European Commission to define and standardise absinthe has been blocked by the European Parliament, Strasbourg. At issue is whether absinthe needs to contain minimum levels of two substances – anethole and the chemical thujone, a toxin extracted from wormwood, which reputedly has mind-altering effects.
Produced across Europe, from Italy to the Czech Republic, the US banned absinthe in 1912, eight years before prohibition;  lifting the ban in 2007.
L'Absinthe's Director du Salle, Philippe, orchestrates the "A" ceremony, distilling advise with his ceremonial spoon, accompanied with tastings of  foie gras, hoummous maison, rillettes de sardines and delicious pain Poujauran.
Or, book a terrace table and begin with "The Hot-Duck", grilled Foie Gras & Parmesan: Tomato tartare, olive oil, shizo: House signature Ravioli from Romans with creamy crayfish sauce: Small crunchy crab:
Lovely wines, the card created by Alain Ronzatti, Head Sommelier of the group Michel Rostang, Pere & Filles. L'Absinthe is orchestrated by Caroline Rostang, one of the excellent Rostang eateries that take in Dessirier, Jarrasse, Flaubert etc. Fillettes, glass, bottles, magnums (1982 Leoville Las Cases Saint-Julien 800€) or, more modest, but excellent white 2012 Cruet "Savoie" Domaine de L'Idylle at 22€.
Continue with a New York size (10oz) Rib Eye pan seared Steak: Lamb kebab, Beldi Lemon, fresh coriander, cardomon rice: Sea Bream, baby vegetables, lemon grass emulsion: Squid is sliced thin, seared on la plancha, paired with courgette tagliatelle, emulsion of tomatoes and coco. Mackeral with black cod sauce. Rhubarbe cheesecake to finish or Cafe Gourmande for a taste of everything.
The atmosphere's buzzing, the equipe efficient, true professionals, a credit to their métier. In a green fairy haze, schmooze on the terrace, watch the world go by. Hang on a minute, that's Marc Jacobs over there, just popping into his boutique. I must dash over and invite him to L'Absinthe: he could create a mind-blowing collection around it. Somebody should.
24 Place du Marché Saint-Honoré 1st
M: Tuileries
T: 01 49 26 90 04
Shut Saturday lunch & Sunday
Starters 13€ Plancha & Summer Grill 22€ Desserts 11€
Open all summer

This is your authentic Paris bistro. Located near the Banque de France, Palais Royal and the Bourse, in one of the city's handsome covered passages, no sign of Benneton, Gap, H&M here. You'll discover Nathalie Garçon, Caves Le-Grand, Jean-Paul Gaultier's flagship: 2nd hand bookstores/stamps/coins etc.
Sit outside, under the glass dome, inside on velvet banquettes/chairs. Admire the authentic 19th century décor, the chic crowd and most important the excellent cuisine of Philippe Le Guen (ex-Hediard Madeleine with Alain Ducasse: Rech: Cafe Guitry).
Blinis de Sarrasin and smoked Salmon "Kaviari": Assiette Ibérique: Tomates Mozza: Salades Vivienne or César. Tarte fine aux maquereaux: Thon rouge, tian de legumes: Steak – Frits: Cheese by Marie-Ann Cantin: Chef's cheesecake: warm tart aux sables with just picked peaches: Café Gourmand. Wash down with a piscine, served in a large glass with ice cubes, it's that time of the year. Rosé Bandol AOC "Mas de la Rouvière" (AB) 45€.
"Delicious, merci chef". De rien, come back for my linguine à la sauce Tratufata". You bet chef!
4 rue des Petits Champs, 2nd
T: 01 49 27 00 50
M: Palais Royal – Musee du Louvre/Bourse
Open: All Summer 7/7
From Noon – 23hrs
Sunday Breton Brunch 28€ from 12h-15hrs
Average spend lunch/dinner : 43.50€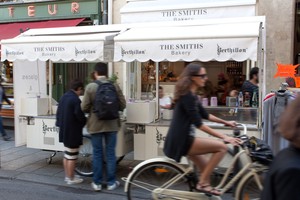 The band is no longer, Morrissey's still your ironic/iconic chanteur, now their namesake serves up epic compilations of not only fragrant Bertillon ice creams and sorbets, but also smoothies, salads, focaccias, sandwiches to eat in or take out. Add Ham/cheese/Bacon burgers. Club sandwiches, BLT's all freshly made. Add Senequier's epic nougat and "Everyday is Sunday".
12 rue de Buci, 6th
T: 01 43 54 96 96
Breakfast formula 5.50€
Lunch formula 9.50€
Tea formula 7€
Jean-Louis Nomicos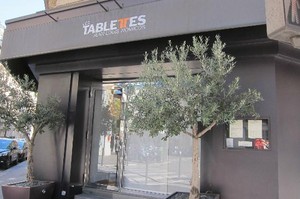 "I'm open all summer to bring a touch of the Mediterranean to Paris", chef Nomicos (born near Marseille) tells us.  Interior design by Anne-Cecile Comar is an airy, edgy space, cool, intimate, and welcoming.
The signature Menu Club, according to the market, served daily at lunch (42-58€) includes 3-courses, cheese, dessert, water and wine. At night A La Carte or Tasting menus from 120-145€. Go for the sun-soaked vegetables, the black truffle macaroni, sea urchins with fennel and the incredible I-pad listed wines.
Les Tablettes,
16 Avenue Bugeaud, 16th
T: 01 56 28 16 16
M: Victor Hugo
Leave a reply
Your email address will not be published. Required fields are marked *