From Onion Soup to Harlots – Les Halles de Paris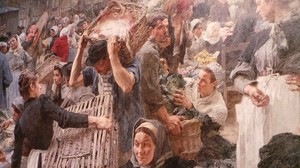 In a black cap, a "porteur" des Halles.  The union of "forts" (strongmen) could each carry 400 lbs for 65 yards It began in a former swamp. Maybe it was the hopelessly entanglement of traffic that brought everything to a stop on a busy commute morning.   Or merely the abundant supply of impertinently bold rats accustomed to waiting patiently to be hand fed by local street vendors.  The decision fell like an auctioneer's hammer.  After 900 years of painstaking existence, Les Halles, the biggest wholesale meat, fruit and vegetable market in the world, also known for its kinky prostitutes, its grated onion soup and its huge covered 19th century pavilions, was to be torn down, leaving rats and the homeless to fend on their own.  Paris would never be quite the same again. Les Halles, 12th Century Paris.  The black line represents the city's protective ramparts. In the 5th century, when Paris was still called Lutetia, the city's open air market, le marché Palu, was located on Ile de la Cité where Notre Dame Cathedral would be built some 700 years later. Because the Seine River flooded regularly, it was finally moved to the Place de Grève Square, in front of today's Hôtel de Ville where the Seine flowed right next to the square and it was also easy to load and unload produce directly.  In 1137, King Louis VII (1120-1180) decided that the Place de Grève was too small and moved the market over to a formerly swampish area called Les Champeaux (the little fields) where it would remain until 1971. Historians still debate today over when the Middle Ages actually ended and the "Renaissance" really began in France.  Some take it all the way back to the 12th century, considering the huge leap in agriculture due to a rapid improvement in metal tools at that time.  With less famine and more to sell on the marketplace, in 1183 King Philippe August began personally managing the market and enlarging it with vast wooden structures.  People poured into the area to live.  Two churches were built there and, for the first time, the Parisian population baptized the rapidly expanding Champeaux market "Les Halles".  Philippe's efforts were followed by more improvements in 1263, under Louis IX, but the next real changes came during the reign of the "official" Renaissance king, François I in 1543. A covered market, example of 13th century framework A glance at European history reveals that war was seemingly always a king's main "activity".  Despite sporadic conflicts with Italy, Hungary and Britain, François I found time, among other occupations, to concentrate on building or renovating today's Louvre, as well as the Fontainebleau, Blois, Amboise and Chambord châteaux.  By the way, in case you didn't know, and I certainly didn't, it was a ship sent by François I that founded "Nouvelle Angouleme" (1523), later to become New Amsterdam and finally New York City.  Of course Les Halles de Paris didn't escape the king's attention.   Because fire was a constant threat, the king transformed the wooden halls into fire resistant stone houses with arched passages for the market's craftsmen.  Not all of the main market activity, for example wheat, wine or flowers, was centered directly in Les Halles, but les Champeaux remained the market's hub. "Cemeteries are full of irreplaceable people," Charles de Gaulle once said, and it's impossible to speak about the Les Halles market without mentioning the Cimetière des Innocents!  The Innocents was one of several cemeteries in Paris, but it was by far the most important "body count" wise.  Siuated in the midst of Les Halles, from those who had died from the Pest, to unnamed bodies landing in the Morgue, the rich buried in caskets or the poor in pits able to hold up to 1,500 bodies, over 2 million people of every domain ended up in Les Innocents.  One single gravedigger speaks of burying some 98,000 bodies there, over his 30-year career. Bones, bones and dry bones, Innocents Cemetery, 18th century When the French Revolution came along, Les Halles was a miserable place to try and bring up a family.  Pigs and dogs ran loose in the stench.  A body decomposed in eight days, but it only took three for wine to turn to vinegar and less for food to go bad.  The bacteria and water laden vapors from the decomposition of bodies snuffed out the tallow candles and walls of houses caved in under the weight of corpses in mass graves next door.  Merchants sat on the tombs to sell their fruit and vegetables and whores their attributes.  Things became so bad that, following the Revolution when heads began to roll daily and health conditions got totally "out of hand", cemeteries in general,  including the Innocents cemetery, were  finally emptied into carts and, accompanied by priests, were hauled over to a former underground quarry in the 14th arrondissement.  Those bones are the ones you can still see today stored in Paris's famous Catacombs under Denfert Rochereau Square. A remarkable group
blog site
to discover in English. One of the 19th century Baltard pavilions, remarkable landmarks of Les Halles de Paris With the stench and the skeletons gone, François I's architectural dream lasted until the mid 19th century when Napoleon I drew up plans to again renovate Les Halles, but, for lack of time, left the task to Napoleon III.  The latter undertook construction of a city of pavilions dreamt into being by architect Victor-Louis Baltard (1805-1874). Baltard's much vaster plan was whittled down to twelve metal and glass pavilions that would continue to function until March of 1971 when the market's activities were transferred to Rungis and La Villette, south of Paris, where they still stand today. With activity moved outside the city and Les Halles empty, the Minister of the Culture began using the Baltard Pavilions from 1969-1971 for various exhibits and other cultural events.  President George Pompidou's idea for the Pompidou Center actually…
SUBSCRIBE
ALREADY SUBSCRIBED?
BECOME A BONJOUR PARIS MEMBER

Gain full access to our collection of over 5,000 articles and bring the City of Light into your life. Just 60 USD per year.

Find out why you should become a member here.

Sign in

Fill in your credentials below.
In a black cap, a "porteur" des Halles.  The union of "forts" (strongmen) could each carry 400 lbs for 65 yards
It began in a former swamp.
Maybe it was the hopelessly entanglement of traffic that brought everything to a stop on a busy commute morning.   Or merely the abundant supply of impertinently bold rats accustomed to waiting patiently to be hand fed by local street vendors.  The decision fell like an auctioneer's hammer.  After 900 years of painstaking existence, Les Halles, the biggest wholesale meat, fruit and vegetable market in the world, also known for its kinky prostitutes, its grated onion soup and its huge covered 19th century pavilions, was to be torn down, leaving rats and the homeless to fend on their own.  Paris would never be quite the same again.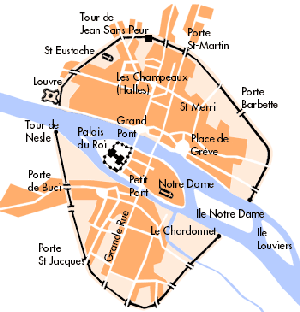 Les Halles, 12th Century Paris.  The black line represents the city's protective ramparts.
In the 5th century, when Paris was still called Lutetia, the city's open air market, le marché Palu, was located on Ile de la Cité where Notre Dame Cathedral would be built some 700 years later. Because the Seine River flooded regularly, it was finally moved to the Place de Grève Square, in front of today's Hôtel de Ville where the Seine flowed right next to the square and it was also easy to load and unload produce directly.  In 1137, King Louis VII (1120-1180) decided that the Place de Grève was too small and moved the market over to a formerly swampish area called Les Champeaux (the little fields) where it would remain until 1971.
Historians still debate today over when the Middle Ages actually ended and the "Renaissance" really began in France.  Some take it all the way back to the 12th century, considering the huge leap in agriculture due to a rapid improvement in metal tools at that time.  With less famine and more to sell on the marketplace, in 1183 King Philippe August began personally managing the market and enlarging it with vast wooden structures.  People poured into the area to live.  Two churches were built there and, for the first time, the Parisian population baptized the rapidly expanding Champeaux market "Les Halles".  Philippe's efforts were followed by more improvements in 1263, under Louis IX, but the next real changes came during the reign of the "official" Renaissance king, François I in 1543.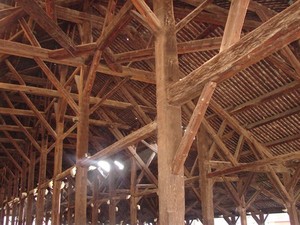 A covered market, example of 13th century framework
A glance at European history reveals that war was seemingly always a king's main "activity".  Despite sporadic conflicts with Italy, Hungary and Britain, François I found time, among other occupations, to concentrate on building or renovating today's Louvre, as well as the Fontainebleau, Blois, Amboise and Chambord châteaux.  By the way, in case you didn't know, and I certainly didn't, it was a ship sent by François I that founded "Nouvelle Angouleme" (1523), later to become New Amsterdam and finally New York City.  Of course Les Halles de Paris didn't escape the king's attention.   Because fire was a constant threat, the king transformed the wooden halls into fire resistant stone houses with arched passages for the market's craftsmen.  Not all of the main market activity, for example wheat, wine or flowers, was centered directly in Les Halles, but les Champeaux remained the market's hub.
"Cemeteries are full of irreplaceable people," Charles de Gaulle once said, and it's impossible to speak about the Les Halles market without mentioning the Cimetière des Innocents!  The Innocents was one of several cemeteries in Paris, but it was by far the most important "body count" wise.  Siuated in the midst of Les Halles, from those who had died from the Pest, to unnamed bodies landing in the Morgue, the rich buried in caskets or the poor in pits able to hold up to 1,500 bodies, over 2 million people of every domain ended up in Les Innocents.  One single gravedigger speaks of burying some 98,000 bodies there, over his 30-year career.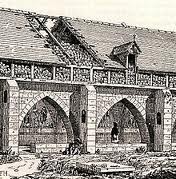 Bones, bones and dry bones, Innocents Cemetery, 18th century
When the French Revolution came along, Les Halles was a miserable place to try and bring up a family.  Pigs and dogs ran loose in the stench.  A body decomposed in eight days, but it only took three for wine to turn to vinegar and less for food to go bad.  The bacteria and water laden vapors from the decomposition of bodies snuffed out the tallow candles and walls of houses caved in under the weight of corpses in mass graves next door.  Merchants sat on the tombs to sell their fruit and vegetables and whores their attributes.  Things became so bad that, following the Revolution when heads began to roll daily and health conditions got totally "out of hand", cemeteries in general,  including the Innocents cemetery, were  finally emptied into carts and, accompanied by priests, were hauled over to a former underground quarry in the 14th arrondissement.  Those bones are the ones you can still see today stored in Paris's famous Catacombs under Denfert Rochereau Square.
A remarkable group blog site to discover in English.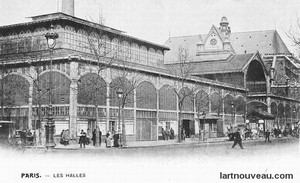 One of the 19th century Baltard pavilions, remarkable landmarks of Les Halles de Paris
With the stench and the skeletons gone, François I's architectural dream lasted until the mid 19th century when Napoleon I drew up plans to again renovate Les Halles, but, for lack of time, left the task to Napoleon III.  The latter undertook construction of a city of pavilions dreamt into being by architect Victor-Louis Baltard (1805-1874). Baltard's much vaster plan was whittled down to twelve metal and glass pavilions that would continue to function until March of 1971 when the market's activities were transferred to Rungis and La Villette, south of Paris, where they still stand today.
With activity moved outside the city and Les Halles empty, the Minister of the Culture began using the Baltard Pavilions from 1969-1971 for various exhibits and other cultural events.  President George Pompidou's idea for the Pompidou Center actually stemmed from these activities.  In the spring of 1971 one pavilion was moved to Japan, another to the Nogent-sur –Marne, in the suburbs of Paris, and all the rest were reduced to rubble and sold for scrap metal.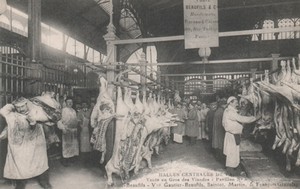 20th century butchers in the meat pavilion of Les Halles
Personal memories
Back in 1965, the wholesale market in les Halles began functioning at 9 in the evening and continued until retail vendors took over at 8 am.  Night life consisted of butchers in splattered white uniforms rushing to and fro with huge metal hooks and dangling carcasses of beef draped over one shoulder.  All along the streets, stocky women, their hands like huge fleshy gloves, gripped thick heads of fresh lettuce and shouted over their shoulders.  Even the rats seated on the crates, noses twitching like Ratatouille mice awaiting their feast, seemed to be struggling against time, against impending daylight and above all against the end of a long and busy work night.
4 am.  Bundles of newspapers and magazines lay attached by a cord in front of the local kiosk, open at 4:30. From the all night bistro, the sweet acrid smell of Gitanne cigarettes floated under the harsh ceiling lights.  Local restaurants stared selling onion soup at midnight, after the shows let out, but even at this time in the morning there wasn't much room at the counter.  For those who stood there, most were sharing an espresso and tartines, thin slices of buttered bread, followed by a shot of calvados.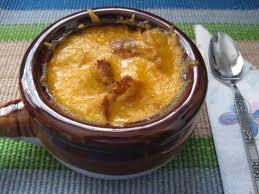 Soupe à l'oignon gratinée
I slipped into a booth in one corner and glanced over the menu.  "Outsiders" still infallibly ordered onion soup, so onion soup it would be. As I watched the working class laugh and joke, I wondered what people ate in Les Halles back during the Middle Ages.  Be assured, in any case, the French onion soup experience left no regrets as to its exoticism.  Similar to spinning spaghetti in tomato sauce with a fork, turning long strings of melted cheese around a fork and a tablespoon full of hot onions remains a juggling feat I'm still trying to master to this day.
Special thanks to the following resources:
Cimetière des Innocents, Wikipédia
More in French history, Les Halles, onion soup
---
---
Comments