Food Buzz in France: Michelin Guide 2020
Michelin Guide: love it or loathe it, here are the new ratings
You know when Michelin (awarding stars since 1931) is about to produce the annual Ceremony of Stars. Suddenly the gastrogossip's buzzing with predictions, leaks, false news, fake news and critics such as Perico Lagasse claiming Michelin's dead. It was also overshadowed by the very sad death of Sebastien Demorand, a hugely popular author, journalist and broadcaster, who created the phrase "Le Fooding."
2019 was the year of controversial texts, litigation (from Marc Veyrat, the man in the black hat who lost his "Cheddargate" lawsuit against Michelin). And, the demotion from 3 to 2 stars must have seen the late, great Paul Bocuse turning in his recently dug grave.
This year's bash. held on January 27th, was presented by broadcaster Audrey Pulvar, alongside Michelin head honcho, International Director of Michelin Guides, Gwendal Poullennec. It took place at Pavillon Gabriel, Avenue Gabriel, just off the Champs Elysées, recently renovated, suitably red carpet bling bling enough for the likes of Guy Savoy. "We're celebrating 19 years of 3 stars," he happily told Bonjour Paris. "I'm so delighted for my dedicated brigades who have made this possible – it's total team work, n'est ce pas?"
 

 

 

View this post on Instagram

 

 
"Japanese chef wins first Michelin 3 star rating in Paris" was the headline. Kei opened in Paris in 2011 and won a star the following year, upgraded to two stars in 2017. Young super star chef Kobayashi, aged 42, is famous for his unique take on French cuisine featuring Japanese ingredients. Surprised by the three-star rating, he said. "I appreciate France, which has taken many Japanese chefs to their hearts". Kobayashi, from Suwa in Nagano Prefecture, central Japan, sharpened his knives in French restaurants in Tokyo and Nagano before moving to France in 1999.
The new Paris 2-star eateries are Stephanie Le Quellec, La Scène (8th), David Bizet at Le Taillevent (8th), and Thierry Karakochian flying the culinary flag for the late Joel Robuchon at Atelier Joel Robuchon, Etoile (8th).
You're going to have fun at the 13 one-star restaurants all well worth your attention: Alain Pegouret's Le Sergent Recruter; Le Faham by Kelly Rangama; L'Oiseau Blanc at The Peninsula; Yannick Alleno's Pavyllon; Jules Verne by Frederic Anton; Fleur de Pavé (Sylvain Sendra); Marcore by Marc Flavy and Aurélie Alary; Anne; Solstice (Mi-Jin Ryu and Eric Trochon); Aspic, Quentin Giroud; L'Innocence by Anne Legrand & Jonathan Caron (once Daniel Rose's Spring); Le Rigmarole (Robert Compagnon + Jessica Yang) and Jacques Faussat's excellent eponymous eatery on rue Cardinet, 17th.
The introduction of the green clover leaf rating "Gastronomie Durable" (surely copied from Jean-François Piège's logo; he's still waiting for his 3rd star – gastronomy's Prince Charles). 51 restaurants were awarded – throughout the Hexagon- recognizing establishments with a commitment to sustainable gastronomy, no waste, and being kind to apprentices when they burn/spill/spoil/ everything and do drugs before the service!
So, in Paris, Alain Ducasse (3-stars Plaza Athénée) joins Alain Passard (3-stars), Bertrand Grebaut at Septime; David Toutain, Esttia; Chez Michel; Tempi Lenti; Aux Plumes; Mokko; Cheval d'Or; Le Grand Bain; Sadarnac; La Vierge; Table 12th; Cabane, Nanterre and Les Petits Princes, Suresnes. We are all Durable!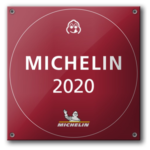 A week before the "Céremonie des Etoiles" Michelin announced 72 new "Bibs Gourmands" (a category created in 1997, that recognizes affordable food of quality). That's a total of 567 recommended addresses sending out excellent 3-course meals at €34 outside the capital and €38 within.
Here are the Paris "Bibs": Esttia, Chez Michel, Tempi Lenti, Aux Plumes, Mokko, Cheval d'Or, Le Grand Bain, Sadarnac, La Vierge and Cabane Nanterre, Les Petits Princes, Suresnes.
The charismatic Eric Beaumard, Le Cinq, George V claimed "Prix du Sommelier", a just reward for a super-somm without equal in the world. "Passion Dessert 2020" honored Taillevent's François Josse, Aurélien Rivoire at Alleno, Pavilon Ledoyen and Adrien Selavert, Le Gabriel.
And, reflecting on Bocuse, Poullennec didn't rule out the possibility of a 3rd star. "It was a difficult decision to make. The team is talented; let's see what happens in the years to come".
In total, 628 fabulous addresses hold Michelin stars (four less than last year). There are 29 three-star restaurants, 86 with two stars, and 513 with one star in France.
Long live Michelin!
The guide is available from 31 January, priced at €24.90
Love Paris as much as we do? Get some more Paris inspiration by following our Instagram page.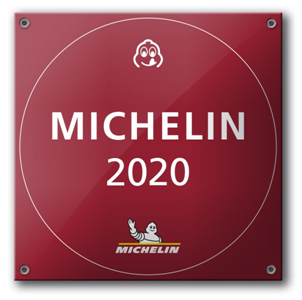 Photo credit : Guy Savoy and his team
Leave a reply
Your email address will not be published. Required fields are marked *
Comments