The Alain Passard Project, Kei Kobayashi & Lily Wang Buzz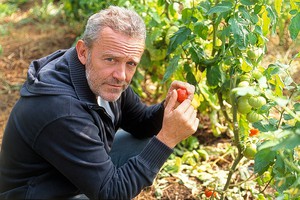 Most successful chefs diversify, open bistrots, consult, travel, not only to make money but to open their eyes to the possibilities around them. When 3-star Michelin chef Alain Passard realised the vegetables and fruits he was buying were not the quality he required, he bought Château de Gros Chesnay, in the Sarthe region near Le Mans, and set about cultivating his own produce on the arable land.
Today, with a dedicated team led by Sylvain Picard, he's added hectares in Normandy, and the Bay of Mont Saint Michel, to his organic fruit herb and vegetable collection. Each potager (herb garden) has been chosen for its special soil; no tractors, just horse-drawn ploughs and lots of back-breaking hard work.
Passard says the cooperation of animals and insects maintains a balanced ecosystem. There are nesting boxes for birds and beehives to ensure effective pollination. Honey from the hives is used in Passard's signature mille-feuille dessert. The seasonal vegetables arrive by TGV daily in time for lunch. Waste food from the restaurant is recycled and used as compost for the potagers.
Continuing on this theme at the 48th Salon International de l'Agriculture et de l'Alimentation, Passard and Sylvain Picard created a mini-garden and invited 50 Paris schoolchildren to take part in "a day in the country in town". "They're the future", says Passard, "we must show them how to appreciate, choose, grow and taste organic products."
So, the children gathered around and enthusiastically shouted out names of the vegetables, asked questions about odd-coloured radishes, turnips, tomatoes, carrots and beetroot, then tucked in to sweet and sour beetroot. Parsnip soup received a "yuk" from Ségolene but thumbs up from Damien (7), who said he prefers the pasta he makes at home. "Too much chocolate in the macarons", thought Leo (6). "And there's another strange flavour?" "That's the jerusalem artichoke", explained Passard with a grin. The kids loved the fact that Sylvain talks to his vegetables and were eager to visit the "real" countryside so they could have a go at guiding the horse-drawn ploughs. Maybe one day the children will realise how lucky they are. Passard is the only chef in the world to own three organic potagers, growing more than 450 types of fruits, vegetables and herbs, many of which have been forgotten for years. This is the road he's chosen, he really is the man who loves vegetables. "Bien manger c'est l'affaire de tous", says Passard.
84 rue de Varenne, 7th
Metro: Varenne
Closed Sat-Sun
Lunch 120€-
Dinner 190€-290€
T: 01 47 05 09 06
Just published and already winning awards:
Alain Passard collages & recettes.
For the last eleven years neo-foodie Kei Kobayashi, a punk-looking chef with yellow blond gelled hair and a shy grin, has been working with French super-chefs: Alain Ducasse, Jean Franҫois Piège, Gilles Goujon at Fontjoncourse and Michel Husser at Marlenheim. He was intending to return to Japan to open a French restaurant with pretty Mrs Kobayashi, but they both decided they'd rather take Paris.
Last week Kei Restaurant opened in the former Gérard Besson address near Les Halles. Besson's now travelling in Japan, consulting, happy to be getting out more. The grey and white paint's barely dry. The room is minimal, just 24 covers and Kei has very fixed ideas about his menus. Mostly they're showcases for sparkling products, his personality and especially the vegetables of his friend Joël Thiébault, the maven of market gardeners. Call them harmonious compositions, French neo-classic with a nod and wink to Japanese purity and creativity. Salmon and sea bass, with crispy skin and légumes croquants, duck risotto, lobster with condiments, mushrooms and a glass of Xeres, lamb from the Pyrénées.  Criss-cross Vacherin with citrus fruits dessert. Gilles Josso, the sommelier you'll remember from Besson, is on hand to pick something from the splendid cellar. Kei's restaurant is cool; is he the new Tateru Yoshino? (Stella Maris) Stay tuned.
5 rue Coq Heron, 1st
Metro: Louvre-Rivoli
T: 01 42 33 14 74
Lunch 38€ Dinner 75-95€
Closed Sun-Mon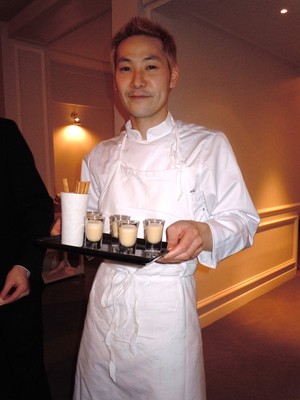 It's Shanghai-sur-Seine as Lily Wang is launched by Jean-Louis Costes and Régis Finot (Spicy and Ginger in the 8th). Lily's décor's by Jacques Garcia, smoky jian-jiao and glazed pork gets rave reviews, but somehow BUZZ can't help feeling there's something wong here, read contrived. Zaha Hadid's a fan, so's her dog. The chefs are all Cambodian; Zaha may want to leave her dog at home next time – you can't be too careful these days. Nice loos.
40 avenue Duquesne, 7th
T: 00 33 (1) 53 86 09 09
Open 7/7
Valet parking
Average spend 60€
Diary Date:
21st March don't forget – Jour du Macaron (Macaron Day), the annual celebration of the delicious edible jewels that come in a rainbow of colours and fillings.
Pierre Hermé, who launched this event in 2005, will offer free macarons in his Paris and Tokyo stores as will other participating members of the Relais Desserts association, which represent the world's top pastry chefs.
Pastry shops in Paris taking part include Sadaharu Aoki, Laurent Duchêne, Jean-Paul Hévin and Arnaud Larher and über pastry maker François Payard in NYC.
Jour du Macaron is also the perfect opportunity to support the charity that funds research into rare diseases and provides assistance to children with Williams-Beuren syndrome. Donations will be accepted in each participating shop. See you there.

Please spread the word about Bonjour Paris and send an invitation to your friends to receive the newsletter.  In advance, thank you.
If you're coming to France and want to remove the stress out of any and all planning, dynamo Lisa Buros-Hutchins of www.YourParisExperience.com can arrange anything and everything, including planning your honeymoon and/or making dinner reservations. Nothing is beyond her. Say Bonjour Paris referred you and put her to the test of making your stay in France perfect.
If you're in a shopping mood, Bonjour Paris's Amazon Store has a collection of books, movies, gourmet items, electronics and so much more. In other words, you can buy soup to nuts and help Bonjour Paris at the same time.
Leave a reply
Your email address will not be published. Required fields are marked *