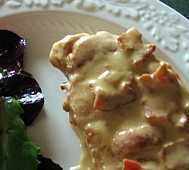 I am always counting the days until I return to France, especially Dijon and Burgundy. And now on to à la dijonnaise … what will that include? Mustard, of course. Dijon mustard is well known but as with so many things in France, each region has its own recipe for this condiment. In Burgundy the mustard grains are black and then mixed with wine and verjus. A dessert à la dijonnaise will include black currants.
I always feel a bit decadent when I make this recipe with its bacon, cream, and mustard ~ a wonderful combination of flavors. What's nice about this recipe is that it's easy enough for a weekday meal but special enough for a dinner party.
Porc à la Dijonnaise ~ Pork Loin Chops with Mustard Sauce
INGREDIENTS:
4 boneless pork loin chops
2-3 Tablespoons flour
salt and pepper
2 Tablespoons canola oil
4-1/2 oz. bacon (4-5 slices)
3/4 cup dry white wine
1 cup of chicken stock
bouquet garni: tie together a few sprigs of thyme, parsley and a bay leaf
1/2 cup heavy cream
1 Tablespoon Dijon mustard
For garnish: chopped parsley
PREPARATION:
1. Heat the oil in a pan. Cut the bacon into crosswise strips and fry until they are browned. Remove and drain on paper towels.
2. Season the chops with salt and pepper and lightly dredge with the flour.
3. Add the chops to the pan and brown well on both sides. Remove them and set aside.
4. Pour the wine in the pan and simmer until it is reduced by half.
5. Stir in the stock, the bacon pieces and the bouquet garni. Simmer the sauce about 5 minutes. It should be slightly thickened and reduced by about half.
6. Whisk in the cream and simmer for 1 minute.
7. Take the pan off the heat and whisk in the mustard.
8. Add the pork into the pan and place over a gentle heat. Cook for 4-5 minutes.
To serve:
Discard the bouquet garni. Divide the chops among 4 plates and spoon the sauce on top.
Debra Fioritto contributes delicious French recipes to Wednesday issues of BonjourParis. Click on her name to read more about her Tour de Forks culinary tours or to collect the many recipes she has shared here.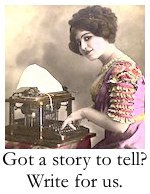 Subscribe for
FREE

weekly newsletters with subscriber-only content.
BonjourParis has been a leading France travel and French lifestyle site since 1995.
Readers' Favorites: Top 100 Books, imports & more at our Amazon store


Yes, you can cook like a French chef…click on an image for details.
Thank you for using our link to Amazon.com…your purchases support our free site.