Le 104 and Paris's Second Annual International Cookbook Fair and Gourmand Awards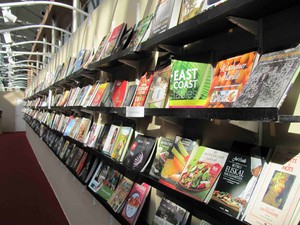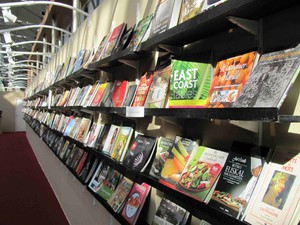 The second annual International Cookbook Fair was held from March 3-6 at Le 104, a skilfully restored and converted century-old complex in the 19th arrondissement. Nowadays a dynamic cultural center, Le 104 is a beacon in an edgy part of town. But it's best not to ask what the buildings were designed for (see the end of this article for the answer).
The cookbook fair drew participants from dozens of countries. Hundreds of cookbooks and other food books were displayed. Dozens of awards were made, a reflection of the global nature of the venture.
Unbeknownst to me, my travel/food/wine book Food Wine Burgundy was on display. It was one of the titles to not win an award. I joked about this with the organizers in a good-natured way, in the spirit of Mark Twain.
Italy was the country of honor this year, but China seemed ubiquitous. The cookbook fair is the brainchild of Edouard Cointreau (scion of the liqueur dynasty). He lives part of the year in Beijing and produces shows for China Food TV. Cointreau is up-front about this, and since China is a great country for culinary traditions, the spotlight on China seems timely.
The highlight of my visit was lunch at the fair's restaurant, which is a permanent feature at Le 104. Stylish, modern, packed with all ages, during the fair it featured a short menu with cooking by starred chef Fabrice Biasiolo (of Une Auberge en Gascogne, and Cochon, Canard et Cie).
The chunky pork jowl served atop mashed potatoes was offset by sun-dried tomatoes, drizzled with abundant if unneeded olive oil. Tender, flavorful and delicious, I could have licked the bowl if had been possible to do so gracefully.
The risotto with cuttlefish ink was perfectly cooked, despite the huge number of eaters ordering it. Why it was topped with arugula, pancetta chips and shaved Parmigiano is anyone's guess. You know the answer: more is more these days in Paris. Fun food is de rigueur (if you're curious, see my story for Gadling.com about Paris's current food scene).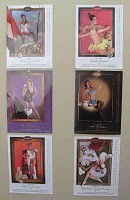 The cookbook fair featured lots of big books by famous chefs, les grands chefs des grandes tables. The biggest of all appeared to be by Alain Ducasse. Food lovers and chefs are used to hefting weighty pots, so perhaps they don't mind the heft and weight of these giant volumes.
Now I can reveal what Le 104 was built to be: the city's morgue, and a coffin factory! Luckily sun streams in through the glass-and-iron ceiling, taking off some of the chill. The architects of the conversion project deserve many pats on the back. I'm looking forward to returning to the restaurant and attending the many cultural events on Le 104's ambitious program.
Leave a reply
Your email address will not be published. Required fields are marked *