Eataly, Les Foodies, Dominique Ansel: Food and Restaurant News in Paris
"To plant a garden is to believe in tomorrow" –Audrey Hepburn
Sandwiched between Eataly (see below) and the Gucci boutique, Les Foodies is under the radar. I almost don't want to flag it – I'm tempted to keep it quiet and eat there every day!
"There's a melting pot of culinary ideas in my head," confesses Italian/ Thai chef David Galloni who launched the Asian/French/Italian inspired eatery with Russian/American entrepreneur Alex Kogan after they met at Le Cordon Bleu.
Galloni's light, bright cuisine is a result of world travels and his curiosity; his mum is a classical Thai cheffe and dad's Italian. Anthony Bourdain and Claude Sadler, Milano, inspire Galloni's tiny open kitchen where everything's housemade and the delicious menu changes daily.
Last week we were blown away by Langoustine tartare, burrata, pistachio, zabayon, broad and fava beans– a prelude to smoked and marinated eggs served with parmesan and saffron. This was followed by tender octopus, egg plant caviar, mango, mayo, scamorza cheese, then an intriguing dish of soy sauced scallops, rhubarb, watermelon juice, and smoked quinoa. And, who wouldn't fall in love with a chef who simmers rhubarb in prosecco, marrying it with clouds of lemongrass chantilly and matcha ice cream? Wash it down with white wine from Ischia or sip sweet Margaritas.
On Saturday and Sunday, there are four choices for international brunch: California (€19), Les Foodies (€24), Le Français (€21), l'Italien (€25).
6-8 Square Sainte-Croix de la Bretonnerie, 4th.
Tel: +33 (0)9 82 42 73 09
Metro: Hotel de Ville,
Lunch formula €21 changes daily
Closed Sunday night & Monday
Mikaël Petrossian, PDG of Petrossian, goes toque to toque with edgy superchef Greg Marchand. The result is "Fried Chicken Caviar"– a street food-style dish made of Daurenki® caviar and crispy fried chicken. Now available at the hip and happening FTG – Frenchie To Go. This ephemeral taste sensation is available until 1st June 2019, seven days a week, priced at €39. Eat in or take away.
9 rue du Nil, 2nd.
There are queues round the block for the "love it or loathe it" foodie concept store located in BHV's former staff canteen (where and what do they eat now? sandwiches?). Eataly Paris follows on the huge success of locations in Milan, Seoul, Stockholm, Dubai Tokyo, New York, Copenhagen, etc.
Based on the original project by savvy Italian entrepreneur Oscar Farinetti, Galeries Lafayette presents "A Temple to Italian Gastronomy." It sprawls across 4000 m2 with 2500m2 dedicated to delicatessen 800+ Italian wines, pastas, pizzas, 7 food outlets, covered fruit and vegetable courtyard. The line thins out around 2.30pm… shhh…
Mission statement: "Eat, Shop, Learn."
Un regalo per te…
35-37 rue Saint Croix de la Bretonnerie, 4th
Metro: Hotel de Ville
Tel: +33 (0)6 22 00 00 00
Open 7/7 until midnight
Coq Rico – Tour de France de Volaille
Which came first, the chicken or the egg? Alsace born chef Antoine Westermann's Montmartre bistro Coq Rico – launched in 2012 – tries to answer this question in depth.
Chez Coq Rico chef Westermann (3- Michelin stars at Le Buhlwiesel, Strasbourg, now in the capable hands of his boy Eric) gives starring roles to his suppliers, listed on the menu. Signature dishes use every part of the bird as in Offal Platter (Planchette de Béatilles), Westermann's Terrines, and soups.
The daily dish of the day is as follows. Tuesday: Coq au Vin / tagliatelle. Thursday: Le Coq Rico's Bouchée A La Reine – diced chicken, portobello mushrooms, poultry quenelle, rooster cock's comb, broth, white wine, cream.
In addition to the menu – until October 2019 – "Le Tour de France des belles Volailles"  – showcases noble/heritage chicken/duck/guinea fowl/squab – bred on organic farms throughout the Hexagon. "The best months to taste chicken are spring and summer," says Westermann.
Poached in stock then twirled on the rôtisserie until golden, the skin crispy,  served with fat hand cut chips and green salad, gratin of macaroni or fricassée of market vegetables. Serves 4 – €98 + wine. Yum!
And monthly, there's the "rendez-vous avec le fermier" when the farmer, whose chickens feature on the menu, comes to Coq Rico to meet and greet diners. Portions are trencherman size – "but we do have goodie bags", they tell me.
98, rue Lepic, 18th.
Metro: Lamarck/Caulaincourt
Tel: +33 (0)1 42 59 82 89
Open 7/7 Lunch & Dinner
Celebrating Spring, La Pascade executive chef Bruno Doucet invites Jean-Marc Notelet of Caïus restaurant to create his vegetable spin on their sweet/savory signature Pascade – which originates in the Aveyron region, near Toulouse.
The lightly caramelized, crunchy, puff pastry tart "Caïus-Bonus" overflows with vitamins from quinoa, almonds, peas, broccoli, radishes, passion fruit, lemon salt, drizzled with olive oil. Match with Mediterranée "Studio" de Miraval 2018, €28 the bottle or €6 glass.
A delight – served from noon until 23hrs.
14, Rue Danou, 2nd
Metro: Opéra/Madeleine
Tel: +33 (0)1 42 60 11 00
Closed Sunday/Monday
The Paris (Beauvais) born pâtissier presents his NYC Collection at Yann Couvreur's Marais pastry boutique with a mouthwatering three-day pop-up event.
During the pastrython, each treat is accompanied by a "golden ticket" with 15 lucky pastryphiles acquiring one of Ansel's signature Cronuts®.
Also taste the Frozen S'more (€7.50), Cookie Shot (€5.00), Pretzel Cake Mousse (€8.50) inspired by NYC – launching there in June. Enjoy warm mini-madeleines, free while supplies last.
Ansel returns to Paris via his New York, LA, and London boutiques, restaurants and kitchens. Tagged "Best Pastry Chef in the US of A" by James Beard Foundation and "Best Pastry Chef in the World" by World's 50 Best (2017).
Be prepared to stand in line and make NBFs ("new best friends").
Taking place at Couvreur's Marais boutique on Friday, May 17th – 9h-20h, Saturday, 18th May 10h-20hrs, Sunday, May 19th 9h-20hrs.
Yann Couvreur Pastry, 23 bis rue des Rosiers, 4th
At Café Prunier on 14th May, Christophe Hauser, Prunier and Monsieur FEEL-GOOD present the "Caviar Masterclass" (from19hrs-20.30) followed by dinner at 20.45hrs.
On the program will be tastings of caviar Prunier à la Royale; Pomme de Terre au caviar Prunier; Lemon sorbet, caviar Prunier, matched with Champagne Veuve Fourny Brut Nature, Vodka Beluga and saké Kizakura.
Dinner is served: Caviar Egg Prunier – Assiette Royale – an introduction to salmon Balik and caviar Prunier – to finish – signature caviar macaron. All's cool with sensual animation by Monsieur FEEL-GOOD and the duo SAND.
Masterclass & Tasting €29 Masterclass and dinner €99
Reserve here: [email protected]
15 place Madeleine, 8th
Metro: Madeleine
Tel: +33 (0)1 47 42 98 91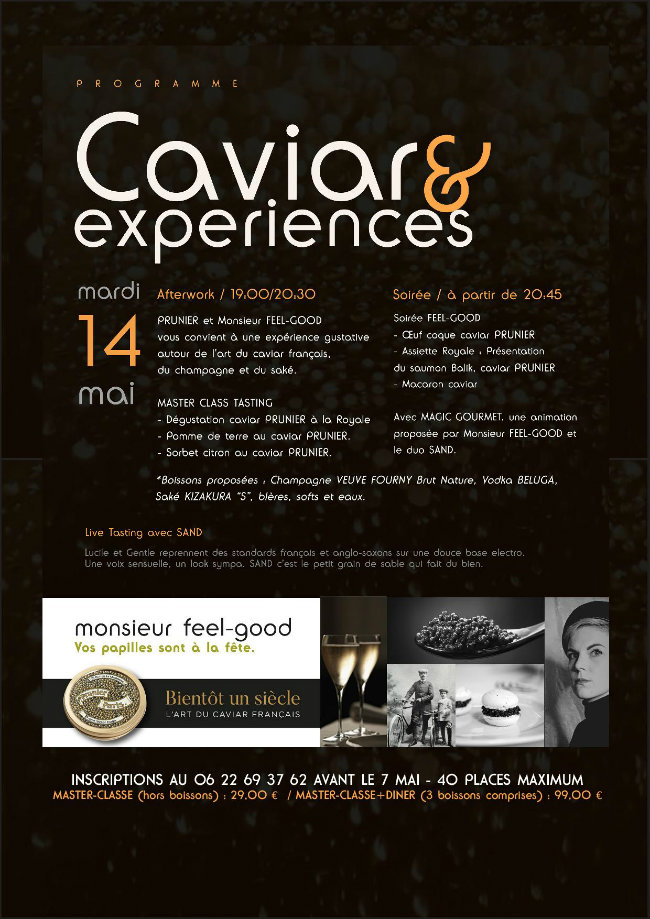 25th Grand Prix Best Baguette Tradition 2019
Following his award, Fabrice Leroy is now baking 1,000 baguettes daily at 203 avenue Daumesnil, 12th (€1.15). He wins €4,000 and the honor of supplying President and Madame Macron's daily bread. How does it work, will they come and collect? "It'll be a bit complicated if I have to deliver – enfin we'll find a solution," Leroy shrugs. Bravo !
Photo credit : Les Foodies
Leave a reply
Your email address will not be published. Required fields are marked *