Cyril Lignac's New Italian Restaurant and More Paris Food News
What's better than summer in the city? Here are a selection of Paris restaurant recommendations and seasonal food news. Bon appétit!
"Pull up a chair. Take a taste. Come join us. Life is so endlessly delicious." – Ruth Reichl
Set on a tiny Seine-side street close to Parc André Citroen, Ischia is chef Cyril Lignac's salute to his favorite island, a voyage to the heart of Italian gastronomy.
Replacing Le Quinzième, Lignac's Michelin * restaurant launched in 2005, chef & co. are having fun with perfect Ischia-style pizzettes (from €10), Vitello tonnato (€17), foccacia, fresh pastas and homemade gnocchi (from €18), Milanese veal escalope main (€36), and Squid, grilled, tomato, salami, 'nduja cream (€18). Desserts include the baba with limoncello and vanilla lemon whipped cream; panna cotta pistachio-honey; and Piedmont hazelnut gelato (from €10). All sent out on artisan stoneware dishes by the likes of Les Guimards and Kate Malone.
Mixologist Marco Mohamadi's cocktails (from €12) include the Ischia Verde (made with Sailor Jerry rum, arugula, vanilla infused limoncello, lemon juice and soda water). For the wine, there are 100 excellent Italian and French references.
Inside, the decor by Studio KO is an eclectic mix of raw and earthy materials. Here's the perfect, sun-kissed address for a staycation.
Open 7/7
Terrace 14 rue Cauchy, 15th
Metro: Javel-André Citroen/Lourmel
Tel: 01 45 54 43 43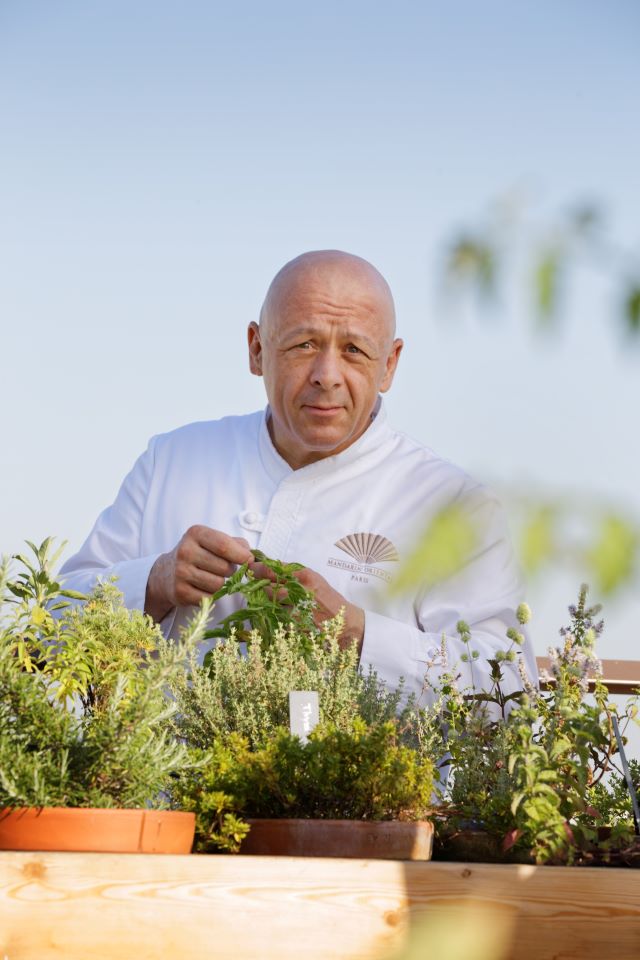 Camélia x Thierry Marx x I'm a Fan
Chef Thierry Marx reboots the menu taking inspiration from the bounty of Paris' street markets, such as rue Poncelet in the 17th "which vibrate with the seasons." Chef has also added to his network of suppliers with products from the Paris region and beyond. He'll send out organic eggs from L'Oise, black bacon from Bigorre, watercress cream from Ile de France, "Culoiselle" hens from Mayenne, prepped with carrot, verbena and jus. Hauts de France sea bream is escorted by radish and shiso grown by Ile de France market gardeners. The Menu "Daily Marx" costs €48.
"I also want to give more space to plants, which now make up 80% of the dish", the chef explains.
On the sweet side, pastry chef Adrien Bozzol's desserts include Le Saint Honoré, vanilla and caramel Arlette, whipped Mascarpone cream, soft caramel. Enjoy, without moderation, beneath the shady trees where TM's planted his "Parisian vegetable and herb garden". Plants and herbs flourish in an aromatic parsley, sage, rosemary and thyme situation, the soil mulched with food and vegetable waste. The pretty dishes, shaped like Camelia flowers, are by Limoges-based Jacques Pergay, recognized with the Entreprise du Patrimoine Vivant label.
Open 7/7 breakfast, lunch and dinner.
251 rue Saint Honoré, 1st
Metro: Tuileries
Tel: 01 70 98 74 00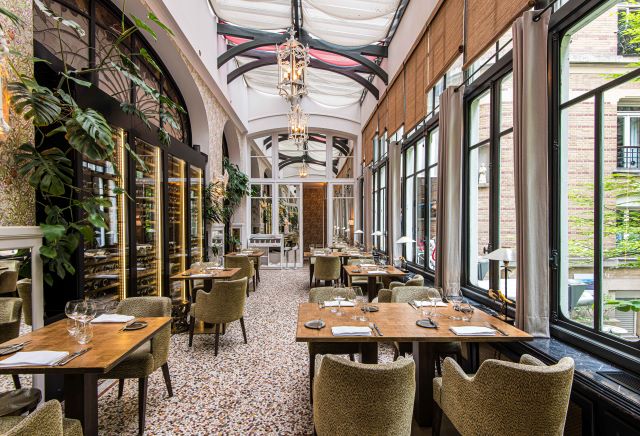 Built in 1905, La Maison des Dames des Postes, Télégraphes et Téléphone is the city's only example of the "Arts and Crafts" movement, wittily rethought as a restaurant by designer Bambi Sloane and owned by Carole Colin and Denis Jamet.
Colin and Jamet have created this unique address, close to the Musée d'Orsay and Boulevard Saint Germain, a neo temple dedicated to Burgundy wines.
The *Michelin star restaurant, with its bucolic lunchtime garden, and La Cave des Climats, the chic wine bar with 28,000 bottles in the cellar from 276 wine makers (from €24-€8,610), is a must-visit destination for Burgundy-o-philes.
On the menu, look for signatures by young talent Emmanuel Kouri such as tomatoes marinated in lemon thyme/tarragon vinaigrette, old balsamic sorbet, fresh almonds; John Dory, from the Brittany coast, steamed with seaweed, simmered periwinkles, potatoes and sauced with sea fennel, lovage and nasturtium butter; Roast duck breast, creamy polenta, chanterelle mushrooms and fresh corn glazed with old Xeres and duck jus. Continue with Ossau-Iraty ice cream, black cherries, piment and Lot hazelnuts. Other desserts include Wild strawberries coated with candied rhubarb and red shiso leaves, strawberry sorbet and crispy Arlette; Grand Cru Chocolate with Passion Fruit Almond and cacao biscuit, passion fruit and cardamom infused cream, cacao ice cream. Lunch Tues-Sat (€49) + A La Carte Dinner about €108 + wine.
What are Les Climats? Unique Burgundy microclimates, the precisely-defined vineyard parcels, so important to the world of wine and to the region which, since 2015, is inscribed on the UNESCO World Heritage list.
41 rue de Lille, 7th
Metro: rue du Bac
Tel: 01 58 62 10 08
Terrace open at lunch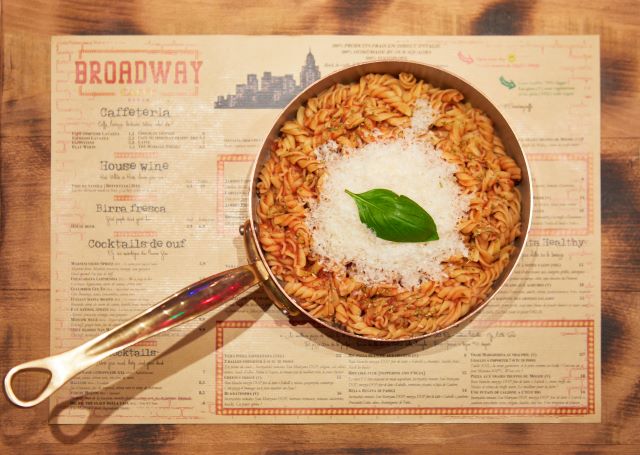 Garry Dorr heads our favorites cantinas such as Little Italy (Place Clichy), The Brooklyn Pizzeria (3rd), Manhattan Terrazza (17th), Madison Caffe (16th), and Bronx Pizzeria (17th). He now proudly presents Broadway Caffe, a hip and happening pizzeria serving Italian cuisine made with 100% seasonal Italian products arriving from Italy three times a week.
The Neapolitan pizza's made with organic Italian flour, baked in the outsize Marana wood-fired oven which heats to 450°. Burrata Murgia, San Marzano Tomatoes, Parma Cavazzuti ham … Fresh Pasta's made by hand every day. Add linguine, mafaldine, orecchiette, tagliatelle … "Quality and price, you won't find better," promises Garry.
Ciao bella!
112 boulevard du Montparnasse-Bienvenue, 14th
Tel: 01 43 20 71 01
Metro: Montparnasse
Open 7/7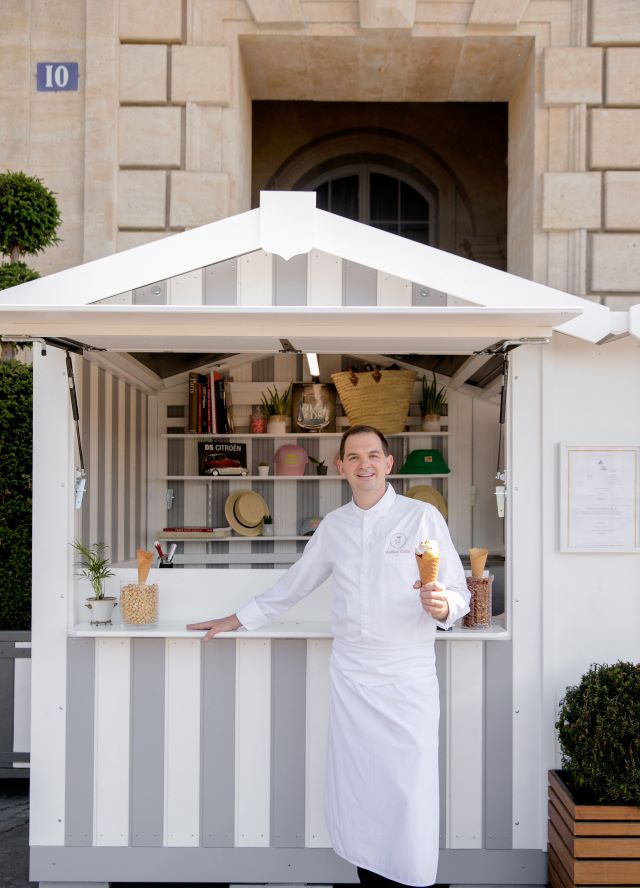 L'Hôtel de Crillon x Rosewood Terrace Le Guanahani St. Barth
At the entrance to the Palace hotel on Place de la Concorde, there's a sweet Caribbean lifestyle riffing. In a striped beach hut setting, pastry chef Matthieu Carlin blends tropical flavors with traditional tastes, as in frozen cookies, house-made ice creams and sorbets, refreshing drinks and cocktails. Here's a preview of Rosewood Le Guanahani's plans for guests – from October 18th – on the chic Caribbean island of Saint-Barthélémy. See you there!
Ice cream: €6 pot – €10 cone
Signature iced cookie: €10
Iced tea: €10
Until early September
Beach huts open: until August 8
1pm- 7pm 7/7. No reservations
A La Plage x Le Louvre x Antoine Corbineau
La Réunion des Musées Nationaux-Grand Palais and the Musée du Louvre invited illustrious illustrator Antoine Corbineau to design a summer lifestyle collection inspired by the Venus de Milo, Mona Lisa etc. The result's a fab, fun mélange of wish-list objects (from €3.90) to take to the beach, on a picnic, the megayacht or even your own backyard. You know you want them! Available from the La Librairie Boutique du Musée du Louvre / Galeries Lafayette Paris Haussmann or via the e-shop at www.boutiquesdemusees.fr
And also don't miss the latest reincarnation of Paris Plages, until August 22nd!
Need to Know: Since July 1st, to cut food waste, 'Le Doggy Bag' is compulsory in France! Restaurants must provide recyclable containers when diners request them for unfinished dishes + wine. At the Plaza Athénée, Denis Courtiade, "World Best Mâitre d'Hôtel 2019," is not convinced. "In the USA and Asia, portions are much larger than in France," he comments. "And, by the time you get it home, refrigerate it, then eat it the next day, it may not be edible at all!" he sighs.
Lead photo credit : Restaurant Ischia © Cyril Lignac
More in Food critics, Paris restaurants, Restaurant reviews, Reviews, where to eat in Paris
---
---