Where to Buy English Books in Paris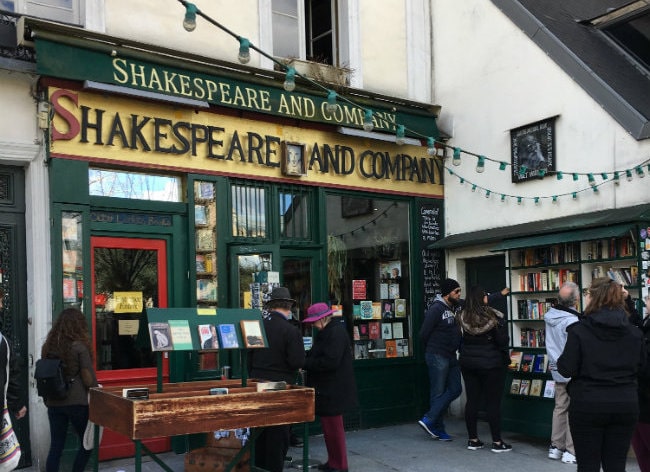 Whether you are an expatriate or a visitor, whether your French is superb or still in its infancy, whether your budget stretches to new or used books, there is a time when you just need an English book in Paris. And you are in luck, because the selection is wide, and you are assured of finding a read to your liking and budget.
Of course, no list of English language bookshops is complete without Paris' most famous bookstore. Whether you go there for the cherry tree blossoms, for a night's stay, or indeed for the selection of new and second-hand books, it is always busy. At times so busy that they close the doors and a more or less orderly queue forms outside. So, try and choose a Monday morning in mid-winter or another not-so-popular time when you can roam in peace and quiet through the selection of new releases, perennials and books set-in or written-in Paris. Get a stamp in your new book, a bag, a bookmark, and then start reading next door in their very own café.
37, rue de la Bûcherie, 5th arrondissement
This is a hidden-away little gem, crammed full of second-hand books and some new-releases, spilling out onto the pavement from its arched entrance. The owner, Brian, is always quick to offer you a free coffee while you are perusing the shelves. It is tight, full to the ceiling, and offers a great selection of travel, novels, classics, Hemingway, Paris, and absolutely everything in between. And, if you have a few books you don't need anymore, Brian might be willing to take them off your hand for a bit of cash or a voucher to spend in the shop.
29 rue de la Parcheminerie, 5th arrondissement
The English book and newsagent has a branch right next to the Tuileries, and offers not only a great cuppa, but also a fantastic selection of, yes, books, and also English language magazines. From fashion to travel, gossip to craft, you can get all your favorite magazines from back home here. Their selection of international travel books is good, as is the range of novels and new releases. Often you get three-for-two offers, while upstairs you get a range of English gifts, DVDs, plus some favorite foods from the UK, and English cards for all occasions.
248 Rue de Rivoli, 1st arrrondissement
Down the road from WHSmith, past the chic Hotel Meurice, is a true gem. The family Galignani has been publishing books since the 1500s, and reportedly opened the first English bookstore on the continent (mainland Europe), in Paris, on rue Vivienne in 1801. This shop continues the tradition and specializes in fine art books, history and literature, with books displayed on beautiful shelves. This is my favorite bookstore if I want to splash out on a new book, or simply want to browse in a beautiful setting. The English section is large and offers a good selection of new releases, Paris-related books, travel, plus fiction and non-fiction. If you want a gift book, a beautiful coffee table book, or just something a little special, this is the place to go.
244 Rue de Rivoli, 1st arrondissement
Another lovely second-hand book store, crammed full to the brim, and spilling out onto the pavement. Offering literature, travel, crime, poetry, comics, and everything else you could want, with expert advice, if you are looking for inspiration on what to read next. Located in a side street near Odéon, near the spot where the original Shakespeare and Company was opened and surrounded by other bookstores and art galleries, it's worth popping in to.
17 Rue Monsieur le Prince, 6th arrondissement
Readers from the UK will know Oxfam bookshops. Relying on gifts and giving back to charity, this is the cheapest of all the bookstores mentioned, but due to the reliance upon donations of books, the selection is eclectic. That said, their English language bookshelf is well stocked and offers a good choice. Popping in regularly guarantees great finds and browsing usually results in some new author discovery. It also has some low-priced French coffee table and non-fiction books, plus a good selection of French fiction. And, if you are traveling and find that your read books are bringing your suitcase close to the weight limit, or your small Paris apartment is bursting with books, this is a good place to drop off your unwanted tomes.
8 Rue Saint-Ambroise, 11th arrondissement
Brentano's
On Avenue de l'Opéra, this bookstore has an English language corner offering Paris books and new and popular reads, with the added bonus of a lovely selection of gifts, calendars, cards and knick-knacks. Not necessarily worth going out of your way for, but if you are there, and as it lies between the Louvre and Palais Garnier chances are you will be, do pop in.
37 Avenue de l'Opéra, 2nd arrondissement
A used book shop, a lending library and a reading room like on the ocean liners of yore. Novels of all genres plus non-fiction, biographies, history, some poetry, cookbooks, cats, books on Paris or France, memoirs and children's books. Most books are in English, but also in French and other langauges. Prices start at just 2€. Events monthly. Right near metro Porte de Saint Cloud.
42, rue du Chemin Vert, 92100 Boulogne 
Further mentions
Librairie Gourmande is a bookstore specializing on everything to do with cooking and baking, with many books available in English (92-96 Rue Montmartre, 2nd); Le Mots a la Bouche is a cute little book shop, mostly offering French books, with some English ones, but worth a visit for its setting alone (6 Rue Sainte-Croix de la Bretonnerie, 4th). Finally, if you love art and coffee table books, don't miss TASCHEN Store Paris (2 Rue de Buci, 6th) for its superb selection of very heavy but irresistible books, with plenty of them in English.
Lead photo credit : Shakespeare and Company. Photo: Ulrike Lemmin-Woolfrey
---
---
Comments