The Paris Cook Club and the Joys of Sucré-Salé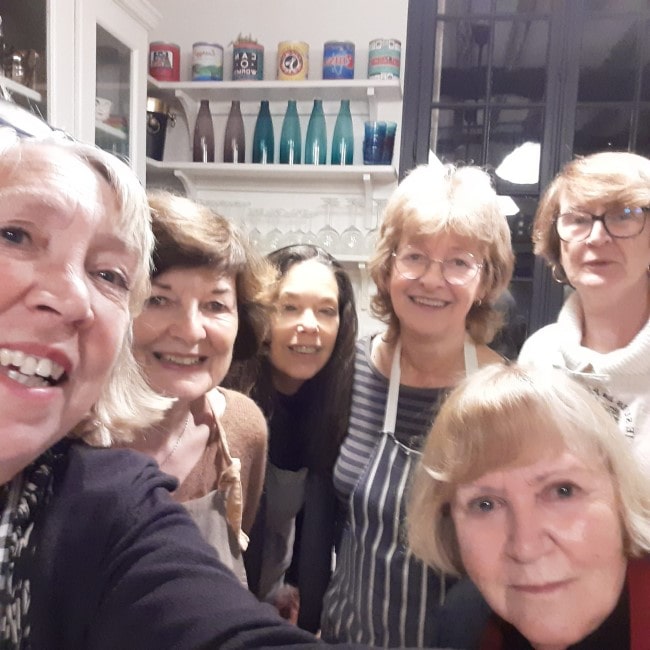 This is the latest dispatch relating the culinary adventures of the Paris Cook Club, a group of retired expats who cook together
The Paris Cook Club tends to be salé (salty) rather than sucré (sweet). In other words, we prefer savory foods over more sugary concoctions. But it is the marriage of sweet and salty that really excites our taste buds. Salt is a flavor enhancer and when combined with something sweet, it promotes and intensifies the layering of tastes. Just think of salted caramel or a bite of a peanut butter and jelly sandwich. Hankering for the two flavors together is no mistake as our bodies are conditioned to crave this epicurean ensemble. According to scientists, eating sucré-salé helps us to feel satisfied, achieve balanced nutrition, and enhance our health.
Cultural differences produce diverging preferences for sweet and salty. Geographical regions vary not only in their favored ingredients (such as curry, parmesan cheese, or chilies) but also in their ideas of what goes with what. Asian cuisine melds the big five flavors – sweet, salty, sour, spicy, and bitter – in the quest for optimal food outcomes. Fish sauce and soy sauce provide saltiness while palm sugar and plum sauce yield sweetness. In contrast, the French do not generally combine sugar and salt in the same fare. French cooking rules codified in the 17th century pronounced no sugar with salt in a dish and not even on the same plate, a dictate which continues in traditional French cooking.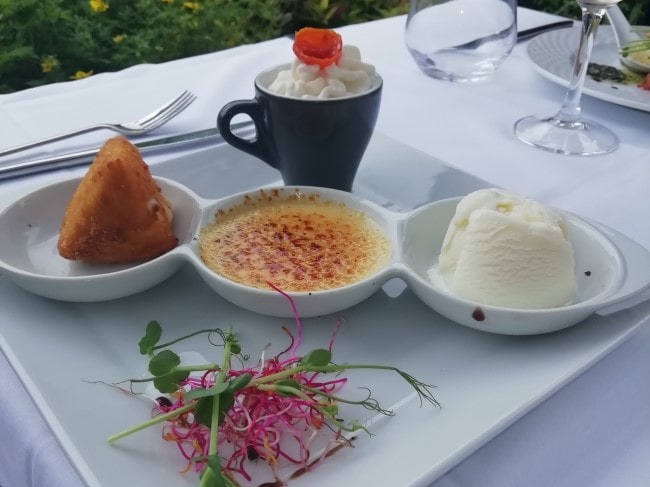 The Bordeaux region has long paired its sweet Sauternes wine with foie gras and salty Roquefort cheese. However, France's first sighting of fused sucré-salé was when Catherine de Medici imported canard à l'orange (duck with a sweet, spiky orange sauce) from Florence. Sweetness continues to creep into la cuisine française through creations such as roast pork with grapes and rabbit in cider as well as trends in fusion food. More recently, pastry chefs like Pierre Hermé began filling macaron cookies with black truffles and foie gras while the Paris caviar house Petrossian offers the colorful meringue shells padded with caviar and salmon.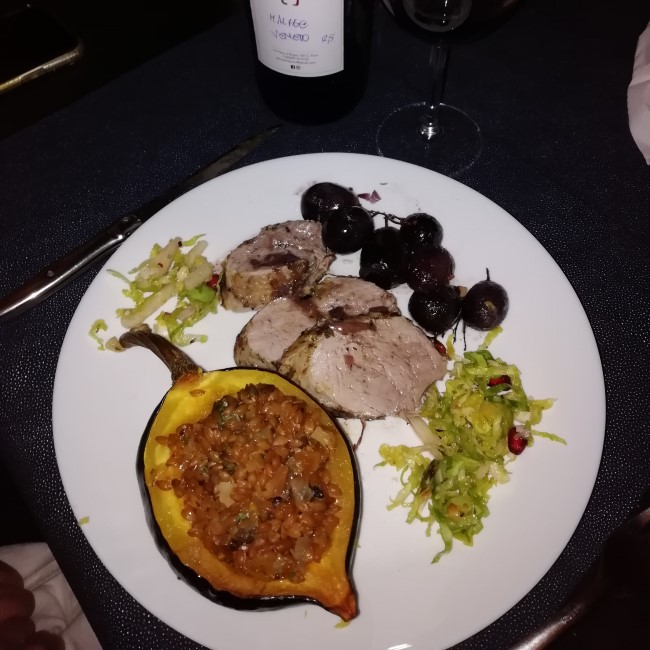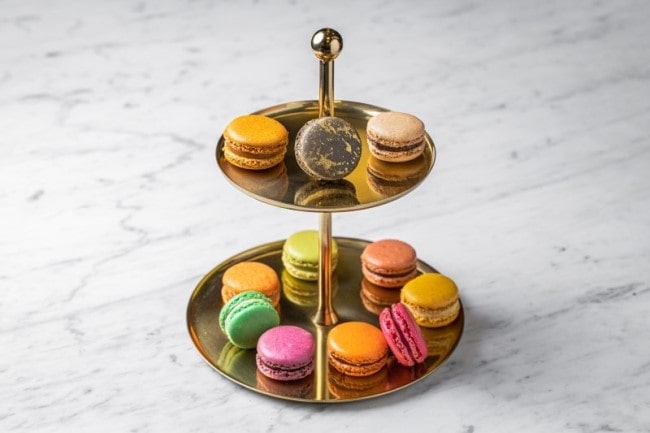 Our thematic approach has led the Paris Cook Club far beyond France in merging saccharin and salt. Our first Sucré-Salé menu featured sweet and spicy chicken and asparagus with sauternes risotto. Cooking Japanese ushered in savory Japanese pancakes (okonomiyaki) and teriyaki salmon. Indian themes included sweet-spicy satay and chapatti with tomato chili jam. A Persian evening brought opposites together in melon and prawns in curry cream and cumin-roasted carrots with goat cheese. We feasted on ribs with apricot barbecue sauce and baked beans at an American barbecue and coupled sweet potato vichyssoise with honeyed cornbread in a Dixieland menu. Cooking with fruit elicited tomato-peach gazpacho, blueberry-zucchini bread, and shrimp-pineapple skewers.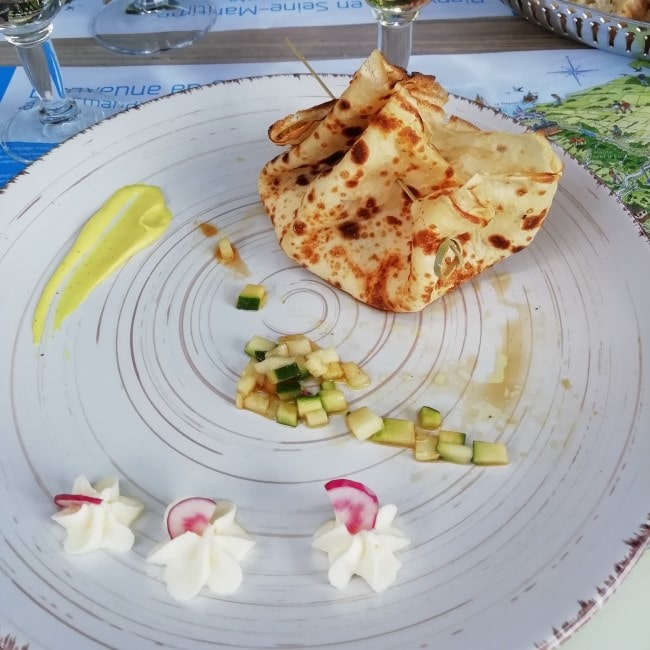 Creating sucré-salé can consist of simply adding fruit to a savory dish, which is a signature of Moroccan cuisine. Tajines are an amalgam of meat (beef, lamb, or veal) with dried fruit (apricots, raisins, prunes) and the spice medley ras al hanout. Slow cooking in the cone-shaped terracotta pot infuses and concentrates the salty meat with the caramelized fruit. Pastillas, a highlight of Moroccan cuisine, are sweet-and-salty pies compiled for special occasions. Originally made with pigeon, pastillas now enfold chicken or duck mixed with fruit and nuts under the crunchy leaves of filo pastry dusted with powdered sugar.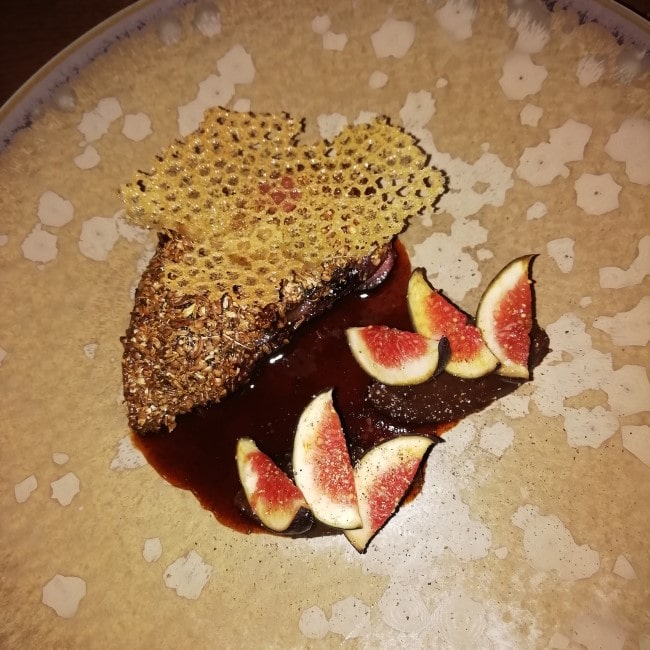 Most cuisines have a sweet-and-salty snack to call their own. English chutney, borrowed from India, accompanies everything from cheese in a Ploughman's to the Sunday roast. The American equivalent is pickle relish indispensable to tuna salad and hot dogs. In Italy, the classic sweet-tart Venetian dish is sarde in saor or sardines topped with sautéed onions and raisins. Spanish tapas feature sweet piquillo peppers stuffed with sharp Manchego cheese while toothy feta and honey are allied in the crispy Greek appetizer feta me meli. Mexican mole poblano not only has chocolate but also raisins and currants to give this spicy sauce a sweet edge.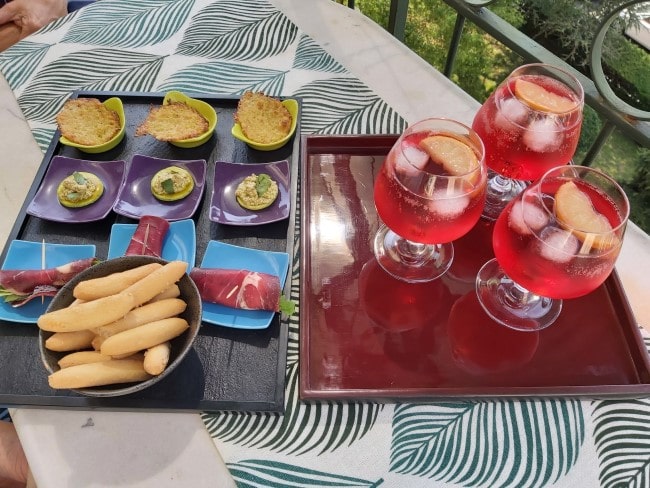 Of course, the ultimate sucré-salé feast is American Thanksgiving, which the French love to hate. Like a good pumpkin pie, this holiday is all about sweet and savory. Whether pairing turkey with cranberry sauce, crowning sweet potatoes with marshmallows, or putting sugared squash (pumpkin or butternut) in a graham cracker crust, this repast is the crowning glory for those who have becs sucrés-salés. The meal is largely a creation of clever marketing rather than historical accuracy as the pilgrims and native Americans in Plymouth had scant sugar and a poor harvest.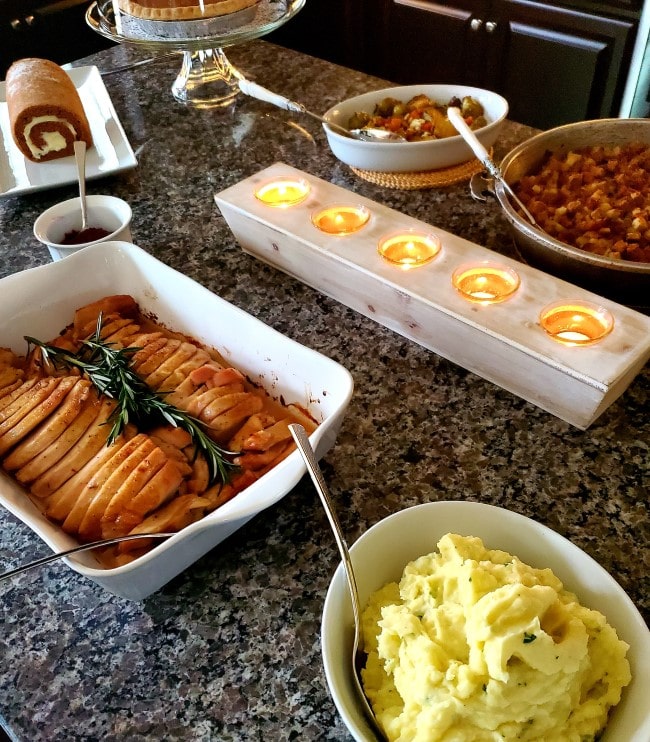 Sweet and saline can join forces to raise your food beyond blandom. Party snacks such as prosciutto-wrapped melon, pears with blue cheese, pineapple chunks in bacon, and coconut shrimp bring character to your table. Sweet potatoes, carrots, beets, and butternut squash paired with briny cheeses make lips tingle. Meat confections such as honey-mustard pork, balsamic duck, and the classic 1970s chicken marbella lift the spirits. This Silver Palate delight pairs the bird with olives, capers, and prunes sprinkled with brown sugar. Foodie predictions for 2022 are heralding the onset of the fusion terms "swicy" and "swalty" which will cement sucré-salé in our brains and in our kitchens.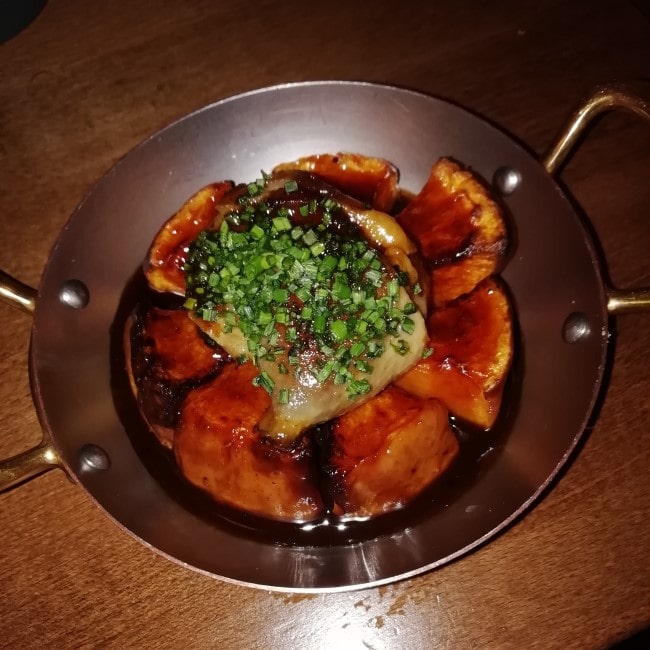 Sticky Salmon and Broccoli
Ingredients:
4 salmon fillets
200 g broccoli florets
1 tsp sea salt
1 tbsp sesame oil
6 cm piece ginger, chopped 2 shallots, chopped
Glaze:
1.5 tbsp sesame oil
1 tbsp soy sauce
2 tbsp honey
1 lime, juice and zest
1 T fish sauce
2 tsp Sriracha sauce
2 tbsp sesame seeds
Directions:
Preheat the oven to 220 C. Put the broccoli, sea salt, garlic, ginger, shallots, and sesame oil in baking pan and mix together. Arrange the salmon fillets on top with skin-side up. Can prepare ahead and refrigerate.
To make the glaze, mix all ingredients together and spread over the salmon fillets and drizzle the broccoli. Scatter over sesame seeds Roast for 20-25 minutes until the fish is cooked through. Serve with brown rice.
Chopped Chicken Marabella
Ingredients:
6 boneless/skinless chicken breats, cut into pieces
5 cloves of garlic, minced
2 T dried oregano
1 cup red wine vinegar
1 cup olive oil
2 cups pitted prunes, halved
1.5 cups pitted green olives, halved
1 cup capers with a bit of juice
1 cup brown sugar
1 cup white wine
parsley finely chopped
Directions:
In a large bowl combine chicken pieces, garlic, oregano, vinegar, olive oil, prunes, olives, capers and juice. Generously salt and pepper. Cover and marinate, refrigerated, overnight.
Pre-heat oven to 190C/350F. Put chicken and marinade in shallow baking pan. Sprinkle with brown sugar and add white wine. Cover tightly with foil and bake for 30-40 minutes.
Serve with brown rice or whole wheat couscous.
Lead photo credit : The Paris Cook Club © Paris Cook Club
More in food, French food, French recipes, recipes
---
---