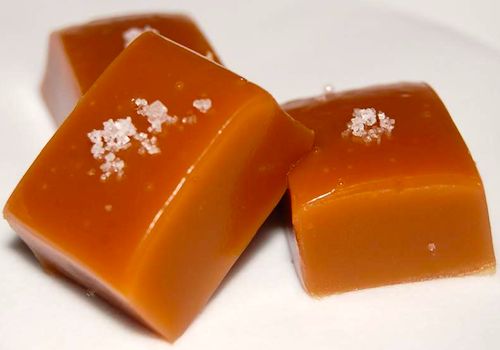 Caramels made with rich Brittany butter and a little fleur de sel added ~ délicieux!
Fleur de sel is literally translated as flower of salt but a good way to think about it is the "cream" of the salt, the best salt. It is hand harvested by gently skimming it off the surface of salt beds. A few of the most well-known beds are at Guérande in Brittany, Noirmoutier en Vendée and the Camargue in Provence. Today I share my recipe for caramels à la fleur de sel. Et voilà:
INGREDIENTS:
1 cup heavy cream
5 Tablespoons butter (unsalted is best) cut into pieces
1 teaspoon fleur de sel
1-1/2 cups sugar
1/4 cup light corn syrup
1/4 cup water
parchment paper
oil
candy thermometer
PREPARATION:
1. Line an 8-inch square pan with parchment paper. Very lightly oil the paper.
2. Put the cream, butter and salt in a small saucepan. Place over med-high heat and bring to a boil. Remove from heat and set aside.
3. Place the sugar, corn syrup and water in a 4-quart heavy saucepan and bring to a boil, stirring until the sugar is dissolved.
4. Continue to cook without stirring but gently swirling the pan, until the mixture is a light golden color.
5. Very carefully stir in the cream mixture. The mixture will bubble up.
6. Simmer, stirring frequently for about 10 to 15 minutes. Put the candy thermometer in, it should read 248F.
7. Pour the caramel into the prepared pan and allow to cool for 2 hours.
To serve:
Cut the candy into 1-inch squares.
Et voilà!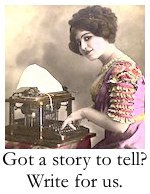 Debra Fioritto contributes delicious French recipes to Wednesday issues of BonjourParis. Click on her name to read more about her Tour de Forks culinary tours or to collect the many recipes she has shared here.

Subscribe for
FREE

weekly newsletters with subscriber-only content.
BonjourParis has been a leading France travel and French lifestyle site since 1995.
Readers' Favorites: Top 100 Books, imports & more at our Amazon store
You'll find over 130+ cookbooks available in our selections, including some available at pre-release 30% discount. Find them by starting here at our Food & Wine section, then work backwards page by page.
Satisfy your craving for French sweets in your home kitchen…please click on an image for details.
Click on this banner to link to Amazon.com & your purchases support our site….merci!