Taste Gluten-Free Pastries in Paris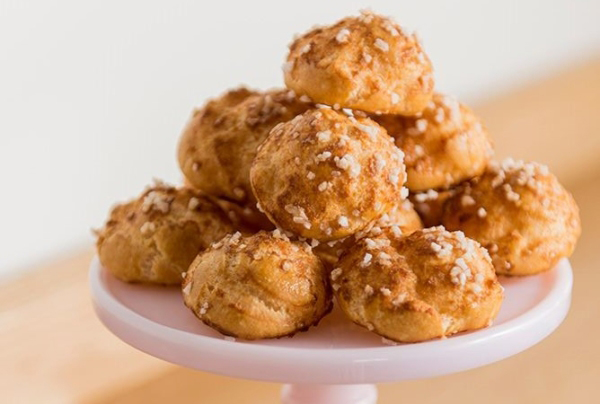 One of the most remarkable things about visiting Paris is the window displays of neatly aligned tarts, Napoleons, éclairs and entremets. Vitrines with tidy rows of colorful, creamy pastries remind me of my first trip to Angelina and the day I ate nothing but sweets. I love pastries, but they no longer love me back. Therefore, I delved into the equal but opposite universe of gluten-free pâtisseries. I thought the gluten-free movement in Paris was a smattering of boho, crunchy granola-style corner cafes. Boy was I wrong. Going gluten-free in Paris is a high-quality enterprise with an array of goodies to please anyone's tummy. Here are a few of the best pâtisseries in the City of Light in 2022.
At Maison Plume, customers can take a deep dive into a world of delicious desserts without a soupçon of guilt, because every selection is free not only from gluten, but also from added sugar. Maison Plume was created by businesswoman and trained pastry chef Tara Pidoux, who like many, was passionate about pastry but sensitive to gluten. Growing up in an organic household, Pidoux was well aware of the dangers of processed sugar. Now her Maison Plume offers gourmet treats without an ounce of deprivation. She offers gluten-free and sugar-free cakes, tarts, fraisiers – which are classic French cakes consisting of strawberries, crème patisserie, almond paste and whipped cream. A new array of gluten-free sweets features the rich seasonal tastes and hues of blue and black fruit.
What's more, Maison Plume sweetens their goods with a non-bitter, fair trade stevia, which results in treats low on the glycemic scale. Maison Plume uses renewable energy and biodegradable paper, plates and straws.
The boutique is situated at 61 rue Charlot, 3rd
Sounding more like a Danish fusion restaurant than a gluten-free bakery, Noglu is a very well-respected gluten-free pâtisserie, both in Paris, and New York. Every menu item is organic and made with care, but not with wheat. Noglu is a busy bakery with a few tables where you can enjoy both sweet and savory offerings.  Noglu tells me that their popular new sweet is the Noglu donut.
Noglu also offers financiers – little rectangular almond cakes, shaped like bars of gold. They also sell scones, mini muffins, madeleines, baguettes, brioche, cookies and individual slices of cake. Some say Noglu's the best, gluten-free bakery in Paris – some disagree. Nevertheless, it's a delight to be able to eat anything on the menu.
69 rue de Grenelle, 7th, and 15 rue Basfroi, 11th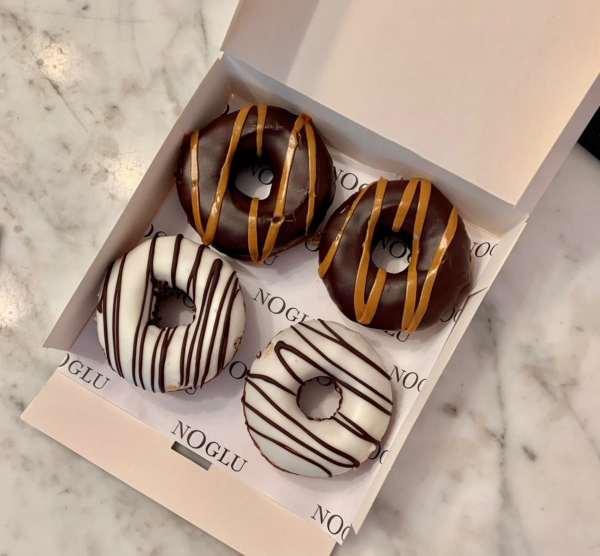 At Aux Merveilleux de Fred, you can experience the merveilleux minis, tiny meringue mouthfuls, topped with whipped cream and your choice of coating – caramel, cherry, chocolate, coffee, praline, and the non-GF- speculoos and white chocolate. Note that not everything at Merveilleux de Fred is gluten-free.
These bouchées come with intriguing names stemming from the French Revolution. Why? Founder and pastry chef Frédéric Vaucamps states that these tiny and delicate meringue treats evoke a time when the characters from the Directoire regime – The Incroyables, les Merveilleuses, and the Sans-Culottes – although invested in the philosophies of politics and economics, were more likely to be seen in the salons of the day, eating tiny and delicious cakes.
View this post on Instagram
There are also full-sized merveilleux cakes, which set the path Frédéric Vaucamps was destined to take. The merveilleux was a cake drenched in happy memories for Vaucamps. During the 1980s, he adapted the recipe to make it extremely lightweight. While these desserts are as light as a feather, there is no lack of sugar.
The décor at "Aux Merveilleux de Fred" shops oozes baroque touches, and Frédéric Vaucamps' ethos for appreciating the good and beautiful things is transmitted through his amazing cakes and pastries. There are other gluteny things like cramiques – sweet breakfast bread from Belgium- as well as pain au chocolat and gaufres, thin waffles filled with vanilla or chocolate cream.
Aux Merveilleux de Fred shops are worldwide with 11 in Paris.
Sweet Rawmance invites you to taste the colors of nature. Theirs is an address for an organic lunch, snack or dinner. Sweet Rawmance has smoothies galore and 100% vegan and gluten-free pastries. Their raw cakes are carefully made from carrot, orange, chocolate, lemon and mint and contain organic delights like, cashews, almonds, dates, agave syrup, hemp seeds, buckwheat, raw cocoa, fresh mint, spirulina, and vanilla. They also sell bars or batons of coconut, caramel and the ubiquitous chocolate. They have the sweetest little upside down cupcakes and full sized cakes for special occasions.
83 rue Daguerre, 14th
View this post on Instagram
Yummy and Guiltfree's specialty is their iconic sweet waffles on a stick. Resembling an ice-cream bar, they're flavored with either lemon or chocolate cream, salted caramel, cheese-cakey goodness or hazelnut-chocolate spread. Miam! Miam! They also feature "travel" cakes to-go, which include financiers, madeleines and cookies.  Their Paris boutique is a 3 rue du Temple, 4th.
View this post on Instagram
Chambelland is not just a bakery, but also a state of mind. Two creative thinkers, biologist Thomas Teffri- Chambelland and business entrepreneur Nathaniel Duboin, came together to address the problem of gluten-intolerance. Now they are big players in the gluten-free movement. Gluten-free bread is their most popular product and Teffri-Chambelland has written a detailed book about its making. Their pastries include tartlets with the flavors of the season, cookies, cakes, and inventive choux pastries. They sell their own milled flours and baking mixes in the shops. Their website features recipe videos too.
Their Paris addresses are 14 rue Ternaux, 11th and 61 rue le Pompe, 16th.
View this post on Instagram
Helmut Newcake has a long reputation as purveyors of gluten-free products in Paris. The co-founders were the first in Paris to serve food that was 100% gluten-free. Once representing the new generation of pastry, times have changed for Helmut Newcake and the patisserie has changed to represent that. Helmut Newcake has been reimagined as pop-up shop within the shopfront of the chocolatier Didier Fourreau at 30 avenue Friedland, 8th, open on Saturdays only. The new venture may be a response to Covid but also emphasizes the importance of pre-ordering to reduce waste. The 10 gluten free pastries they sell are chocolate eclairs, individual Paris Brest, a Trevi, which is a unique dessert consisting of a pistachio biscuit with layers of red fruit compote separated with buttercream. Then there is a dark chocolate fondant cake, a dark chocolate chunk cookie, a pecan and caramel tart, a tangy lemon meringue tart, an incredibly fresh strawberry tart, almond financiers and a plum tart on a shortbread base. One should order ahead of time for Saturday pick-up.
View this post on Instagram
Lead photo credit : courtesy of Noglu
More in Gluten-free Pastries in Paris, Gluten-free Pastries in Paris 2022, Where to find Gluten-free Pastries in Paris
---
---