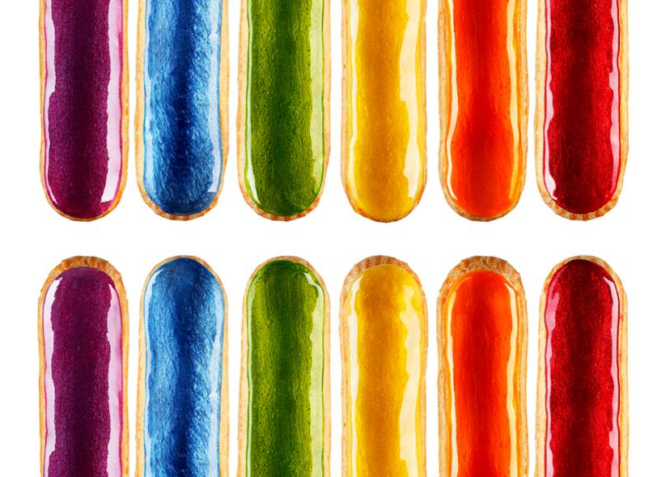 Paris is a city of excess, a place where long lunches, elaborate dinners, and another bottle of champagne are considered well-deserved pleasures and not once-in-awhile splurges. If you're in Paris for a limited time, double up on your decadence to soak up the joys of the French lifestyle. There's no better way to indulge yourself than by doing a tasting tour of Paris pâtisseries. Here are a few gourmand go-tos to add to your itinerary.
Unlike many classic French pastries, éclairs leave lots of room for surprises and innovation. Pastry chef Christophe Adam takes advantage of this liberty by producing a wide range of éclairs that embrace exciting flavor combinations. From fruity (blood orange, raspberry, strawberry) to more traditional (caramel, chocolate, pistachio) L'Eclair du Génie has something for everyone.
14 rue Pavée, 75004. Tel: 01 42 77 85 11. Open 11 am- 7 pm Monday-Friday, and 10 am- 7:30 pm on the weekends. The shop has been a runaway success, with other boutiques now located around the city. Check the website for details.
Flans, tartes, and pastries of all kinds assure that Claire Damon's boutique will turn you into a kid in a cake shop. Fruity specialties which incorporate grapefruit, cherries, and other seasonal fruits make a trip to this 15th arrondissement bakery well worth the metro ride.
63 Boulevard Pasteur, 75015. Tel: 01 45 38 94 16. Open daily from 9 am- 8 pm, except Sundays when the shop closes at 6 pm. Closed Tuesdays.
It's impossible to talk about Paris pastries without invoking the name Pierre Hermé. Well deserving of the buzz this pastry chef has created over the years, Hermé continues to surprise and delight with limited editions of his cherished macarons. Don't miss his signature Ispahan macaron, made with rose, raspberry, and litchi.
Boutique locations around the city, and also sold at fine gourmet stores. Check the website for details.
Commonly commended for the stellar pain des amis at this neighborhood bakery, Du Pain et des Idées is also home to lovely escargots– a sort of pain au raisin that substitutes raisins for other fun ingredients. The delightfully pink praline escargot and the bright green pistachio variety are particular favorites.
34 Rue Yves Toudic, 75010. Tel: 01 42 40 44 52. Closed on the weekends.
If you've had your fill of French fare, trasnport yourself to Portugal by visiting Comme à Lisbonne. The friendly owner of this centrally-located boutique sells his homeland's specialty pastéis de nata that even Portuguese expats swear by. Enjoy a warm pastéis on site or order in advance to have some to take home with you.
37 Rue du Roi de Sicile, 75004. Tel: 07 61 23 42 30. Open 11 am- 7 pm. Closed Mondays.
Intricate, coloroful pastries await at Mori Yoshida's contemporary space in the 7th arrondissement. The Japanese pastry chef is stepping up the level of French pâtisseries. Combing French flavors with a Japanese flair for style, Yoshida blends texture and colors so skillfully that it's almost a shame to devour the delicate pastires. Almost.
65 Avenue de Breteuil, 75007. Tel: 01 47 34 29 74. Open 10 am- 7:15 pm. Closed Mondays.
For an urban campfire experience head to Pain de Sucre where homemade multicolor marshmallows are served on a stick. The Baba au Rhum which receives its shot of alcohol through a plastic syringe and the square tartes are also quintessential classics of this favorite sweets showroom.
14 Rue Rambuteau, 75003. Tel: 01 45 74 68 92. Open 10 am- 8 pm. Closed Tuesday and Wednesday.
Franco-Japanese fusion takes center stage at this bakery in the 6th arrondissement. Japanese ingredients such as matcha tea and azuki beans come in familiar French forms of tartes and millefeuilles, reinventing the way we see French pastry. In summer stop by for an ice cream sandwich or a refreshing lemon tarte. (There are other outposts throughout the city, including a boutique at Lafayette Gourmet.)
35 Rue de Vaugirard, 75006. Tel: 01 45 44 48 90. Closed Monday.
Lead photo credit : L'Eclair de génie
More in pastry, patisseries, sweets
---
---
Comments