Secret Places in Paris: Our Experts Share Recommendations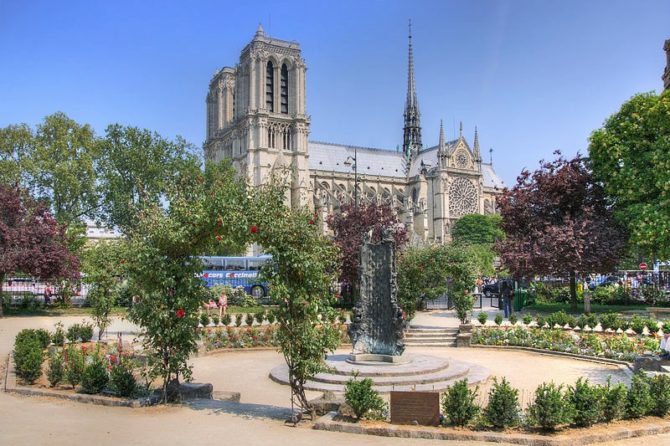 For first-time visitors to Paris, a city itinerary isn't complete without stops at mythical sites like the Eiffel Tower and the Louvre museum. And even travelers who return again and again to the City of Light can't get enough of these iconic attractions… But sometimes visitors get a hankering for an off-the-beaten path experience, a need to see the quiet, untouristed spots where locals hang out. Readers often ask us to share a few of these recommendations. These "secret places" can be quiet squares where we like to pause with a book on a bench, a little known bistro where we meet friends, a lovely hotel, a tiny street that's far from the tourist circuits. We asked the experts, many of whom are long-time Paris residents. Voilà!
Café Bullier, 22 Avenue de l'Observatoire, 75014
Right across the street from the Closerie des Lilas, on the Blvd. Montparnasse, there is a café/restaurant that offers consistently good food at reasonable prices. The service is always both professional and pleasant, whether you're there to linger over a cup of coffee or enjoy a meal. From this café I can see the statue of Maréchal Ney next to the Closerie, and read the chapter in A Moveable Feast in which Hemingway tells the story of how the phrase "the lost generation" was born, and pays tribute to Ney. It's my favorite chapter in the book, and Café Bullier is my favorite café in Paris.
— Janet Hulstrand is a writer, editor and teacher based in Essoyes, a beautiful little village in the Champagne region.
Cimetière Saint-Vincent, 6 Rue Lucien Gaulard, 75018
One of the city's oldest cabarets, Au Lapin Agile, is a common stop along the Montmartre trail. But hidden just steps away is the Saint-Vincent Cemetery, insulated from the outside world via a steep stone wall. Enter down the hill at Rue Lucien Gaulard and enjoy a meditative moment among the tombs, being sure to pay respects at that of Maurice Utrillo – one of the great painters of old Montmartre. For more information, see Corey's blog post.
— Corey Frye is an editor/writer and a sought-after Paris tour guide.
Discreet but Plush Tea-Room in a Courtyard, 75009
Usually, the side of Paris that I enjoy is "Funky-Bobo (bohemian-bourgeois) Paris" or "Village-like Paris" or "Ethnic Paris." But sometimes you have a hankering for the guilty pleasure of reveling in the glam or luxe aspect of the city. Sometimes you want to impress someone (a visitor, a date). My "secret spot" relates to pure luxury enjoyment. Sometimes I arrange to have a drink with someone at Café de la Paix, near the Paris Opera (the Palais Garnier), a rather banal, if grand, meeting place. But on meeting the person, instead of grabbing a table on the terrace, I lead him or her inside, past the staff who assume I know what I'm doing, through a doorway, and into a sumptuous courtyard. An array of plush chairs around little tables fills the court. If it's tea-time you can order an approximation of English high tea from the old-school (but young) servers. It may not be much of a secret but my invitees tend to be duly impressed!
— Dimitri Keramitas is a writer (film critic, fiction) and the director of the creative writing program at WICE, a Paris-based organization.
Église Saint-Séverin, 3 Rue des Prêtres Saint-Séverin, 75005
While I suppose it's not all that "secret," the location of the church – across the river from Notre-Dame de Paris – means it is sometimes overlooked, given its proximity to the much more famous church of Notre-Dame. But Saint-Séverin is a gorgeous church in the Latin Quarter, which is one of the oldest churches on the left bank. It was built in the early 13th century and still offers mass services to this day. Saint-Séverin is beautiful inside and out; I am particularly a fan of this church because its exterior makes me think of Hogwarts from the Harry Potter books. Speaking of books, the church is conveniently located very close to Shakespeare & Company bookstore, which is not so secret (to most), but it is worth a visit as well.
— Anne McCarthy is a freelancer writer who regularly contributes to Bonjour Paris.
Hotel des Grandes Écoles, 75 rue du Cardinal Lemoine, 75005
I always stay here when in Paris. It's by the Panthéon… A secret garden hotel behind tall gates. You'd never know you were in Paris! They don't advertise, it's just word of mouth.
— Sue Aran, the owner of French Country Adventures, is a freelance writer and long-time contributor to Bonjour Paris.
Jardin Catherine-Labouré, 29 Rue de Babylone, 75007
Sometimes I make a pilgrimage to Coutume Café in the 7th for a coffee fix– their coffee is really excellent!– and then I'll stop at this lovely green garden hidden behind a high wall. It used to be a kitchen garden for the adjacent convent– the garden takes its name from a young nun who is said to have had visions there of the Virgin Mary. There's a wide green expanse of lawn– perfect for a picnic– and also cherry trees and jungle gyms for children.
— Mary Winston Nicklin is the Editor of Bonjour Paris.
Le Petit Rétro, 5 rue Mesnil, 75016
Founded in 1904, Le Petit Rétro is an atmospheric authentic Parisian bistro tucked into a side street off Place Victor Hugo. The owners, Grégory Poitier and Muriel Bonvicini, have thought of everything – even a pick up /take home service in their cute little white tuk-tuk. This is where I come for a croque monsieur fix –  one of the best in Paris!
— Margaret Kemp is a regular contributor to Bonjour Paris and Financial Times How to Spend It.
Marlusse et Lapin, 14 rue Germain Pilon, 75018
When I want to avoid the tourists in Abbesses I always head to Marlusse et Lapin, hidden away on one of Montmartre's quaint side streets. Designed, or rather left in the state of a room in an old house, head to the bar's back room to sit in the bath tub, juggle your drinks as you relax on the bed, or perhaps sit on the swing next to the old Singer sewing machine. Full of young Montmartre locals, it's quirky, surprising, and a little unkept, but that's all part of its charm. It's also one of the few places I know in Paris to sell 5€ pints!
— Nicola Leigh Stewart is a lifestyle journalist who after living in London and Madrid has finally settled in Paris.
Poetry on rue Férou, 75006
Walk down rue Férou – a street that has been home to both Ernest Hemingway and Man Ray – and you'll be treated to a famous French poem. In 2012, all 100 lines of Arthur Rimbaud's Le Bateau ivre were hand painted along a wall on one side of this narrow street. Located between Place Saint-Sulpice and the Jardin du Luxembourg, rue Férou is near the site where Rimbaud is said to have first recited the poem, which he wrote in 1871 at the age of 16.
— Rohini Gupta is an American writer and editor based in Paris and San Francisco.
Saint Vincent de Paul, Chapel of the Lazarists, 95, rue de Sèvres
Whenever my mood needs a boost, I make a beeline to the Chapel of the Lazarists, tucked behind the Bon Marché department store. Here Saint Vincent de Paul hovers over the altar. Sprightly, lightly tiptoe up the flight of stairs behind the altar in the back of the sanctuary for a closer view of the reposed gent and patron saint of horses.
Fully embracing crowdsourcing on the streets, the ahead-of-the-curve saint fundraised for prisons, orphanages, and hospitals. Nobody got left behind.
What's so funny about peace, love and understanding?
Absolutely nothing, according to Vincent. Besides, he wrote, "Calm will follow the storm!" A timeless mantra, I do believe, reflected in the calm face in the casket. After all, who doesn't desire a little more tranquility? Suddenly catching Vincent's contagious optimism, perhaps it's high time to volunteer with the École du Chat de Clichy organization. Mew it forward!
— Theadora Brack is a Paris-based writer who has a regular column, called "My Life in Paris," in France Today magazine.
Square René-Viviani Montebello, 5th arrondissement
For a square on the Seine with the best view of Notre-Dame cathedral, it is surprising how often it is past by unnoticed by the thousands of tourists making their way from the Latin Quarter to the iconic cathedral.
Square René-Viviani– with its strange fountain, flower beds and benches– is not only a little haven of peace close to the madness of Rue de la Huchette and 'Little Athens,' but also boasts the oldest tree in Paris. The tree, a Robina pseudocacia, was planted from seed imported from America in 1601. A circular bench made in medieval style from chestnut branches surrounds it.
On the corner of the square lies one of the oldest churches in Paris, St-Julien-le-Pauvre. St-Julien-le-Pauvre was on the pilgrimage route to Santiago de Compostela and its Holy water font is in the shape of a scallop, the symbol of the St Jacques pilgrimage.
So when you've finished browsing in Shakespeare & Co. across the street, grab a sandwich, take a book (and probably your camera) and just chill, surrounded by history on all sides of you in this wonderful little square.
— Marilyn Brouwer is an established freelance writer and regular contributor to Bonjour Paris
Lead photo credit : Square René Viviani by Giorgio Galeotti
---
---
Comments