10 Best Cafés for Specialty Coffee in Paris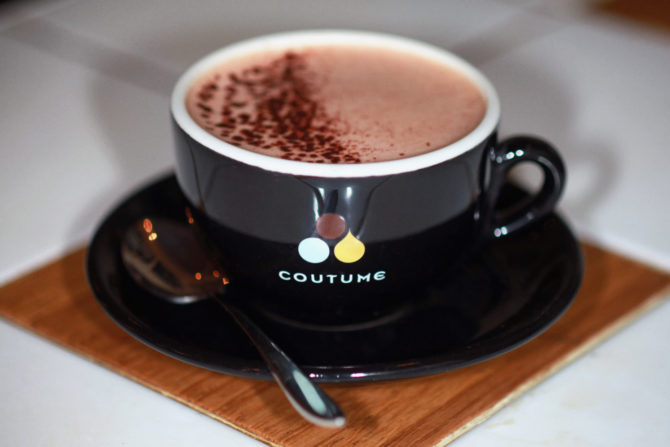 Craft roasted coffee is experiencing a renaissance in Paris, with several local roasters installing in the capital and a large choice of coffee shops and restaurants sourcing beans from independent roasters in the city and beyond. Long gone are the days of over-roasted allongés and burnt espressos at café tables and terrasses. Here is a list of some of the best spots to enjoy a steaming cup of joe.
This neighborhood favorite that started as a speciality roaster opened the doors to its café in 2011. Located across from the famous graffitti wall in the 18th arondissement, Lomi attracts locals and freelancers, who set up with their Mac books while working and enjoying a café filtre and an interesting food menu that includes a filling brunch and anglo-inspired pastries.
3 ter Rue Marcadet, 75018. Tel: +33 9 80 39 56 24
This tiny café in the hip North Marais neighborhood has a few tables for customers who want to catch up with friends but also offers coffee to go for tourists on the move. Locally roasted coffee from 19th arrondissement based Belleville Brulerie pairs perfectly with a changing menu of baked goods made by the steller husband and wife team behind Emperor Norton.
16 Rue Dupetit-Thouars, 75003.
With a constantly rotating list of featured craft roasters, KB Café is a great place to experiment with new blends or take home a bag of beans from abroad. Seating is limited, and mostly usurped by young bloggers and exchange students, but cups can be taken to go or enjoyed on the outdoor terrasse which spills out into the sidewalk during warmer months.
53 Avenue Trudaine, 75009. Tel: +33 1 56 92 12 41
A favorite among expats, Café Loustic is another hole-in-the-wall café located up the road from the Pompidou Center. Owner Channa Galhenage arranges to feature craft roasters from around the world as well as organizing events with the roasters themselves. If you've had your dose of coffee in Paris, order the Chai Tea which is one of the best in the city.
40 Rue Chapon, 75003. Tel: +33 9 80 31 07 06
Coutume was one of the trailblazers in the new wave of craft roasted coffee in Paris. Opening its doors in 2011, the café has since expanded to open and workshop and tasting room in the 10th arrondissement as well as franchises as far as Bordeaux and Tokyo. The coffee shop is also a great spot to stock up on coffee geek accessories, such as Chemex and Aeropress products.
47 Rue de Babylone, 75007. Tel: +33 1 45 51 50 47
OB-LA-DI
Fashionistas flock to this postage stamp-sized hangout in the trendy Upper Marais. Since it opened in 2015, this chic café has been an Instagram darling, and it's still got quite the following. If all the seats are taken, grab a coffee to go and explore the independent boutiques of the quartier.
54 Rue du Saintonge, 75003.
Occupying the front space of an art gallery, Le Bal Café quickly became known for its British inspired weekend brunch. While chefs Anna Trattles and Alice Quillet whip up great tasting food in the kitchen, a team of talented baristas brew coffee for a crowd of regulars and visitors who take in sun on the terrasse.
6 Impasse de la Défense, 75018. Tel: +33 1 44 70 75 51
Telescope
Another early arrival in the craft café movement, Telescope was one of the first Paris coffee shops to pair café with homemade granola (another Emperor Norton contribution to the city's coffee scene). Centrally located between the Opera and bustling rue de Rivoli, Telescope is the perfect place for a caffeine pit stop or a cup to go as you continue your explorations of the city.
5 Rue Villedo, 75001. Tel: +33 1 42 61 33 14
On a side street off the Canal St Martin, this two level café was founded by a former Le Bal Café Barista. After a stroll along the canal, slip into this welcoming address for one of the best capucinos in town. A hearty lunch menu, as well as wide array of fresh baked goods, are also available for the hungry traveler. [Note in January 2021: Ten Belles is so popular, it now has a coffee shop on rue du Cherche-Midi in the 6th, along with a bakery and coffeeshop in the 11th.]
10 Rue de la Grange aux Belles, 75010. Tel: +33 1 42 40 90 78
Avoid stopping by this Aussie inspired restaurant during meal times if you're looking for a quiet coffee break. The amazing seasonal menu and Eggs n' Sides standards draw crowds from noon on, but the quiet moments before and after the rush are perfect for enjoying a hot mug of coffee in a cool and compfortable setting. Treat yourself to an Agent Cooper Special (coffee with a slice of pie) if you're feeling nippish. [Note in January 2021: Since it launched in the 10th, Holybelly has branched out with multiple locations.]
19 Rue Lucien Sampaix, 75010. Tel: +33 9 73 60 13 64
Lead photo credit : courtesy of Coutume cafe
More in coffee, Paris cafes, paris coffee
---
---
Comments