Reviewed: French Theater with English Surtitles by "Theatre in Paris"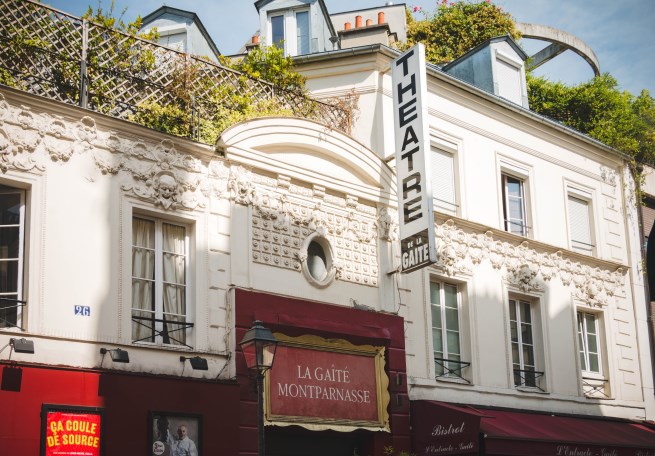 About four years ago three friends from a choir group, Carl De Poncins, Christophe Plotard, and Romain Beytout, met to discuss a new business idea: bringing live French theatre to English speaking audiences. This idea was made possible through the use of a technology known as "surtitling." Through the use of a projection system an audience could follow along with a live theatrical performance with their native language projected above the stage. Only a scant nine months later, in February 2014, the company was born. Their first show, Cyrano de Bergerac, came soon thereafter in April of that year. The company has now performed shows in over 300 playhouses in Paris as well as theatrical festivals in other parts of Europe. The central aim has remained the same: redefining tourism for a new era and deepening the ability for cultural exchange in the process. The philosophy behind it is to encourage the idea of local interaction as playing a central role in the future of tourism.
That this endeavor got off the ground quickly and has managed to stay successful should be no surprise given the unique combination of talents involved. Beytout, who has a background as an opera singer, was aware of surtitling technology because opera companies have employed it for years when they toured internationally. His theatrical experience and artistic bent are naturally a integral to the success of the company. Plotard brings an unexpected expertise in that his career as a journalist had focused on tourism and exploring new possible destinations for travel. De Poncins unifies their disparate abilities with his background in both engineering and business. Their various skill sets have enabled them to create a company that is at the forefront of a rapidly changing travel industry landscape.
The experience itself is not unlike that of seeing a film with subtitles. Although the surtitling process did immediately make me curious from a technical standpoint. Live theater is unpredictable and there's no way of knowing how things will turn out on any given performance. Theatre in Paris has a trained staff of technicians who manage the surtitling for the shows and make sure it matches as it goes along. De Poncins explained that there is a musicality to keeping the timing right meaning a human touch is still necessary for the technology to function properly.
The performance I saw, Molière In Spite of Myself, was a one man show delving into the life and work of, big surprise, Molière. It's an informative piece and is an ideal primer for someone who has yet to experience any Molière. I was not surprised to learn that it has been performed for college audiences. The educational element is apparent and seems to be the guiding principle behind the performance and presentation. The surtitling is easy to follow along with and the experience is surprisingly fluid and natural given the fact that theater is so centered on talk.
One of the best elements of Theatre in Paris, a deliberate strategy on their part, is that it takes you to buildings in the city you would otherwise never come across. The sites they select are historic buildings oftentimes located in side of streets of well known areas. Molière In Spite of Myself was performed at the Théâtre de la Gaîté Montparnasse (14th), which is about as charming an old theater as you can imagine. Even the lack of legroom with the seats makes you feel like you've gone back in time. It's an immersive experience to go along with the cultural exchange of seeing a play. Although my thinking was shaped by the particular work I saw, it did make me curious about seeing a more classic production such as Cyrano or an actual work by Molière. It's certainly easy to see how it could fulfill De Poncins' ambition to allow a visitor to "spend an evening embedded in French life."
Looking forward, Theatre in Paris has been working with augmented reality glasses to bring surtitling to audiences. They have also presented works at the Avignon Festival that go beyond the French-English translations they have focused on in Paris. They were able to translate productions that included Japanese, Georgian, Vietnamese, and Russian intovFrench for festival audiences. With the use of the latest technology to bring cultures together, there is a wonderful fusion of the old world and new that makes the future of travel so wonderfully unpredictable.
For more information, visit the Theatre in Paris website.
Photo credit : @Peter Ambrosio
Leave a reply
Your email address will not be published. Required fields are marked *