Recipe for Spring: Watercress Salad with Grilled Shrimp and Mangoes
With the arrival of such beautiful and balmy spring days here in Paris, we're taking full advantage of being outdoors, whether in our sunny courtyard, or in the local parks and gardens. But many of us are feeling nostalgic about taking day trips from Paris, since under the new lockdown rules, our tolerated travel radius around home is 10 km.
A couple of years ago, on a last-minute whim, my Frenchman and I decided to hop into a rental car and head out on a road trip. Our first destination was the oldest watercress farm in the Essonne department.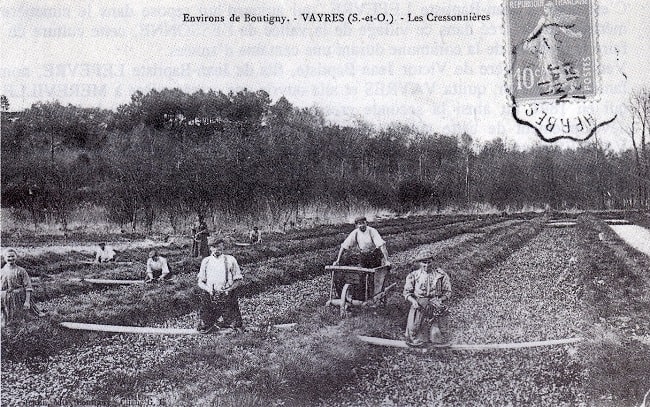 La Cressonnière Sainte Anne, established in 1854, and located in Vayres-sur-Essonne, is about 40 miles (65 km) south of Paris. I'd heard the Essonne was a particularly green place to go, since a friend of ours had recently filmed a movie on location near Milly-la-Forêt.
Another friend recommended seeing Jean Tinguely and Niki de Saint Phalle's Cyclop near Milly – an impressive 74-foot (22m) high sculpture dating from 1969. In the nearby village of Barbizon, we also got an eyeful, courtesy of the painters who worked there in the mid-19th century.
After visiting those local sights, we finally found the watercress farm, which was announced by nothing more than an old dirt road leading down to a wooden barn. We half-expected to be greeted by a gruff old-timer. So Mikaël Morizot was a pleasant surprise.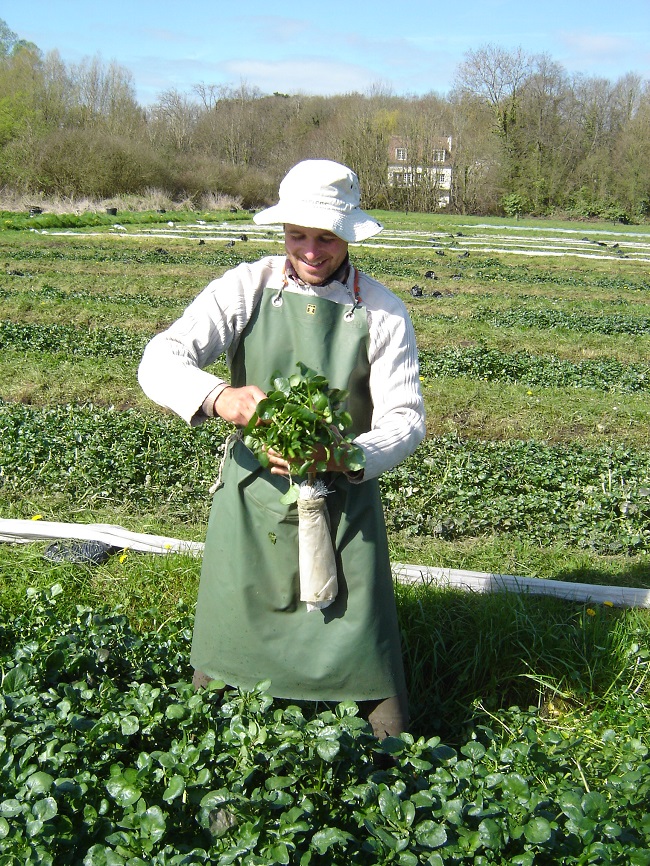 A young and energetic fourth-generation watercress farmer, Mikaël showed us the watercress-filled ponds he was harvesting by hand. His ancestors used to work on long wooden boards stretched over the rectangular pools, but Mikaël wore on his feet a pair of ingenious snow-shoe-like contraptions, so that he could walk directly in the water, and save himself (almost…) from a gardener's bad back.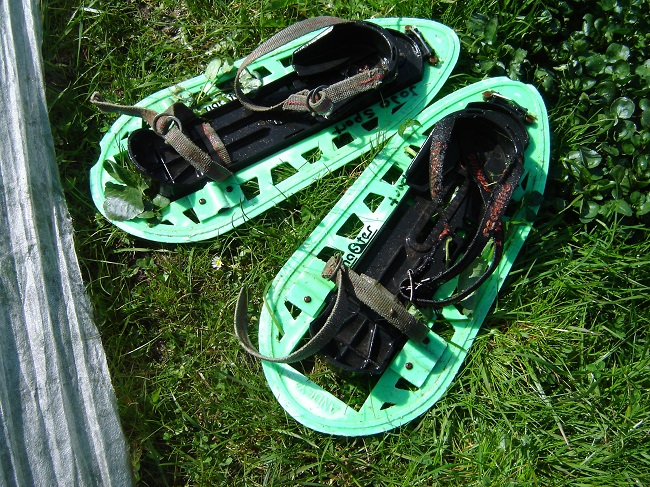 Watercress is in the family of nasturtiums, and you may have admired all those gorgeous orange flowers and distinctive round leaves if you've visited Monet's garden in the summer months. Did you know that those flowers and leaves are also edible? They have the same peppery flavor as watercress.
In classic French cuisine, watercress seems like an afterthought: a little sprig of it is often placed on the plate next to a rib of beef. That makes sense, though, since the plant's bite is a perfect complement to rich, fatty meats. And I'd only made watercress in soups before, because I thought it was too peppery and fibrous to eat raw.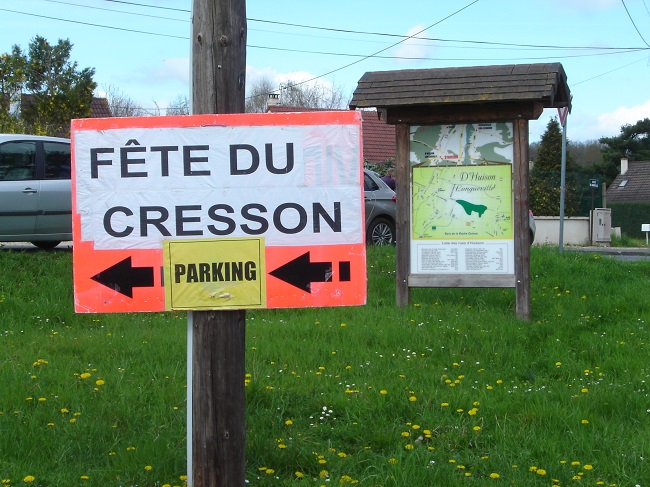 But during our visit to Mikaël's farm, he told us about a watercress festival happening that very morning in a neighboring village. There, we sampled plenty of foods with both raw and cooked watercress: watercress butter, sausages, quiche, and even watercress wine!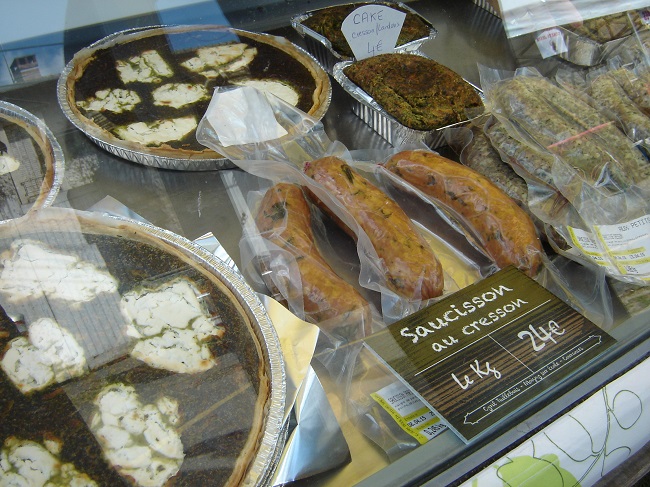 The Sainte Anne farm produces organic watercress, and it's available only from September to mid-May. Depending on where you live, you'll find watercress all year round. But at Parisian markets, you'll be hard-pressed to find watercress at the vegetable stalls after late spring.
So fans of watercress like me are snapping it up at the moment, to take advantage of the last couple of months' growth. The recipe below is a perfect way to transition from the last chill of spring to the outdoor grilling season to come in the summer months. Bon app'!
Mikaël Morizot sells his watercress, including a new red variety, to many of Paris' fine-dining and Michelin-starred restaurants. He will appear on Top Chef in France on May 5th, 2021 at 11:30 pm CET. Make sure to catch the M6 website in the days afterward to see Mikaël and his watercress, in partnership with the Parc Naturel Régional du Gâtinais Français, and their "battle" with another (currently secret!) ingredient.
Watercress Salad with Grilled Shrimp and Mangoes
This salad is wonderful: the combination of smoky grilled shrimp, peppery watercress, and sweet mangoes is a little bit of magic, for which I cannot take credit – nature just designed it that way.
You can buy mango vinegar at some Whole Foods stores, or order it here. Otherwise, substitute red wine vinegar or cider vinegar. Also, if you don't have a grill or griddle handy, you can just pan-sauté the shrimp on medium-high heat in a little olive oil. Voilà!
Ingredients:
16 prawns or jumbo shrimp, peeled and deveine
1 large clove of garlic, green germ removed if necessary, finely chopped
½ lime, zested and juiced
1 tablespoon + ½ cup olive oil
½ teaspoon fine sea salt
A few twists of the peppermill
1 ripe mango, peeled and pitted
1 bunch watercress (about 1 pound or 450-500 g), well washed, large and medium stems removed
A few leaves of another salad, if you like (for variety's sake)
about 5 sprigs of cilantro, stemmed and chopped
For the mango vinaigrette:
½ tablespoon strong Dijon mustard
1 tablespoon mango vinegar
¼ teaspoon fine sea salt
¼ cup (55 g) extra-virgin olive oil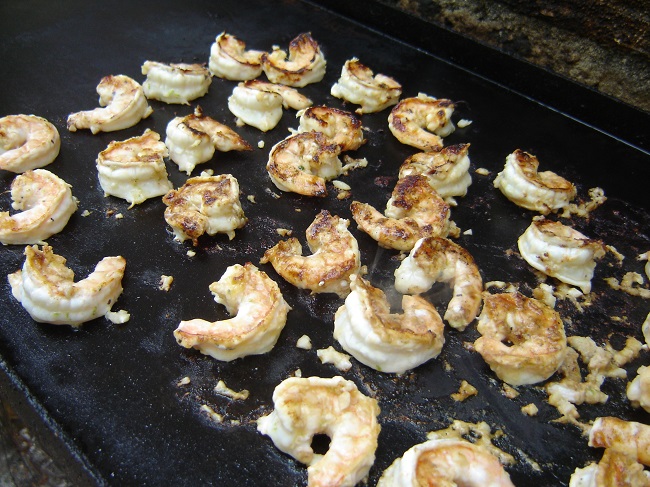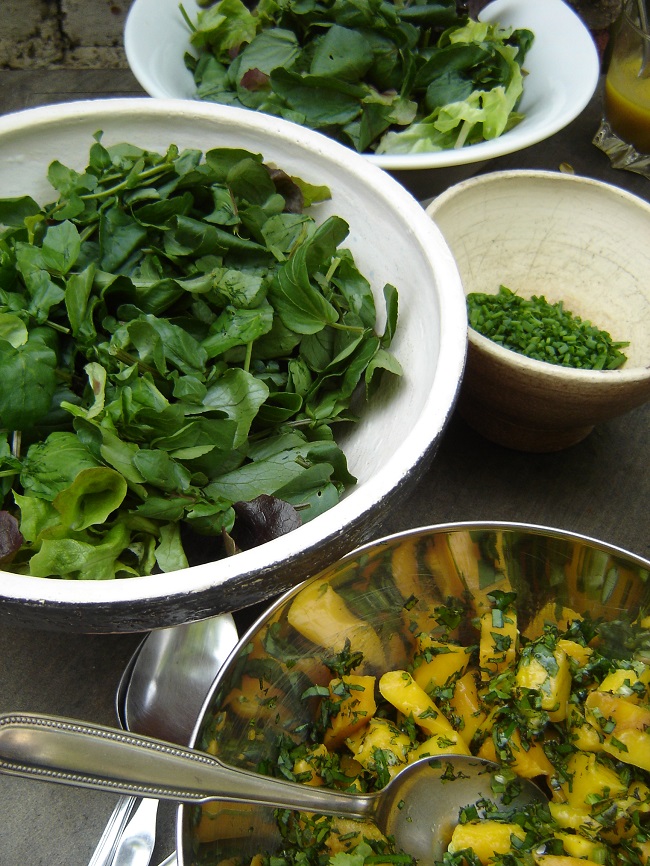 How to make it:
About an hour before making the salad, marinate the shrimp by combining them in a medium bowl with the chopped garlic, lime zest and juice, 1 tablespoon of olive oil, salt, and pepper. Refrigerate, stirring from time to time.
Slice the mango pieces, and then cut these long slices in half crossways. The pieces will be a little irregular, but that's fine.
In a large salad bowl, place the watercress and chopped cilantro.
To make the vinaigrette, put the mustard, vinegar, and salt in a small bowl or glass tumbler, and stir vigorously with a small whisk or fork until the mixture is smooth.
While continuing to whisk or stir, slowly add the olive oil in a tiny steady stream. Stop pouring from time to time and continue to mix so that the vinaigrette maintains a smooth, emulsified appearance. Continue this way until you've used all the oil.
Grill (or pan-sauté) the shrimp over medium-high heat about 3 minutes on each side. You can also use a griddle, or what the French call a plancha, as seen in the photo.
Just before the shrimp are done cooking, pour the vinaigrette over the watercress and toss well.
Add the shrimp and mango pieces, and toss again, adding in the other salad leaves (if using) and cilantro. Enjoy this salad as a starter or a main course, with some crusty bread and a bottle of wine, or for a more casual lunch outdoors, you can drink beer like we did here.
Serves 8 as a first course or 4 as a main course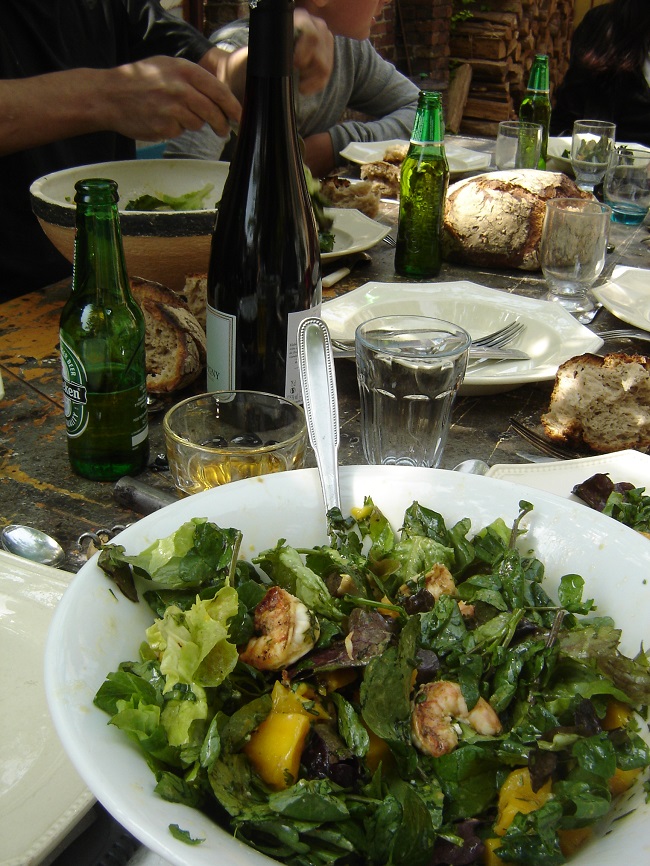 Want to be inspired by more French foodie experiences and enjoy classic French food, wine and recipes? Head to our sister website, Taste of France, here.
Lead photo credit : Delicious and seasonal Watercress Salad with Grilled Shrimp and Mangoes. Photo © Allison Zinder
More in Barbizon, Dinner, Lunch, M6, Paris day trips, recipe, Shrimp, spring, Top Chef, watercress
---
---