Paris Favorites: Meet Contributor Dimitri Keramitas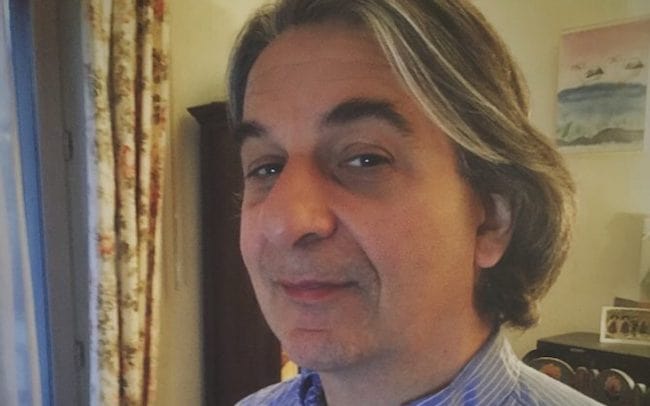 Have you seen the new France Today magazine? Now available on the newsstand, our sister publication has unveiled a new look! For the June-July 2016 issue, France Today showcases insider recommendations from some of the Paris-based journalists and bloggers who write for Bonjour Paris. These interviews will be published in full right here on Bonjour Paris, so that you can learn more about these fabulous writers. Enjoy! (Corey Frye's interview can be found here; Leah Walker's here; Lisa Czarina Michaud's here, Kasia Dietz's here, and Margaret Kemp's here.)
Born and raised in Connecticut, Dimitri Keramitas is a long-time Paris resident who directs a training company and translation agency. He has worked as a film critic for multiple publications, and is a contributing editor to Movies in American History. In addition, he is an award-winning writer of fiction, whose stories have been published in many literary journals. He is the director of the creative writing program at WICE, a Paris-based organization, and director of the Paris Alumni Network, an organization linking together several hundred professionals. The father of two children, Dimitri not only enjoys la vie parisienne but also returning to the U.S. regularly and travelling.
Favorite restaurant or wine bar in Paris? Le Commerce, a 19th century-style place in the same group as Chartier but much more authentic-feeling.
Favorite dish or gourmet food item in Paris? Right now it's a tie between bobun and pho from Chez Long at 57 Avenue Michel Bizot in the 12th. In one way, Vietnamese cuisine is an example of the multicultural diversity of Paris. But in another way, Vietnam, Cambodia and Laos were all part of French Indochina, a part of French culture for over a hundred years…
Favorite movie theatre? Studio 28, an art house in Montmartre that's the oldest cinema in Paris (the name comes from the year of its founding in 1928). It was the site of the scandale caused by the screening of Luis Buñuel's L'Age D'Or as well as the screening of the epochal Napoléon, directed by Abel Gance. Another favorite cinema is MK2 Bibliothèque, an example of a civilized multiplex.
The perfect day in Paris? Sleeping in, waking to a leisurely breakfast, seeing my friends (as opposed to e-mailing, texting, calling), writing, catching an unusual film.
Favorite walk? The one I haven't done yet.
Boutique for unique, unusual finds? Artbambou in the 12th where I live. Inexpensive furniture with an exotic but not kitschy touch.
The best way to spend a Sunday in Paris? In my bathrobe. (There are 1001 things one can do so attired, which is why I need a new bathrobe!)
Lead photo credit : Dimitri Keramitas
Leave a reply
Your email address will not be published. Required fields are marked *