Paris Favorites: Meet Contributor Corey Frye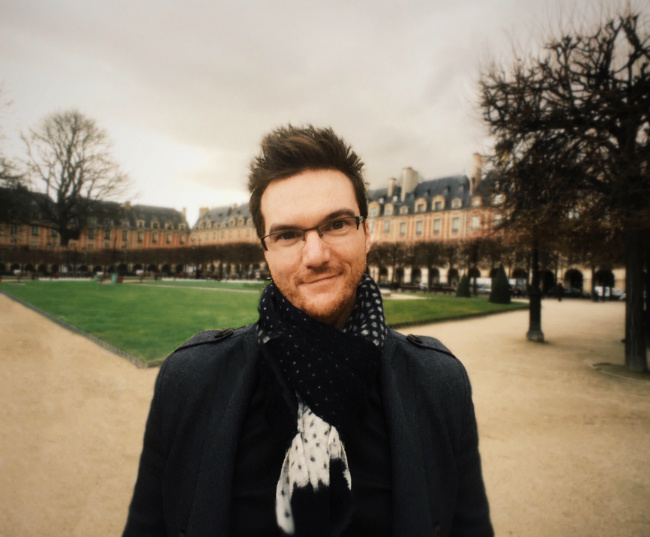 Have you seen the new France Today magazine? Now available on the newsstand, our sister publication has unveiled a new look! For the June-July 2016 issue, France Today showcases insider recommendations from some of the Paris-based journalists and bloggers who write for Bonjour Paris. These interviews will be published in full right here on Bonjour Paris, so that you can learn more about these fabulous writers. Enjoy! (Leah Walker's interview can be found here; Lisa Czarina Michaud's here and Kasia Dietz's here.)
Corey Frye is a sought-after tour guide and travel writer based in Paris. It all started on an NYC subway platform: he was strumming his guitar and singing a tune, she was a young Parisienne waiting for the train…and the rest is serendipitous history. Corey also shares his discoveries and experiences on his blog A French Frye in Paris.
Favorite restaurant or wine bar in Paris? Legrand Filles et Fils. A cheese plate, a glass of Bourgogne, and a table under the glass roof of Galerie Vivienne is ultimate time travel. The adjoining specialty foods shop is also not to be missed.
Favorite dish or gourmet food item in Paris? Macarons are great, but they're so 2010. Now it's all about the meringues at Les Merveilleux de Fred, slathered in butter-cream and rolled in pralines or chocolate shavings. Dangerously good.
The perfect day in Paris? First, sleep in a bit–you're on vacation. Then Montmartre before the crowds arrive, followed by a duck confit lunch at Au Soleil de Montmartre. Walk down Rue des Martyrs and visit the Opéra Garnier, followed by the covered passages until the Palais Royal gardens. Think about stopping into the Louvre, then don't. Take the métro to Hôtel de Ville and drink Paris's best cappuccino at La Caféothèque. Then get lost in Le Marais and have dinner at Les Philosophes (save room for their cheesecake).
Favorite walk? If it was good enough for Victor Hugo it'll do for the rest of us: Place des Vosges. It feels like it was built for flâneurs, and I never feel more European than I do in this square. Be sure to check out the garden of Hôtel de Sully next door, and take a big whiff of the Dammann Frères tea shop.
Boutique for unique, unusual finds? Two separate taxidermy specialists, Deyrolle and Design et Nature, offer the most exotic and far-fetched shopping out there. For the friend who has everything, send them a stuffed and mounted Saharan zebra. For the enemy who has everything, they also sell jungle beetles bigger than your hand.
The best way to spend a Sunday in Paris? The Canal Saint-Martin, bien sûr. The Pink Flamingo pizza parlor on Rue Bichat takes your order and gives you a pink helium balloon. You take it to a comfy spot along the water, and your pizza is delivered to you canal-side, wherever you may be. You also want the coffee at Ten Belles. And the pastries at Du Pain et des Idées. And the cream tarts at Liberty Bakery.
Lead photo credit : correspondent Corey Frye
Leave a reply
Your email address will not be published. Required fields are marked *
Comments