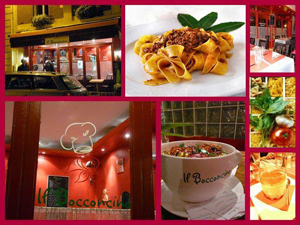 When it comes to Italian restaurants in Paris, thlae usual choice is between some very good and expensive places and ordinary neighborhood ones where, odds are, the pizza dough is from a factory, while the pasta menu offers the familiar varieties with canned sauces. I have even seen a white blob come out of a package to become the base for a spaghetti carbonara.
The notably good places have one drawback: they're indeed expensive. I think of two that have been revered by eaters for ages: Conti and Stresa, the former in the Sixteenth Arrondissement—Paris' Upper East Side– the other in the bling-bling territory of the Eighth. At Conti, most recently, a Frenchman, doing riffs on la cucina italiana, brings imagination to a distinguished clientele that I think of as lawyers and notaries. In the little dining room of Stresa, you're likely to be elbow to be elbow with say, Roman Polanski or someone else conspicuous in the world of showbiz, enjoying perfect, traditional Italian food. For the rare experience, expect to pay maybe 100 euro per person.
So when you just want to have an Italian meal someplace modest, where do you go? I found this place: Il Bocconcino.
Here, in a kitchen barely big enough to move around in, one man cooks, truly cooks, authentic dishes you don't find elsewhere, while his wife, usually alone, serves in a neat dining room that you'd flatter by calling plain.
The man is Luca Barbieri. His wife is Rita. The restaurant is in a nowhere sort of neighborhood of the Fifteenth, where, say, schoolteachers and minor bureaucrats abide. Luca, 47, is a native of the medieval town of Ostuni in Apulia, the region of the trulli, those little white houses with funnel-shaped stone roofs, at the tip of the boot of Italia. There, as a child, he learned to cook from his mother and from his grandmother, an ace at fresh pasta made of 100 percent fine semolina, not flour. He went on to hotel school, worked in restaurants in Italy and France, where he came 30 years ago on vacation and stayed, and for the past two years he has been at the "piano" as chefs call their stoves, at Il Bocconcino.
Luca's repertoire contains well-known dishes that the unadventurous may go for. What makes it worthwhile to head over here to a street you're bound never to have heard of called rue Sextius Michel, are his specialties.
From Apulia, he has brought Farfalle Ostunese, with a sauce of tomatoes, mint, smoked mozzarella and eggplant. Or, in season, orecchiette cime di rapa with a sauce of turnip greens, olive oil and anchovies.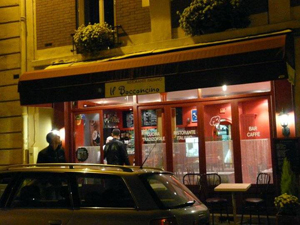 Apulia is not his only source for local dishes. He does spaghetti mantovana, from Mantua, made with pumpkin, fresh sausage and mascarpone.  Or, say, linguini they way they're sauced in the mountain village of Cadore, near Austria, with spinach, bacon, and fresh tomatoes. His linguini ai carcioffi, a Ligurian dish from where pesto originates, is made with pureed artichokes. The man does meatballs that can match that soul food perpetuated by Calabrese Italian Americans.
Luca doesn't do his own fresh pasta—" I have no room"—and his quite tasty bought variety is a compromise between the flour and semolina schools, mainly flour. He doesn't do his tomato sauce always with fresh tomatoes, but this is an established modernism in Italian cooking; fresh tomato sauce has become a genre of its own. He uses not canned sauce but canned cooked tomatoes to start his own sauce with onions, olive oil, and spices.
Luca does risotto as it should be done, which even far pricier restaurants don't do. "Should be done" means cooked to order, not prepped in advance. If you wait a half hour for it, you can enjoy Luca's risotto with squid in its black juice.
Luca showed me packages of de Cecco pasta on a shelf in his kitchen. De Cecco is a notch above most dried pasta, although I've heard a purist carp that de Cecco, a worldwide success, is not what it once was when its wheat came only from the small, best wheat region for pasta near Naples. A number of little artisanal brands of pasta have since moved into the market and they are pricey. The nec plus ultra pastas come, I'm told, from wheat grown on a certain hill I once visited, not far from the city. Goethe had been there, but I don't know what he might have eaten in a local osteria.
"De Cecco," Luca pronounced, "has the best price to quality ratio."  For a dish of pasta that can set you back as little at 8.5 euro at Il Bocconcino, de Cecco suits me well enough.
I asked Signor Barbieri about his personally favorite pasta dish.
"Tagliatelle or spaghetti with just butter and grated parmesan," he said.
He was serious. I'd actually seen a group of men eating, with gusto, just that, in a trattoria in the shadow of the Pantheon in Rome, years ago.  Modesty has its virtues in eating with pleasure. Try Il Bocconcino for that.
Il Bocconcino,
19 rue Sextius Michel
75015 Paris
01 53 95 07 33
Pasta dishes from 8.50 to 17 euro.
Meat dishes around 15 euro
Gerry & Joanne Dyansky live in Paris. Coquilles, Calva, and Crème: A Love Affair with Real French Food is their most recent book. The book has been awarded the best culinary travel book published in the U.S.A. in 2012, by the Gourmand World Cookbook Awards.