Buche Buzz Siamin, Les Tons-Tons Gobelins, Le Paris-London & Tour D'Argent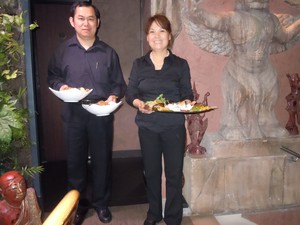 At Siamin there's a charming welcome, none of the, "I can't find the reservation", or, "sorry, we're not open until 7.30 and it's 7.25!" The minute you walk through the newly painted door you're in Siam, you're Deborah Kerr, he's Yul Brynner. The King and I are going to have a wonderful lunch/dinner.
Deborah sips a Floating Market cocktail (mango, passionfruit, pineapple) as the King orders White Tiger, vodka, alcool de riz, lime. He notes there's a 21€ formula express lunch and for 24€ the Menu Decouverte is a tasting of chef's signature dishes. King recognises dishes his minions prepare at the palace. Salade BoBun or Vermicelles sauté au crevette et curry. Or green chicken curry et riz nature. He also notices the service in the salle is as smooth as his shaved head.
Deborah Kerr loves the new Siamin authentic décor, has asked to be seated on the third floor next to the lush "Mur Vegétal" and nose to nose with the sculpture of Buddah Bayon.
They both order "A La Decouverte de Siam" which changes according to chefs' whims and deliveries but think in terms of starters such as King Prawn Rolls: Seafood skewers: Chicken Satay and fish cakes. Delicious soups: Tom Yam Kung (shrimp & lemon grass) Chiang Mai (vegetables) and the romantic soupe du marché flottant. No bread, but fluffy steamed white rice. They're tempted by the Singha beer to wash it down but, go for the crisp white Aspen Estate Australian Chardonnay 2010 at €36.
Mains include Hamok Pla (steamed banana wrapped sea-bass) for her. Nam man hoy nua (beef in oyster sauce) for the King. He also orders Kaeng massaman pea (peanut curry lamb). They finish with Jasmine flan and, for the King, rum flamed banana and coconut sorbet.
They leave, sated, happy, in time for their interview at RTL radio, the studio located opposite Siamin. Welcomed royally by Philippe Bouvard who hosts the programme "Les Grosses Tetes" they meet and greet RTL's guest Roger Moore. "You'd do well to cross the road for an excellent repast my boy", advises the King. "Quite so, I'm on my way", replies Moore, raising the famous eyebrow.
Siamin,
19 rue Bayard, 8th
M: Champs Elysées Clemenceau,
T: 01 47 20 23 70
Shut: Sunday
Valet parking,
Livraison à domicile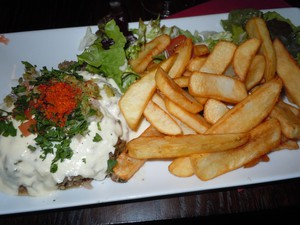 Alert readers know that Les Tontons Flingeurs are cult 1960's French movies starring Lino Ventura, Bertrand Blier and Francis Blanche. TT's founder/owner, Jean-Guillaume Dufour, happens to be a bit obsessed with Les Tontons, up to the point of naming his three Parisien neo-bistrots after them.
Ton Tons three recently opened in the quartier Gobelins two minutes from Le Manufacture des Gobelins. The handsome pile, originally a dye works, was built in the 15th century by Jean Gobelin.  In 1662, Louis XIV acquired what was known as the Gobelins Manufactory and commissioned Jean-Baptiste Colbert to gather all royal artisans together and create a "by appointment style" tapestry and furniture works, to-day the Mobilier National. You might as well while you're at Ton Tons Gobelins, two birds with one stone eh?
Enough of the culture Ms BUZZ what about the food at Ton Tons?
Sensational darling. Read tartare central serving endless combinations of Les Tartares de Boeuf "crus ou poèlés" raw or easy over.
So, you want to take Ashton because he adores his beef more or less just ripped off the cow but you wonder what you'll eat. Salads! Huge copious salads and the best frits in the 13th. Or, if you're lucky there'll be fish tartares, they have to be fresher than fresh so everything's market driven.
Ashton may go for Le Sicilien, 180grammes of tender chopped beef with olive oil, parmesan, toast à la mozzarella. Or Le Burger des Ton Tons, tomates, pickles and melted Cantal. Nice with a Bière Pression pulled by the tres gentille Isabelle, who also works the room.
The comprehensive wine card includes an aromatic Gigondas, Château de Montmiral (44€) and a section "Coups de Coeur" because everything comes from the heart where Jean-Guillaume Dufour is concerned.
Ton Tons is decorated with furniture from les puces, not only is it inspired by the movies, it could be the settting for a 2012 version of Ton Ton Flingeurs, who knows, it may be on the cards.
If you're looking for sophistication, this is not your addy. But if you want something completely different, in a totally French atmosphere, where you'll make NBF's (new best friends) and where prices are so low, quality so high, you wonder how he does it. Lunch at 12.90€ it'd cost more than that à la maison, and life's too short to be chopping all that beef.
Les Tontons, Paris, 13ème,
3 rue des Gobelins,
M: Gobelins (Line 7)
T: 01 47 07 23 46
Shut : Sunday
Lunch formula Mon-Fri 12.90. 15.90€
A La Carte 20-25€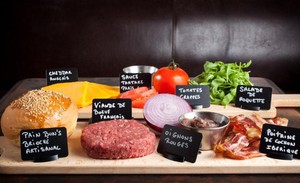 Place Madeleine, Paris- London for the best burgers, pizzas, cocktails or even for your early morning cafe-croissant, oeufs-Bénedict or millefeuilles maison. Some have grouched about spotty service, but it's Paris, give the miserable old garçon a smile and he'll even allow you a well done burger. C'est ҫa la France cherie.
Paris-London,
16 place de la Madeleine, 8th
Metro: Madeleine,
T: 01 47 42 33 92
And also:
Saint-Régis, 6 rue Jean du Bellay 4th Tél 01 43 54 59 41
La Favorite, 4 rue de Rivoli 4th Tél 01 42 78 56 48
Ouverts tous les jours de 7h à 2h
Service continu
Tour d'Argent Bùche de Noël 2012
This has to be the most original you'll see, a trip around the moveable feast, a charming mise en "Seine" created by the talented team at La Tour. Beneath snowy white velvet icing lies a mouthwatering layered grand cru chocolate cake, softened with chocolate mousse, add aromas of orange and hints of champagne, eat slowly!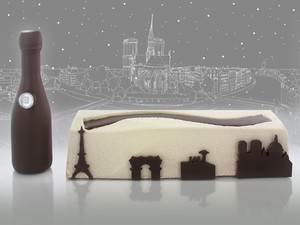 And, when melted, the accompanying "bottle" becomes the coulis, just drizzle, that's the icing on the gateau. Yum. I want one.
Better hurry. Limited edition 85€ Order from here.

Subscribe for
FREE

weekly newsletters.
BonjourParis has been a leading France travel and French lifestyle site since 1995.
Readers' Favorites: Top 100 Books, imports & more at our Amazon store
We update our daily selections, including the newest available with an Amazon.com pre-release discount of 30% or more. Find them by starting here at the back of the Travel section, then work backwards page by page in sections that interest you.
Current favorites, including bestselling Roger&Gallet unisex fragrance Extra Vieielle Jean-Marie Farina….please click on an image for details.
Click on this banner to link to Amazon.com & your purchases support our site….merci!
Leave a reply
Your email address will not be published. Required fields are marked *