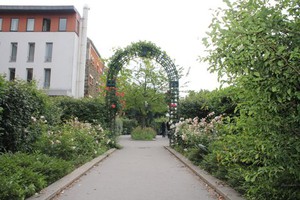 The aromas of chocolate crêpes, espresso coffee, and of course, cigarettes, are just some of the typical aromas when in France's cosmopolitan capital.
But some unfamiliar scents are wafting in the 12th arrondissement of Paris, inviting locals and visitors alike, to follow their nose and uncover a unsuspecting garden oasis atop an abandoned railway.
Understood to be Europe's longest, and indeed only, elevated park, La Promenade Plantée, "planted walk" is a leafy pedestrian trail that extends 4.7km through the concrete jungle.
Converted from the former 19th century Vincennes railway, the green corridor begins near Opéra Bastille, running through Bercy, and ending at a spiral staircase to Boulevard Périphérique in Bel Air.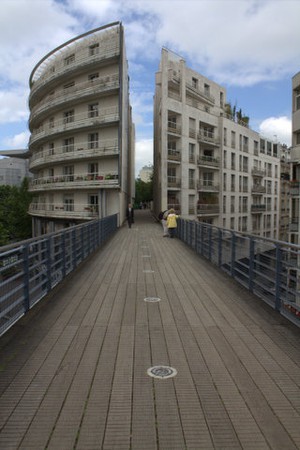 Escaping the traffic fumes, visitors to the narrow gardenway can take a breather, and a breathe-in, of the deep earthy smell of trees and soil, peppered by the fragrances of lavender, hazelnut and bamboo plants.
The beautiful tree-lined walkway is home to an endless variety of colorful blooms that burst into life during the warmer months, attracting herds of joggers, prams or those simply out to seize a prime spot on a sunny park bench.
Iron structures and archways are draped in vine creepers across the symmetrically-landscaped gardens.
Also included are a bevy of water features, playground pit stops and picnic areas, including Jardin de Reuilly.
The promenade winds up and down stairs, over bridges, through tunnels and even at one stage, slices through a building apartment block.
One of the main highlights, however, is a chain of more than 60 charming red-brick arches of the Viaduct des Arts underneath the walkway, which hold a number of boutiques, cafés and galleries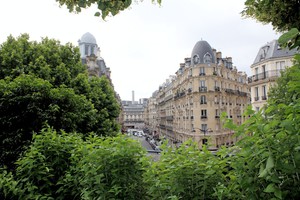 Don't be alarmed if you spy a dozen stone men peaking though the foliage, as the walk looks over to the corner of Rue de Rambouillet and Avenue de Daumesnil.  That's just the beautiful art deco police station in the 12th arrondissement designed by Manolo Nuñez-Yanowsky in 1991 and based on Michelangelo's "Dying Slave" (which you can also spot at The Louvre).
The promenade is free and remains largely undiscovered by tourists.
This, however, is not true for the throngs of Parisians, who each weekend take to the locally- known as La Coulée Verte, "green course".
Access to the path is simple, with a number of staircases and elevators to take you up, or down, if the energy for your walk has begun to wane.
The unusual garden space was borne from the disused freight railway line after it was abandoned in 1969 as operations integrated into Line A of the RER (Réseau Express Régional). However, it wasn't until 1986 that landscape architect Jacques Vergely and architect Philippe Mathieux commenced the design process, with the park officially opening several years later.
The Promenade Plantée held the title of the only elevated park in the world for many years, until Manhattan came up with a similar, slightly higher, concept: The High Line.
With other projects also underway in Chicago, Philadelphia and New York.
But for some, nothing smells as sweet as when you are in Paris.