Searching for the Hidden Cats of Paris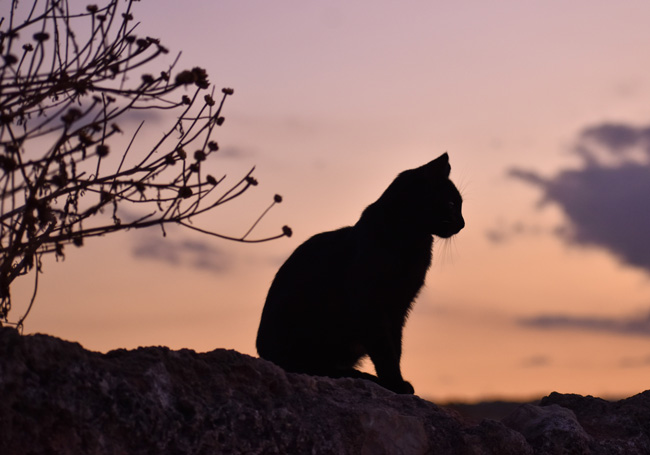 There are lots of cats in Paris but, as any cat fan knows, they can be elusive. Dogs are seen on streets and in stores as owners take them for walks or to work, but Paris cats are there too. They're just being cats – evasive and careful as they watch their Paris world and the people in it from hidden or inconspicuous places.
In fact, there are more cats in France than dogs. According to Statista, in 2021 there were 15.1 million domesticated cats in France and 7.5 million dogs. Only Germany has a higher cat population at 16.7 million. If Paris currently has 18.3% of France's population, the calculation could be 2.7 million cats in the City of Light.
Where are these mysterious cats? Here are some top spots to sleuth them out.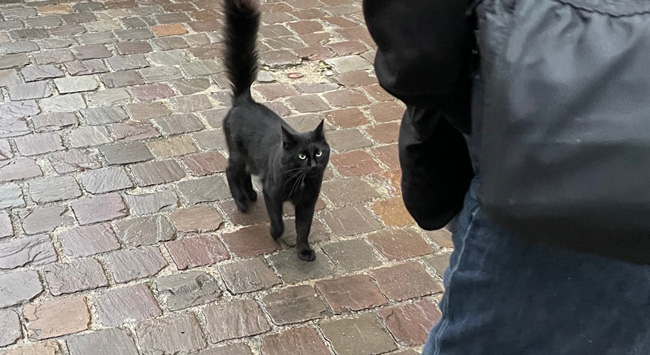 Père-Lachaise Cemetery is known for its cat population of about 50 that wander around the graves and hide in trees and behind bushes. According to Barnaby Conrad III, author of Les Chats de Paris, this is the "best place to see cats" in Paris.
"They wander freely among the tombs of Proust, Oscar Wilde and Jim Morrison, among others," said Conrad. "When we buried my French great-uncle there in the late 1980s, I was cheered up to see, just a few yards from the grave, a half-hidden mother cat feeding her kittens in a nest among the ivy."
Another place to see groups of cats is in the Quartier de la Mouzaïa near the Parc des Buttes-Chaumont. The neighborhood houses were built on a gypsum quarry that was mined from the Middle Ages to the 1860s. The city of Paris authorized housing construction in the district and each house is similar with front porches and small yards. Cats are everywhere: enjoying the sun on those porches, lying along window frames, hiding under bushes or inside windows looking out at curious cat fans.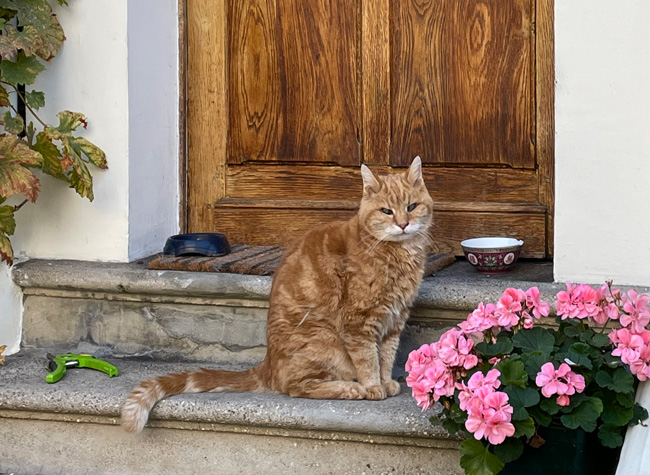 As with any city, feral cats are found throughout Paris. Clowders hang out in abandoned areas next to apartments or grocery stores where they have access to food scraps and hunt rats. The cats will probably scurry away if you get too close. Never try to pet them.
There are a couple of cat cafés in Paris where you can enjoy a coffee, snack or meal and hang out with cats. Chat Mallows Café is located at 30 rue des Volontaires in the 15th and is all about the cats. It requires reservations to hang out with its 15 cats and the website has a set of rules including "don't wake up a sleeping cat." Le Café des Chats at 9 rue Sedaine near Bastille in the 11th has 13 cats adopted from shelters. It's a restaurant and the main rule is "do not feed the cats." They get plenty of appropriate cat food, but they do enjoy being petted.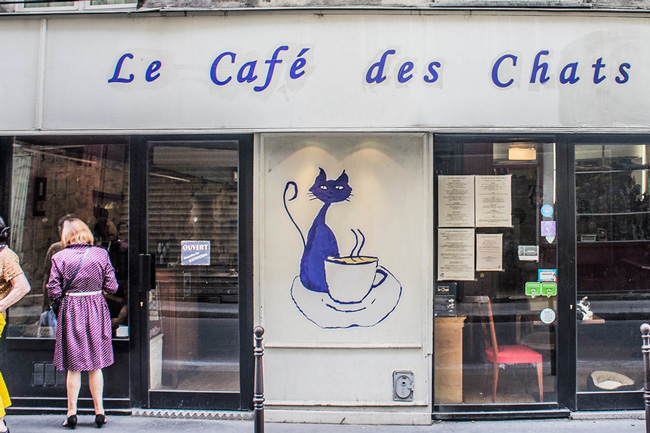 At the Grande Mosquée de Paris in the 5th, there is a tabby that hangs out in the tearoom. It's usually napping on one of the long wooden chairs against the wall and typically won't move if you sit next to it. Even when petted, the cat holds still and ignores ear rubs. This is its territory and it's in charge.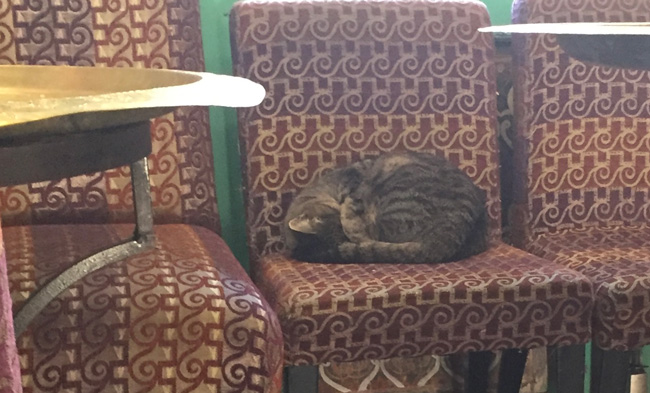 Cats can also be found in protected squares throughout the city including La Village de Saint Paul in the Marais. The Village has a combination of apartments, shops and restaurants plus a bicolor tabby with white legs, tummy and nose that greets those who notice it hidden in plant boxes. A bit cautious at first, it remembers friends and marches over to be petted.
Quiet streets are another place to find cats. Sometimes they are sitting by their owner's apartment door or shop, other times out cruising the street. As with all cats, stop and talk to them to see if they are interested in a connection. If they are, they might walk over for a pet or allow you to come their way.
Sometimes cats are in store or apartment windows, usually sleeping but sometimes checking out the neighborhood. Stopping and saying "bonjour" through the window will either get you ignored or two curious eyes will check you out until you move on. Typical cat.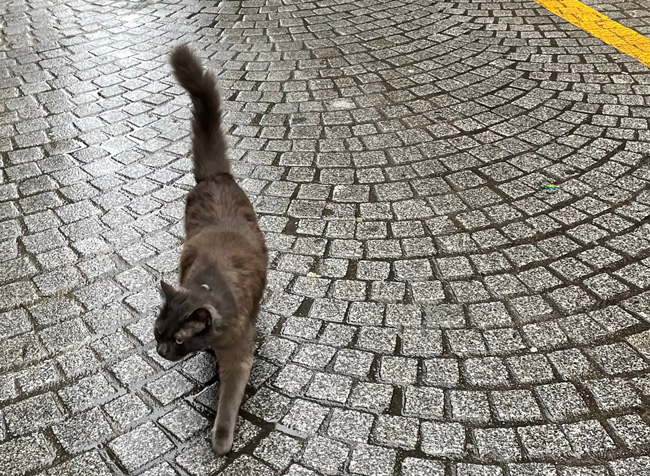 Another thing to do is to look up. Cats hang out on top of gates and fences. They are in trees and windows on upper floors. Look at your neighbor's windows across the square or street and you might be rewarded with a cat checking you out.
For five years, there was a bicolor tabby with white legs, tummy and nose who I saw several times a day on my neighbor's rooftop across the street from my apartment in the 4th. I didn't know her name (or sex) until our first trip after Covid restrictions lifted when our neighbor greeted me and introduced Ms. Ming. She enjoyed the sun on the rooftop, chased after bugs and pigeons, and took many naps by her owner's flower pots. I talked to Ms. Ming daily which was typically a one-way conversation except that she always looked at me. My hopeful interpretation was that she was interested. I took many pictures of her and posted them to my friends and online, giving her quite the fan club.  Unfortunately, she had heart issues and recently passed, but my neighbor has promised he will adopt another cat. Miss you, Ms. Ming.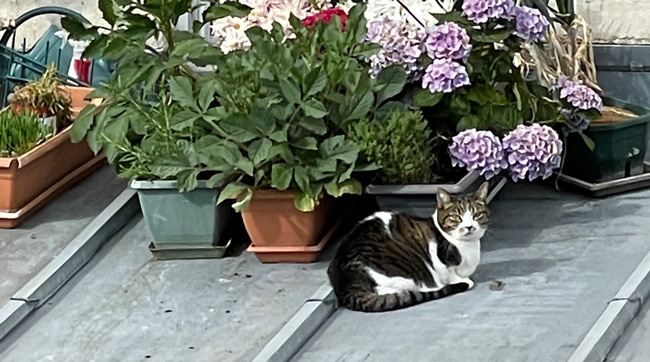 Cats are also part of the Paris art scene. The classic is Le Chat Noir, an 1880/90s Montmartre cabaret which made the 1886 black cat poster by French artist Théophile Steinlen very famous. The black cat with its yellow eyes and curled tail can still be found in Paris specialty shops with its image on posters, T-shirts, coffee mugs and more. The 2010 animated film A Cat in Paris (Une vie de chat) was nominated for the Academy Award for Best Animated Feature.
Then there is cat street art. The graphic, yellow grinning, sometimes wide-armed, cat is by Thoma Vuille whose character is called M. Chat. Stencil artist C215 created a mural of his iconic black/blue cat staring intently forward (as only cats can do) on the side of a building in the 13th just outside metro Nationale. It can be seen from elevated line 6. Near Canal-St Martin on Rue Bichat is Chanoir's street art featuring a variety of cats in hats making funny faces. Above the sign of the Café des Chats is the work of two street artists. Invader created a rat with a gun (worth 30 points on the Flash Invader app) which gives a big weapon to a cat's traditional prey, and artist A2 has combined two classics – his red heart signature and Steinlen's black cat. Sometimes cat art is literally on the street. On rue des Ursins on the Île de la Cité, groups of kids often draw creative chalk cats and other animals on the asphalt. There is little traffic on the narrow street so the art lasts until it rains or wears off.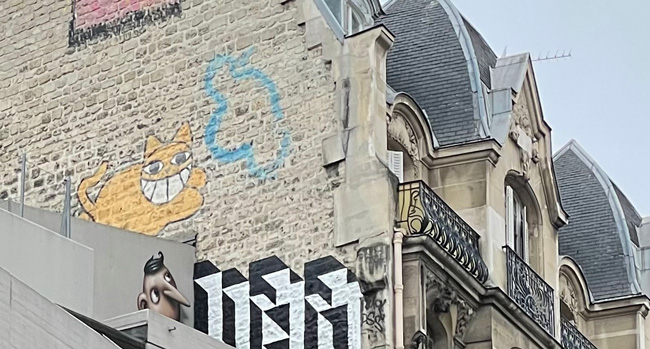 If you need to listen to cat music, check out "Space Cats," where kittens miaou (meow) the lyrics. It's a version of a song from the 1977 album "Magic Fly" by the French band Space. You can't pass on French singing kittens.
Searching for cats hidden in the streets and corners of Paris can be a fun challenge. Just remember Conrad's favorite quote (by Théophile Gautier) in Les Chats des Paris: "It is no easy task to win the friendship of a cat… He does not bestow his regard lightly, and though he may consent to be your companion, he will never be your slave."
True of any cat in Paris and beyond.
More in animals, cats in Paris
---
---
Comments