Dior & Louis Vuitton Take Center Stage: Paris Men's (Virtual) Fashion Week
It's early days in 2021, so that means we are still living the pandemic lifestyle, much to the fatigue and despair of, well, everyone.
What does Paris Fashion Week look like during a pandemic? A whole lot of virtual shows that did not disappoint. Men's Fall/Winter 2021 shows hit Paris this month, and it felt like a breath of fresh fashion air during a time where things to be excited about are few and far between.
Like so many of us have done in our day-to-day pandemic lives – whether it's for work or relationships – fashion, too, has had to learn the art of the pivot. Like our once-held-in-person-happy hours transitioning to Zoom, fashion has adapted by going digital as well.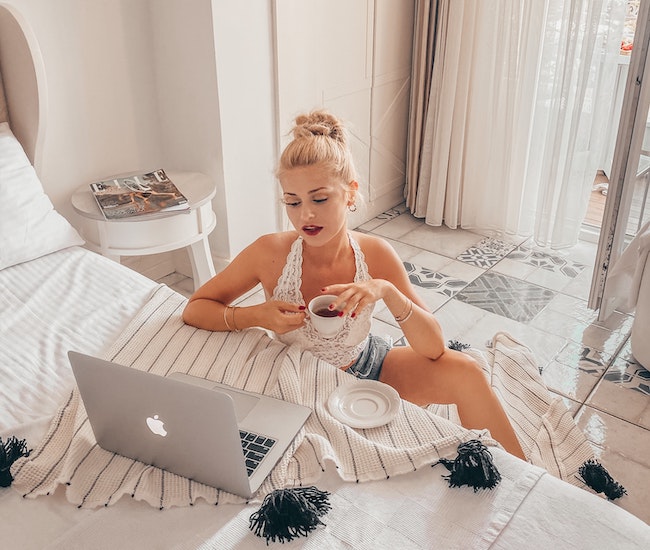 Although most people are working from home these days (and likely spending lots of time in sweats and leggings and similarly comfy clothes), those of us who love fashion yearn for the days when we can debut a new dress or jacket out in the world. Until that day comes, we can dream. And the elegant menswear shows in Paris made those dreams feel like even more of a reality – that, someday soon, we'll get to dress up again and make a show-stopping entrance.
A global roster of designers generated some buzz for the new menswear shows featuring looks for the 2021 fall/winter season. Shanghai-based designer Ziggy Chen was one of many incredible designers that showcased their looks in Paris last week. Rochas Homme, Rick Owens Reese Cooper, Andrea Crews, Thom Brown, JW Anderson, and more all led the way to a creative and inspiring fashion week. (Isabel Marant's amazing dance-y video, featured above, is worth a view for a mood boost.) At a time when creativity and inspiration feel needed more than ever, it was a welcome respite.
But for all the fantastic showings from international designers, it was, for this fashion writer, two iconic Parisian houses – Dior and Louis Vuitton – that really brought the digital goods this year.
View this post on Instagram
Dior's show opened with a stunning male model whose cheekbones looked so sharp they could cut cheese. Wearing a black beret and a long, jeweled, glittering coat, the model marched as techno music played, and the tone was set: We're about to have a good time.
Other models followed suit, wearing some epic fall and winter coats that nearly touched the floor. Bags, backpacks, and over-the-shoulder satchels were featured in almost every look, perhaps hinting at what most of us are thinking these days: When will I be able to travel again? Some models wore one earring, and the half-tuck on shirts could also be spotted, along with an occasional silky-looking scarf.
View this post on Instagram
Dior's menswear artistic director, Kim Jones, linked up with a Scottish artist named Peter Doig to create some iconic and memorable looks. Jones paired Doig's painted landscapes with Dior clothes, and the result was breathtaking and otherworldly. His artwork was featured on blouses and hats and coats, and gave the show that extra bit of "oomph."
Dior has long been a fashion house that seems to transcend time and space to something bigger and bolder, and that was especially true of the latest menswear collection. Despite the limitations that the pandemic presents for most creative endeavors, Jones created a sumptuous show that felt alive with music and color – sunny yellows, deep eggplant purples, playful oranges – and the final product was a pure Dionysian delight.
View this post on Instagram
Louis Vuitton
Over at Louis Vuitton, artistic director Virgil Abloh created a stunning digital film. We open in a snow-dusted mountainous setting in the woods as "Peculiar Contrast, Perfect Light" flashes on the screen. A figure carrying an iconic LV-emblazoned suitcase walks through the snow, narrating the journey in voiceover. Like poetry, our speaker moves fluidly and progresses with purpose.
Louis Vuitton-clothed ice skaters in suit jackets fill the screen, leading into the show. Set in, what looks like, a glamorous, futuristic airport, our narrator moves through the space, past chicly dressed people carrying luggage. He spouts the names of iconic deceased artists, musicians, and writers, only by their last name, saying, "Joplin, Baldwin, Morrison, Ginsberg, Coltrane, Davis, Shakespeare, Ellington, Hendrix, Fellini, Marley," and more. The narrator powerfully says "4 little girls" when listing names of the deceased, in reference to the four young Black girls who were killed at the 16th Street Baptist Church bombing in 1963 in Birmingham. The pivot to virtual has given designers the opportunity to make even stronger – and needed – statements about our culture and the need for change. The second half of the show was punctuated by a powerful performance by rapper Mos Def, whose shiny green boots gave me life.
View this post on Instagram
Watching Abloh's LV show, I was in awe of how he melded fashion with the current moment, and harnessed the power of words – which wouldn't have been possible in a non-digital show, when music thumps through the space. Abloh found some beautiful silver linings and artistic opportunities in the present circumstances. Words aside, the luxurious luggage had me dreaming of future trips. And fabrics in bright green, lipstick red, soft camel, ash gray, and bold yellow and green plaids, had me dreaming of days when we'll shed our sweatpant-ed existence and dress up for the world – and ourselves – again.
Lead photo credit : Dior | Fall/Winter 2021/22. Photo credit © Fashion Feed, Youtube.
More in designer, fashion trend, Paris designers, Paris fashion, virtual
---
---