Mylène Pratt: The Leather-Working Canadian of Belleville
On a cold, gray day in Paris, I carefully steer my bicycle as its wheels bump down the uneven cobblestones of the rue du Faubourg du Temple in lower
Belleville
. My destination? Mylène Pratt's atelier-boutique, or leather workshop and showroom, in the tiny rue Deguerry. Mylène is a fine gueule or foodie who progressed from graphic artist to crafting not only fine leather handbags but gorgeous objects for restaurants and wine bars. Photo © Mylène Pratt The first thing that hits me when I enter the shop is the rich, sweet smell of leather. The heady aromas evoke a tack room full of well-oiled saddles, or that deep leather armchair sitting in a corner of your grandparents' country farmhouse. Which, of course, makes sense: Mylène's shop is full of brightly-colored and more natural-hued rolls of leather, poking out playfully from every corner. And every place that isn't filled with the raw materials of her work, you'll find bags, wallets, and even shelf supports, all made of leather. But if you look more closely, you'll also find on her workbench the specialized objects destined for the restaurant industry. Mylène's shop in the rue Deguerry. Photo © Mylène Pratt
Mylène Pratt is a former illustrator who's become well-known to ordinary Parisians as the Montréal native who creates gorgeous, supple handbags. But in the Parisian world of restaurants and wine bars, her name is synonymous with bespoke leather goods like thick embossed menu and wine menu covers, as well as the smaller cases designed to bring restaurant customers their bill with style. So how did Mylène find herself the leather-working darling of the Parisian food world? It turns out that Mylène, besides being quite the fine gueule or foodie, is no stranger to the world of hospitality. Like many restaurant and bar employees, Mylène was drawn to working in wine shops and restaurants out of necessity. But the similarities with the sometimes-begrudging attitude found in these incidental service workers ends there: Mylène has hospitality in her blood. When we met several years ago, she was the smiling face behind the counter at my local wine shop. There, she was generous in her wine advice, and her affable personality fit well with the context of the shop, located in the
20th district
, one known for its village-like atmosphere and unpretentious inhabitants. From there, Mylène helped out a couple of friends when they opened their tiny restaurant in the rue Dénoyez in Belleville, serving up natural wines and the freshest daily specials from the restaurant's miniscule kitchen. Mylène also worked at the wine bar of l'Ébauchoir, a popular restaurant in the trendy
Aligre market
area of Paris. The relationships she formed when working in these establishments have been invaluable for her leather business. She describes how working with restaurateurs was a natural evolution of her leather-working business, and a way to unite her two unique passions: creativity and hospitality. Mylène crafts fine leather covers for restaurant menus. Photo © Mylène Pratt
SUBSCRIBE
ALREADY SUBSCRIBED?
BECOME A BONJOUR PARIS MEMBER

Gain full access to our collection of over 5,000 articles and bring the City of Light into your life. Just 60 USD per year.

Find out why you should become a member here.

Sign in

Fill in your credentials below.
On a cold, gray day in Paris, I carefully steer my bicycle as its wheels bump down the uneven cobblestones of the rue du Faubourg du Temple in lower Belleville. My destination? Mylène Pratt's atelier-boutique, or leather workshop and showroom, in the tiny rue Deguerry.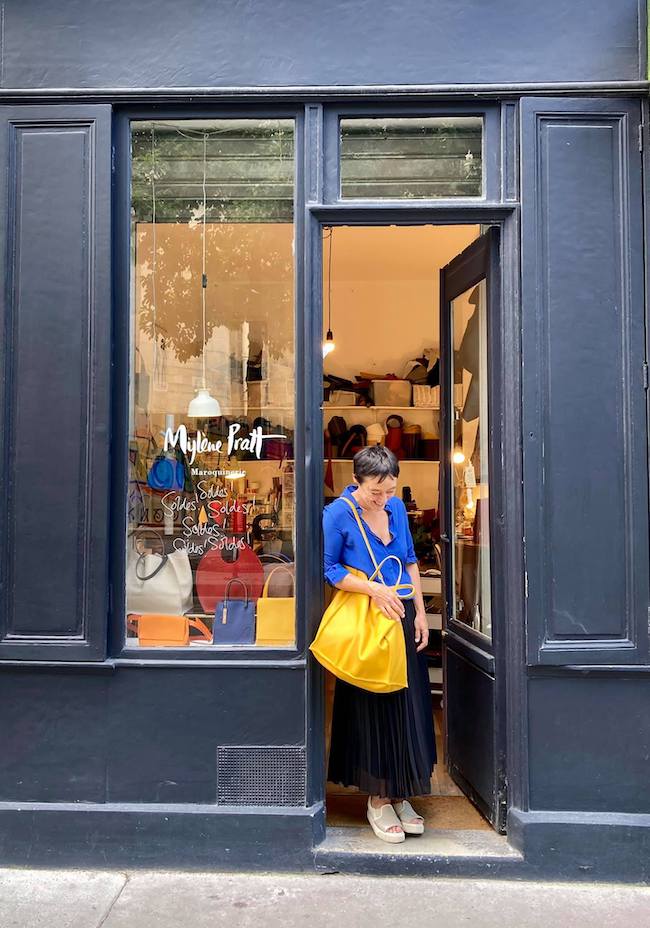 The first thing that hits me when I enter the shop is the rich, sweet smell of leather. The heady aromas evoke a tack room full of well-oiled saddles, or that deep leather armchair sitting in a corner of your grandparents' country farmhouse.
Which, of course, makes sense: Mylène's shop is full of brightly-colored and more natural-hued rolls of leather, poking out playfully from every corner. And every place that isn't filled with the raw materials of her work, you'll find bags, wallets, and even shelf supports, all made of leather. But if you look more closely, you'll also find on her workbench the specialized objects destined for the restaurant industry.
Mylène Pratt is a former illustrator who's become well-known to ordinary Parisians as the Montréal native who creates gorgeous, supple handbags. But in the Parisian world of restaurants and wine bars, her name is synonymous with bespoke leather goods like thick embossed menu and wine menu covers, as well as the smaller cases designed to bring restaurant customers their bill with style.
So how did Mylène find herself the leather-working darling of the Parisian food world? It turns out that Mylène, besides being quite the fine gueule or foodie, is no stranger to the world of hospitality.
Like many restaurant and bar employees, Mylène was drawn to working in wine shops and restaurants out of necessity. But the similarities with the sometimes-begrudging attitude found in these incidental service workers ends there: Mylène has hospitality in her blood. When we met several years ago, she was the smiling face behind the counter at my local wine shop. There, she was generous in her wine advice, and her affable personality fit well with the context of the shop, located in the 20th district, one known for its village-like atmosphere and unpretentious inhabitants.
From there, Mylène helped out a couple of friends when they opened their tiny restaurant in the rue Dénoyez in Belleville, serving up natural wines and the freshest daily specials from the restaurant's miniscule kitchen. Mylène also worked at the wine bar of l'Ébauchoir, a popular restaurant in the trendy Aligre market area of Paris.
The relationships she formed when working in these establishments have been invaluable for her leather business. She describes how working with restaurateurs was a natural evolution of her leather-working business, and a way to unite her two unique passions: creativity and hospitality.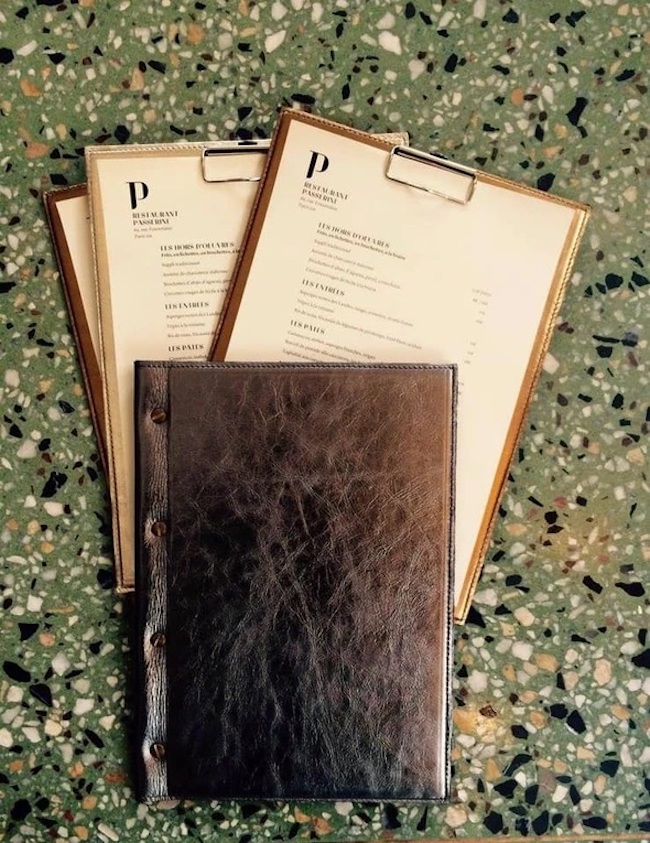 Her relationship with Michel Tolmer also helped her gain a foothold into the world of natural winegrowers and their favorite wine bars in Paris. Tolmer is a well-known illustrator of wine labels and other wine-related objects such as the now-iconic "Épaulé Jeté" poster from winemakers Catherine and Pierre Breton.
The many restaurants that feature her work are trendy mainstays of the contemporary Parisian food world, like Frenchie, Bonvivant, and Mylène's next-door neighbor, Marchon. You'll also find her leather menu covers at the Michelin-starred (and personally tested) Virtus, and at another local favorite, Bistrot Paul Bert. In a lovely example of synergy in abattoir sourcing, Hugo Desnoyer, star of the Parisian artisanal butcher scene, also carries her work.
Of course, restaurants remain closed in Paris through the end of this COVID-damaged year, and it seems many of them have turned lemons into lemonade by taking the time to rework their menus and their design, which has included ordering Mylène's creations.
But her other business has picked up as well: to "civilians" (non-restaurant clients), Mylène Pratt's name is synonymous with chic and colorful handbags. During my recent visit to her shop, she told me, in her thick Canadian accent and COVID mask, a little about how she got started.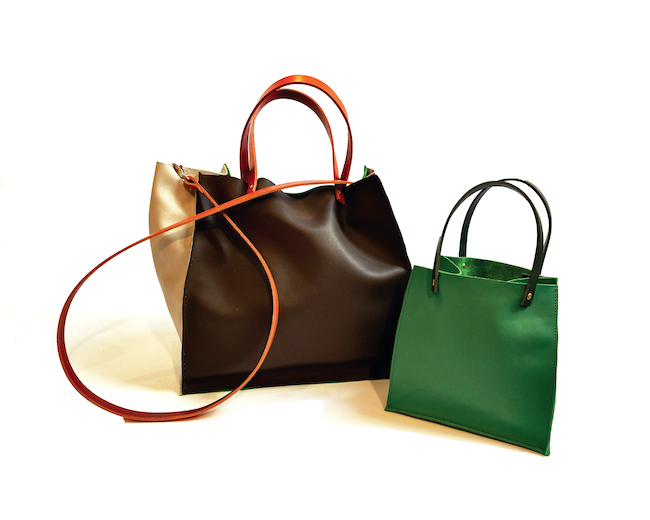 Trained as a graphic artist, Mylène was always interested in working with leather. But it was only after she'd already settled in Paris that she was able to begin creating leather goods. Illustration was fulfilling, but her dream was to unite what would be useful and beautiful (utile et beau), to create objects that would be worn and that would also adorn.
Mylène spent a few days with a maroquinier or leather-worker, but she is largely self-taught. Unlike illustration, creating leather bags was another way to work (Mylène says jouer or play) with colors and shapes, but with an object in three dimensions.
So in 2010, Mylène opened her first workshop in the heart of lower Belleville, which was a happy coincidence, given Belleville's significant status in the history of Parisian leather goods.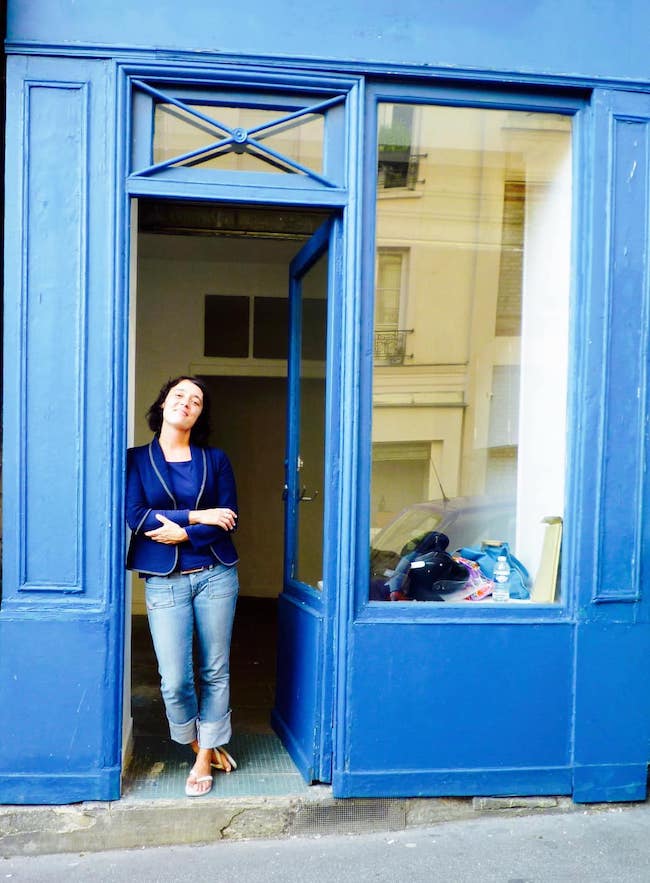 Long before Belleville was annexed into the city of Paris in 1859, a few cobblers' shops began crafting leather into shoes. Progressively, Belleville became the center of a thriving shoe industry, and Parisians "snatched up these artisanal shoes. Thousands of women wore these Belleville pumps, created on-site by model makers from Belleville."
The area became known as one of the major French centers not only for shoemaking (along with other French cities like Limoges), but for many types of leather goods. Between the two World Wars, the first immigrants to Belleville – Armenians, Greeks, and Polish Jews – began confectioning leather items using tanned hides that would come from the slaughterhouses or abattoirs at La Villette, just north of Belleville.
In the 1960s and 70s, after successive waves of immigrants arrived from Algeria and Tunisia, the Chinese began arriving in Belleville, notably from the port city of Wenzhou, and they revived the leather-working industry.
The 20th century saw those leather-tooling factories, along with metal and small mechanic's shops, give way to another budding "industry." As more and more buildings in Belleville were being condemned as unsanitary by the city of Paris, so the number of blue-collar workers diminished, and in their stead arrived the artists. They began moving in, transforming the small factories into their ateliers or workshops.
Fast-forward to 2010, when another immigrant leather-worker set up shop in Belleville: Mylène Pratt. With her artist's sensibility, and not unlike a great chef, she began by choosing the finest raw materials; her leather is of the best quality, the same type utilized at a major French fashion house. Mylène even creates bags from printed leather that looks and feels exactly like the one used to make that famous house's most iconic bag.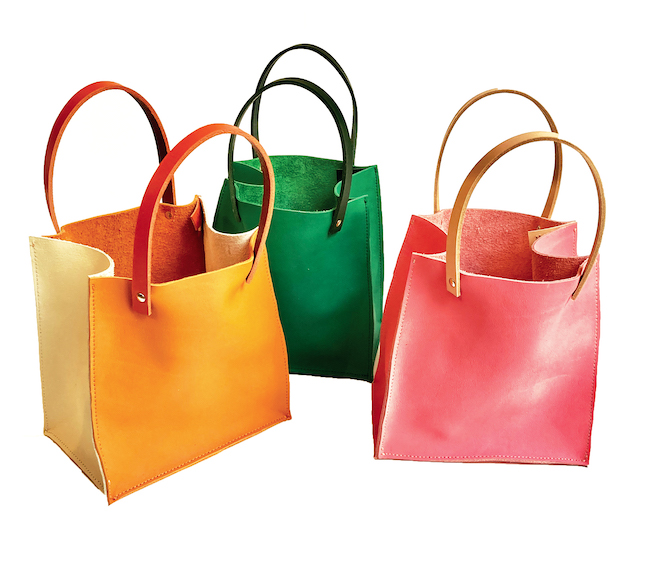 One surprising element of her shop is the sewing machine: it looks like any ordinary one (albeit also of high quality). I imagined that Mylène would have half a dozen specialized tools to work with leather, but she remarked that her machine, fitted with a thicker needle, does the job well. In fact, she says that leather is easier to sew than fabric because it doesn't move around or slip. And, of course, Mylène sews all the finishing details of her items by hand.
And those colors! On the day of my visit, there couldn't have been a more striking contrast between the gray of the Parisian sky and the bright multi-hued pieces of leather in the workshop, the kind of colors that certainly help brighten this pandemic-darkened year. Mylène explains that she loves a good black bag, but since we tend to see so much black in Paris, she enjoys enlivening the sartorial landscape with her colors.
Chrome-tanning is the process that gives leather those bright hues (and evocative odor), but Mylène freely mixes and matches them with the more toned-down shades of natural-dyed leather. She works with her clients to choose color panels, based on bag designs that she already makes, and told me that these designs can be resized.
But from what I can see, Mylène has already designed the perfect sizes based on what she wanted to wear and her experience designing bespoke bags for clients. Her social media photos show "Mylène Pratt [Bags] in a Mirror" so you can really see what they look like slung over her shoulder: perfect.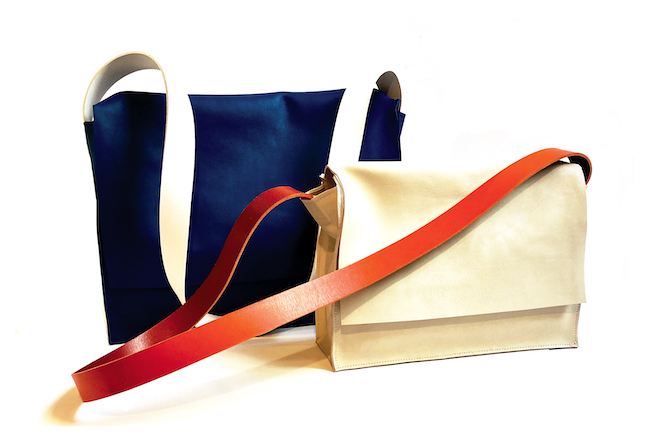 If you're interested in ordering one of Mylène's affordable bags, she works with clients all over the world to design a one-of-a-kind piece according to their wishes and can also provide embossed initials, words, or even numbers on items.
Her bottle tote is popular among a male clientele, who ostensibly use the tote not only for carrying wine but also as a man-bag. Her bespoke passport covers, while not necessarily handy in the current context, will surely be useful for all the traveling we'll be doing when the pandemic finally releases its iron grip on humanity.
And when that happens, won't we all want to be wearing a colorful Mylène Pratt bag on one shoulder?
You can find Mylène's work on her website, or visit her atelier-boutique at 14, rue Deguerry in Paris' 11th district (metro Goncourt, Couronnes, or Belleville). Or, find her on social media like Instagram and Facebook.
Lead photo credit : Photo credit © Mylène Pratt maroquinerie, Facebook
More in boutiques, French leather goods, leather bags, shopping in Paris
---
---
Comments