A Cultural Discovery of Marché d'Aligre with Allison Zinder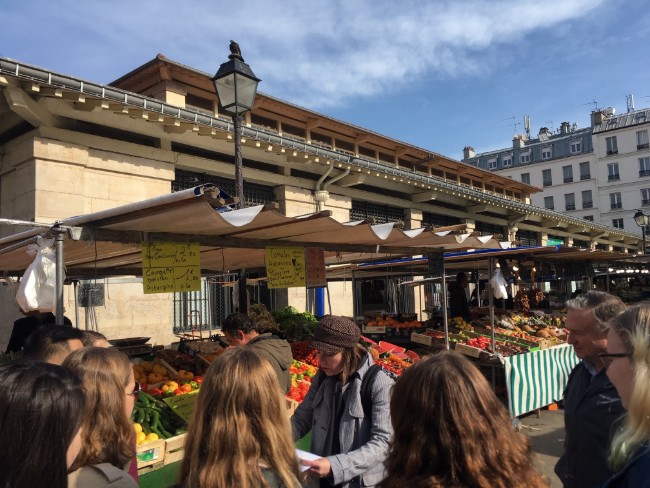 A crisp May morning, unseasonably cold in Paris, and the vendors at the Marché d'Aligre are gregariously chatting with passers-by. The stands are brimming with jewel-like strawberries, plump asparagus, and all the bounty of the spring season. It's into this authentic Parisian scene— a pocket of the residential 12th arrondissement— that Allison Zinder is leading a study abroad group from James Madison University (JMU). As part of the newly designed French food and culture program developed with history professor Dr. Jack Butt, Allison teaches the lucky students about French food, culinary history, and its deep link to culture.
Allison Zinder, who we are lucky to have as a contributor to Bonjour Paris, is a sought-after tour guide, an instructor chef specializing in French culinary techniques, member of the prestigious Dames d'Escoffier, and— in her newest role—organizer and co-leader of this JMU program. For a total of three weeks, the students are immersed in French food culture and hands-on activities: learning about the history of the Parisian bouillon and tasting the city's best macarons, cooking a 4-course meal and touring Rungis, the largest wholesale food market in the world, and discovering the ancient origins of Aligre.
After fueling up on warm, flakey croissants from Blé sucré, the renowned boulangerie right around the corner, the group strolls over to the bustling Marché d'Aligre. "Markets are incredibly important in Paris, with a total of 69 open-air markets and 13 covered markets," explains Allison. "This particular market is unique in Paris in that it comprises a covered market, outdoor section and puces, or flea market." Most of the puces are located outside the city— a vestige of centuries-old laws about selling second-hand items.
Originally started in the 1600s, Aligre is also one of the oldest markets in Paris. The neighborhood was a working-class district populated with carpenters— including immigrants from Holland and Germany— who flocked to the city to work on the decorative furniture commissioned by Louis XIV for the Chateau de Versailles. This working-class spirit pervades the district to this day, despite gentrification adding a few bobo bars and restaurants.
Allison points out some of the best vendors and boutiques, including a coffee roastery and wonderful épicerie piled high with products, while sharing funny anecdotes and history.
Oh, if only to be a student again!
More information about the JMU Study Abroad Program, which also includes a 4-day trip to Burgundy, can be found here.
Lead photo credit : Allison Zinder sharing insights about the Marché d'Aligre. Photo: Bonjour Paris
More in JMU Study Abroad, study abroad, study abroad in Paris
---
---