Australian and Parisian Style Comparison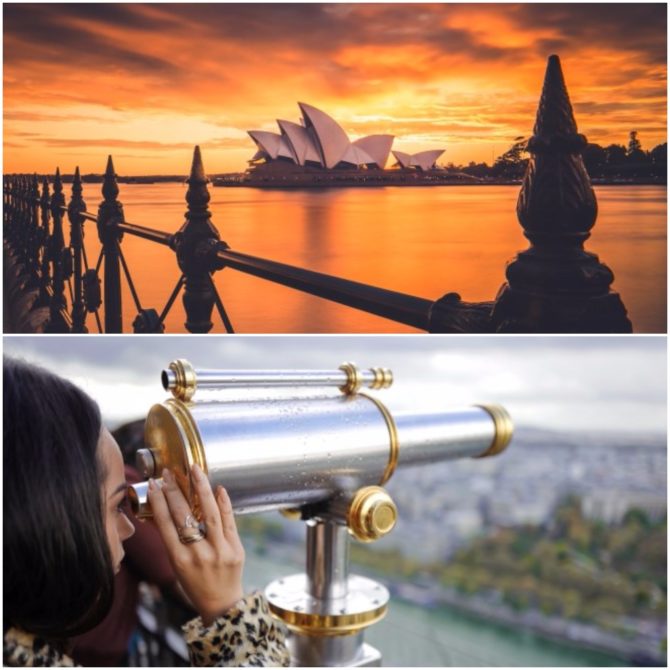 [Editor's note: We often read about New York vs. Paris fashion, or what's hot in Milan and London. But it's rare to read about Australian fashion, particularly when compared to French style. Here we take a look at some interesting trends…]
French fashion this, French fashion that. The effortless je ne sais quoi attitude toward style and a semi-conceited awareness of its importance. No matter how hard you try, there isn't a clear rhyme or reason to how French style essentials are defined, even though we've been told it's stripes, ballerina shoes and berets. And – all of a sudden – nothing aside from that style matters.
But what about the rest of the world?
At first mention of Australia, you either get scared thinking about all the snakes and spiders or your mind wanders towards the beautiful beaches, turquoise water and the sun in the Land Down Under. Little do you think about the quirky, unusual Aussie fashion sense that's been booming lately, and it's not even your fault that you're uninformed. We're all so caught up in what we already know that we rarely ever get to look outside the box and see what's to be found out there. Judging by the experience, only phenomenal things happen outside the box, and the same goes for Aussie fashion.
Comparing the two styles, we've come to realize that there are some pretty amazing aspects joining the impeccable French and the yet-undiscovered Aussie style together.
Read through the following lines:
Simplicity
While Parisian simplicity means silk see-through blouses with a hint of lace, Hermès bag, high-waist bell pants and a touch of red lipstick, Aussie simplicity means short or maxi dresses in graphic prints and unusual patterns, screaming colors and a hint of rosy on the cheeks. What gold cuffs are for Parisians, feather necklaces are to Aussies. Each have their own flair which is, in essence, irresistible.
Effortless chic
Give a Parisian girl a Repetto ballerina skirt and a Armor Lux or Saint James stripy shirt, and she'll conquer the world. Add a hat to the mix, and you'll see her featured in every style section of every magazine worthy to buy. Aussie girls approach their effortless chic in a slightly different manner. Unlike Parisians who do have the Eiffel Tower but don't have beaches as gorgeous as the Aussies do, Australian women look to mix the practicality of the beachy look and "street chic"– and they are crazy about pieces like playsuits. The idea is to always look ready to have cocktails, go to a party or a meeting downtown, but still be casual enough to be welcomed to the beach party. A lacy dress and top, flowy shirt and flowy pants go a long way, and upgraded with a stylish choker, a thin gold necklace or a loose bracelet look superb.
Glowing face and skin
The thing Aussie and Parisian beauties have in common is the commitment to keeping their skin glowing, healthy and nurtured. Unlike the popular Western makeup craze that revolves around layers and layers of makeup, both Parisians and Aussies rather opt for minimal makeup and promote natural beauty. Naturally, the French have their favorite brands which are, the way we see it, worth the trip to Paris [read about the best products in Paris pharmacies here], while Aussies adore their home brands with the same obsession. We've heard Parisians swear by their Tuberose, Bergamot, and Bigarade soaps, while Aussies do the same with the Jane Iredale line. French girls love their brows brushed out and lashes thick and Aussie girls love them, too. Natural and nurtured beauty goes a long way and it appears that, regardless the part of the world, natural beauty speaks the same language.
Although the two styles have a different approach to simplicity, they both understand the notion and support it in very specific ways. Despite the obvious difference dictated by the weather and lifestyle, both Parisian and Aussie girls enjoy their choices fashionable, stylish and just a tad quirky.
Shop some of the looks below!
Photo credit : photos: Drew Coffman and Liam Pozz
Leave a reply
Your email address will not be published. Required fields are marked *