Viewing Terrace of Arche de la Défense Reopens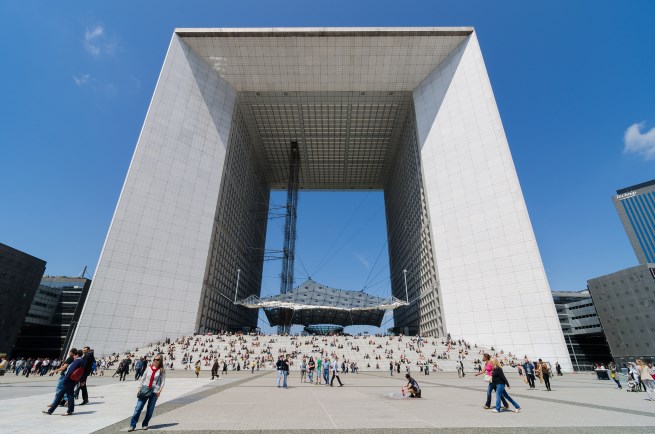 If asked "where is the best view in Paris?," you would probably scroll through a mental Rolodex of the highest points in the city. The Eiffel Tower, Montmartre, the Parc des Buttes-Chaumont, your friend's apartment in the 13th arrondissement when the elevator is out of order… The wittier amongst you will suggest Montparnasse Tower, by virtue of the fact that it offers the only view in Paris where you can't see the Montparnasse Tower.
But after seven years out of the running and a 2.5 million euro spruce-up, the viewing terrace atop the Arche de la Défense is back in action to compete with the top dogs for the best view in Paris.
This spacious rooftop, complete with 360 degree, panoramic, fully HD glancing opportunities also boasts a restaurant and bar, in case all that looking tires you out.
The terrace is arguably the best location to view the Arc De Triomphe, staring directly down the Avenue Charles de Gaulle from a height advantage of 110 meters.
The terrace is open 7 days a week, from 9.30 to 6.30pm; the restaurant is open for lunch between 12 and 3 pm. Entrance to the terrace costs 15€ but those selfies will last forever.
Lead photo credit : La Grande Arche. photo: Shepard4711
Leave a reply
Your email address will not be published. Required fields are marked *
Comments