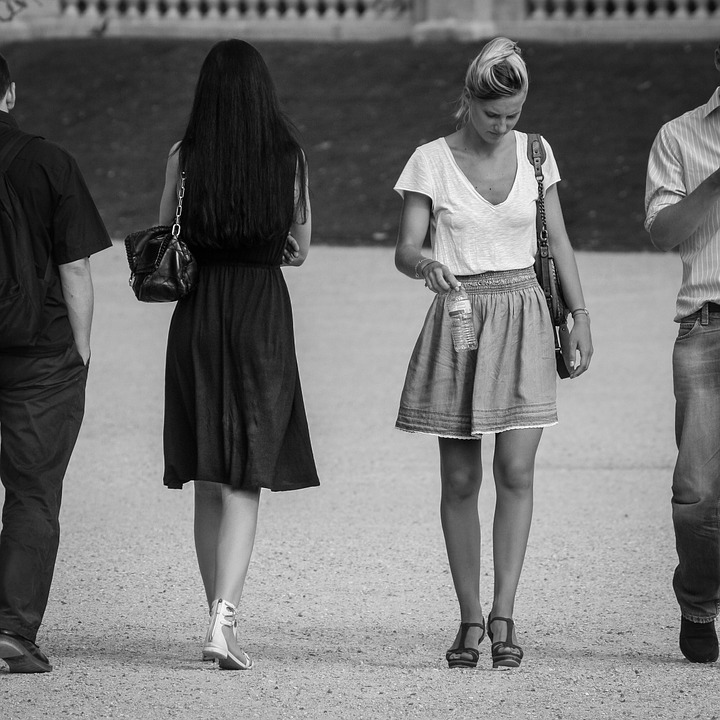 In Paris over the last several years I have learned how to "put myself together." The saleswomen as well as my good Parisian friend, Sabine, have taken me in hand and taught me important laws on how we must shop. I say "we" to include all women who want to improve not just their appearance, but their lives, by imaginative and strategic credit card mischief. 
There is not a single purchase in France that does not involve comparison, discussion, explanation and loads of advice. For your own shopping chic savvy, I will now generously share with you 17 pearls of French fashion wisdom offered to me:
1. Your clothes need not match in color; in fact they should be nuancé. They must agree in their basic color and merely be of different hues. In this way, for example all greens go together, all blues match each other, etc. It's an optical thing. Pure science. It is not you, but the eye of the beholder that creates the color matching… now doesn't that take the pressure off?
2. If you're wearing the same colors and they look wrong, it's because they don't match. Now you must ignore Pearl#1 because the problem is this: your fabrics aren't matching. The same color of silk, wool, cotton, linen etc. all reflect light differently and this mis-match can make you look thrown together, not put together. Take care to match or at least complement your materials.
3. For stunning color, take risks by observing nature. Mix royal blue with taupe, brown with prune, emerald with orange. It is the unexpected that enchants. The rule is no rule. That's why it's OK, even lovely to wear black shoes with brown clothes. Also do what the French love to do, pair dark chocolate with navy. Elegante.
4. Don't match styles overmuch. Mix it up. It's the French who got the Cubist artist Braque to paint vivid royal blue puzzle shapes on the 16th century gilt ceiling of the Louvre to dazzling effect. Pair funky with fine and you will look intriguingly BoBo (Bohemian and Bourgeois).
5. When you buy lingerie, it must be audace! Yes that's the word they use with a straight face: audacious. Audace in France is the lingerie default. In fact, a friend in Paris, advises audace for everything you wear. Her motto is "If it's not sexy, don't buy it."  She doesn't mean trashy; she means sensuel. Speaking of lingerie, don't forget that in France, your umbrella is considered a kind of external lingerie. Why else would the famous French lingerie designer, Chantal Thomass, also be designing umbrellas? Lace, silk frills, ribbons—out in the rain you audaciously go!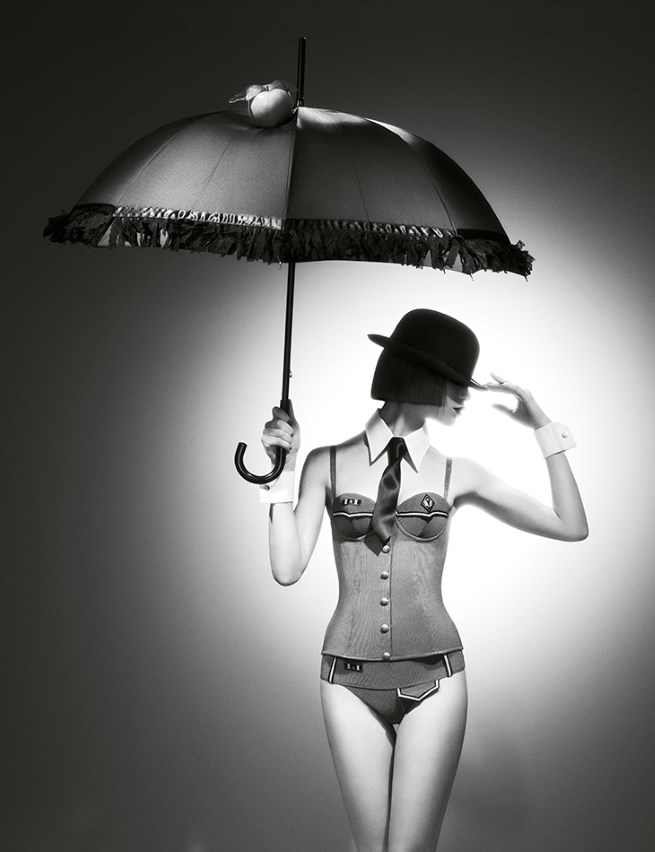 6. To close the advice on lingerie, please do not make the very embarrassing mistake I made once by assuming that our word "camisole" refers to the same thing in French. I left a trail of laughter across Paris when I ran from store to store explaining with increasing desperation that "I really need a camisole!" a word I learned too late, means "straight jacket."
7. The coupe of the clothes is the cut or the line, the architecture. The coupe is most important and is simply described as either elegant or not. Even with an elegant cut, always engaié with some artistic element. A bit of fur, a little flower, a brooch, a necklace.
8. Think feathers! Recently I was nearly out the door after a purchase when the salesgirl ran after me to tape pink and brown quail feathers to the bag. Small bright feathers flutter on shoes, scarves and on ear lobes. I've seen feathers dyed bright orange and rimmed with tiny rhinestones for table decoration. Even my cheap eye-lining pencil from the Monoprix has a peacock feather hanging from it!
9. In winter, never leave home without a scarf. Buy the big fake fool-the-eye ones in the Metro stations or in the souvenir shops for 5 euros. For women, a scarf is said to be most flattering when it "embraces" the neck and most chic when knotted twice. In summer though, wear it as a shawl, as a belt, knotted at the side hip, or wrapped around your purse handle, in a bow or hanging like a horse's tail. Sympa! Whatever you do, don't wear a Hermes scarf, around your neck. Oh so predictable. You will look what the French call Mamie. Like your grandma.
10. Nothing is too young for you to wear if worn right. Clothes are said to be sage, (wise) when they suit you. If it doesn't seem sage, too young or too old, perhaps you're just need to re-think it? Stand the blouse collar up, scrunch up the sleeves, unbutton the top button, cover la derrière with a jacket, add a thin ribbon at the neck, and pair that skirt with boots. Dress too short? Wear it over pants! Layers are in even for summer and la tunique is everywhere.
11. Tilt your hat…always.
12. A key chain is a major fashion item in France. The large porte clé, sometimes called a grigri is a statement. It is a chatelaine composed of numerous trinkets, ribbons, tassels and tokens (and yes feathers) in every imaginable color and material. Each season, an extraordinary new designer selection from cheap to chic arrives in the Paris boutiques. Clamp a grigri on your purse, hang it from your belt, loop it from your skirt ( this way it lends a coy chastity belt connotation), wear it on a chain around you neck or merely produce it in a restaurant a good while before leaving and play with it a bit as you sip those last drops of kir. Show it off!
13.  A necklace on bare skin looks younger than a necklace worn over clothes and an unmatched necklace and earrings look younger than a matched set. Don't argue about this.
14. Sometimes jewelry just needs to move. I was told that since I walked fast and was a bit "bouncy" that my jewelry also should have this movement. A bracelet that jangles just a bit, earrings that slightly swing will enhance your own vibrant energy. However when you're in slow, elegant mode, wear still jewelry.
15. Don't forget your shoes! If you're looking down at them and thinking they need a little je ne sais quoi, the answer is they need earrings! That's right. Those big out of date clip earrings you still have from the eighties? Clip them onto your flats or high heels for totally original adornment.
16. Don't clutch a clutch purse. It's more graceful, more soigné to tuck it under you arm, almost under your armpit. At chest level, the purse looks more interesting if it doesn't blend in, but rather contrasts with the color it is closest to. This means a clutch purse should be matched with color from the waist down. If your blouse is navy, for example, and your skirt is peach, the clutch should be peach, not navy. Got it?
17. If you find yourself deciding between two colors or styles of anything, always take the one the salesperson murmurs is more fin (fine) raffiné (refined) or doux (soft). What she is tactfully saying, is that this is the one that best suits you. If she exclaims Rock! it might be too punk, too young. But if she cries Tac! (rhymes with Rock) then she is saying Voila! You got it!
Don't worry how much you might be spending. When you buy something truly innovative, it's beyond style so how can it go out of style? This thought and the fond memory of the lovely place you bought it and the VAT credit will greatly reduce any guilt you might incur. For shoppers, Paris is an embarrassment of riches and as that Parisian exile and dandy Oscar Wilde, once advised, "The only way to get rid of temptation, is to yield to it." Take his advice and when in Paris, go get your WAOUH!