A Learning Holiday: A Different Way of Experiencing Paris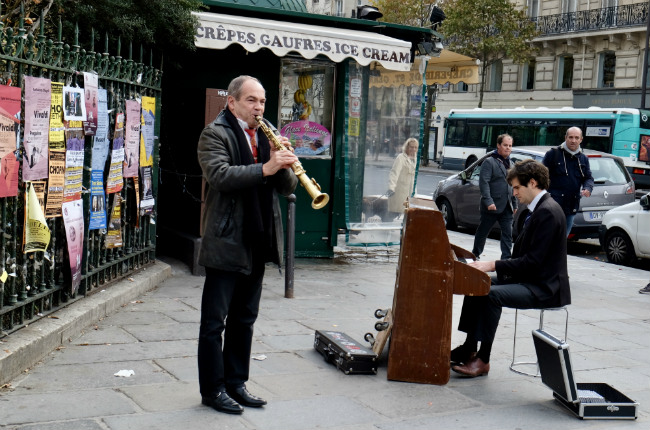 Paris and writing – for this traveler, the two are synonymous. Think Paris and I think of Sartre, de Beauvoir and now, Annie Ernaux, who has been shortlisted for the 2019 Man Booker International Prize. I think of those writers from elsewhere who sought inspiration: Hemingway, Fitzgerald, Joyce and so many more. So, when I heard about a writing course in Paris, I knew I'd have to find a way to get there.
A year later, I join a group in Paris, drawn here because of the memoir writing course run by the renowned writer and teacher, Patti Miller. We're seeking a different experience: one gaining in popularity – a learning holiday. It's for people who want a deeper experience than sight-seeing, an experience that connects them to place and to their fellow travelers.
I find my arranged apartment in the 1st arrondissement. Within hours, I'm walking to Café Sarah Bernhardt for welcome drinks. I stand outside and allow emotions to wash over me. Am I really here, in this metropolis that honors the artistic, the innovative, the creative? Inside, the group meets our French tour guide, and we listen to our teacher welcome us to Paris and introduce the program. She knows this city; it's deep in her soul.
The days that follow seem magical. We have nine half-day classes spread over two weeks – we're receiving the equivalent of an entire semester course. Classes follow a similar pattern each day. Our teacher shares techniques and readings, each of them especially selected for their French flavor. She challenges us, gives us writing prompts, and critiques our work. She is a skilled facilitator, ensuring we feel safe as we tentatively share our raw words.
The course includes an individual consultation and mine was first. We sit outside a buzzing café in warm sunshine and I soak in the warmth as well as writing advice. I sense that, for Patti, this is not just a writing course. She wants us to truly experience Paris; she wants to awaken our senses.
When we break for morning tea, we share enticing pastries from Stohrers, the oldest patisserie in Paris. On days we're not in class, we eat at significant literary places like Le Procope or cocktails at La Closerie des Lilas. There are optional guided tours. In a small forest on the estate of the Chateau de Vaux-le-Vicomte, I walk along a path strewn with autumn leaves, the surrounds so quiet I hear the leaves crunch under my feet. The hairs on my arms tingle as I breathe in the ghosts of literary heroes during a literary ramble through the crowded Latin Quarter.
In my spare time, I marvel at photographic exhibitions suggested by the tour guide who helps us with all thing French. I stagger out of the Louvre filled with images and ideas. I cycle along the Seine, past the inimitable houseboats, and arrive at the Eiffel Tower as it lights up. I walk to the famous bookshop, Shakespeare and Company, and spend three hours immersed in its history. I join others for meals and form abiding friendships.
As each day passes, I find myself looking at monuments, artistic works, words, people – everything – through a different mindset. It wasn't just being in Paris, it was Paris and writing. On my final morning, I pay an outrageous price for a pastry and cup of tea at Les Deux Magots just to feel the presence of Sartre and de Beauvoir. I know it sounds cliched, but this immersive learning experience in Paris changed my life – I now write full time.
Lead photo credit : Street musicians in Paris. Photo: Anne Harris
Leave a reply
Your email address will not be published. Required fields are marked *
Comments