The Paris Cook Club: Connecting through Cooking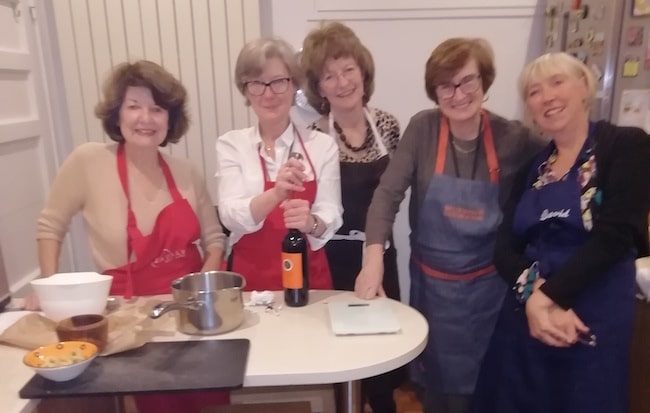 The Paris Cook Club continues to commune through cooking virtually, comparing our food creations with photos online. The Covid-19 crisis persists in France with virus numbers rising as la rentrée brings vacationers home and children back to school. Masks are mandatory and gatherings are restricted. In this pandemic year, our group of nine retired expatriates – three in Paris, three elsewhere in France, and three back in the USA – has substituted cyber challenges for our previous ensemble cooking sessions.
A cook club is a fun and useful way to help pass your time in confinement. Start by assessing the interest of your friends — no matter their cooking expertise. Set up a communications pathway – we use WhatsApp. Select the timeframe for your food challenges – once a week, once a month. Explain the process: a theme is selected to which members prepare a dish. Internet searches are made and recipes are exchanged. Appoint someone to keep track of your themes, creations, and recipes. The real kicks come when outcomes and photos are compared. Be prepared for unsuccessful ventures and accidents. But you will feel satisfaction in learning new skills while eating better.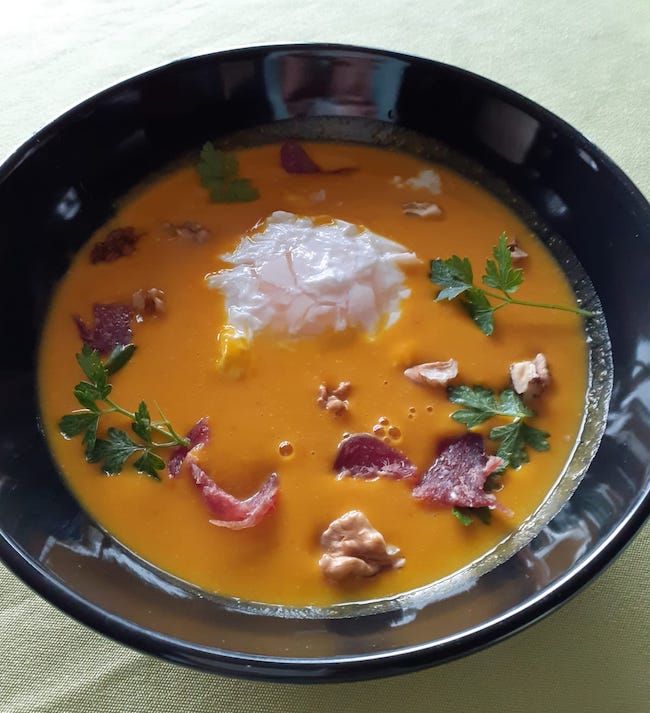 The Paris Cook Club initiated its online existence in April 2020 when everyone prepared the same dish on Easter: slow-cooked lamb. We soon branched out to broader motifs. While Sunday remains our chosen feast day, the themes have evolved from types of dishes (lasagna, tajine) to regional creations (Tuscan, Greek) to selected ingredients (fresh peas, eggplant). We have also mounted gourmet barbecues (chicken and apricot skewers, orange-soy salmon, grilled avocado) for holidays like Independence Day and Bastille Day.
In the summer months, many themes were based on seasonal produce and what was growing in our potagers or kitchen gardens. An abundance of plums inspired Plum Tortes based on the delicious recipe by Marian Burros first published in The New York Times in 1983. Related creations were plum sauce for pork filet as well as plum and rhubarb soup. A zucchini or courgette (small squash) surplus led to roasted zucchini with pine nut salsa, zucchini bread, and zucchini latkes. More garden gourds spurred pumpkin soup (with poached egg, walnuts and ham), roasted summer squash as well as stuffed zucchini flowers.
Abundant apples in mid-August stimulated savory rather than sweet concoctions:  apple and goat cheese (chevre) tart, fennel and apple spaghetti, and an Ottolenghi salad of apples, watermelon, and lemongrass. The Israeli chef Yotam Ottolenghi is a Paris Cook Club favorite for his innovative vegetarian conceptions despite their lengthy lists of ingredients. But we always tweak recipes to ease shopping and preparation as well as to improve results – even his –before putting them on our PaprikaApp recipe site. Roast cauliflower with tahini sauce, leek fritters, potato tarte tatin, and sumac strawberries are all his oeuvres which we fiddled with. In September, Ottolenghi starred in a mushroom theme – roasted with poached egg, mushroom and herb polenta, and Portobello steaks.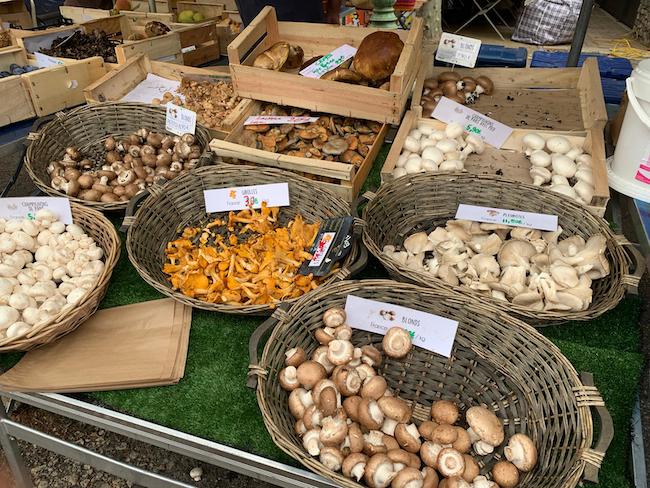 In 2020, summer cooking was also influenced by the heat wave which scorched most of France. What we call the dog days of summer, the French call a canicule (literally a little dog, now used to describe a "heat wave"). Both terms are derived from the arrival of Canis Majoris or the Dog Star in the night sky. We opted for chilled soup but no one made gazpacho:  the winners were cold carrot and ginger soup and a cucumber and avocado soup topped with shrimp. The next week we went for tartare or chopped raw meat or fish. We skipped the French favorite steak tartare which is raw hamburger crowned with a raw egg. We cooks made ceviche where raw fish is cooked in a citrus sauce, including salmon ceviche with avocado. Tomato and goat cheese tartare and courgette carpaccio are veggie variations on this theme.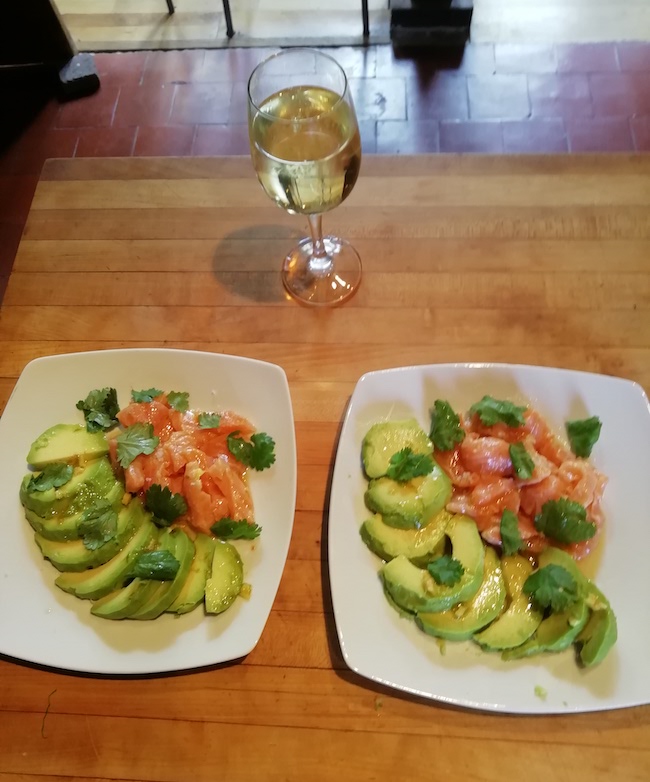 Don't be bothered if your cooking attempts are unsuccessful. The Paris Cook Club has seen their veggie burgers crumble into quinoa disarray. Lemon chicken made with cream slowly curdled giving rise to some foul fowl. Chocolate mug cakes exploded in the microwave. Bananas poached in red wine were a bit obscene. Other defeats included salty mushroom soup, watery watermelon salad, and soggy sweet potato fries. When we devised food creations in ramekins or ramequins (small ceramic dishes sold with soft cheese in France), one cook accidentally dropped her miniature chicken pot pies and tomato crumbles before they made it to the table.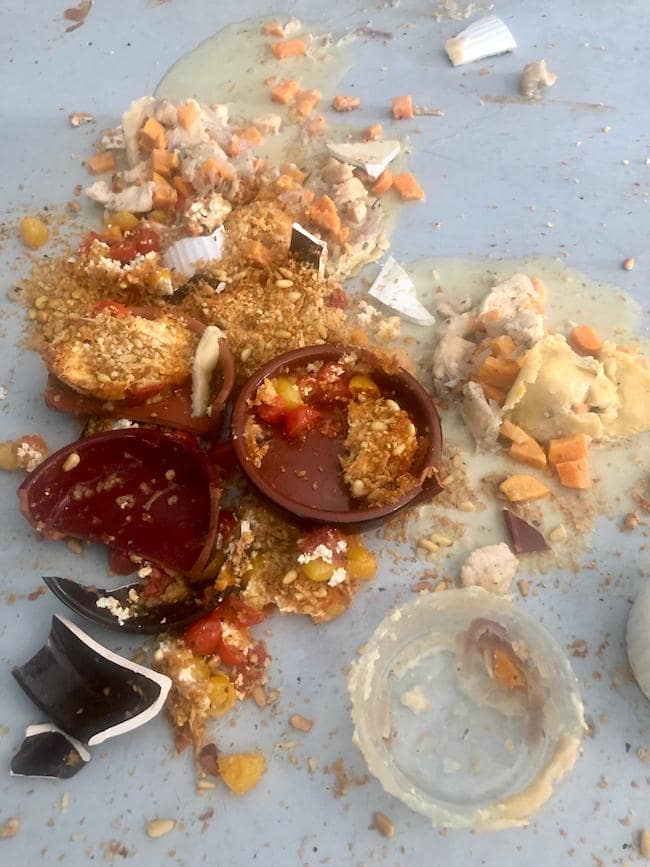 Connecting through cooking online is a good way to survive pandemic captivity. For The Paris Cook Club, it has added new dimensions to our foodie lives. And it has avoided the frictions when we were imitating Rachel Khoo together in our little Paris kitchens. While individual likes and dislikes were not to affect menus (which were at the discretion of the hostess), minor skirmishes erupted about the amount of butter or garlic to add. We differed on measuring techniques (American units vs. European metrics) and whether to measure at all. Some cooks preferred to simplify procedures or even skip steps and processes. Others were zealous about timing in the attempt to get all dishes cooked and hot simultaneously. Wine overindulgence while cooking contributed to mishaps. A cook club is all about learning, laughing, and luxuriating in your culinary creations whether in physical or cyber collaboration.
Candice Stevens is a retired American who lives and cooks in France.
Recipes for Stuffed Zucchini Flowers and Cucumber and Avocado Soup below. 
Lead photo credit : The Paris Cook Club. Photo courtesy of Candice Stevens
More in cooking at home, cooking club, Paris cooking class
---
---
Comments