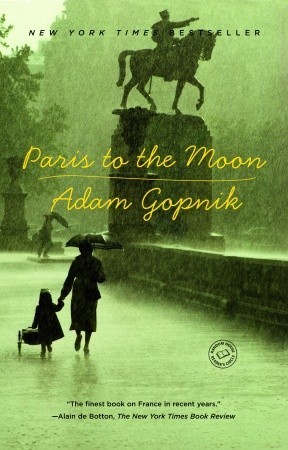 In May, my friend Anna visits Paris for the first time.
As a former temporary resident, she asked me for recommendations. In typical French fashion, my first suggestions were culinary: chocolat chaud at Angelina's, magret du canard at Dernier Metro and falafel in the Marais. Then the requisite stops: Louvre, Notre Dame, Orsay, etc. And personal favorites: browsing the shoe department at Galeries Lafayette, drinking a 1664 beer at The Moose bar in Odeon and reading books at Shakespeare and Company.
I try to read about a place before I visit. There's something in knowing the backstory that fosters interest and appreciation. That's why Drew Barrymore's sustained career is all the more impressive. So, I recommended Anna read a great Paris book: Paris to the Moon.
Adam Gopnik's Paris to the Moon is a standout among books about the City of Light. Published over ten years ago (2000, Random House), it still holds up well. Paris to the Moon chronicles Gopnik's life in Paris. He, his wife Martha and their baby moved to the city in 1995. Gopnik is a writer for The New Yorker. Like the periodical itself, Gopnik is precise, engaging and funny.
A boy from Philadelphia, the author begins, "I've wanted to live in Paris since I was eight." He recounts his first exposures to Paris: the Madeline children's books and the Albert Lamorisse film The Red Balloon. "A scowling gray universe relieved by pastry: This was my first impression of Paris."
Most visitors arrive in Paris with a romantic notion: it will be like Moulin Rouge or Hemingway's stories or a cartoon movie featuring a chef rat or a bell tower hunchback. Gopnik infuses his notion of Paris through each page. "'But you can run away…' and we did," he writes.  He and his family run away to Paris.
Their days are spent navigating and exploring the differences in culture, and Christmas. In my favorite anecdote, Gopnik chronicles a Tolkien-esque quest for the perfect Christmas tree lights at Left Bank department store Bon Marché. "French Christmas tree lights come in guirlandes – garlands – closed circles of lights without beginnings or endings," like a giant net. "The only way to get the Christmas lights on the Christmas tree is to lasso it." Far from home, a well-done Christmas can lessen homesickness.
There was one American factor the author did not miss: Barney.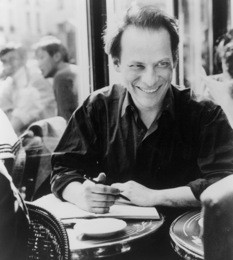 Gopnik confronts a myriad of culture clashes, worker strikes, and an in-depth cultural comparison – for which Barney is the catalyst. He writes, "We just couldn't bear the idea of his watching Barney…'We want him to grow up someplace where everything he sees is beautiful,' we said, and though we realized that the moment our backs were turned our friends' eyes were rolling…"
As someone who loves the medium, however inane, my eyes rolled too. I appreciate the intellectual inclination, especially from such an esteemed writer. But the supposition that TV stifles creativity was odious.
Gopnik writes bits about taking his son Luke to go swimming at the Ritz Hotel at Place Vendôme, where mosaics line the bottom of the pool. The sweetest and most intimate moments come from tales of the author and his son at Luxembourg Gardens. Luke "has found a home…he lives in the Luxembourg Gardens…The design of the gardens is nearly perfect for a small child."  A small child and grown-up ones too. Luxembourg Gardens was high on my list for Anna's visit; the Medici Fountain, the manicured lawns and the rows of French queen statues, all emphasize the majesty of the city.
Gopnik opens the book with a quote from Henry James' The Ambassadors. James, like Gopnik, was an American author who vacillated between American and European life. Some of James' works are compared to impressionist paintings. He is best known for his novels chronicling Americans' encounters with Europe. James writes, "In the light of Paris one sees what things resemble. That's what the light of Paris seems always to show…" Like a product of the country – Impressionism – visitors interpret things their own way. It's a subjective city that can be interpreted a million ways. Gopnik's interpretation is worth delving into.
The special thing about Paris to the Moon that separates it from the hoards of other Paris books is Gopnik's observant eye. Like all great writing, it transports you someplace wonderful: to Paris via page. And you don't even have to go through airport security. In reading about the city, it makes sense why there are so many books on the subject:
Like Dorothy said, "There's no place like home," or, Paris.
Leave a reply
Your email address will not be published. Required fields are marked *