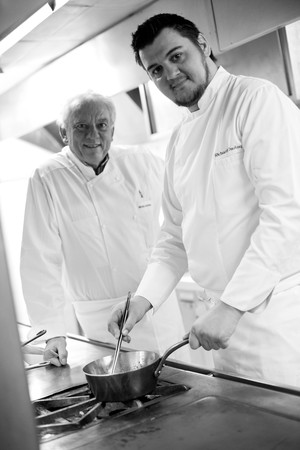 1 hour 5 minutes from Orly Airport, Paris, Saint-Jean-de-Luz is a magical, unspoilt, resort. Land at Biarritz and Grand Hôtel Loreamar, 15 minutes away, is what the French call "Un palace pieds dans l'eau". A palace on a sandy beach, walk for miles, sniff the ozone. And, being by the ocean, there's a Thalasso Spa designed by Patrick Ribes. They'll massage your creaky bits, sort your sophrology, annoint you with with organic oils, Payot and Filorga products.
Such a pretty destination. Think Robert Mallet Stevens architecture, as well as an eclectic mix of Basque, Moorish, Spanish and Andulusian styles, created by wealthy traders who travelled abroad, brought back ideas and inspirations. Think Jean Paul Gaultier, whose multi-story, rather decrepid, house is located in one of the narrow streets, remember his signature striped sailor outfits? Where do you think the inspiration came from?
But what about the food:
Two great chefs have created menus for L'Ocean restaurant, overlooking guess what? Recently young Executive chef Richard Daulay asked superchef Michel Rostang to compose menus with him, based on Dessirier, Rostang's Paris Marine Brasserie. Delighted to rise to the challenge the duo designed fabulous seasonal menus, using local products, combining terre and mer.
You know the minute you arrive at The Grand Hotel, you've found it. Think The Ritz sur mer, no pretension, friendly staff, magical spa, sumptuous rooms overlooking the Atlantic Ocean. Yes, dear reader, it does exist. See you there!
Grand Hotel,
L'Ocean Restaurant & Loreamar Thalasso Spa,
Saint-Jean-de-Luz
T: 05 59 26 35 36
52 rooms & suites from 165€ for 1/2 people
Dessirier par Rostang Père et Filles,
9 place du Maréchal Juin, 17th
M: Pereire
Valet Parking
T: 01 42 27 82 14