Coquilles, Calva and Crème by G. Y. Dryansky, with Joanne Dryansky
Coquilles, Calva and Crème: Exploring France's Culinary Heritage, A Love Affair with Real French Food
is a nutritious, delicious stew of a book. A "stew" because it is actually several books in one: and, as in a stew, the individual elements are as important as the way they are simmered together, and served. This is the story of an American couple who left their Queens neighborhood in the early 1960s seeking adventure (and finding it). It is region-by-region guide to "real French food" and the people who continue to faithfully carry out the traditions of French cuisine. It is a travelogue that provides fascinating details about French history, art and architecture, in parts of France that many American travelers never get to (but should). It is a thoughtful, informative commentary on the history of French cuisine. And it is a cookbook, with recipes for the most beloved, most characteristic, or most succulent dishes from most of the regions of France. More than anything, this is a book about integrity—in cooking, in journalism, in life—and about the importance of holding onto it in the face of pressures that are constantly working to undermine it. The idea for the book came about after the authors were served a disappointing meal prepared by a highly-regarded chef at an inn in the Auvergne. Calling him "Monsieur X" and granting him the "gift of anonymity," the authors say, "It's not his folly that matters; it's the seismic shift of which he is a telling caricature…French cuisine, as part of a phenomenon that has spread worldwide, has become a matter of performance, in which creativity is the predominant criterion of success." In describing this phenomenon, Dryansky quotes Christian Millau: "We are now in a ridiculous period, ridiculous, pretentious and stupid." It is to combat the encroachment of ridiculous, stupid pretention into French cuisine that this book was written, and to support what remains of the tradition that has been recognized by UNESCO as one of the world's cultural treasures. "The appreciation of what is real and of intrinsic quality hasn't been totally lost…and the trend to perpetuate it is definitely growing," Dryansky writes. "That heritage is long and deep in France…and stubborn; it prevails in a windstorm of commercial pressures." If there were no good news to report, there would have been little purpose in writing this book. Rather than bemoan the ridiculousness of the day, the Dryanskys decided to seek out the exceptions to the trend, and share their findings with others. And so they launched themselves on a mission of diligently tracking down places where one can still find good, traditional French cuisine. Dryansky reminds his readers what Curnonsky, "the best-known critic and gourmet in the annals of early twentieth century French gastronomy" has said, regarding his love for simplicity: "Perfection in cuisine is…when things have the taste of what they are." In this vein, he also writes admiringly of a feast prepared by Sébastien Petit in Orvilliers. "Everything we ate had a pedigree…a story to tell, evoking a local place and a past, while being a fresh presence."  And he reminds us what Guy Savoy, "perhaps the most down-to-earth of the French stars of the kitchen," repeats whenever he's interviewed: "Cuisine is the art of transforming instantly into joy products carrying the presence of history." But to return to the young couple from Queens who decided, back in 1963 when they found that they were going to have a baby, that it was "now or never" if they wanted to go to France. Dryansky describes the attitude that allowed them to take such a bold step at such a moment in their lives as "insouciant." They set sail for France and they have never returned, except for visits. The spirit and the belief in their dreams that allowed them to take this bold step, and the way they were rewarded for their insouciance, is nothing less than inspiring. In Paris the father-to-be needed to find work, and fast. He began writing for the Paris Herald Tribune, but the pay was insufficient to support his growing family. So it was on to Fairchild, where he quickly rose to European Director of Publications. "I was soon making more money than I was spending," he writes, "Plus an expense account. " He adds, "My background was far from the scintillating world I was entering. I could be awed by it and absorb its values, or my distance could be a privilege for seeing it in greater focus…My nature as a writer led me on the latter path." In this role, Dryansky dined with such luminaries as Balenciaga, Coco Chanel and Yves St. Laurent who, we learn, invariably ordered the same thing at lunch. "It wasn't that he had an obsessive love of roast veal; he rather had little interest in what he ate. But his devotion to quality…was not lost…Veal, like lamb, is a dish with a range of subtle differences in quality." (He adds that they always had "the best.") Anecdotes concerning the ultra-famous that Dryanksy was privileged to observe is another thread in the book. The intimate view that he shares is never mean-spirited, though it is sometimes very sad, as for example the way he describes evenings he and his wife Joanne spent with Coco Chanel: "After dinner we would walk with her across the street to the Ritz, and she would hold our hands and, no matter how inclement the weather, chatter for an hour or more. We understood that Coco was pitifully lonely." Eventually Dryansky became a contributing editor for Condé Nast Traveler, a position he describes as "an unforgettable privilege: taking people's vacations for them and being paid for it—in a provocative, honest way, conscious of the dirty footprints we travelers often leave on the planet…and how we could avoid doing that." It also offered him and Joanne the opportunity of "getting to know, more intimately, the extraordinarily varied and textured culture of France," in which cuisine is "an…
SUBSCRIBE
ALREADY SUBSCRIBED?
BECOME A BONJOUR PARIS MEMBER

Gain full access to our collection of over 5,000 articles and bring the City of Light into your life. Just 60 USD per year.

Find out why you should become a member here.

Sign in

Fill in your credentials below.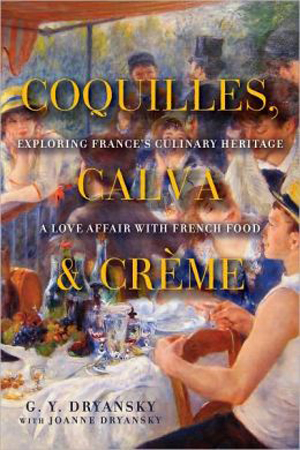 Coquilles, Calva and Crème: Exploring France's Culinary Heritage, A Love Affair with Real French Food is a nutritious, delicious stew of a book. A "stew" because it is actually several books in one: and, as in a stew, the individual elements are as important as the way they are simmered together, and served.
This is the story of an American couple who left their Queens neighborhood in the early 1960s seeking adventure (and finding it). It is region-by-region guide to "real French food" and the people who continue to faithfully carry out the traditions of French cuisine. It is a travelogue that provides fascinating details about French history, art and architecture, in parts of France that many American travelers never get to (but should). It is a thoughtful, informative commentary on the history of French cuisine. And it is a cookbook, with recipes for the most beloved, most characteristic, or most succulent dishes from most of the regions of France.
More than anything, this is a book about integrity—in cooking, in journalism, in life—and about the importance of holding onto it in the face of pressures that are constantly working to undermine it.
The idea for the book came about after the authors were served a disappointing meal prepared by a highly-regarded chef at an inn in the Auvergne. Calling him "Monsieur X" and granting him the "gift of anonymity," the authors say, "It's not his folly that matters; it's the seismic shift of which he is a telling caricature…French cuisine, as part of a phenomenon that has spread worldwide, has become a matter of performance, in which creativity is the predominant criterion of success." In describing this phenomenon, Dryansky quotes Christian Millau: "We are now in a ridiculous period, ridiculous, pretentious and stupid." It is to combat the encroachment of ridiculous, stupid pretention into French cuisine that this book was written, and to support what remains of the tradition that has been recognized by UNESCO as one of the world's cultural treasures. "The appreciation of what is real and of intrinsic quality hasn't been totally lost…and the trend to perpetuate it is definitely growing," Dryansky writes. "That heritage is long and deep in France…and stubborn; it prevails in a windstorm of commercial pressures."
If there were no good news to report, there would have been little purpose in writing this book. Rather than bemoan the ridiculousness of the day, the Dryanskys decided to seek out the exceptions to the trend, and share their findings with others. And so they launched themselves on a mission of diligently tracking down places where one can still find good, traditional French cuisine. Dryansky reminds his readers what Curnonsky, "the best-known critic and gourmet in the annals of early twentieth century French gastronomy" has said, regarding his love for simplicity: "Perfection in cuisine is…when things have the taste of what they are." In this vein, he also writes admiringly of a feast prepared by Sébastien Petit in Orvilliers. "Everything we ate had a pedigree…a story to tell, evoking a local place and a past, while being a fresh presence."  And he reminds us what Guy Savoy, "perhaps the most down-to-earth of the French stars of the kitchen," repeats whenever he's interviewed: "Cuisine is the art of transforming instantly into joy products carrying the presence of history."
But to return to the young couple from Queens who decided, back in 1963 when they found that they were going to have a baby, that it was "now or never" if they wanted to go to France. Dryansky describes the attitude that allowed them to take such a bold step at such a moment in their lives as "insouciant." They set sail for France and they have never returned, except for visits. The spirit and the belief in their dreams that allowed them to take this bold step, and the way they were rewarded for their insouciance, is nothing less than inspiring.
In Paris the father-to-be needed to find work, and fast. He began writing for the Paris Herald Tribune, but the pay was insufficient to support his growing family. So it was on to Fairchild, where he quickly rose to European Director of Publications. "I was soon making more money than I was spending," he writes, "Plus an expense account. " He adds, "My background was far from the scintillating world I was entering. I could be awed by it and absorb its values, or my distance could be a privilege for seeing it in greater focus…My nature as a writer led me on the latter path." In this role, Dryansky dined with such luminaries as Balenciaga, Coco Chanel and Yves St. Laurent who, we learn, invariably ordered the same thing at lunch. "It wasn't that he had an obsessive love of roast veal; he rather had little interest in what he ate. But his devotion to quality…was not lost…Veal, like lamb, is a dish with a range of subtle differences in quality." (He adds that they always had "the best.") Anecdotes concerning the ultra-famous that Dryanksy was privileged to observe is another thread in the book. The intimate view that he shares is never mean-spirited, though it is sometimes very sad, as for example the way he describes evenings he and his wife Joanne spent with Coco Chanel: "After dinner we would walk with her across the street to the Ritz, and she would hold our hands and, no matter how inclement the weather, chatter for an hour or more. We understood that Coco was pitifully lonely."
Eventually Dryansky became a contributing editor for Condé Nast Traveler, a position he describes as "an unforgettable privilege: taking people's vacations for them and being paid for it—in a provocative, honest way, conscious of the dirty footprints we travelers often leave on the planet…and how we could avoid doing that." It also offered him and Joanne the opportunity of "getting to know, more intimately, the extraordinarily varied and textured culture of France," in which cuisine is "an essential part." Drawing on the abundant knowledge gained in decades of appreciating the pleasures of traditional French cooking, the Dryanskys have created an intelligent, nuanced, discerning overview of the state of contemporary French cuisine, while providing readers with very specific suggestions for restaurants to seek out in their travels.
Surprisingly—or maybe not—the final chapter of the book brings the Dryanskys back home in a way that shows that though they obviously love their life in France, half a century of living there has not made them forget their roots. The last meal they describe in this wonderful book is their annual Thanksgiving dinner: how they go about assembling the ingredients, who shares the meal with them, and what is on the menu. "I'm a first-generation American, and Joanne's roots in Eastern Europe resemble mine," Dryansky writes. "Our Thanksgiving takes account of those lost ties." To begin, he says, Joanne puts out her piroshky, and her "incomparable" chopped liver. But, as he has affirmed throughout the book, painstaking attention to the details of ingredients and preparation, though essential, are not the only essential elements in a fine meal. "A truly great dining experience," he concludes, "reminds us of where we are in time and place as we partake of a particular bounty that sustains us, affirms our being, brings us together, while it gives us pleasure."
Janet Hulstrand is a writer, editor and teacher based in Silver Spring, Maryland. She teaches literature classes at Politics & Prose bookstore in Washington, D.C. and Writing from the Heart workshops in France and in the U.S. Each summer she teaches "Paris: A Literary Adventure," in Paris for the Queens College, CUNY Education Abroad Program. 
More in book review, Paris book reviews, Paris books
---
---