Monsieur Bleu : Le 180 : Les Navettes & Serge Gets a Metro Station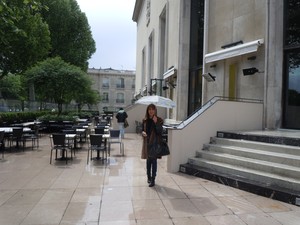 Monsieur Bleu, Palais de Tokyo, thoughtfully named after Yves Klein's signature colour.
Or is it? If you want, but architect Joseph Dirant says his design is guided by a fictitious Monsieur Bleu!
"I worked on this project thinking all the time of this guy. A dandy of the past, with a pointy beard,a writer, architect or engineer. I wanted to connect my fictional character to the Brasserie, he would become the signature and, bien sur, could get a table even when Bleu is complet".
Located behind Avenue President Wilson, a great destination: not only the Musée de l'Art Moderne and the wacky, so unlike Paris, Palais de Tokyo, which you love or hate, but the street market on Wednesday and Saturday, where you can purchase everything from a pin to an elephant as they used to say at Harrods.
Now, in addition to the excellent, funky Tokyo Eat, there's Monsieur Bleu, Brasserie chic, eyewatering views of the Iron Lady from the terrace.  Find Bleu in the new wing, perched on the quays of the Seine  in front of the Eiffel Tower and opposite the passarelle Debilly from where you can cross the river.
The Monsieur Bleu concept, by three Paris "dandies" Gilles Malafosse, Laurent de Gourcuff and Benjamin Cassan, three childhood friends, launches an all day/all night Parisian addy, chill for cocktails, for lunch, dinner and "for gourmet pleasures and sharing". A few Gillardeau oysters, a little Caviar Kaspia with a flute of best bubbles.
Chef Benjamin Masson (ex-Petrus) says his menus suggest traditional French food with international flavors: which means the ubiquitous hamburger/cheeseburger. Masson's is made with tender Wagyu beef, a triumph, paired with hand cut chips and perfectly dressed green salad. Thick white asparagus, perfect hollondaise, Frogs Legs anyone? Lobster Roll, mouthwatering, created by sandwich maven Alix Lacloche.  La salade niçoise au thon à peine snacké and vitello tonnato, or la poêlée de supions au chorizo, poivrons et piment d'Espelette.
For Ashton and me, free range organic love-me-tender poulet fermier pour deux.  Sip the vibrant Macon cruzille les Geniévrières from Domaine Guillot- Broux (65€). Excellent selection of cheese and desserts  including red fruit and cream Pavlova, Opera, New York Cheesecake, Mile-high vanilla millefeuille and Tarte fine aux pommes. "C'est l'endroit qu'il faut voir…pour y etre vu", says Le Monde's Jean-Claude Ribaut. If you have problems reserving, just tell them Monsieur Bleu sent you!
13 avenue du President-Wilson, 16th
T: 01 47 20 90 47
M: Alma Marceau/Iena
A La Carte 30-50€
DJ on the terrace Thurs-Sat
Cheerful valet parking via 20 Avenue de New York
Open 7/7
Left-Bank Pullman Paris – Le 180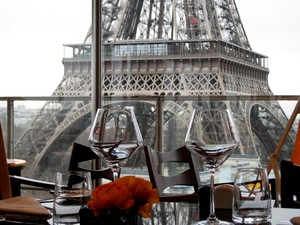 Sip Veuve Cliquot in the champagne bar, overlooking Eiffel's Tower. Book for lunch or dinner, by chef Alain Lobsar, based around the 7 pechés capitaux, the theme of which changes monthly.
June is La Paresse (lazy) and July la Colère (anger) they'll have to include the classic Merlan en colère. 180 days – 180 degrees Limited Edition dining/lunching, tapas, interesting snacks: Savoury cheesecake: Terrine de foie gras aux 2 poivres et au Champagne, pomme confite: Le steak tartare : Club Sandwich: Mini cheeseburger: Gratinée à l'oignon : Salade de poulet fumé à la mangue. César Salad: A plate of smoked salmon:  And, afterwards? Get a Room?
Pullman Paris Tour Eiffel,
M: Bir Hakeim
22 rue Jean Rey, 15th
Take lift to 10th floor
T: 01 44 38 57 77
Les Navettes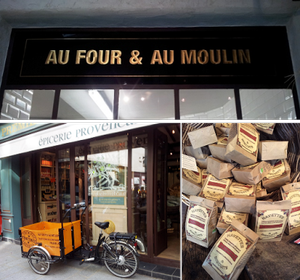 In his Marais bakery Olivier Baussen recently installed a navette oven, just like those in Marseille.
The recipe for the golden biscuits (a little like English shortbread) dates from 1781. Made with butter bio-flour, sugar, egg yolks, neroli oil, pinch of salt, water and milk, the legend of the cookies is told on the side of the packet:
"Navettes symbolize the boat in which Saints Mary Jacobé, Marie Salomé and Sara arrived on the beaches of Provence. Navettes are part of the 13 desserts of Christmas but are equally a part of the Chandeleur tradition (February 2) and saving some in an armoire will bring happiness all year! The last Sunday in January, they are blessed at the shepherds' mass in Saint-Martin-de-Crau, then broken at the end of the mass as a sign of sharing and brotherhood".
Wherever you go in Marseille you'll see them, each baker has a different tale to tell of their origins.
Les Navettes from Prèmiere Pression are a collboration between Olivier Baussen (founder of L'Occitane) and uber-pâtissier Pierre Hermé.
Available at:
Au Four et au Moulin,
Prèmiere Pression Provence,
24 Navettes in presentation box 18€
You'll eat them on the way home so take the brown craft bag: Baker's Dozen 8€
7 rue Sainte Croix de la Bretonnerie 4th
M: Saint-Paul/Hotel de Ville
& in the boutiques
Who knew?
Paris Métro Line 11 is one of 16 Paris métro lines. It links Les Lilas in the North East of the city to Châtelet in the center. It's the shortest of the 14 metro lines having independent management  The thirteenth busiest line on the network is now being lengthened and station Liberté-Lilas-Serge-Gainsbourg will be opening shortly. The connection? Gainsbourg's first hit was the 1958 single "Le Poinçonneur des Lilas" ("The ticket-puncher of Lilas"), an ode to the suicidal misery of punching Métro tickets in the Porte des Lilas station.
Leave a reply
Your email address will not be published. Required fields are marked *