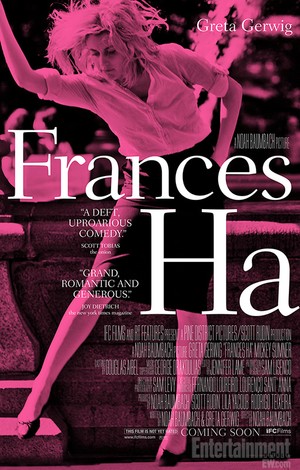 Warning: This review contains plot spoilers
"When good Americans die, they go to Paris," said Oscar Wilde.
Frances of the eponymous film, Frances Ha, goes on a spontaneous two-day trip to Paris, following a death. The death of a relationship with her best friend.
Frances is emotionally bankrupt, unhappy and under-employed as a dancer, so she does what artists do: she runs away to Paris.
Frances Ha is the latest film from Noah Baumbach, director of Margot at the Wedding and The Squid and the Whale. The film is French New Wave meets Woody Allen. With the Godard-ian black and white, and the Woody Allen-esque dialogue-heavy script and Allen's trademark New York City backdrop, it feels like a film of an era gone-by.
Frances Ha is a wonderful respite from fluffy summer blockbusters.
Baumbach and Greta Gerwig, the star of Frances Ha, collaborated on the film, writing the script together (they are partners in real life too). Gerwig worked with Woody Allen on To Rome with Love, and it's inferred his style served as influence.
This film is a Tragicomedy. Mostly tragic though. It is the story of a down-and-out dancer, Frances. Her life is in shambles. The one good thing in her life is her best friend Sophie (Mickey Sumner, daughter of musician Sting). Frances and Sophie live together in a small apartment in Brooklyn where they smoke, drink, "play fight," workout, discuss boys, and sleep together ("we're like an old lesbian couple that doesn't have sex anymore.")
Frances rejects her pseudo-alcoholic boyfriend's offer for them to move in together. Frances says she wants to continue living with Sophie. Then, he dumps her. Frances shirks the breakup by drinking with Sophie at a party in Chinatown. There, she meets a man in a hat named Lev (Adam Driver from HBO's Girls). Incidentally, the soul-searching and Quarter Life Crisis themes of the film are reminiscent of Dunham's Girls.
Days later, Frances receives a call on the subway home. It's Sophie, saying that she has found an apartment in Tribeca and she is moving out.
Frances is crushed, soon-to-be homeless, and broke. She is an apprentice at a dance studio that barely pays. The owner of the dance studio is played by real-life dancer and ballet progeny, Charlotte d'Amboise. A fellow studio dancer, Rachel, (Grace Gumer, daughter of Meryl Streep), only has so much patience for Frances. Who is at worst, a headache.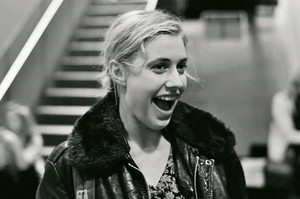 When the boy from the Chinatown party, Lev, offers the small room in his apartment to Frances, she jumps on it. She moves in with two boys, "we're like a sitcom!" says Frances, "…'My Two Husbands.'"
Frances is cut from her company's holiday show, and doesn't have two nickels to rub together. But, no matter. She uses a credit card to fund an impromptu trip to Paris, where an old friend lives, and where a new friend has an apartment in the 6th that he's offered to Frances.
In Paris, Frances fights jet-lag, tries to contact her old friend (unsuccessfully), jams into tiny elevators, and meanders around the city: Luxembourg Gardens, Champs-Elysées and Cafe de Flore. We see her sulking and smoking on the Alexander III bridge, as the Eiffel Tower twinkles in the distance.
At a cafe, Sophie calls Frances to tell her she's moving to Tokyo with her boyfriend. Frances feigns excitement, and signs off with "I love you, Sophie."
Frances returns to New York, only to receive a call from her Parisian friend as she is in a cab back to the city. Frances returns to her alma mater in upstate New York to work at an orientation, and pour drinks at an auction.
Sophie and her now-fiancee, arrive at the auction and a drunken debacle ensues. Sophie spends the night, like old times, curled up in bed next to Frances. It recalls their first bed-sharing scene, early in the film, when Frances said to Sophie, "Tell me the story of us…"
To which Sophia envisioned their future: Sophie, a famous publisher. Frances, a famous dancer. They'd speak at graduations, and have an apartment in Paris.
Frances is a beautiful mess and an emotional character. It's no wonder she escaped to Paris.