Artists in Fiction: Four French Legends Spring to Life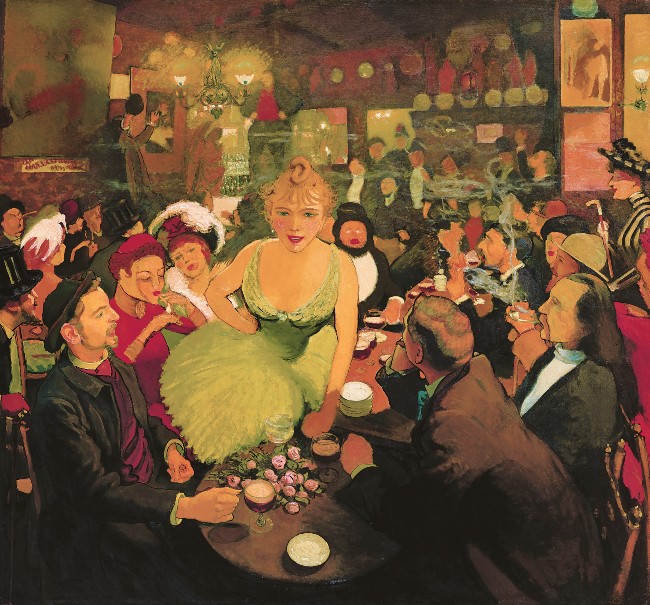 Paris in the late 19th century and early 20th century was a period of unprecedented artistic profusion that gave the world more than its fair share of iconic art. It was the perfect storm – an unnaturally large number of incredibly talented, progressive artists congregating in a city reputed for its laissez-faire, intellectual atmosphere as much as for its legendary beauty.
This period in art history makes for ripe pickings for authors. Four recently published novels dive into the lives and psyches of four giants of the time: Gustave Courbet, Claude Monet, Édouard Manet and Amedeo Modigliani. As familiar as these names may be, their remarkable stories have remained relatively obscure to the general public save for a few cliched soundbites.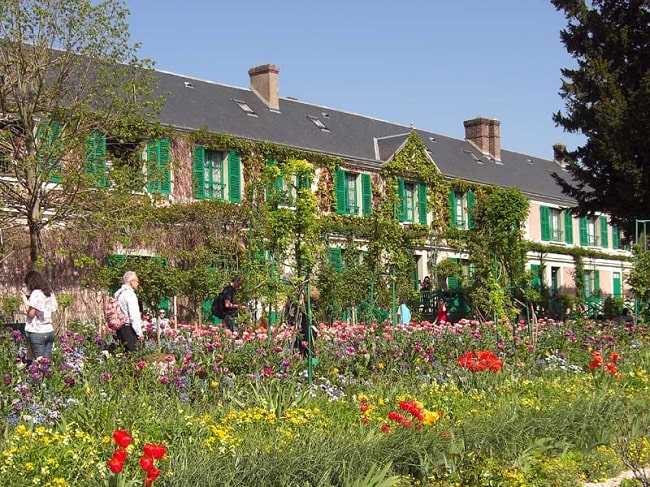 In Joe Byrd's Monet and Oscar, we are introduced to Claude Monet in his twilight years. Grouchy, going blind and pampered by his family, the patriarch is ensconced in Giverny, his own personal Shangri-la. Byrd gives us insight into Monet's life and working habits, and sheds light on just how revered and well-connected Monet was in his dotage. But Byrd veers off the beaten path and throws out a hypothetical question: Does Claude Monet, a painter with eight children, have room in his heart for one more? Based on feasible events in the artist's life, the author creates a scenario for the existence of a possible illegitimate son. Whether the reader buys this tale or not, Byrd's descriptions of Monet's gardens guarantee that no visit to France will be complete without a stop at Giverny.
Loving Modigliani: The Afterlife of Jeanne Hébuterne by Linda Lappin gives us an intimate view of another larger-than-life painter through the eyes of his tragic young paramour, Jeanne Hébuterne. We get to know Modigliani in his most charming and his most reprehensible moments. He was the quintessential tortured genius. Lappin's novel deftly weaves between ghostly narrative (thus the 'afterlife' in the title), fictionalized diary entries and the adventures of a modern-day art history student who stumbles upon the mystery of a forgotten painting attributed to Jeanne Hébuterne. Despite the twists and turns and fantastical premise, Lappin never loses the thread of her highly engaging narrative and neither does the reader.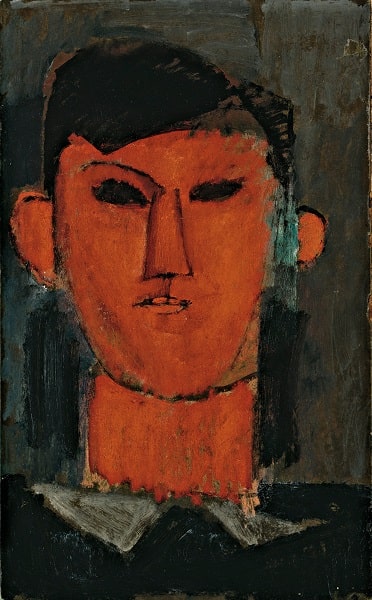 Readers will similarly cross centuries as well as continents in Lilianne Milgrom's L'Origine: The secret life of the world's most erotic masterpiece. The book was inspired by Milgrom's personal exploits with one of history's most scandalous paintings – Gustave Courbet's 19th century painting L'Origine du monde (The Origin of the World), a sexually explicit crop of a woman's exposed genitals. Based on 10 years of immaculate research, Milgrom's novel takes the reader along on a voyeuristic rollercoaster as the painting is clandestinely passed from hand to hand over a century and a half. Milgrom's compassionate portrayal of Gustave Courbet as a misunderstood, infuriatingly arrogant rebel artist offers a fresh look at both the artist and his controversial work. Readers will be making a beeline for Courbet's L'Origine du monde on their next visit to the Orsay Museum.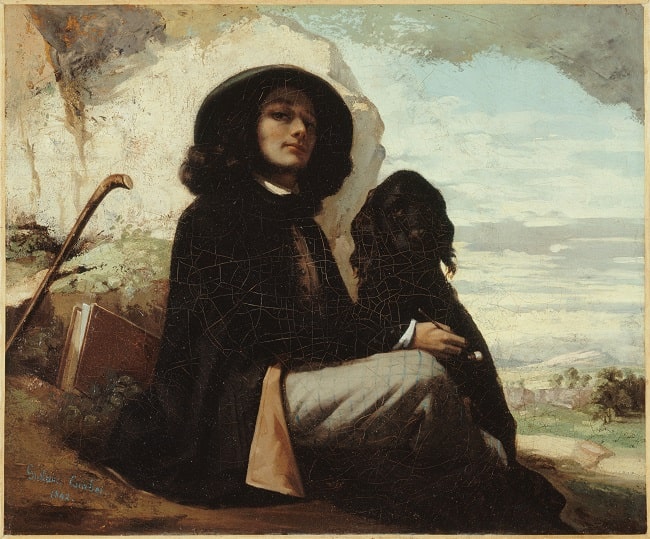 What is often overlooked or ignored when admiring famous works in museums is the model. The protagonist in author Drēma Drudge's novel Victorine is Victorine Meurent, the naked woman reclining front and center in Édouard Manet's groundbreaking painting Olympia. Drudge gets into Victorine's head, her hopes and aspirations, her hardships and her disappointments. Paris at the turn of the 20th century was not kind to a young woman of no means who wished for nothing more than to be recognized as an artist on par with the famous artists for whom she modelled. Victorine's modelling sessions with Édouard Manet reveal the many sides of this great artist who found an unlikely muse in an outspoken, talented and defiant young woman.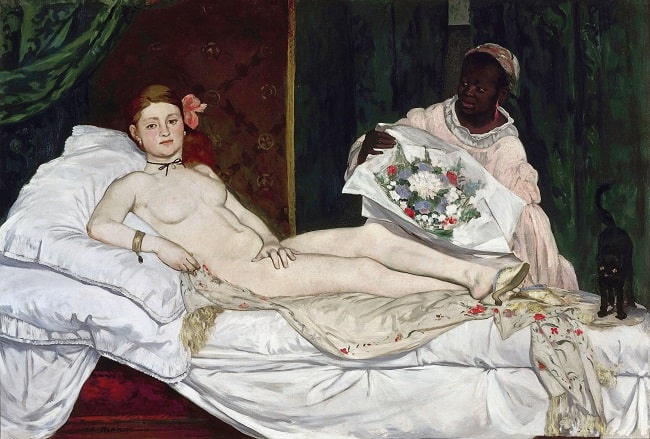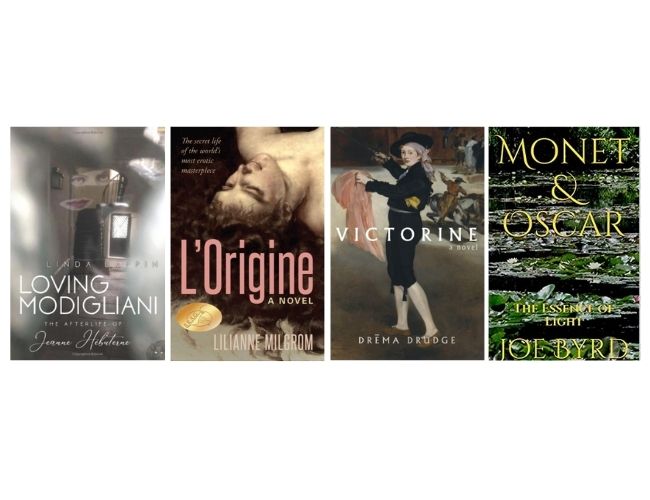 These four books not only paint a vibrant picture of the life and times in a Paris of a bygone era, but they also bring these famous artists to life. We hear them speaking, laughing and bellowing. We witness them painting, drinking and making love. We rejoice in their successes and our hearts break when they stumble and fall. The artists featured in these historical fiction novels possessed one thing in common that propelled them to greatness: an unwavering, unshakeable vision that sustained them in the face of great obstacles. They doggedly followed the beat of their own drum, refusing to conform. This is a lesson repeated by outstanding individuals throughout history and one that we can all take to heart.
We may also wonder what motivated the authors of Victorine, L'Origine, Loving Modigliani and Monet and Oscar to dedicate years of their lives to telling the stories of artists past. What secrets did the authors unearth that are not revealed in their books? What is truth and what is fiction? Now there's a chance to find out! France Book Tours has organized a dynamic virtual event that will bring the four authors together in conversation, followed by time allotted for audience questions. This free live event will take place on Saturday, May 8th, US Central Time 11AM/Paris Time 6PM. You can find the registration form here. Early sign up is recommended.
Lead photo credit : Louis Anquentin, Inside Bruant's Mirliton (l'intérieur de Chez Bruant: Le Mirliton), 1886-87. Public domain
More in artists, Novel, Paris, review, story
---
---