Art Hiding in Paris: Take a Peek Inside the Beautiful Book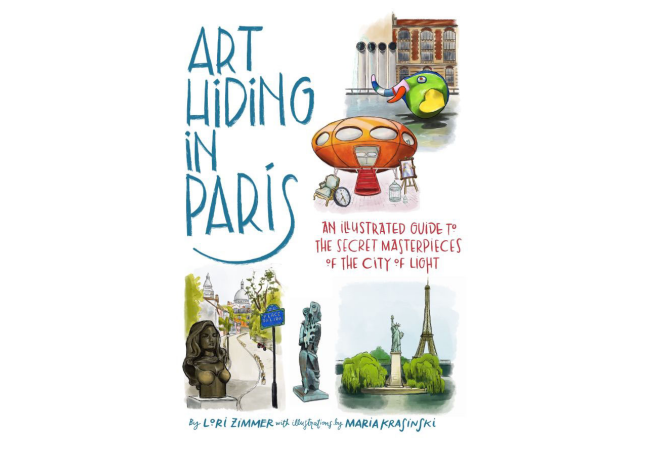 With more than 130 museums, Paris is one of the world's great art capitals. But the city also offers a marvelous array of art hiding in plain sight. A delightful new book takes us on a vibrant voyage through the arrondissements of Paris, showing off these hidden treasures and sharing fun anecdotes about them. Author Lori Zimmer and illustrator Maria Krasinski are the duo behind the popular Art Hiding in New York, and they describe this companion book as "a love letter to art, art history, public art works and those off the beaten path." From popular works (Stravinsky Fountain, Buren's Columns) to lesser known delights (the newly restored mural at the Grand Rex by Henri Mahé, the 17th-century painting found behind a wall at Oscar de la Renta), the book is so beautifully illustrated you'll want to seek out the art on your very own Parisian balade. Enjoy some exclusive excerpts from the book below.
Art Hiding in Paris: An Illustrated Guide to the Secret Masterpieces of the City of Light is available for purchase here.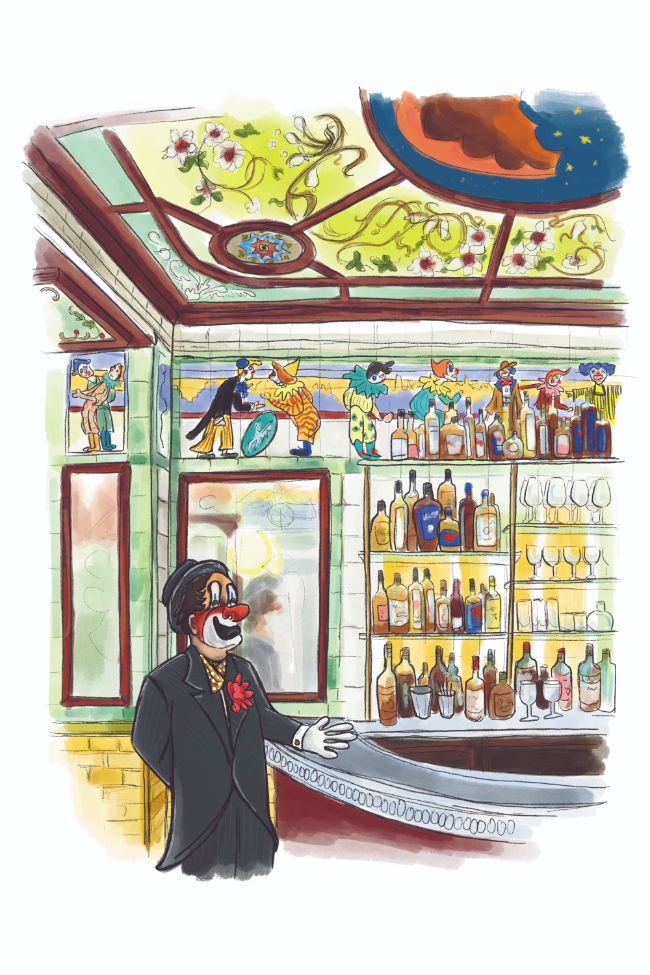 Clown Bar
114, rue Amelot, 3rd arrondissement
The small restaurant bar on rue Amelot has seen many iterations over the years, but the walls continue to tell its original story—as the canteen for performers at the Winter Circus (Cirque d'Hiver) down the block. In 1902, the modest bar became the watering hole for the circus's clowns, who would grab a drink after—and sometimes before—performing a few doors away. Clowns were so drawn to the space it quickly became the place to go to actually hire them, an impromptu short-term boardinghouse for clowns to rent rooms upstairs, and a spot where traveling clowns could relax and connect with locals of the same trade.
In the 1920s, the bar was redecorated to reflect its customers, including the installation of a wall of beautiful Art Nouveau–inspired tiles from a famed factory in Sarreguemines with, you guessed it, clowns. The gorgeous decorative scenes remain today, illustrating in lurid yellows, blues, and greens the time when the circus was an integral part of Parisian entertainment. The curved zinc bar is an excellent place to imbibe a cocktail with the best view of the historic tiles.
From Chapter 2: Dining with the Masters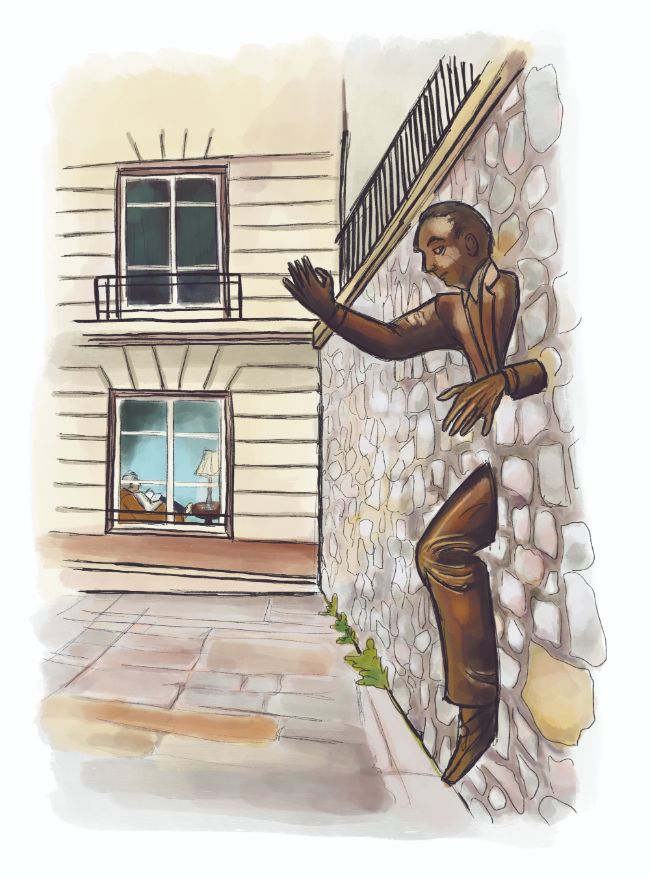 Jean-Bernard Métais, The Man Who Could Walk Through Walls
Place Marcel Aymé, 26 rue Norvins, 18th arrondissement
French writer Marcel Aymé's short story about a man who discovers that he can suddenly walk through walls became a cult classic and inspired movies, songs, and television shows. When a square in Montmartre was named after the beloved writer, it also inspired a sculpture.
The Man Who Could Walk Through Walls was written in 1941 and centers around a man named Dutilleul who lives in Montmartre and discovers at age forty-three that he can pass through walls with ease. He is afraid at first and consults a doctor, who prescribes him a drug that will return him to normal. Dutilleul decides against taking the prescription, and instead enjoys his newfound power by doing dirty deeds. His antics drive his boss into a mental asylum, before Dutilleul begins passing through the walls of banks and jewelry shops to rob them. When he is caught, he passes right through his jail cell wall into freedom. He also starts an affair with a married woman who was locked into her room each night when her abusive husband went to work, passing through her bedroom wall to be with her. A year later, Dutilleul mistakes the doctor's prescription for an aspirin and goes about his regular practice of passing through walls until he finds himself stuck for an eternity midway through as the medicine kicks in.
This scene was brought to life in 2006 by sculptor Jean-Bernard Métais. His bronze Dutilleul is caught mid-stride, with one arm and one leg stuck inside the stone wall forever. Dutilleul's left hand is now patinaed, rubbed gold over the years from passersby trying to help him dislodge himself from his self-inflicted prison.
From Chapter 3: Secrets of Sculpture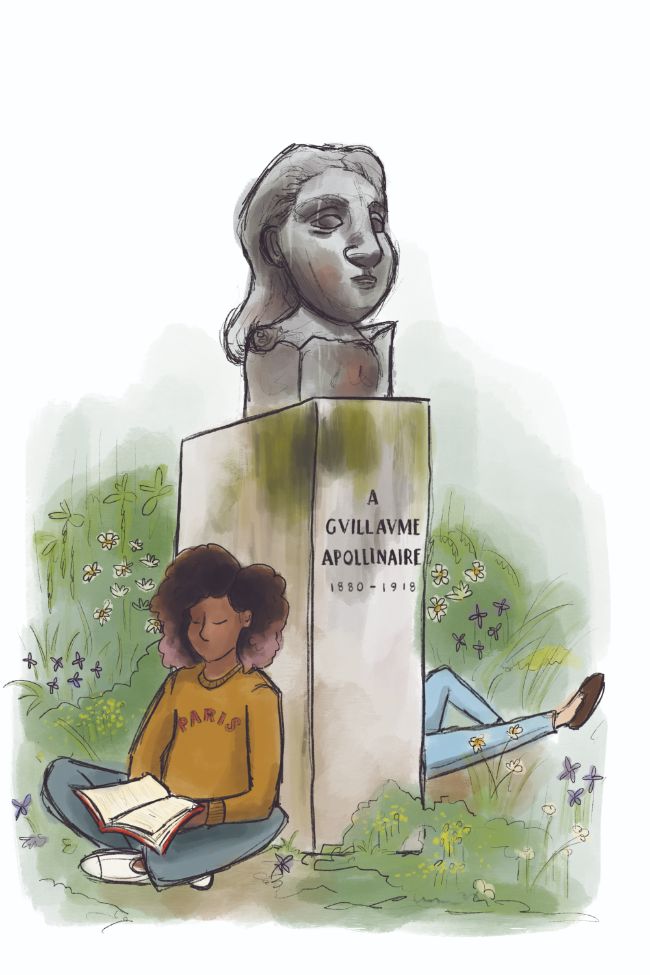 Pablo Picasso, Homage to Apollinaire
Square Laurent Prache, 1 place Saint-Germain-des-Prés, 6th arrondissement
Picasso and writer Apollinaire came up together in Montmartre in the early 1900s. Apollinaire, who originally coined the term Surrealism, wrote extensively about Picasso's importance to the birth of modern art, and the two were great friends. After being weakened by a shrapnel injury to his temple in World War I, Apollinaire died from the Spanish flu in 1918.
In 1959, Picasso was invited by the city of Paris to create an homage to his friend to be placed behind the Abbey of Saint-Germain-de-Prés. The Homage to Apollinaire would be located in the lush public Square Laurent Prache. Picasso chose a bronze cast of a piece he had sculpted in 1941, of which four others were made. Head of a Woman (Dora Maar) is a portrait bust of his former lover, which sits in the center of the square on a pedestal surrounded by a floral garden. The piece evokes traditional Greek and Roman sculptures, rather than echoing Picasso's more distorted depictions of the body and face. It is also the
only public work by Picasso in Paris outside of the Musée Picasso.
Pablo Picasso, Homage to Apollinaire, also called Head of a Woman (Tête de femme), (Dora Maar), bronze, 1950s
From Chapter 3: Secrets of Sculpture
Lead photo credit : "Art Hiding in Paris: An Illustrated Guide to the Secret Masterpieces of the City of Light." By Lori Zimmer. Illustrated by Maria Krasinski.
---
---